When it comes to fantasy football, do actions speak louder than words? Or, should we be taking a team's words at face value?
These are the questions I've been asking myself when it comes to three notable rookie running backs — David Montgomery, Miles Sanders, and Darrell Henderson.
I've written about this at length, but to reiterate: I try to only draft bell cow running backs. Montgomery (ADP: fifth round), Sanders (seventh), and Henderson (seventh) all have bell cow potential, but if they're just committee backs in Year 1 they might all be wasted picks at ADP. So, let's try to weigh the actions and words of their respective teams in an attempt to determine whether their price justifies their upside.
Actions
The Eagles drafted Sanders in the second round of this year's draft (pick No. 53), as the second running back off the board. This was the highest Howie Roseman (executive VP of football operations) has drafted a running back (by 79 picks) in his 10-year tenure.
The next running back off the board was Henderson, going to the Rams with pick No. 70 — a curious selection if the Rams really did have full confidence in the health of Todd Gurley (who is due to make $65.3 million over the next five seasons).
In March, the Bears traded Jordan Howard to Philadelphia in exchange for a 2020 sixth-round draft pick, with the potential to become a 2020 fifth-round pick. In April, they traded their top pick in the draft (the No. 87 overall pick), a 2020 fourth-round pick, and dropped 43 spots on Day 3 to move up to pick No. 73, which they used to select Montgomery. It was clear the Bears were in the market for a running back, meeting with 15 rookie backs during the pre-draft process (most of all teams).
It's hard to imagine the Bears felt Montgomery was worth so much more than Howard if they don't plan on using him as their team's bell cow.
Words
During Philadelphia's post-draft press conference, following the selection of Sanders, Roseman said, "Miles is a guy who can play all three downs." However, he would later add, "You have these guys that can do different things and for coach [Doug Pederson] he's looking for guys who have different skill sets so he can provide different looks to the defense, and it's a match-up league." Last week, Pederson pegged Boston Scott as a potential Darren Sproles replacement, further dinging Sanders' prospects of earning an every-down workload.
Following the Rams' selection of Henderson, GM Les Snead, head coach Sean McVay, and RB coach Skip Peate all compared Henderson to Lance Dunbar (52 yards in four games with the Rams in 2017). When asked of his potential role in 2018, they all reiterated Gurley's job was safe and implied Henderson would only be used as a change of pace back. Last week, Ian Rapoport said "The days of Todd Gurley just being the straight-up, every-down bell cow are probably over, just based on his knee, his age, the position, the amount of carries he's had, it's probably not going to be like that, which by the way is maybe why the Rams drafted a running back in the third round, someone they really like a lot. This is a team that is clearly ready to spread the ball around."
In Chicago's post-draft press conference, GM Ryan Pace was effusive in praise regarding Montgomery and his potential in the offense. However, when asked if he would compete for the starting job alongside Mike Davis ($0 guaranteed after this year), Pace responded, "We envision a scenario where they're all contributing in different areas." In recent weeks, there's been even less optimism regarding Montgomery's potential as a bell cow in Year 1. Running backs coach Charles London said last week, "We've got a lot of backs and it's good… They have versatile skill sets and they can all do different things. These guys understand they each have a role and there are enough touches to go around." In that same article, Davis concluded, "I know my role will be bigger than what I had in Seattle." For reference, last year in Seattle Davis totaled 112 carries and 34 receptions in 15 games.
Player evaluation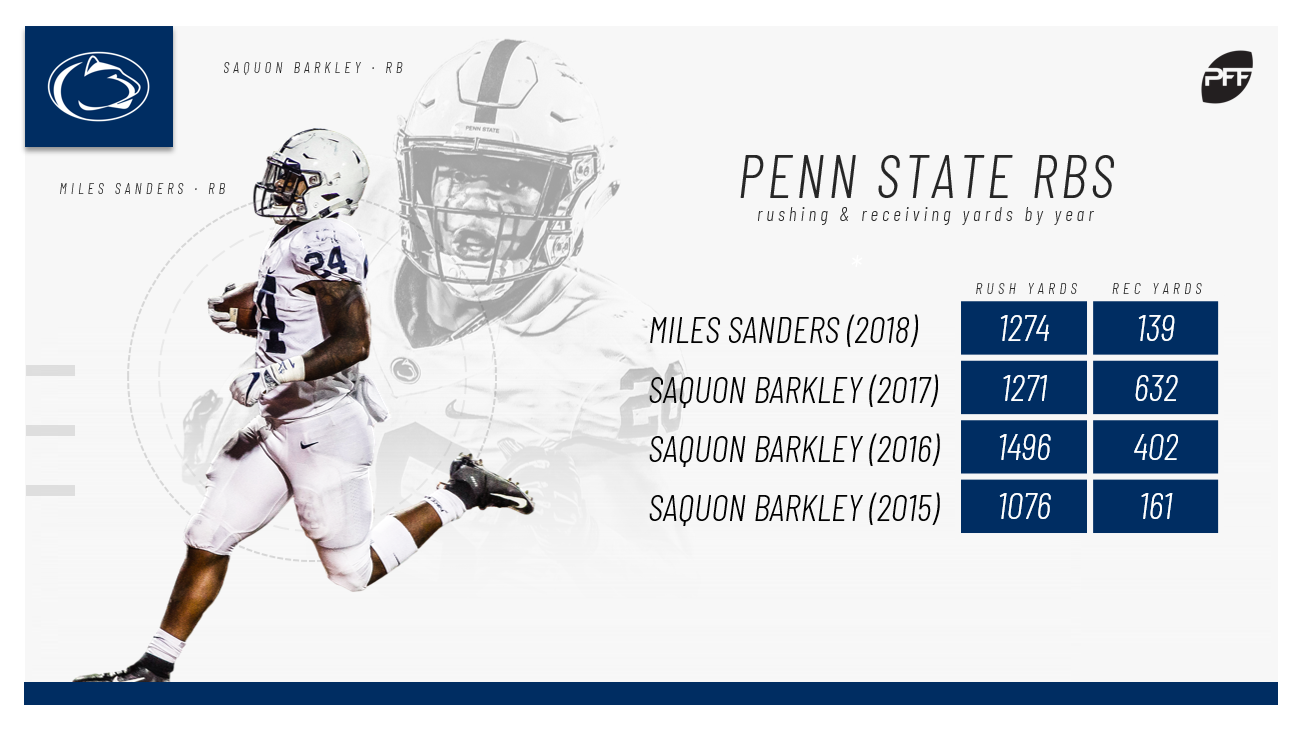 Sanders was stuck behind Saquon Barkley for his first two seasons at Penn State but impressed with a full workload last year. In 2018, Sanders actually totaled more rushing yards than Barkley gained the year prior, and on only three more carries. However, he wasn't nearly as effective a receiver, totaling only 139 receiving yards — Barkley totaled 1,034 receiving yards across his final two seasons at Penn State.
Henderson was one of the most efficient running backs we've ever charted in terms of yards after contact per attempt, yards per carry, and breakaway percentage. He also excelled as a receiver on limited work.
Like Henderson, Montgomery also broke numerous PFF College records in terms of efficiency, most notably in terms of missed tackles forced (as both a runner and a receiver). Over the past two seasons, Montgomery ranked behind only James Williams in receptions (58), with just one drop over that span. He also excelled as a pass blocker, ranking fourth of more than 350 qualifying running backs in pass-blocking grade.
2019 draft strategy
If we take each team's words at face value, all three rookie running backs are all players I'd be avoiding at ADP. However, I'm not so sure we should.
Sanders will likely be stuck in a three-way committee to start the 2019 season. I imagine him splitting early-down work with Howard while yielding passing-down work to Scott. However, I think by the middle of the season Howard could be demoted to more of a backup role in favor of Sanders, though the rookie will still likely cede targets to Scott.
Although I think Henderson will see a better workload than what McVay has implied, there's still probably zero chance he assumes a bell cow workload so long as Gurley stays healthy. Of course, Gurley also has a higher injury risk than most starting running backs. If Henderson can beat out Malcolm Brown as the team's primary backup, he'd have high-end RB1 upside every time Gurley missed a game. Remember, last season, C.J. Anderson averaged 24.0 PPG across three games when Gurley was hurt last season.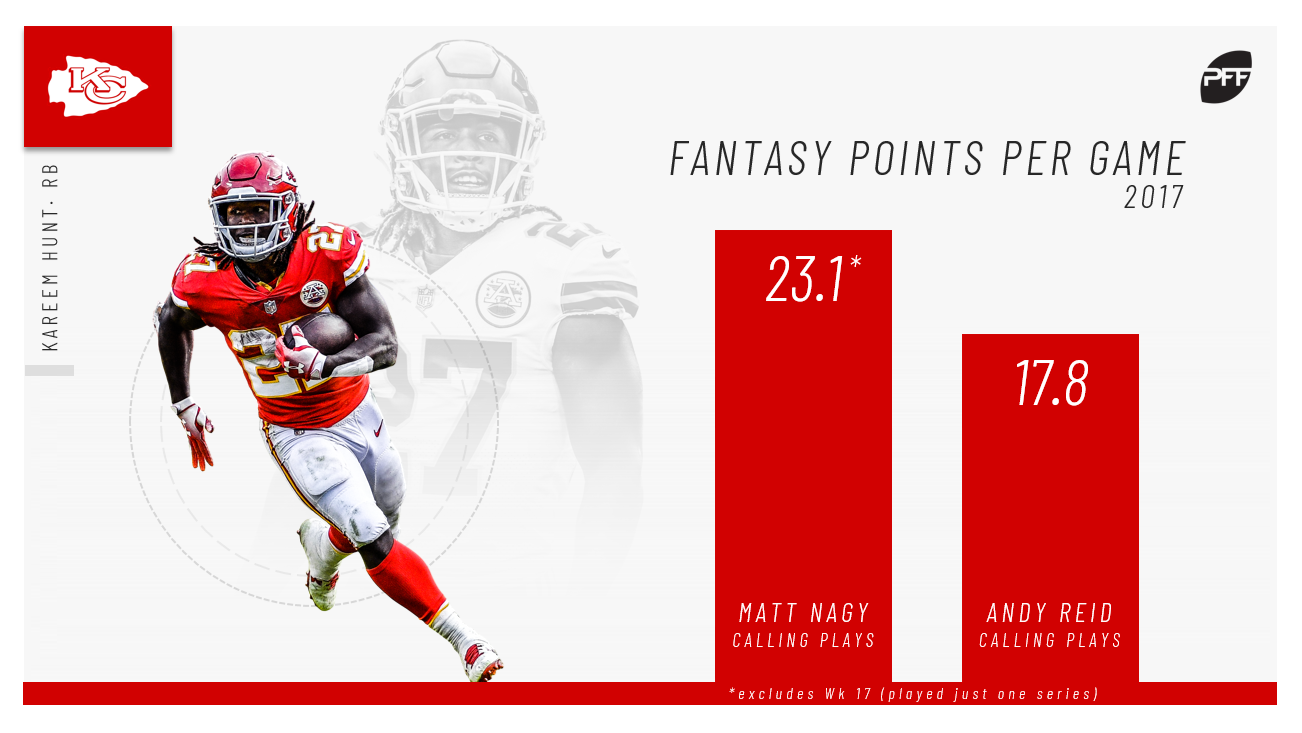 Bears head coach Matt Nagy preferred a bell-cow approach to his backfield while with the Chiefs in 2017. That season, Kareem Hunt averaged 21.3 expected fantasy points per game when Nagy was calling plays, as opposed to only 13.5 expected points per game when Andy Reid was calling the plays. However, he employed a committee backfield last year and everything the team has said this offseason implies they'll be doing it again in 2019, or at least Montgomery won't have anything handed to him in his rookie year. Still, he's at least a strong bet to lead the team in touches.
Conclusion
Generally, I think actions (draft capital spent) speak louder than words (quotes in June from coaches who don't want to put to much pressure on a rookie), but I think there's enough overall pessimism from the quotes we've read to start bumping these players down in our rankings. I was much higher on these running backs last month, and I could be again, but not without some more encouraging quotes from coaches and beat writers.
Of these three running backs I think I like Henderson the most right now, though if he is stuck in a committee, he's the least-likely to still lead the team in touches. However, if he has added handcuff value and legitimate league-winning upside if Gurley were to go down with an injury.