(As we head into the 2019 fantasy football season, we're taking a trip around the league to identify the offseason moves we'd most like to see each team make for fantasy purposes. Today: the Tennessee Titans)
The 2018 Titans were maddening. The team got minimal production from its wide receivers (only Washington had fewer PPR points), and its quarterback situation was a mess (only the Jets and Cardinals had less). But a late-season surge left Derrick Henry as the No. 16 PPR back on the season, an if-healthy duo of Delanie Walker and Jonnu Smith at tight end is a top-quartile unit in 2019, and Corey Davis and Marcus Mariota still have the potential to be a top stack if they can ever put it together. All told, the team was one miserable Week 17 game away from a second straight playoff berth, so despite the problems, it's clear the Titans are nowhere near tear-it-down mode.
The good thing about having some areas of security and some where help is definitely needed is that you know what you need to do. This isn't a situation where the team just needs to call everybody and hope to land some people. This is a situation where the Titans can go into the offseason with a focused attack.
(Keep up with the whole offseason wish list series here.)
Three offseason moves we want to see for Tennessee
Maybe no team in the league more desperately needs a top-flight slot weapon than the Titans. In his second year, Davis did fine work when he was in the slot in 2018 — 2.05 yards per route run from the slot on 39 targets — but he's the kind of receiver who will play the slot occasionally as he moves around the field, not a guy you just put in the slot and let him go.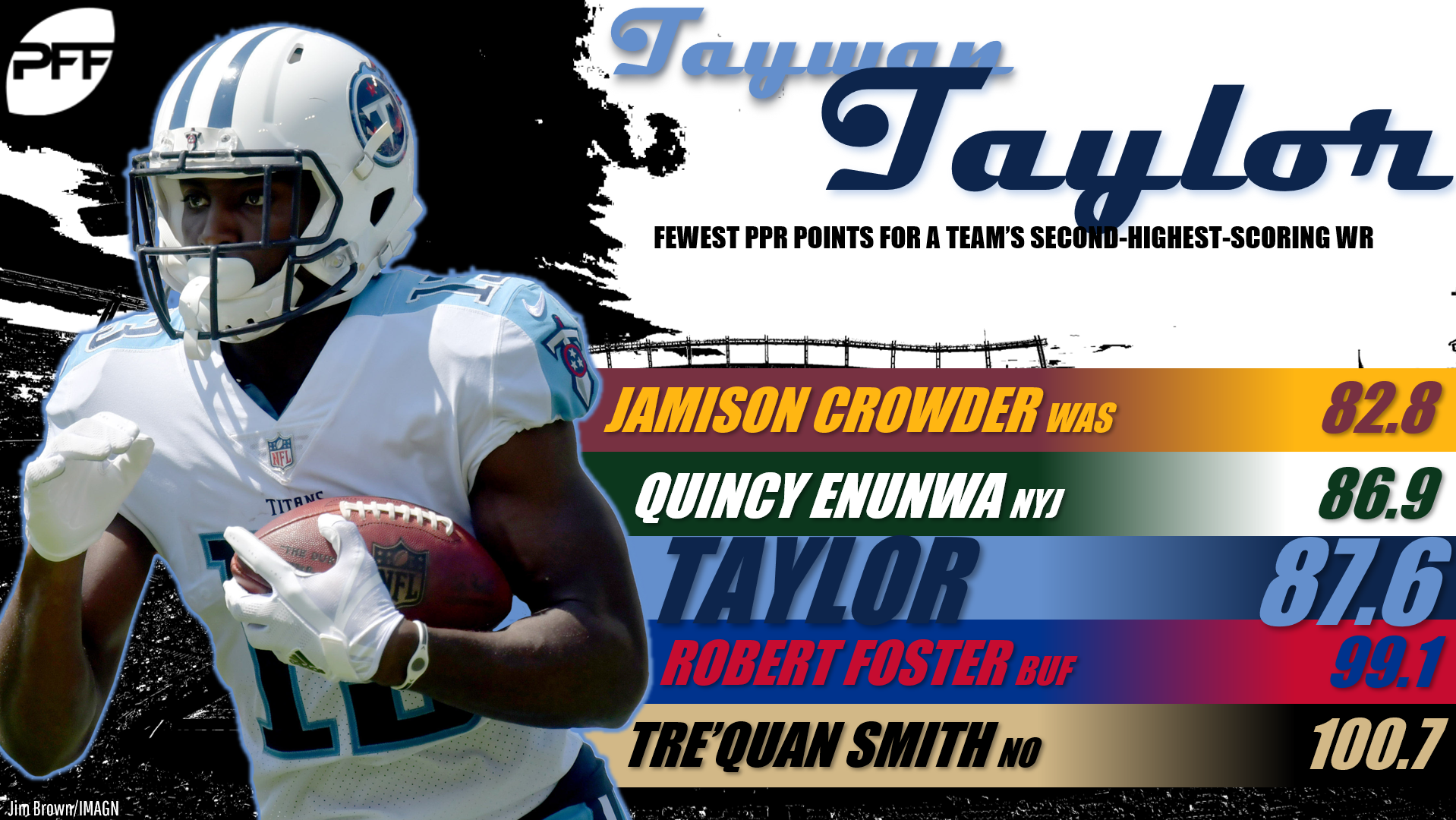 Tate, though, is the latter. Pairing him with Davis would give the Titans the best 1-2 receiving corps they've had in a generation of football and allow Mariota another pair of sure hands to work with. He'll be 31 at the start of next season, but given how close the Titans have been the last couple of years, it makes sense that he would want to join a team that close to serious contention.
Draft a wide receiver
With Tate or without, the Titans don't have enough at the receiver position. Taywan Taylor and Tajae Sharpe are names we know, and that's about it, as they've combined for barely 1,500 yards … over the last two seasons. Davis has the skillset to be a competing offense's No. 1 receiver, but a No. 1 receiver does not an offense make. Draft a receiver as early as you can justify the pick to pair with Davis (and go alongside Tate, if things break right) and reinforce that offense.
Perhaps the biggest sticking point for the Titans in 2018 was Mariota's health, as the team could have earned the AFC's second Wild Card with a Week 17 win, but had to run Blaine Gabbert out there, where he put up a 24.2 offensive grade as the Titans lost by a 33-17 score that wasn't as close as that score indicates. Gabbert played more than 20 snaps in five games over the season — Weeks 1-2, Week 11, Weeks 16-17. In those games, his 33.9 PFF grade ranked 41st of 41 qualified quarterbacks. They simply can't bring him back in 2019 if Mariota is going to continue to be his injury-prone self.
Taylor had a miserable tenure as the starting Cleveland quarterback. But even a deteriorated Taylor is better than Gabbert, and more suited to back up the mobile Mariota. He won't command a high price tag in free agency, and backing up Mariota with Taylor gives the team more of a chance should something happen to Mariota again than your typical veteran retread.