(As we head into the 2019 fantasy football season, we're taking a trip around the league to identify the offseason moves we'd most like to see each team make for fantasy purposes. Today: the New York Giants)
Our own Tyler Loechner put together a piece during the Pro Bowl week looking at the best rookie fantasy seasons (on a PPR points-per-game basis) of the PFF era. The most interesting thing about the piece was that the leader at each position did so for the same team, within the last five seasons, and is still active and performing at a high level for the same team.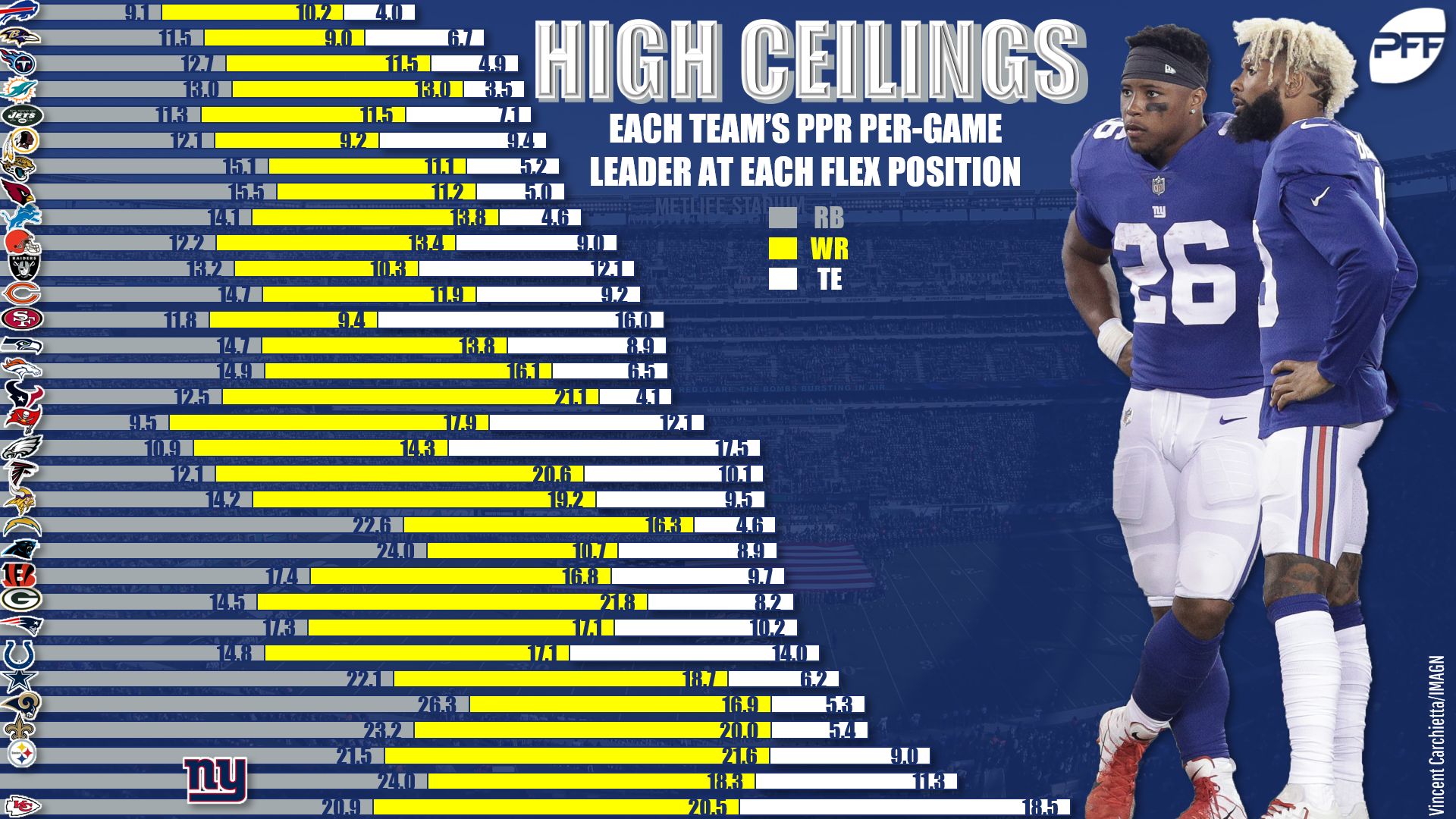 Saquon Barkley, Odell Beckham Jr., and Evan Engram might be the best leader at each position on one team in the league, at least since Kareem Hunt lost his job in Kansas City. And yet the Giants finished middle of the pack in 2018 in points scored, averaging about 23 points a game. Does all of the blame for that performance fall on Eli Manning's shoulders? Obviously not. But it's fair to question, at this point in the quarterback's long career, whether he bears the lion's share of the fault.
That question is the biggest one for New York this offseason, as it has been for the last few. Will the Giants decide it's time to look for their next quarterback? And if they do, who will they target?
(Keep up with the whole offseason wish list series here.)
Three offseason moves we want to see for New York
Frankly, the Giants should have been the team after Bridgewater last offseason. Even if they didn't want to commit to him as the starter in 2018 after he had missed essentially two full seasons, there were more than enough warning signs in Manning's game that a backup with a potentially high ceiling like Bridgewater made plenty of sense.
They shouldn't repeat that mistake this offseason. There are some uninspiring stopgap options available in free agency, like Ryan Fitzpatrick, Josh McCown, and probably Joe Flacco, but Bridgewater is the most interesting option for helping those elite fantasy weapons of New York reach their ceilings. And if he flames out, there's always the option to also …
Draft Dwayne Haskins
The Giants have the sixth pick in this year's draft, and it wouldn't be a stretch to say that none of the five teams ahead of them is likely to be in the quarterback market. Maybe Oakland at 4 or Tampa Bay at 5 dips their toes in the water, but the truth is that the Giants are the first team, barring a trade-up, that should really be looking at quarterbacks.
The downside is that this is not the quarterback class of some recent years, but still, having your pick of the litter is nice. The Giants should look for a quarterback close to ready to compete in case they fail to bring in Bridgewater or he proves uncapable of returning to form. Kyler Murray, for my money, might have a higher ceiling in the league, but his size makes him a project for a team to figure out how best to employ him. Haskins might have a higher floor than Murray, especially early in his career and especially if he's surrounded by the kinds of weapons the Giants have. Sign a quarterback, draft another, let Manning walk, and move forward in the Giants lives with a new checkpoint in their quarterback history.
The Giants were a real case of haves and have-nots in 2018 on the offensive line. Nate Solder struggled in the first half of the year before putting it together the rest of the way. Will Hernandez had an up-and-down rookie season. But after those two, the line was largely a disaster, leading to Manning being sacked 46 times.
Enter Nsekhe, who had a higher run-blocking grade (70.9) than anyone on the Giants a year ago and added a 76.4 pass-blocking grade to boot. Already 33 (34 in October), Nsekhe might not command a premium price tag, but he could help cement the tackle position — he's been primarily a left tackle in his career, but with Solder there, Nsekhe has done enough work at right tackle that it's worth seeing if he could hack it there.