(As we head into the 2019 fantasy football season, we're taking a trip around the league to identify the offseason moves we'd most like to see each team make for fantasy purposes. Today: the Los Angeles Rams)
Think about your all-time favorite movie. You've seen it a hundred times. It isn't perfect — basically nothing is — but you love it. But if forced, you could nitpick. Maybe this scene was edited poorly, or maybe that acting choice was a little questionable. It's still wonderful, but you can admit that there could have been just a little more fine-tuning.
That's sort of what it feels like to be suggesting moves the Rams could make this offseason. Sure, everybody can improve, but considering the Rams just made it all the way to the Super Bowl, considering they have the back-to-back leader in running back fantasy points per game and three different receivers who put up fantasy starter numbers when healthy, asking for a lot more starts to feel a little greedy.
Nonetheless, yes, the Rams are just shy of perfect for fantasy, and we have some ideas of offseason moves that could move the needle just slightly further.
(Keep up with the whole offseason wish list series here.)
Three offseason moves we want to see for Los Angeles
A big chunk of the Rams' surge the last two years has been the offensive line, and a big part of that offensive line has been Saffold, who is hitting free agency this offseason. He's the best guard likely to come on the market, making him likely a popular target, but the Rams also have very few important pieces hitting free agency, particularly on offense, so they should be doing everything within their power to keep him around.
Draft more offensive linemen
The Rams had the same five starting offensive linemen in every game in 2017 (other than Week 17). They also had the same five starting offensive linemen in every game in 2018. They weren't the same five both years (Jamon Brown started in 2017; Austin Blythe in 2018), but they didn't have any in-season turnover on the line, which is borderline incredible. It's also something that is unlikely to keep going. Something has to give. And while the Rams aren't in a position of desperate O-line need, particularly if they keep Saffold around, better to get deeper rather than hope a group of guys who get hit one very play and are now a year older just keep staying healthy ad infinitum.
Draft a tight end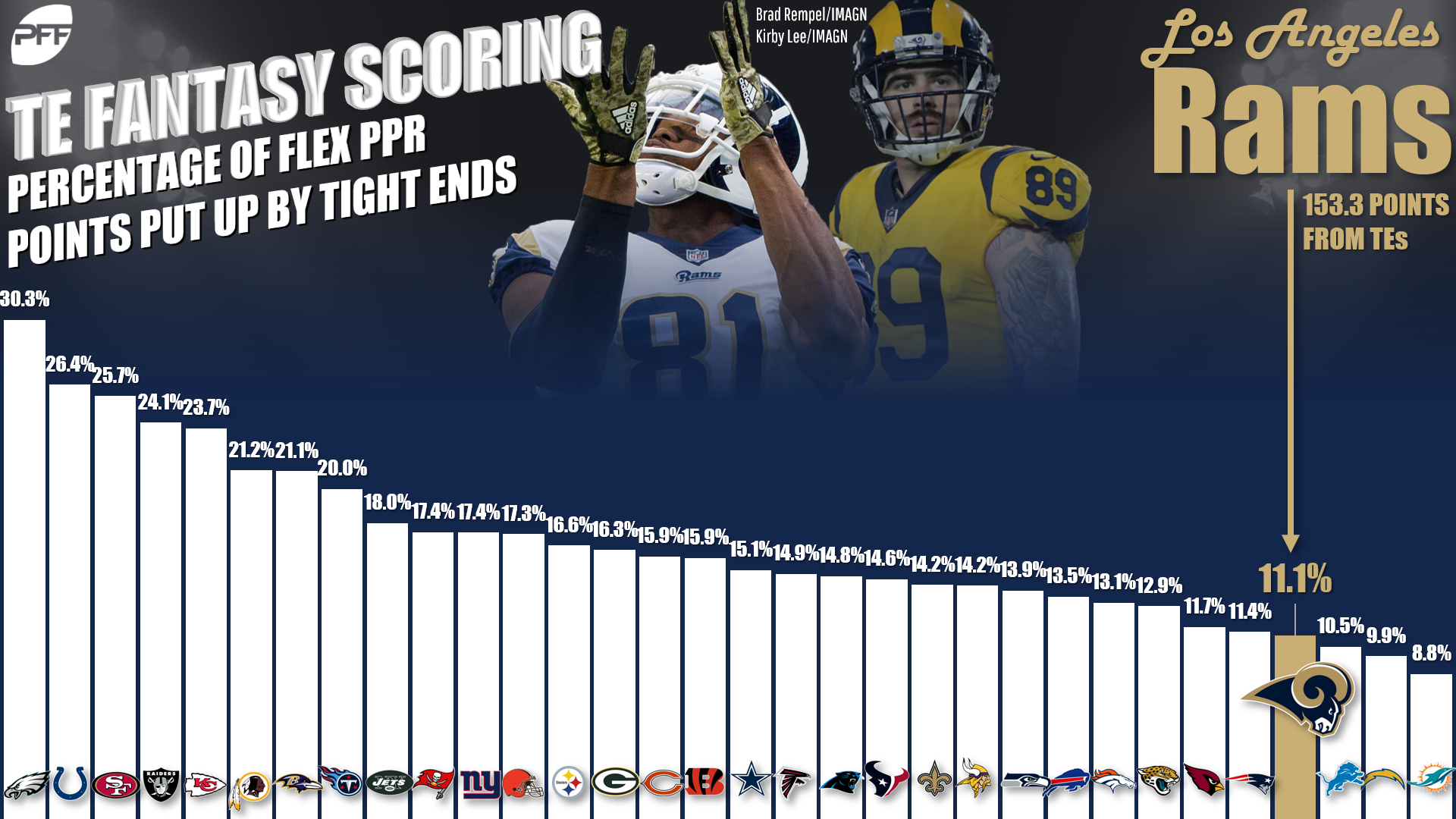 Tyler Higbee and Gerald Everett were competent-to-more-than-competent blockers in 2018. Everett had the third-best run-blocking grade at the position (76.3), while Higbee's 72.3 pass-blocking grade was top-30 as well. And with three (or four, depending on your feelings about Josh Reynolds) good receivers in the offense, the Rams haven't had to lean on their tight ends in the receiving game — the position had 78 combined targets last year, barely 600 receiving yards.
So the Rams shouldn't be going nuts to throw money at a Jared Cook or an Austin Seferian-Jenkins this offseason. But it's a deep class of pass-catching tight end options in this year's draft. The Rams could invest in some guy who might matter in 2019 but is more likely to be relevant in 2020 and beyond when some of the current crop of performers has aged out and/or moved on.