(As we head into the 2019 fantasy football season, we're taking a trip around the league to identify the offseason moves we'd most like to see each team make for fantasy purposes. Today: the Denver Broncos)
The salad days of Peyton Manning are long gone in Denver. The Broncos went 9-7 in 2016 but have scuffled to a combined 11-21 record in the last two years, barely cracking 600 combined points over the two years after putting up 606 in 2013 alone. The team brought in Case Keenum as a free agent last offseason, but he struggled to only the league's No. 26 passing grade and the 29th-most fantasy points per game.
Beyond Keenum, change has been happening around the Denver roster. The team started 2018 expecting to be led by Demaryius Thomas, Emmanuel Sanders, Royce Freeman, and Jake Butt. By the end of the year, Thomas was in Houston, Sanders and Butt were on IR, and Freeman had taken a backseat to undrafted rookie Phillip Lindsay.
With a team in as much flux as any in the league, it's time to look at our ideal moves the Broncos could make this offseason from a fantasy perspective.
(Keep up with the whole offseason wish list series here.)
Three offseason moves we want to see for Denver
Draft a quarterback
Maybe nobody saw Keenum as the savior in Denver, but the Broncos were likely expecting more than they got from him after he finished 2017 with the No. 9 PFF grade and 15th-most fantasy points despite not playing Week 1 in Minnesota. Instead, he was just another so-so option in a division with the spectacular Patrick Mahomes and the less-spectacular-but-still-very-good Philip Rivers. Keenum is under contract for one more year, heading up a depth chart that also has Kevin Hogan and Garrett Grayson after Chad Kelly flamed out for non-football reasons.
All that is a long-winded way of saying the Broncos don't have their quarterback of the future and very much need one. With the 10th pick in the draft and multiple extra late-rounders, the Broncos should be looking to get one of the top names in this year's draft if that's at all on the table.
Both Butt and Jeff Heuerman have had fleeting moments of productivity and could do something if called on in 2019 (though Heuerman is a free agent), but they are far from sure things. Cook has never exactly been a sure thing in his career either, but even his baseline is a better receiver than the Broncos have had since Julius Thomas, and his ceiling would make him the best they've had since … well, Julius Thomas. There will likely be plenty of contenders bidding for Cook's services, but the Broncos should be at the head of the line.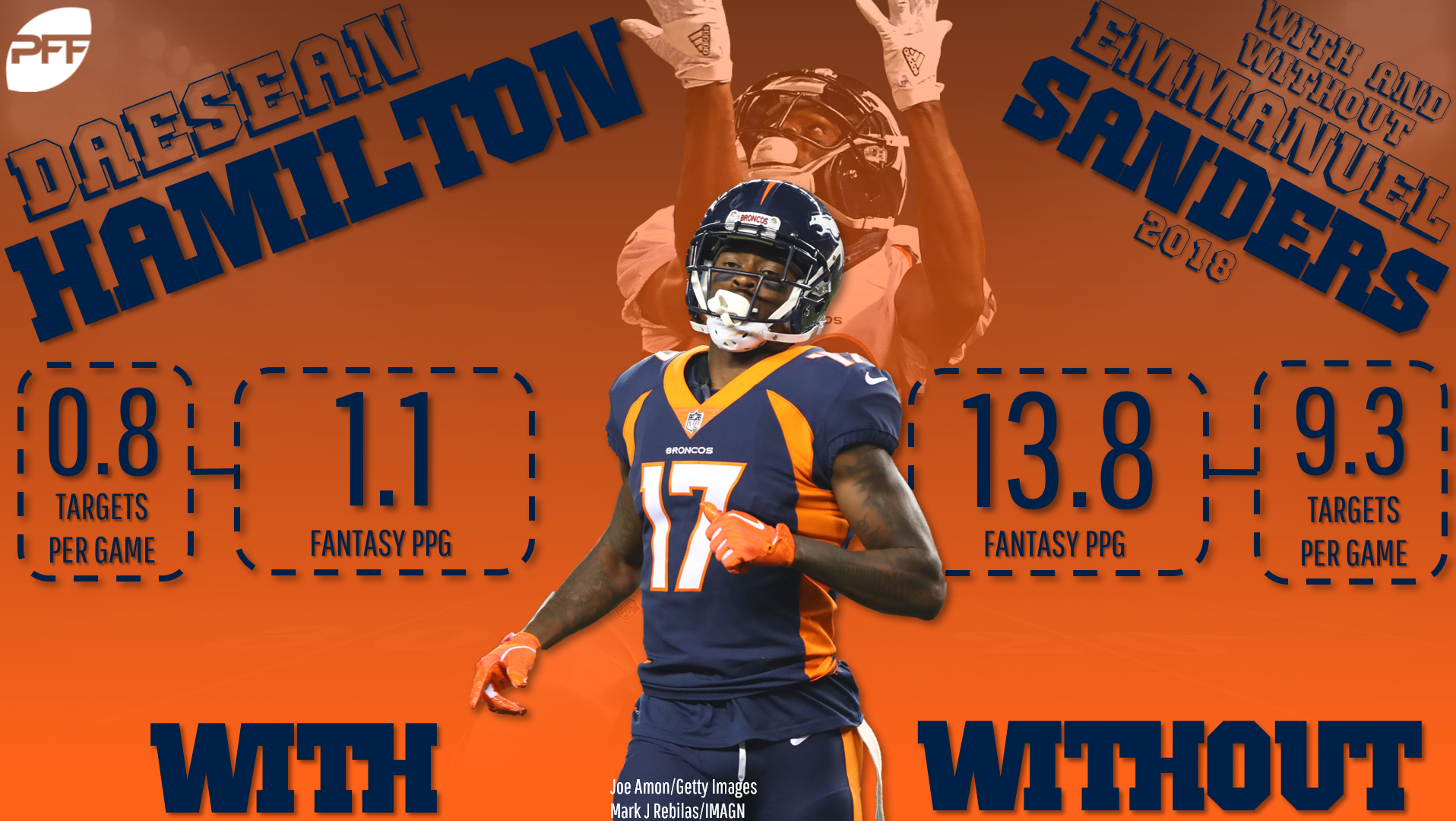 Thomas is gone and might not play again for a big chunk of 2019 even if he gets signed. Sanders is still with the Broncos but is a candidate to start the year on PUP at least. The Broncos ended the 2018 season with an all-rookie receiving corps of Courtland Sutton, DaeSean Hamilton, and Tim Patrick, and while those three could all develop and become a young trio of dominators, bringing in a veteran like Tate would ease the rookies' burden and give Keenum an extra security blanket.