So far this preseason, Panthers head coach Ron Rivera has lived true to his words that he wants Christian McCaffrey to greatly increase his rushing attempts this season. McCaffrey has been a consistent presence on the field with the team's first-team offense and has taken a share of that workload to rival the most featured of feature backs like Le'Veon Bell and Melvin Gordon.
In the #Panthers opening two preseason games, Cam Newton and their first-team offense has run 35 plays, spanning 7 total drives.

Christian McCaffrey has been on the field for 28-of-35 first-team snaps (80%) and handled 83% of the RB touches. #RB1

— Graham Barfield (@GrahamBarfield) August 18, 2018
Fantasy players are convinced a jump is coming this season as McCaffrey has made his way into the top-20 in overall ADP on all of the major sites. But I worry that drafters are overlooking the many injuries the Panthers have suffered on their offensive line this summer. McCaffrey is relatively quick but undersized, which is the type of player hurt most by poor run-blocking. If the Panthers can't find ways to plug the holes on their line, he could disappoint with another season of production skewed heavily toward his receiving.
It's been less than a month of training camp, but the Panthers are already down three offensive linemen. Daryl Williams and Matt Kalil were both presumed starters who suffered knee injuries that will likely cost them time in the regular season. Williams' most likely replacement, Amini Silatolu, has a similar prognosis for his own knee injury. And that barrage comes on top of the team's offseason loss of Andrew Norwell, who signed a five-year contract with the Jaguars.
The last prominent Carolina offensive lineman standing, Trai Turner, also led the group with 71.2 run-blocking grade last season, so the situation isn't totally hopeless. However, the team's blocking wasn't particularly stout even when it had its full complement of big men last year. Excluding quarterback runs, Panthers backs saw just 1.46 yards before contact per attempt last season, which was squarely in the middle of the pack.
A bad offensive line won't stop the Panthers from attempting to run, and last year's top-10 fantasy seasons from Gordon and Leonard Fournette with sub-4.0 yards-per-carry averages once again prove that opportunity more than efficiency drives fantasy success. The problem for McCaffrey is that his skill set relies more heavily on good blocking than a power back like teammate C.J. Anderson does. Last season, McCaffrey averaged just 0.51 yards on the carries where he was contacted at or behind the line of scrimmage. That was fifth-worst of the 47 backs who took 100 or more carries and nearly a full yard worse than Anderson.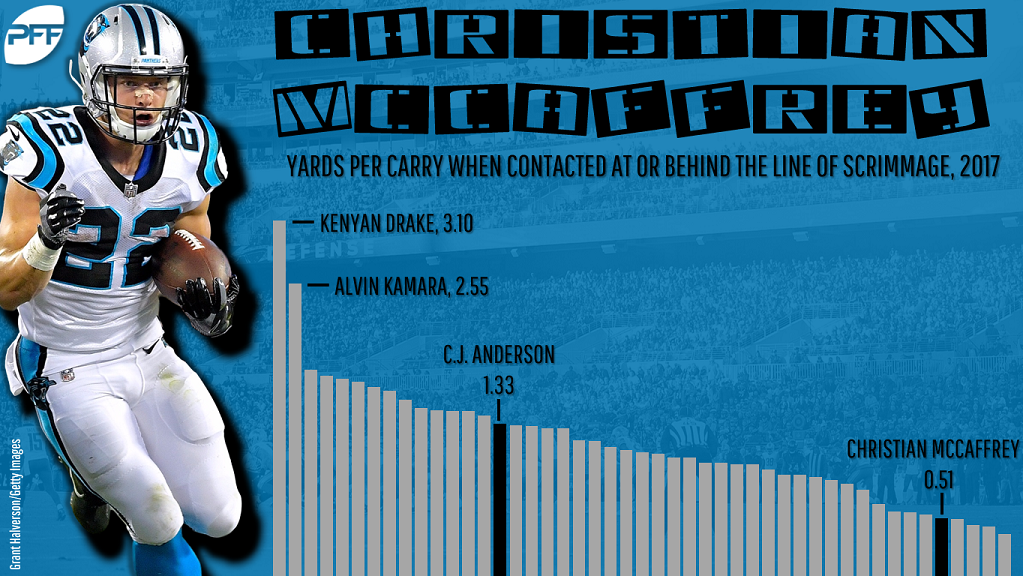 While it's obviously better to perform well on every type of carry, it's not impossible to be a plus contributor with that specific weakness. Bilal Powell (0.44 poor-blocking YPC) and Tevin Coleman (0.56) both added yards relative to a typical back across all of their carries despite poor performances on these types of plays. McCaffrey has the big-play potential to do the same. It just seems like the Panthers could provide the worst possible environment for him to try.
I worry, too, the Panthers won't stay committed to McCaffrey to make that effort. The Panthers' early-down play-calling has traditionally leaned on plays with lower ceilings and higher floors. Cam Newton is the NFL's best third-and-short converter, and the team's entire offense is built from that. If McCaffrey puts them in a lot of second-and-long situations that Anderson would avoid, the team may gravitate to a workload split that more closely mirrors what they had with Jonathan Stewart and McCaffrey last season, even if that costs them a few big plays over the course of the season.
Suffering his own injury is the only thing that will prevent McCaffrey from being a useful fantasy back this season. But being a second-round fantasy selection is a high standard to live up to. McCaffrey seems at his best when he has the space to use his agility to avoid tackles and break big plays, and the Panthers' offensive line woes could make that difficult this season.