Ezekiel Elliott's holdout situation has created a big-time headache for fantasy football drafts in 2019. As Le'Veon Bell showed us last year, we can't assume that a running back in today's NFL will simply end his holdout and report the team when the season starts. Bell's situation also showed us that you can potentially strike fantasy gold as the result of a holdout, as James Conner was a revelation last season for the Steelers. Heading into the preseason, the Dallas Cowboys backfield didn't really present a clear handcuff to Elliott, but that looks to have changed with Tony Pollard.
The fourth-round pick in April's draft, Pollard was lightly used as a ball carrier in college with just 139 career totes. His role at Memphis was mainly as a returner and in the passing game. This usage led to some assumptions that he could play a complimentary role as a third-down back for the Cowboys. So it came as some surprise when Jerry Jones talked the rookie up and said he thought Pollard was "capable of … carrying the whole load."
Sometimes what coaches, general managers, and owners say, and what really happens on the field are two totally different things. In 2013, then Bills offensive coordinator Nathaniel Hackett infamously quipped that C.J. Spiller was going to get the ball "until he throws up." That didn't happen, but Hackett's comments are undoubtedly a big reason why Spiller went as the sixth overall pick in fantasy drafts that year.
But the thing about NFL teams is that there are places where they can't lie to us. Roster moves, draft picks, and player usage in games are three of the biggest places where the truth comes out. In some instances, like Spiller's 2013 usage, that truth doesn't match what the team top brass say. But if these areas do align with what's being said from the team, we know we have something on our hands.
So let's take a look at Pollard in the preseason. Jones and Jason Garrett have had nothing but good things to say about Pollard so far, and the rookie performed very well in the Cowboys' second preseason game with 42 yards and a score on five carries. Those numbers certainly look good, but the box score rarely tells the whole story in the preseason. To get at the heart of what's going on, we need to look a little closer.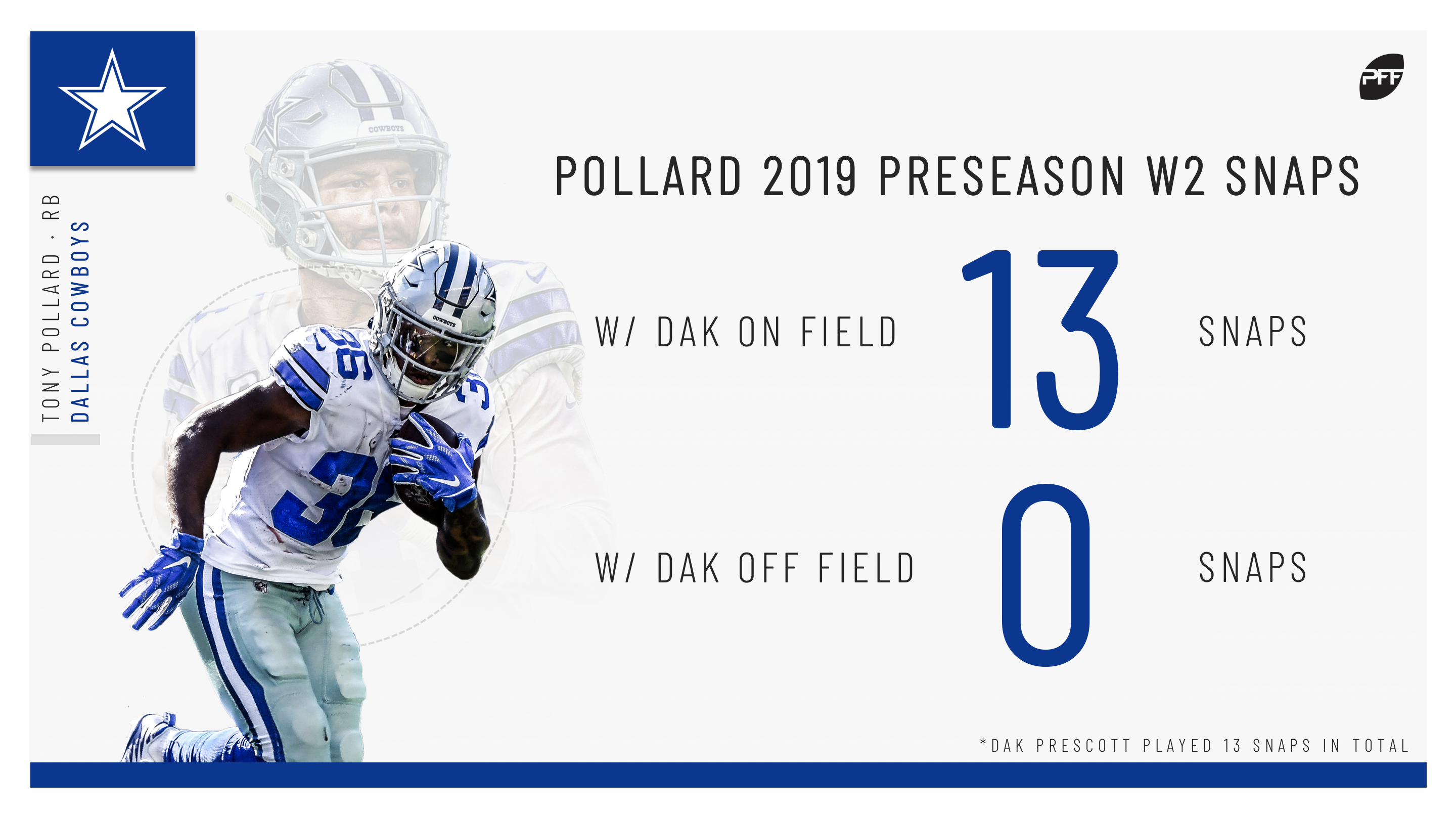 Pollard was on the field for 13 offensive snaps in that contest. Those also happened to be the Cowboys' first 13 offensive snaps. Dak Prescott was under center for all 13 snaps as well. On the next series, Alfred Morris entered the game, and Mike White came in at quarterback. In other words, there were 13 first-team snaps for the Cowboys, and Pollard played every single one of them.
That's an eye-opening stat that is significantly more important than Pollard's stat line. The usage he saw in this contest supports the quotes from Jones, Garrett, and Stephen Jones that suggest the team views him as a potential bell cow back. Of course, this is just one quarter of action in a preseason game, but it's enough that we need to start taking notice for fantasy purposes.
If you head into your fantasy drafts this weekend and Elliott is still not with the team, Pollard is a priority target in the late rounds. At this point, it isn't crazy to consider him as early as the 10th round in a 12-team league. And you don't have to be the person who draft Elliott to pick Pollard. Plenty of folks drafted Conner without Bell last year and that paid big-time dividends. Pollard may not be this year's Conner, but everything we've seen and heard so far on him is encouraging. Pollard needs to be taken for real as Elliott's handcuff.