Obviously, a lot happens each week in the NFL. Less obviously, some of it means a lot for fantasy football and some doesn't. Each week in this space, I'm running through the key lessons from each game.
This is what we learned in the Week 10 games.
Back to life …
It's gotten steadily better for Melvin Gordon since his return to the field. The last two weeks, he's topped 20 carries twice, with 188 rushing yards and 54 receiving yards combined and 3 total touchdowns. And with Austin Ekeler's touches drying up a bit (he's had 12 or fewer touches in four of the last five games, 8 or fewer in three of five), it looks like Gordon's back in the RB1 conversation again.
… Back to reality
Darren Waller's line, Week 7: 7 catches, 126 yards, 2 touchdowns. Waller in three games since: 7 catches, 103 yards, 1 touchdown. Waller hasn't had more than 3 catches in a game in that stretch after having at least 4 in every game before that. He's still a starting tight end, but his decreased usage means he's closer to the back of the obvious-start tier than the front.
Montgomery a safe workload, not much upside
David Montgomery got 17 of the Bears' 20 backfield carries Sunday. With Mike Davis gone and Tarik Cohen more receiver than running back, Montgomery is going to have close to 20 carries or more pretty much every week. The problem is, he turned those carries into only 60 scoreless yards and wasn't targeted in the passing game, and this was supposed to be a golden spot. He's a flex option in fantasy with only marginal weekly upside.
Come back soon, Stafford
Jeff Driskel wasn't bad by any means Sunday. He threw for 269 yards at a 5.8 per-attempt clip, hit Kenny Golladay for a late touchdown that kept the Lions alive in the game, and even led the team in rushing yards (at 37). But the team failed to put up at least 22 points for only the second time all season (and they won the other one). Matthew Stafford had averaged 371 passing yards over his last three. Driskel's functional, but Stafford's a star.
All tight ends, all the time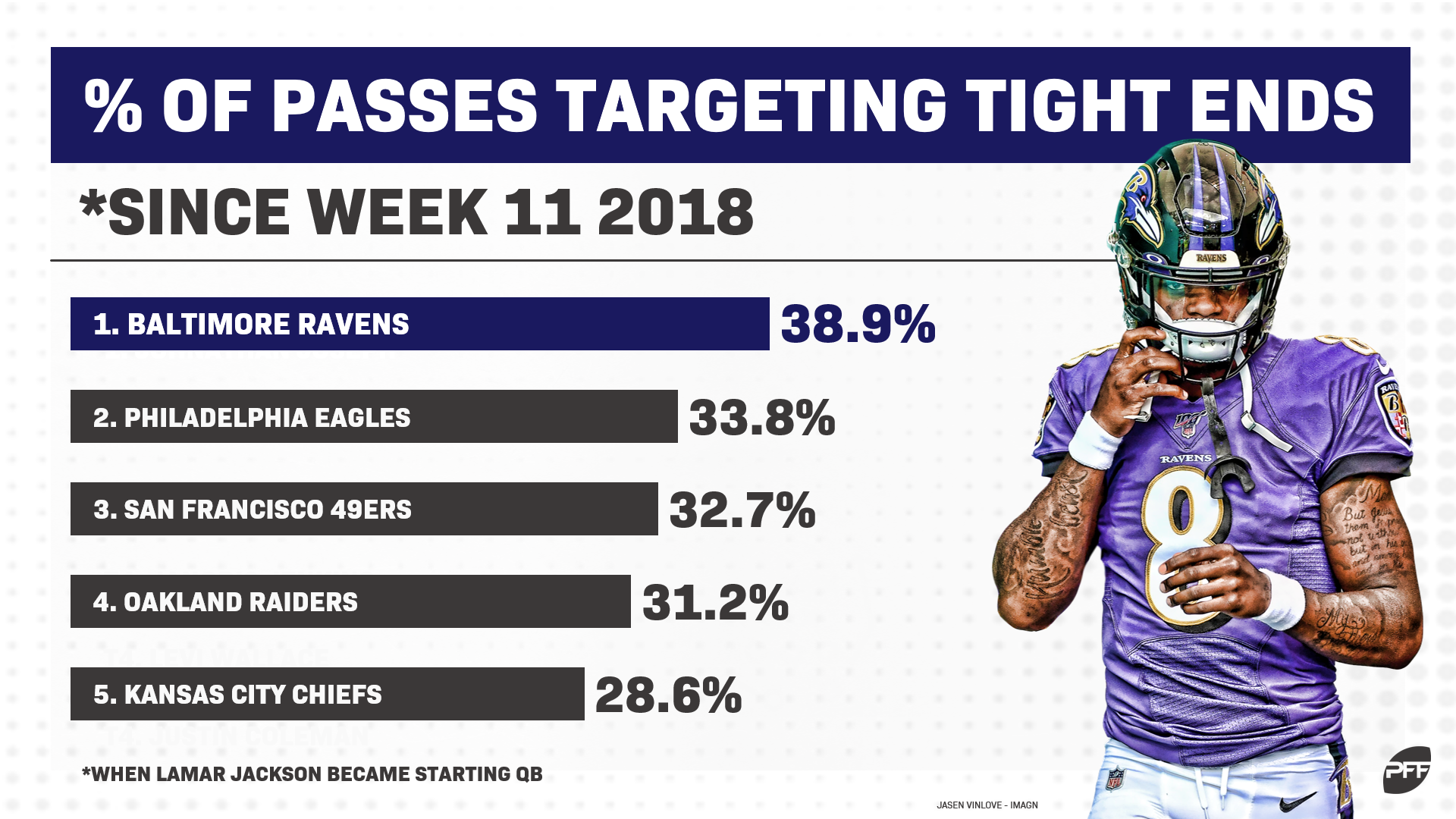 Lamar Jackson has targeted tight ends more often than any other quarterback since taking over the starting job, and not by a little — the Ravens have targeted tight ends on 38.9% of their pass attempts since Jackson became the starter, with the Eagles second at 33.8% (the Ravens have targeted the tight ends the third-most often despite attempting the fewest passes). You know what it means for Mark Andrews, who is the team's No. 1 tight end (but still not playing as many snaps as you'd like from your fantasy tight end), but what the tight ends gain the receivers lose. Marquise Brown and Willie Snead were the only receivers to get any targets Sunday, and Snead's all came with Robert Griffin III in at the end of the game. Brown had a fine 4/80/1 line, but ultimately, it's hard to trust anyone who plays receiver for Baltimore.
Welcome, Joe
Joe Mixon isn't going to have much upside this year, not behind that offensive line with that quarterback in that overall offense. But he topped 20 carries for the first time all year (going all the way to 30), cracked 100 yards for the first time, and topped it all off with his most receiving yards (37) on the year as well. That sort of performance is enough to trust him as a super-low RB2 or high-end flex.
You wouldn't call what Hunt did Sunday a massive game by any stretch. He had 74 total yards on 11 touches. But the fact that 7 of those 11 touches were receptions (his 9 targets were third on the team) meant that Hunt ended the game with 14.4 PPR points, and a No. 2 running back putting up 14.4 points is a player we have to consider as a flex option. Hunt's back on the map.
Allen, a running back who throws
All of the concerns the cognoscenti ascribed to Lamar Jackson a year ago were right, they just hit the wrong target. Josh Allen has to be called at least a modest success, considering the grief the Bills got when they drafted him, but so much of his value is based on his legs. He passed for a career-high in yards Sunday … at 266. He has only thrown for more than 2 touchdowns in a game once (Week 17 of last year) and has 1 or 0 passing TDs in six of nine games this year. And despite that, he's plenty valuable in fantasy, thanks to 6 rushing touchdowns. His rushing (even at a slightly lower ceiling than 2018) will keep Allen a QB2 with upside.
Ito Smith landing on injured reserve made Hill interesting even before Sunday's game, as he became the clear handcuff to Devonta Freeman. But then Hill got plenty of playing time Sunday behind Freeman, and got even more when Freeman left late in the game with a foot injury. He finished the day with 61 yards on 20 carries, and also caught a 10-yard touchdown. If Freeman misses time, Hill is a definite flex play next week, and even if Freeman's okay, we suddenly have to pay attention to the handcuff.
Saints marching out
You know how even the best TV shows have the occasional awful episode, but you come back to watch the next episode because the show has earned your loyalty? Yeah, that's the Saints from Sunday. Michael Thomas had his standard amazing game (13-152) and Jared Cook was fine, but overall, just ignore Week 10 when you look back on the Saints' 2019.
Howard lives!
O.J. Howard didn't have a massive game, with 47 yards on 4 receptions, but he scored a touchdown (his first of the year), so that was nice to see. Three of his four receptions came on the Bucs' final drive before the first half, for whatever that's worth. We'll need to see him do it against someone who isn't the Cardinals (check out T.J. Hockenson's season line for more), but people who have been holding on to Howard have to like what they saw.
Johnson had a cool 0.0 PPR points Sunday, gaining 10 total yards, catching a pass, and losing a fumble to cancel it all out. He now has 4 rushing yards on 6 carries over the Cardinals' last four games (to be fair, he missed two of those games). Johnson wasn't very efficient even early in the season, but was doing enough to be worth it in fantasy. Now, if you have any alternative at all, he needs to be benched (especially in Week 11 against San Francisco) until he shows he still has something to offer.
Obviously, that's an exaggeration. But in four starts for the Titans, Tannehill has 1,117 yards and 8 touchdowns, plus a rushing score and Sunday's mad come-from-behind win. The Titans have gone 3-1 under Tannehill. And he has done it mostly without Delanie Walker, and without Corey Davis Sunday as well. Tannehill's a genuine fantasy consideration as long as this run continues.
Mahomes doesn't miss a step
I listed Patrick Mahomes as one of my DFS players to avoid in Week 10, and I absolutely stand behind the call. As I wrote there, it wasn't about numbers; it was about health. We had no way of knowing how Mahomes would perform in his first game back from injury, and I wagered that Mahomes' obvious ceiling wasn't worth the risk, especially at his high DFS price tag. That call looks bad in retrospect, with Mahomes passing for 446 yards and 3 touchdowns, and I took some grief on Twitter, but again, I stand by the risk/reward evaluation. But now, he's right back at or near the top of the QB rankings.
Bell saved by a score
Le'Veon Bell had a pretty awful day Sunday, not even getting two yards a carry (34 yards, 18 carries). He added another 34 yards on 4 receptions and, crucially, ran for a touchdown, so all told, his fantasy line was acceptable (16.8 PPR points), but this just isn't our old Le'Veon Bell. He's averaging 3.2 yards per carry on the year, hasn't had more than 70 rushing yards in a game all year, and has only scored three times. Even dominating the work in New York, he's just an RB2.
Saquon wishes he could be Le'Veon Bell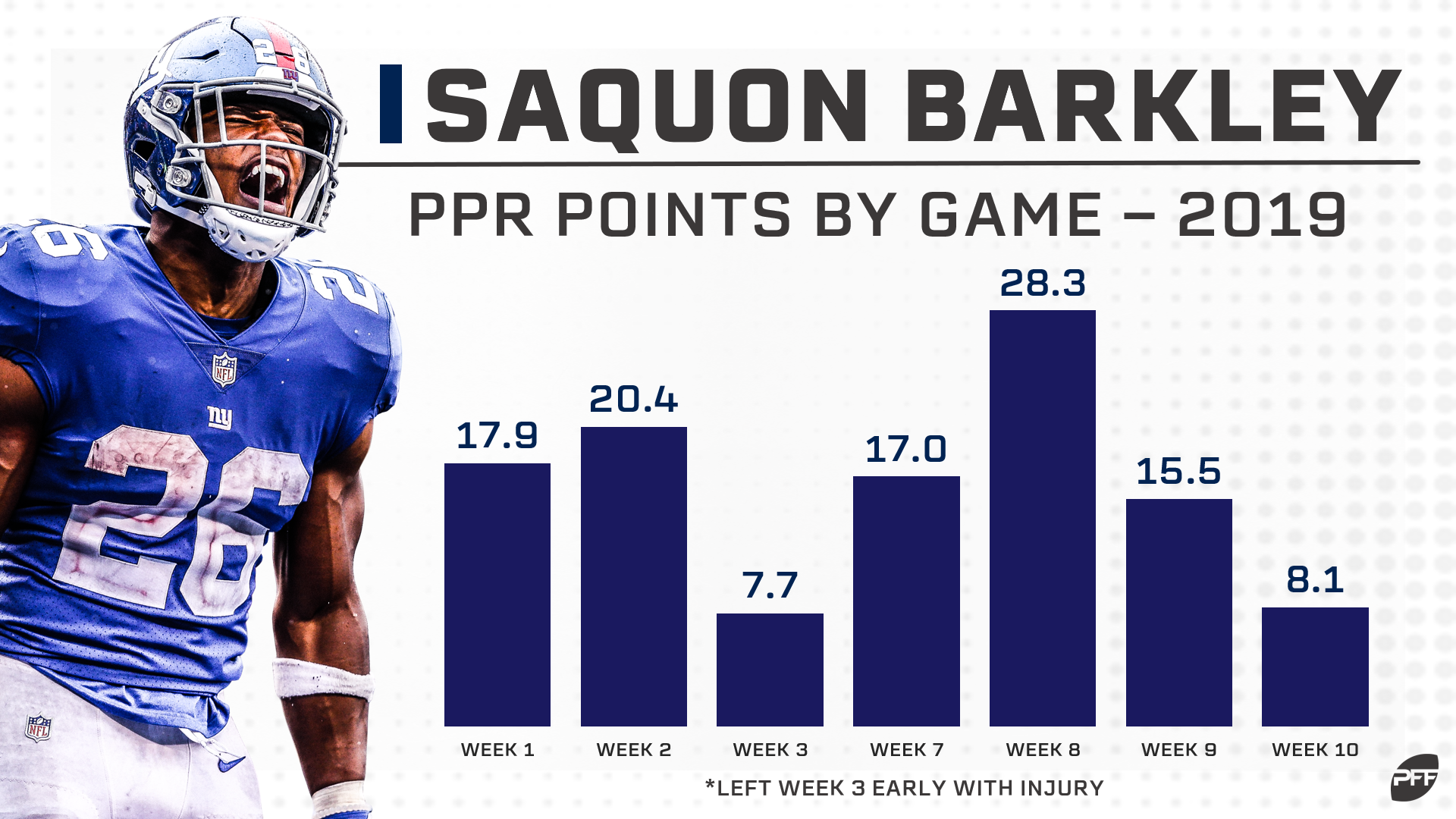 Other than the game he got hurt a few weeks ago, Saquon Barkley has seemed immune to disaster games so far in his career before Sunday. But he could scarcely have had a worse day, as he carried the ball 13 times in this game … for 1 yard. That feels impossible. Barkley had 5 receptions for 30 yards, but overall, it was a miserable outing. Barkley now hasn't rushed for 100 yards since before his injury and has only surpassed 100 scrimmage yards once. He's a must-start every week, but you have to start lowering your estimates.
Bad-llage
The trade of Kenyan Drake and the suspension of Mark Walton opened up an opportunity for Kalen Ballage. And he all put slammed that door shut all on his own Sunday. Ballage averaged 2.2 yards per carry on 20 attempts in the game, actually improving his seasonal yards per carry. He still doesn't have a single 10-yard rush on 55 attempts this year. Whether it means signing a free agent or leaning on Patrick Laird or Myles Gaskin or De'Lance Turner, who knows, but Kalen Ballage is not the answer.
Come back, Jacoby
In Jacoby Brissett's absence Sunday, Brian Hoyer almost led the Colts on a comeback, coming up just short on a drive in the fourth quarter. Of course, coming up just short against the Dolphins is hardly a compliment, and Hoyer struggled in the game, with 1 touchdown against 3 interceptions and a 38.8 passer rating. He leaned on his tight ends (Jack Doyle had the touchdown while Eric Ebron had a massive 12 targets), so if Brissett remains out that's where you'll focus your fantasy attention, but ultimately it's hard to trust any Colts without Brissett in the lineup.
There's gotta be more balance eventually
Davante Adams had a big game Sunday, catching 7 balls for 118 yards. Jimmy Graham had 59 yards. Aaron Rodgers threw for 233. And yet all the scoring came from Aaron Jones, who had a 13/93/3 line rushing. Jones now has 11 rushing touchdowns this year and another 3 receiving, and it seems impossible that he could keep that sort of production going all year. The Green Bay passing game will have more success than it has the last two weeks.
Carolina? No lessons
Christian McCaffrey is great. D.J. Moore, Curtis Samuel, and Greg Olsen are fine, and even better when the Panthers are in pass-friendly gamescript like they were for most of Sunday. And other than those names, there isn't a name to know in this offense. Jarius Wright had a single catch for 21 yards Sunday, the only Carolina skill player with a touch other than the big four. There is no team that requires less roster diving than this one.
Nobody got anything from the Steelers
Yeah, James Washington had a tidy 6/90/1 line Sunday, but he was only started in James Washington-only fantasy leagues. Diontae Johnson's 64 yards might have helped a few people. But otherwise, the names we care about in Pittsburgh didn't perform. Jaylen Samuels had 40 total yards and 7.0 PPR points, while JuJu Smith-Schuster had 3 receptions for 44 yards. The Steelers under Mason Rudolph are winning games, but the offense just isn't very exciting.
Sup, Kupp?
Cooper Kupp had 4 targets Sunday … for zero receptions. Robert Woods (7/95) and Gerald Everett (8/68) were the team's leading receivers as Jared Goff turned in a really bad overall game. With the Rams facing tough defenses (the Bears and Ravens) the next two weeks, we don't really have a choice but to downgrade this entire offense, at least until the Cardinals game Dec. 1.
Thielen missed Sunday and barely played the week before. In those two games, after a combined 452 yards the three games before, Diggs totaled only 53 receiving yards. Of course, Thielen missed Week 8 and barely played Week 7 and Diggs fared just fine in those games, so this isn't as simple as "one needs the other," but it's still true that this offense is missing a gear without Thielen on the field.
Remember when Amari Cooper might not play?
There were health concerns about the Cowboys star receiver through much of last week, but they cleared up by Friday and we were assured he would be active. He responded with a massive 14 targets, hauling in 11 for 147 yards and a score, including some ridiculous toe-tapping sideline catches. Cooper now has 80-plus yards six times in nine games, and has scored at least once in six different games as well. He's a top-tier WR1.