Fantasy football is a great game of "what if." You didn't win your league, but *if* you had just started the longshot receiver in Week 2 over the big name, you'd have won, and you'd have had a better seed in the playoffs, and then …
This is common. (Just ask my wife.) But while we can never go back and re-litigate your individual conundrums, the "what if" game also works across fantasy at large.
I played this game last year, wondering how the world of fantasy would be different if Adrian Peterson had remained a Saint, Alex Collins had remained a Seahawk, and Aaron Rodgers had remained a healthy quarterback, among other things. And I'm bringing it back this year. Below are five of my favorite "what if" questions from the 2018 fantasy season, and how our perception of the season might be different if only for a tiny butterfly effect.
(I'm ignoring "what if he had stayed healthy" questions, because those can take you down a rabbit hole that never ends.)
What if … The Packers give Aaron Jones the No. 1 role more quickly?
The fantasy community was all over Jones entering the season. We'd have to wait two weeks for him to serve a suspension, but after that, he'd take over for Jamaal Williams and Ty Montgomery and be a star.
The only problem was Mike McCarthy was not thinking along the same vein. Jones didn't have even 15 carries in a game until Week 10 and only reached that number three times all season before a Week 15 injury ended his sophomore campaign. Williams, meanwhile, had 15 and 16 carries in the two weeks Jones missed and maintained enough of a presence in the offense to steal some of Jones' potential without achieving any fantasy success of his own (until Jones was gone).
The problem is, no matter how you look at it, Jones was a fair piece better than Williams. He broke 33 tackles on 159 touches; Williams broke 14 on 148. He averaged 3.0 yards after contact per carry compared to Williams' 2.6. He broke off eight carries of 15-plus yards for 225 total yards; Williams had three for 54 yards. He had an 81.5 PFF grade; Williams had 68.8. Even pass-blocking — supposedly Jones' bugaboo — was decisive, with Jones at 88.1 and Williams at 77.0.
Going to Jones earlier probably wouldn't have made the difference for the Packers, but for fantasy, Jones would have been an RB1 for a greater stretch of the season (he was the No. 4 RB Weeks 10-14), perhaps saving more than a few fantasy seasons. Williams would have been just a handcuff, instead of a frustrating touch-stealer. And Jones, with the publicity that comes with a longer chunk of big numbers, would go into 2019 as a possible first-rounder.
What if … Jordan Howard breaks off one big run in Week 2 or 3?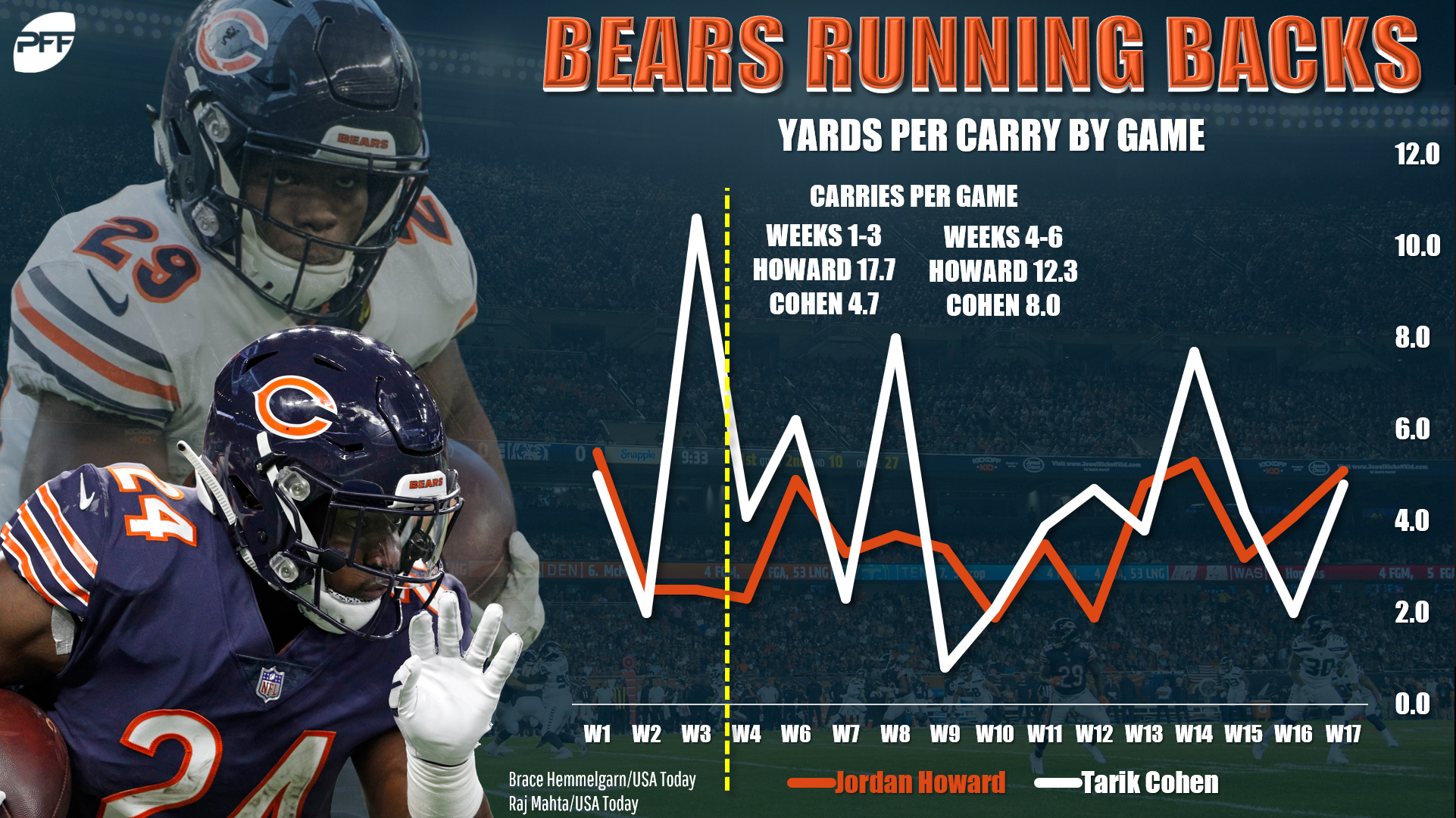 It's weird to remember now, but the Bears were still on the Howard Bandwagon to start the season. He had 53 carries and 11 targets through Week 3; Tarik Cohen had 14 and 8. The problem was, after a fine-if-unspectacular Week 1 — 15 rushes for 82 yards (5.5 YPC) and 5 catches for 25 yards — Howard did very little over the next two weeks, with 38 carries and 8 receptions for a total of 149 total yards and one score. So in Week 4 — that game when the Bears destroyed the Buccaneers by a score that would normally indicate heavy workload for the hammer Howard — Cohen had 13 carries and 8 targets, compared to 11 and 1 for Howard.
That set the tone for much of the rest of the year. Cohen never even had double-digit carries again the rest of the season, but he dominated the running back reception game and took a much higher percentage of the carries than he did in 2017 as a rookie. Howard finished the season as the No. 20 PPR RB, and even that only after four touchdowns over the final three weeks; he was RB30 after Week 14. Cohen, meanwhile, finished as RB11.
But what if Howard breaks off a 30-yarder in Week 2? Or if he got better blocking in Week 3? He averaged 2.9 yards after contact in Week 3 and only 2.5 yards per carry, meaning he was hit on average almost half a yard in the backfield. Give him 100 rushing yards in Week 3 instead of 61, and while he's not going to keep Cohen silenced all year — we heard in the preseason how Cohen was going to be the Bears' joystick — Howard probably finishes closer to his ADP than his disappointing low-end RB2 finish would indicate. If he performs just slightly better in the passing game early, maybe he remains more of a part of it (Howard had pass-blocking grades of 81.9 and 78.9 in Weeks 1-2, then only a 67.4 in Week 3). Howard had 11 targets through three weeks, then no more than 1 in a game again until Week 16.
Fantasy players who drafted Howard this season were left very disappointed, but if he had, say, 20% more carries at the same production, he'd have 1,100 yards and 11 rushing scores and been a fine return. But for two bad weeks …
What if … the Browns go with Baker Mayfield from Week 1?
It's hard to fault Cleveland for starting the season with Tyrod Taylor. While they took Mayfield No. 1 overall, and we at PFF were all about that selection, there was an argument for giving him time to grow, especially since they had in Taylor a quarterback who had been to the playoffs just a year earlier — nobody thought Taylor was a star, but there was reason to think he'd be competent and give the youngster time to develop.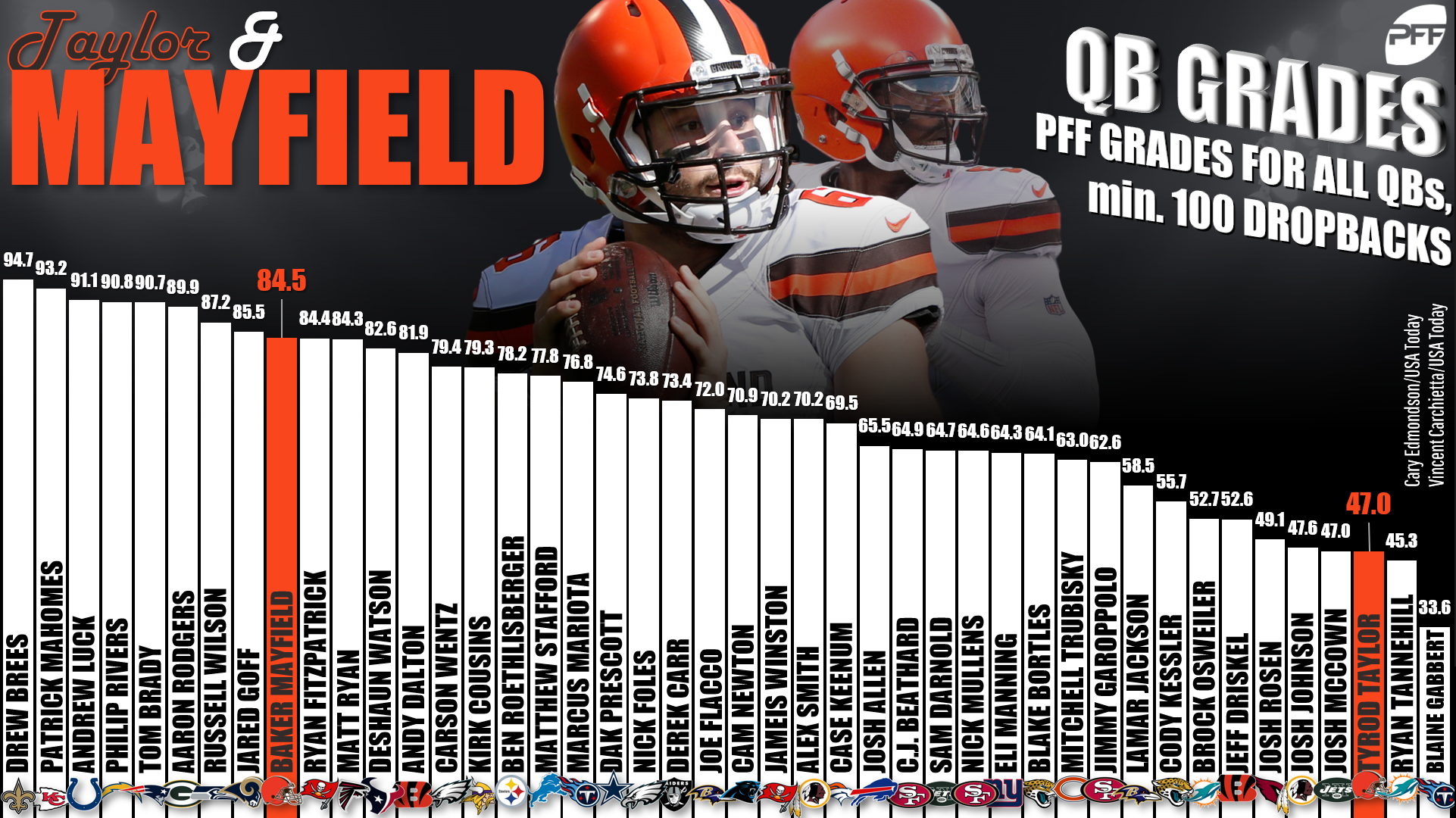 Instead, Taylor could scarcely have struggled more. He had a PFF grade of 46.9 through Week 3, better only than Mitchell Trubisky and Sam Bradford among quarterbacks who played all three games. His fantasy numbers weren't awful, because you could cut Taylor off at the bellybutton and glue the ball to his pelvis and he'd still be a competent pair of legs, but he had a 63.7 passer rating and 13 sacks as the Browns tied one game, lost by 3, and then won in Week 3 because Mayfield took over and led a comeback.
If Mayfield had started from Week 1? Well, we can't know, but seeing as how the Browns were 0-1-1 with a point differential of -3 when he took over, it's not remotely a stretch to imagine they could have gone 2-0 behind the No. 1 pick. At that point, they'd have been 9-7, which still wouldn't have been good enough for a playoff spot this year but would have been an excellent storyline. (The Saints also would have fallen to the 2 seed in the NFC.)
For fantasy, Mayfield ended the season a wholly respectable 16th in fantasy scoring in 13.5 games. If he had scored at that same pace across 16 games, he'd have put up 284.6 points, just behind Philip Rivers for 12th-best.
What if … Jon Gruden doesn't break things up?
There's a version of 2018 that includes Khalil Mack on the Raiders from Week 1 and Amari Cooper on the Raiders through Week 17. In that version, the Raiders themselves are … well, still bad. They finished 6-10 with those two and other better weapons, so it's not likely that an extra season of Mack and half-season of Cooper would have made the eight-game difference between this year's Raiders and the West-leading Chargers and Chiefs.
But the teams they went to? The Bears were widely projected to be the third-best team in the NFC North, behind the Vikings and Packers. Their defense was largely going undrafted in fantasy prior to the trade. Instead, the Bears won the division going away and their defense was comfortably fantasy's best. Mack obviously didn't make all that difference — the Bears overhauled much of the roster over the offseason — but instead of a playoff team with the top defense, we would have been looking at a Wild Card contender with a DST starter, but not a surefire fantasy weapon.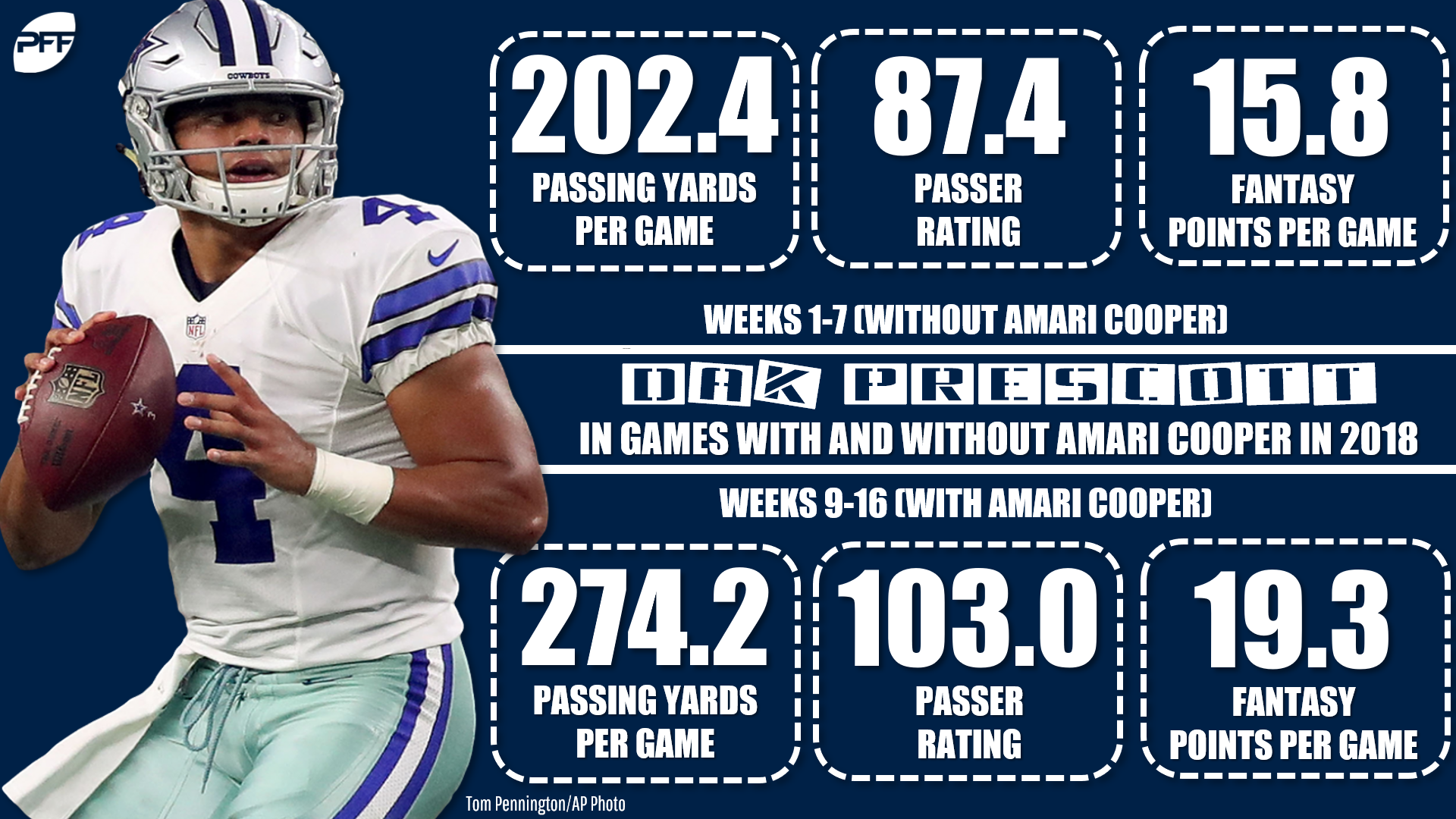 Meanwhile, the Cowboys were floundering before adding Cooper. They were 3-4 coming out of their bye, well behind in the NFC East, and while yes, Washington's collapse was probably coming regardless, it's hard to imagine the Cooperless Cowboys besting the Eagles, meaning they'd likely be home now. And Cooper had a positive impact on the offense. He was the No. 8 PPR receiver from Week 9 to the end of the year, while Dak Prescott was QB4 after having been QB24 through that point.
In short, thanks to Jon Gruden, we got a full season DST1 and a half-season WR1 and QB1.
And now the big one:
What if … the Giants draft Sam Darnold?
Saquon Barkley was really good. He was the No. 1 fantasy RB on the year and graded as our No. 4. For fantasy, early-round RBs often work out really well. But for real football? Let's just say there's less assurance.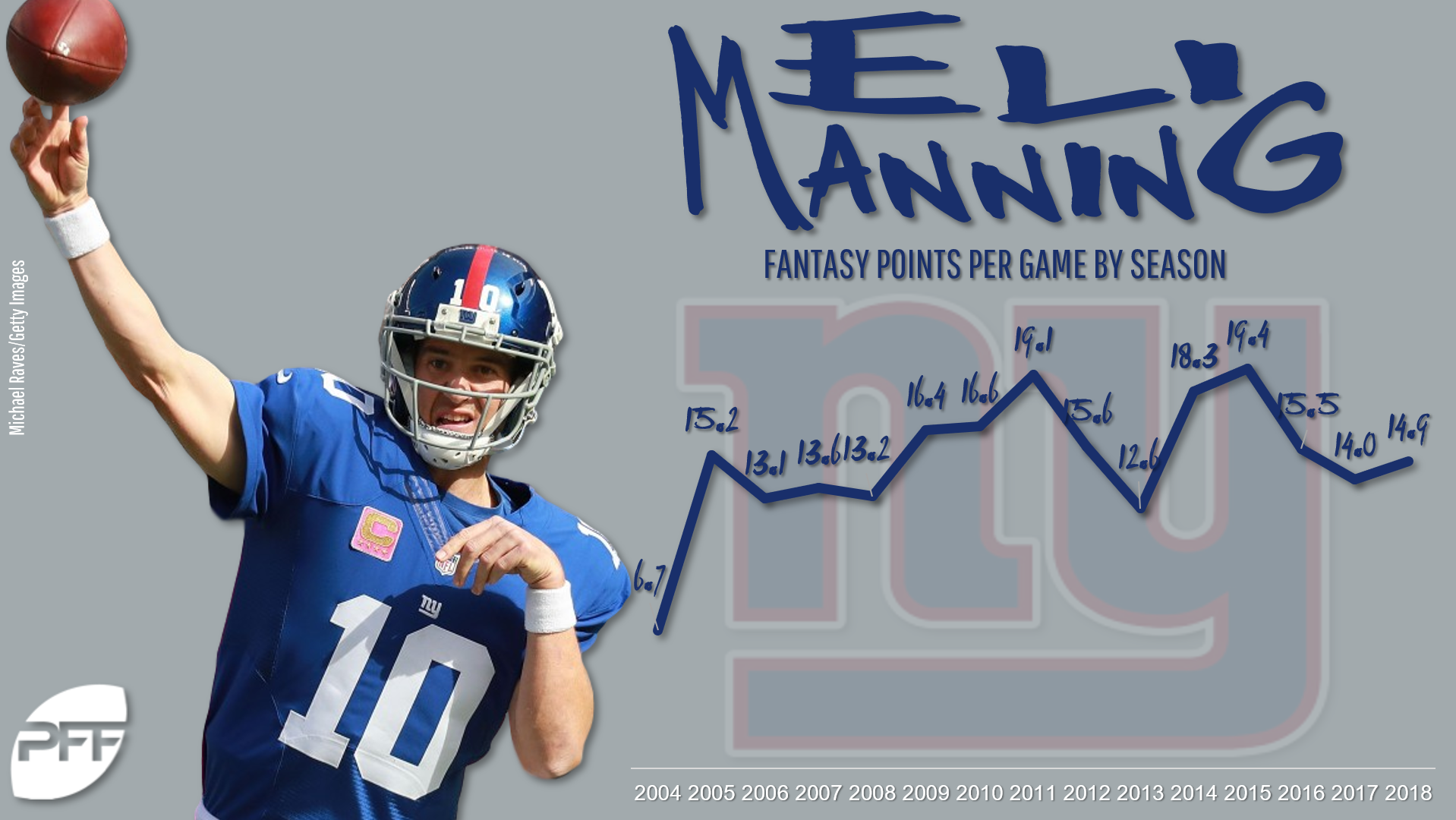 If the Giants had passed on Barkley in favor of Darnold, we'd have to like their present more than we do now, led by the aging Eli Manning inasmuch as whoever a team's quarterback is is their leader. Manning is not going to be a part of the next Giants winning team, though, and most everybody has known that for a while. Let's look at the dominoes (and yes, this is fairly heavy on the fan fiction, but I don't think it's crazy) …