Happy (almost) New Year, everybody! The 2018 NFL regular season was a wild ride — and, as a result, the fantasy season was pretty wild too. What are some of the top things we learned for fantasy football during the 2018 NFL season?
Below are 12 things we learned from the 2018 fantasy football season.
Quarterbacks
Patrick Mahomes is that dude. Mahomes scored over 400 fantasy points this year, the most of all-time. Mahomes will be worth an early-round pick next year, which is something we don't usually say about quarterbacks.
Andrew Luck is an elite fantasy QB again. Luck erased questions about his shoulder by throwing for 39 touchdowns this season, second-most in the NFL. He was a top-five fantasy quarterback yet again and should be drafted as such next season.
Lamar Jackson looks like the next big thing. After he took over as Baltimore's starter, Jackson was a regular weekly starter at the QB position thanks to his high rushing floor. He set a PFF-era record for fantasy points per dropback — but a lot of that has to do with the fact he doesn't actually dropback much. As his passing game improves over the next few seasons, Jackson will become one of the best fantasy quarterbacks.
Running backs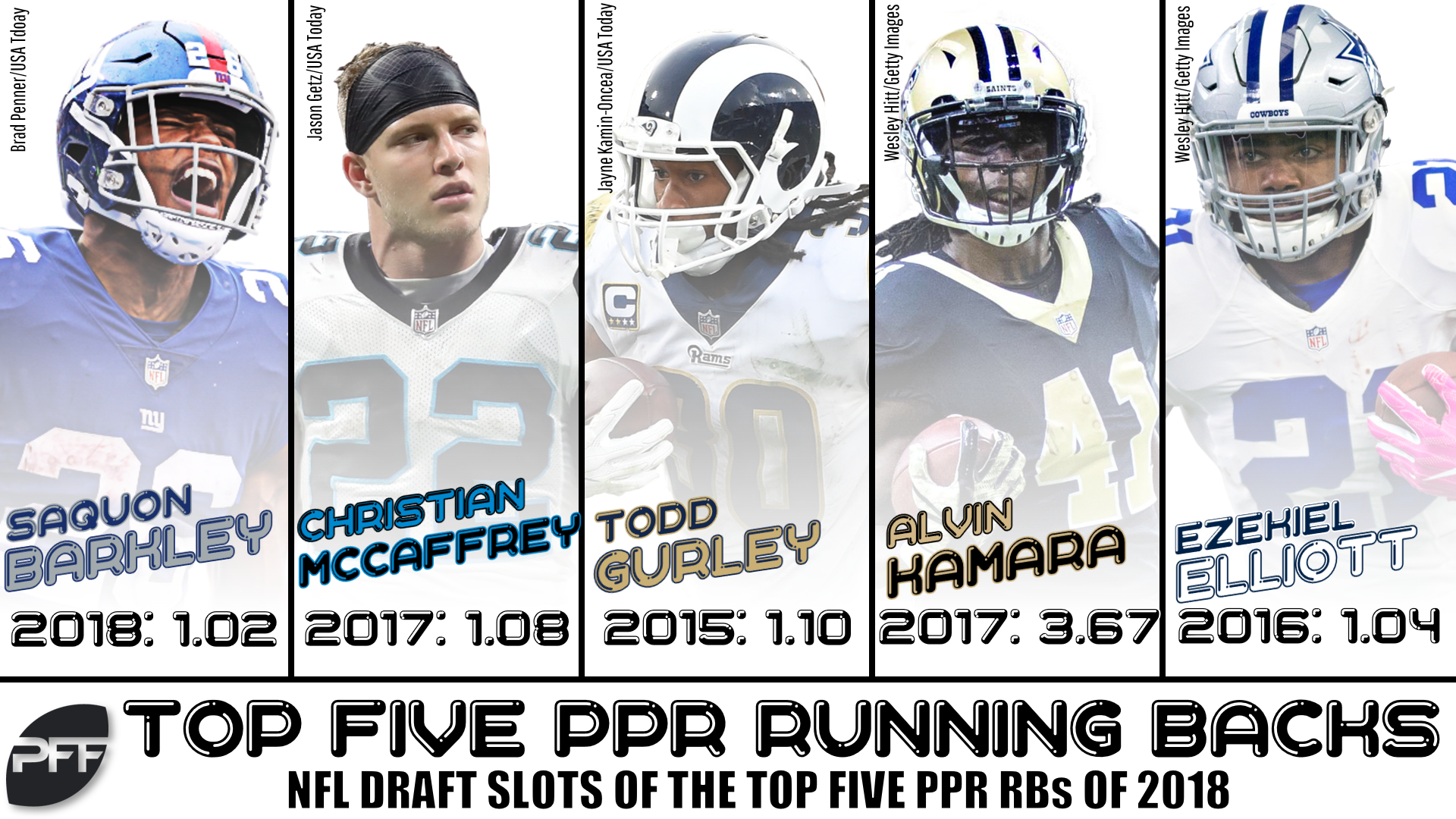 Saquon Barkley is worth the second overall pick (in fantasy, that is). Barkley finished as the overall No. 1 fantasy running back with over 2,000 yards from scrimmage and 15 total touchdowns. That was partially by virtue of Todd Gurley's injury and Christian McCaffrey essentially taking Week 17 off, but history will show a "1" next to Barkley's name nonetheless. We all make a pretty big fuss when a team select a running back top-10 overall in the real NFL draft, but those guys are turning into elite fantasy running backs. Barkley, McCaffrey, Gurley, Ezekiel Elliott, and Melvin Gordon all finished in the top eight among fantasy running backs this year.
David Johnson was a disappointment, but he's not totally dead. DJ quietly finished the season as the No. 9 overall fantasy running back, which, in the grand scheme of things, isn't that bad. It's obviously a huge letdown from where he was drafted, but he did gain 1,386 yards while picking up 10 total touchdowns. A new head coach in 2019 plus another year of development for Josh Rosen could work wonders for DJ. Don't sleep on him.
Phillip Lindsay's arrival was legit, and he'll only grow from here. Lindsay took over the unsettled Denver backfield and never let go, even though early in the season we all thought he was a flash in the pan. He was a tail-end fantasy RB1 all season long with big-play ability. The Broncos' offense is in rebuild mode and Lindsay will their best player next season and potentially beyond. He'll be fantasy relevant again.
Wide receivers
Yes, you can draft Tyreek Hill as an elite WR1. Hill finished the 2018 season as the top-scoring fantasy wideout despite ranking 11th in targets. A 15.5-yard average depth of target combined with a 67.2% catch rate will do that. Hill will be one of fantasy's best weapons for the next several years as both he and Mahomes are in their prime.

There's room in Pittsburgh for both Antonio Brown and JuJu Smith-Schuster. Pittsburgh is the first team since Peyton Manning's Broncos to produce two high-level fantasy WR1s. Brown (104-1,297-15) and Smith-Schuster (111-1,426-7) ranked fifth and eighth in fantasy wideout points this season, respectively. Both players will be bona fide WR1s again next year, with the only question being … who should be drafted first?
Julio Jones proves why you shouldn't complain about players being unlucky with touchdowns. Last year, Jones scored just three touchdowns, and everyone's "big knock" on him was that he didn't score enough to warrant a first-round fantasy selection. Then the first eight weeks of the 2018 season came and went and Jones was scoreless, and the noise grew louder. From Week 9 on, however, Jones scored eight touchdowns in nine games — including at least one touchdown in seven of nine. Football is a game with high game-by-game variance, and Jones 2018 season is living proof that touchdown regression is real.
Tight ends
There's a new elite group of tight ends. Since the 2011 season, we've gone through a few phases of "elite tight ends." First, it was Rob Gronkowski and Jimmy Graham. Their reign lasted a while. Then it was just Gronkowski for a bit with Travis Kelce knocking on the door. Kelce eventually joined him, and then Zach Ertz knocked and ultimately joined as well. This season, George Kittle replaced Gronkowski atop the heap, ending Gronkowski's dominant run — one of the most impressive we've even seen at any position. All hail Kelce, Ertz, and Kittle, our new tight end overlords.
Let's hand it to Jared Cook and Eric Ebron, who proved us all wrong this year. Cook and Ebron are two of the most-maligned tight ends in fantasy. Both players should have been this good for a long time, but they were never able to piece it together. We have to give credit where it's due, as both Ebron and Cook finished in the top-five among tight ends this season, just behind the elite trio. Ebron was arguably the best red-zone weapon in the entire NFL, with 14 total touchdowns, while Cook was the lone bright spot in Oakland with career bests across the board (receptions with 68, yardage with 896, and touchdowns with six). Both players are on the TE1 radar for 2019.

O.J. Howard was on his way to a strong TE1 season. Weeks 1-11, Howard was the No. 6 overall fantasy tight end behind … the names mentioned above. (On a per-game basis, he was actually fifth, just ahead of Cook). Even in a crowded Tampa passing attack, Howard proved he had a space. He was on pace for 54 receptions, 904 yards, and eight touchdowns. Don't forget about him for 2019.