Dynasty fantasy football players often view the NFL regular season as a time for their hard work in the offseason to finally pay off. The 16 weeks of meaningful football from September to December are simply the proving grounds for their trades of aging veterans, draft pick swaps and sneaky additions of training camp standouts. There are still plenty of edges to exploit in the regular season.
Here are the biggest dynasty risers and fallers ahead of NFL Week 9 and whether you should buy or sell the changing values.
Mims has finally arrived after missing the first six weeks of the season with hamstring strains. Despite him playing without Jamison Crowder or much of Breshad Perriman over the past two weeks, his market share numbers are impressive for a player taking the field for the first time.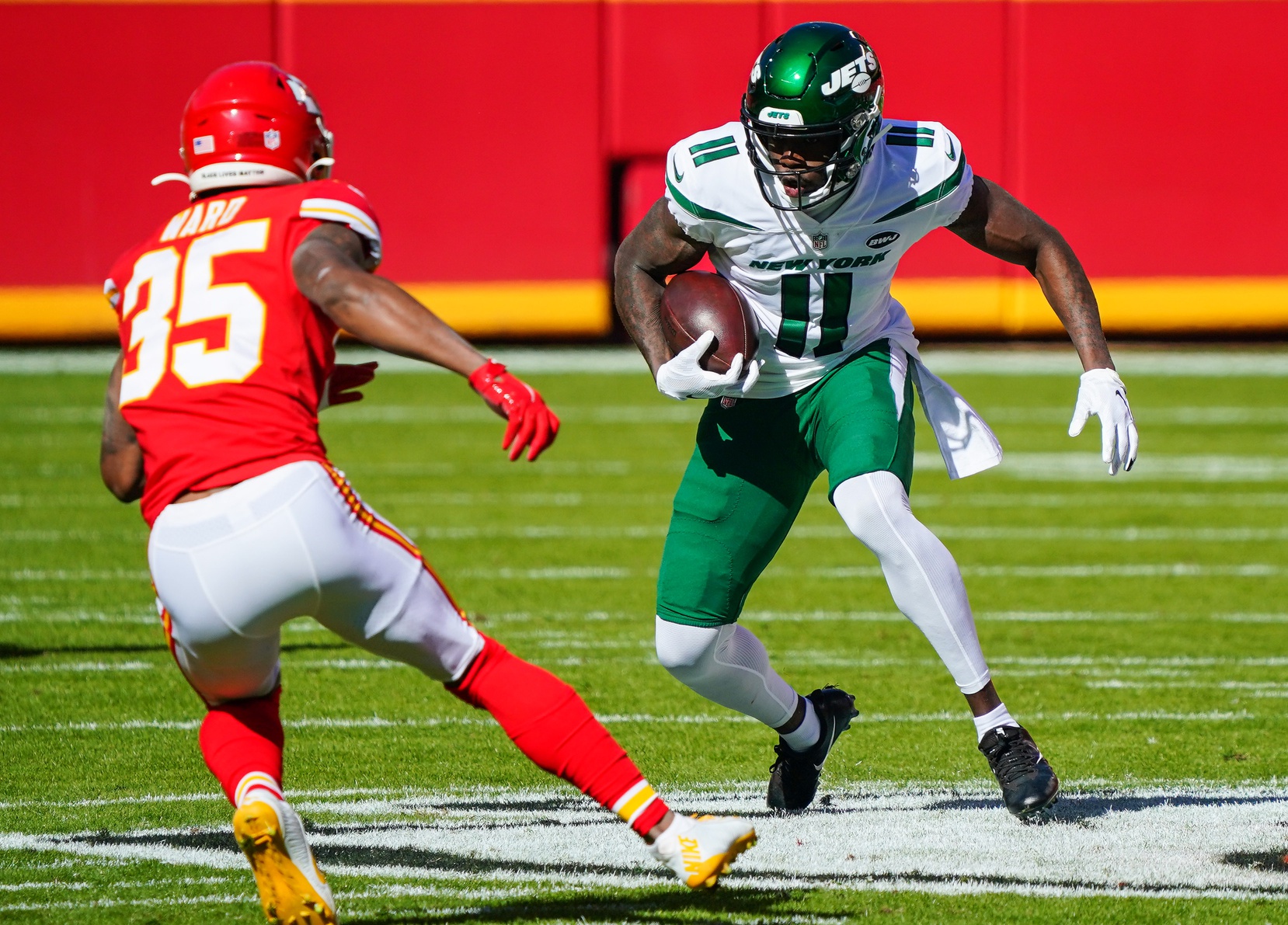 Mims has seen 22% of the targets and 38% of the air yards in New York. He also leads the team in receiving yards on the back of consecutive 42-yard performances. However, he won't hold much value this year because he is trapped on an offense with Adam Gase and Sam Darnold. With a 52.5 grade, Darnold is PFF's No. 35-ranked quarterback by passing grade on the year (min. 50 dropbacks).
Mims' early success shouldn't come as a surprise, either. At 6-foot-3 and 215 pounds, he posted a 4.38 40-yard dash and a 6.66-second three-cone drill. His athleticism was on full display at Baylor, where he topped 1,000 yards twice and finished his collegiate career with 28 receiving scores. The finishing touch on his dynasty profile was the best raw grade for a receiver at the Senior Bowl since PFF began scouting the event in 2016. 
Mims' volume looks good for a rookie, and his team should make improvements in 2021. With no wins on the books through eight weeks, the Jets are likely to land Trevor Lawrence and a new head coach next year. Mims is a "buy and hold" for the long-term upside.
When the Chargers selected Kelley at the top of the fourth round in the 2020 NFL Draft, many assumed he would take on some form of the Melvin Gordon role within the Chargers' offense. That appeared to be true early in the year. He recorded 35 carries in his first two games and was getting more rushing attempts than Austin Ekeler. Then, Ekeler went down and it was all systems go on Kelley. Yet, he was ultimately supplanted by Justin Jackson for the No. 1 role with Ekeler out.
Jackson has 37 carries and 17 targets in three games with Ekeler sidelined, while Kelley has five fewer carries and 10 fewer targets. Kelley appears set to be a between-the-tackles back operating in a committee backfield even if injuries occur around him. That removes any potential upside, and the ceiling within his current role looks extremely limited based on his own talent.
His .13 missed tackles per attempt mark ranks 50th among 76 running backs with at least 30 rush attempts in 2020. While similarly non-shifty running backs David Johnson and Leonard Fournette have had their middling rushing value buoyed by targets at various points in their career, Kelley doesn't have the receiving value to keep his lackluster fantasy output afloat.
Keenan Allen has quietly been one of the best receivers in the league for the better part of the past decade:
2020 receiving grade — 89.2, No. 2 (min. 50 targets)

2019 — 80.8, No. 11

2018 — 90.3, No. 4

2017 — 89.3, No 5
He has never graded outside of the top 30 receivers in his eight-year career. Allen is 28 years old now, and many dynasty players are going to view him as an aging asset who is most valuable to contending teams. This isn't necessarily true. With Justin Herbert under center, Allen is now on pace to set a career record for receptions in a season. If his 78.3 receiving yards per game holds, it will be his second-best full season.
Neither Herbert nor Allen is going anywhere anytime soon. Allen signed a massive deal in the offseason that will keep him in Los Angeles for the next four seasons if the entirety of the contract is played out. Herbert's rookie contract expires in 2023 but has a fifth-year option for the team. 
Highest receiving grades this season:
1. Alvin Kamara – 92.7
2. Justin Jefferson – 90.7
3. Davante Adams – 90.3
4. Keenan Allen – 90.0 pic.twitter.com/T1E5ml3j83

— PFF (@PFF) October 30, 2020
Allen is tethered to one of the league's ascending passers for the next four years and is showing no signs of slowing down. Even dynasty teams that are out of the playoff hunt this year should view him as a top-10 receiver.
Let's start with the positives on Jones first. His 76.9 running grade ranks eighth among backs (min. 50 attempts), and his .17 missed tackles forced per attempt is slightly above average within the same attempts threshold. However, the negatives on his profile continue cropping up.
This doesn't come as a surprise, but Jones continues to lose work to other runners because of fumbling issues and pass blocking. He's below-average in fumbling grade (min. 50 attempts) and No. 77 in pass-blocking grade (min. 10 snaps). He simply cannot be used as a pass-catcher based on his 33.4 receiving grade, which ranks last among running backs with 20 or more targets.
So, Jones is arguably one of the most one-dimensional backs in the league and has modest fumbling concerns. His limitations are so grievous that his long-term outlooks as a dynasty asset are grim at best. He's the type of player who dynasty team managers never get enough to trade him away before cutting him in the offseason.
The Giants have one win on the season, and Jones' time in New York may be coming to an end. His 70.5 passing grade is not dreadful, but he continues to make costly mistakes by holding onto the ball too long. Jones throws the ball after 2.5 seconds on 55.2% of his dropbacks, ranking No. 12 among passers (min. 50 attempts), and has taken 19 sacks on those dropbacks. That total is tied for third, as are his six interceptions when throwing after 2.5 seconds.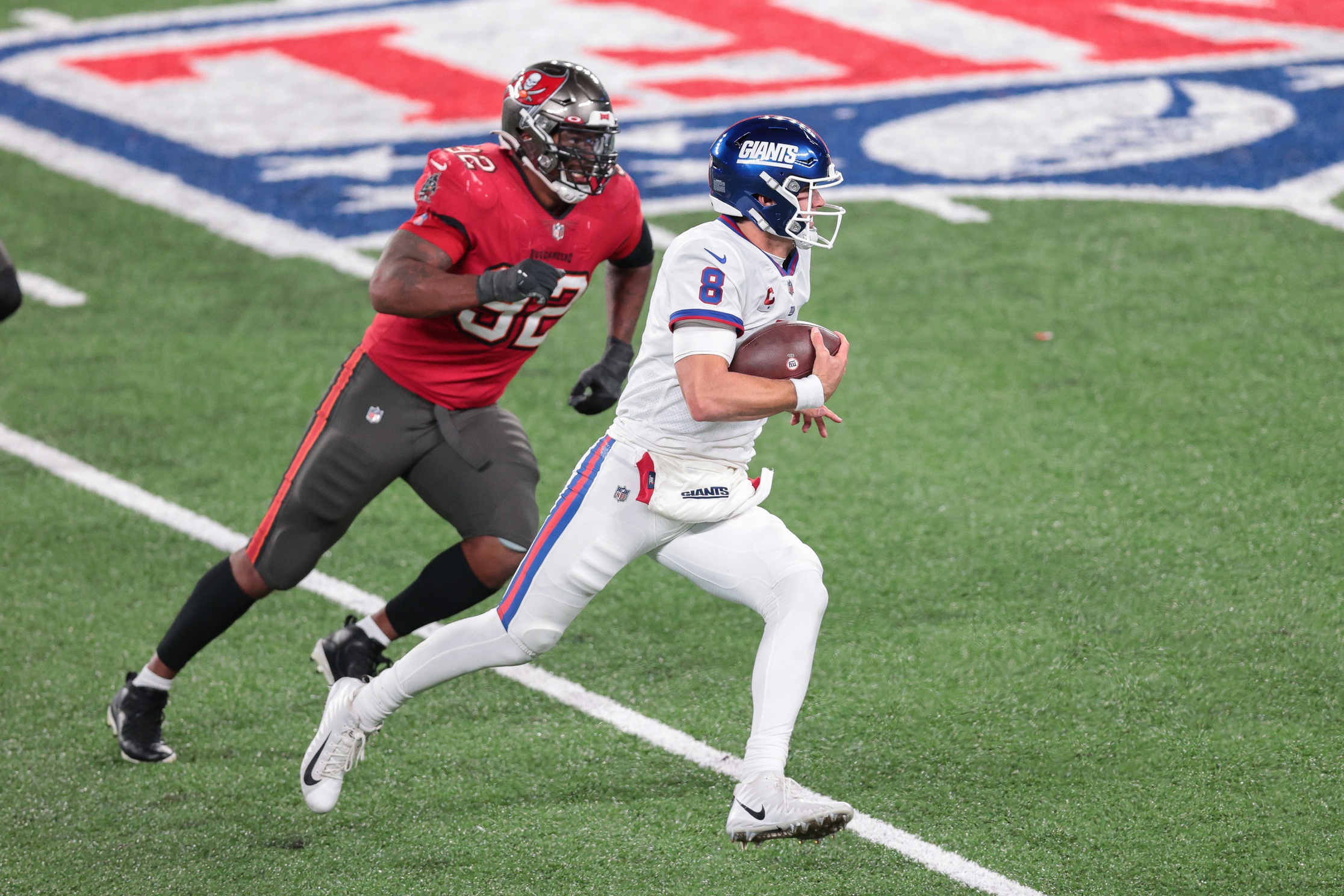 Jones has a number of deficiencies in his game, but an inability to make quick and accurate decisions has been his Achilles' heel. His performance this year has the Giants in a position to replace him via the draft next spring. PFF lead draft analyst Mike Renner's latest mock draft has New York taking Ohio State's Justin Fields. From the article:
"Fields has started 2020 like a house on fire with 52 of 54 targeted attempts hitting receivers' hands. I'm not sure Jones even did that at his pro day."
Jones' days as a starting passer are dwindling, but that isn't bad news for all involved.
Barkley hasn't taken the field since Week 2 after tearing his ACL, but his dynasty stock should be showing some signs of life with each Giants loss. Under Jones this year, New York is averaging 291.8 yards and 18.1 points per game. Both marks trail only the Jets. Barkley himself was hampered by the presence of Jones when healthy, specifically as a receiver.
With Jones in the lineup, Barkley averaged four catches on 5.5 targets and 36.5 receiving yards per game. Without Jones, he posted 5.3 receptions and 41.1 receiving yards on 7.2 targets. There's no guaranteed that Barkley gets a new passer in 2021, but the odds of it happening are trending up, which should have Barkley's backers confident in him returning to top-three running back status.