Estimated reading time: 22 minutes
---
The NFL is a matchup-driven league. Offensive coordinators are always looking to scheme their playmakers into one-on-one situations against a defender, while defensive coordinators will attempt to do anything in their power to upset the timing and rhythm of the opposing signal-caller.
Despite the obvious impact that defenses have on opposing offenses, fantasy players and fans alike are often left with one-way metrics to describe offenses and defenses that they are then forced to compare against each other in an attempt to identify mismatches.
The goal here is to provide easy-to-decipher charts and notes to define each week's key matchups and advantages on both sides of the ball in:
Explosive Plays

Pace

Pressure

Yards Before Contact

Pass yards per dropback

EPA
The following charts display matchup-specific information meant to highlight the largest mismatches in these ever-important facets of football to ultimately gain actionable betting and fantasy takeaways. And, of course, to have fun.

---
Explosive plays
Big plays make the football world go round. Matchups between explosive offenses and leaky defenses are exactly what we're looking for when compiling game stacks in DFS, or when betting an over.
Explosive Pass Rate

: The sum of an offense's rate of 20-plus yard completions per pass attempt and the opposing defense's rate of 20-plus yard completions allowed per pass attempt. A higher percentage is better for offenses (blue is good, red is bad).

Explosive Run Rate

: The sum of an offense's rate of 15-plus yard gains per rush attempt and the opposing defense's rate of 15-plus yard runs allowed per rush attempt. A higher percentage is better for offenses (blue is good, red is bad).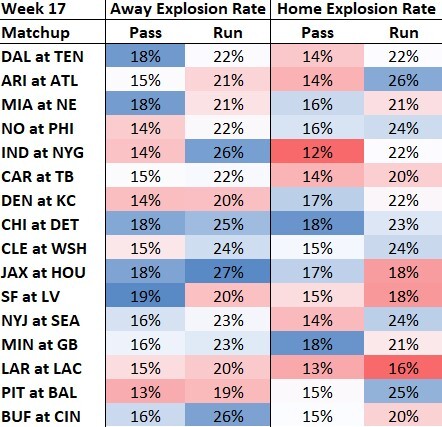 These offenses breed explosive plays: Five offenses are averaging an explosive pass play on at least 10.5% of their dropbacks: Philadelphia Eagles (10.6%), Kansas City Chiefs (10.2%), Miami Dolphins (10.1%), 49ers (9.7%) and New England Patriots (9.5%).
Friendly reminder Patrick Mahomes is one of a kind: Mahomes currently leads the NFL in passing yards (4.720) and passing touchdowns (37) alike. His 2018 campaign remains his personal gold standard, but this 2022 season stacks up favorably against any other edition that we've seen. The reality that this is happening just months removed from the Chiefs shipping a consensus top-five wide receiver in Tyreek Hill to the Dolphins makes the production even more incredible.
This year marks the fifth time that Mahomes has thrown at least 35 touchdowns in a season. He's also on pace to clear the 5,000-yard mark before the end of next week's contest against the Denver Broncos. Don't forget that Mahomes continues to average north of 20 rushing yards per game and has already scored a career-high four times on the ground this season while continuing to regularly massacre opposing defenses from outside the pocket.
DraftKings Sportsbook currently lists Mahomes (-500) as a rather steep favorite to take home the MVP award. Joe Burrow (+700) and Josh Allen (+800) are the only other two signal-callers within earshot. More prolific performances in AFC West matchups against the Broncos and Los Angeles Chargers could go a long way toward clinching the award once and for all.
Good offense beats good defense in today's NFL: Offenses set up to thrive in their quest to create some explosive pass plays: 49ers, Dolphins, Detroit Lions, Packers and Chicago Bears.
To dome, or not to dome: Jared Goff has started 29 games for the Lions over the past two seasons. He's resembled the best version of himself when able to play from the friendly confines of a dome, while outdoor elements have likely triggered some Jeff Fisher-induced PTSD for the 28-year-old veteran:
In domes:

69.6 PFF passing grade, 7.1 YPA, 78.1% adjusted completion rate, 98.1 passer rating, 35 touchdowns, 10 interceptions

Outdoors:

57.7 PFF passing grade, 6.9 YPA, 74.7% adjusted completion rate, 89.9 passer rating, 10 touchdowns, 3 interceptions
Up next is an absolute smash spot against the Bears' 31st-ranked scoring defense. The Lions have served as a hotbed for fantasy points all season thanks to their combination of great offense and terrible defense. Goff has ripped off three top-four fantasy finishes in his last four games, so he again profiles as a legit upside QB1 against this bottom-five secondary in explosive pass-play rate (16.6%, No. 28), yards per attempt (7.7, No. 30) and contested-target rate (13%, No. 28).
Mike White is BACK: Good news New York Jets fans: White will be under center for the team's Week 16 matchup against the Seattle Seahawks.