Week 13 is in the books, so we look to the waiver wire for reinforcements ahead of the fantasy football playoffs. The list is a little shorter than the regular-season version as we focus on players with the potential to be started over the next three weeks. There's less competition on the wire these days, so adjust bids accordingly.
QUARTERBACK
Most people who made the fantasy playoffs are likely to have better Week 14 QB options than Trubisky. But even if you haven't thought about the Bears' maligned former No. 2 overall pick for months or years, there's a non-ridiculous argument to consider him at home against the Houston Texans this week.
First, there's the Texans' defense, which has earned PFF's third-worst overall grade (51.4) in 2020. The team ranks third-worst in run-defense grade (45.7) and sixth-worst in coverage grade (45.4) — even the J.J. Watt-led pass rush comes in ninth-worst (64.1).
Houston has allowed the 11th-most fantasy points per game to opposing quarterbacks and ranks in the top 12 in passing touchdowns allowed. These numbers could surely all be worse considering the Texans have also allowed 150.9 rushing yards per game — second-worst in the league.
This is all to say that even an average offense led by a below-average quarterback can and will move the ball and score points against this team. Philip Rivers and the Colts passing attack had little issue this past week, averaging 0.331 expected points added (EPA) per passing play. Rivers tied his third-best yards per attempt (8.1) on the season while throwing short for much of the day (5.6 aDOT) and finished with 285 yards through the air, two TDs and no interceptions.
Four paragraphs later and now we can discuss Trubisky: The 26-year-old checks in as the QB13 in fantasy points per game over the past two weeks with four touchdowns and two interceptions, though he owns the third-best expected fantasy points per game mark over that time — that's what throwing 80 passes with a handful of scrambles and designed runs gets you.
David Montgomery is likely to feast against Houston, but keep in mind that he's a non-zero through the air as well. Trubisky hasn't made a big-time throw since Week 3, but maybe he won't need to against one of the most forgiving defenses in the NFL. It always helps to have Deshaun Watson and a quality offense on the other side to keep things interesting.
You don't have to like starting Mitchell Trubisky, but you have to at least consider it if you're desperate enough at QB to read 350 words about him.
FAAB Recommendation: 3-5%
RUNNING BACKS
Week 13 didn't produce any red-alert RB waiver bids — most playoff squads should have appropriately handcuffed their main guys weeks ago — but one young player did stand out among the week's top rushing lines.
Jets second-year man Ty Johnson handled 22 carries for 104 yards and a touchdown in relief of Frank Gore, who left the game with a concussion after only two snaps. Johnson has mostly been a special teams guy while running a handful of routes with Gore and La'Mical Perine handling the team's rushing duties.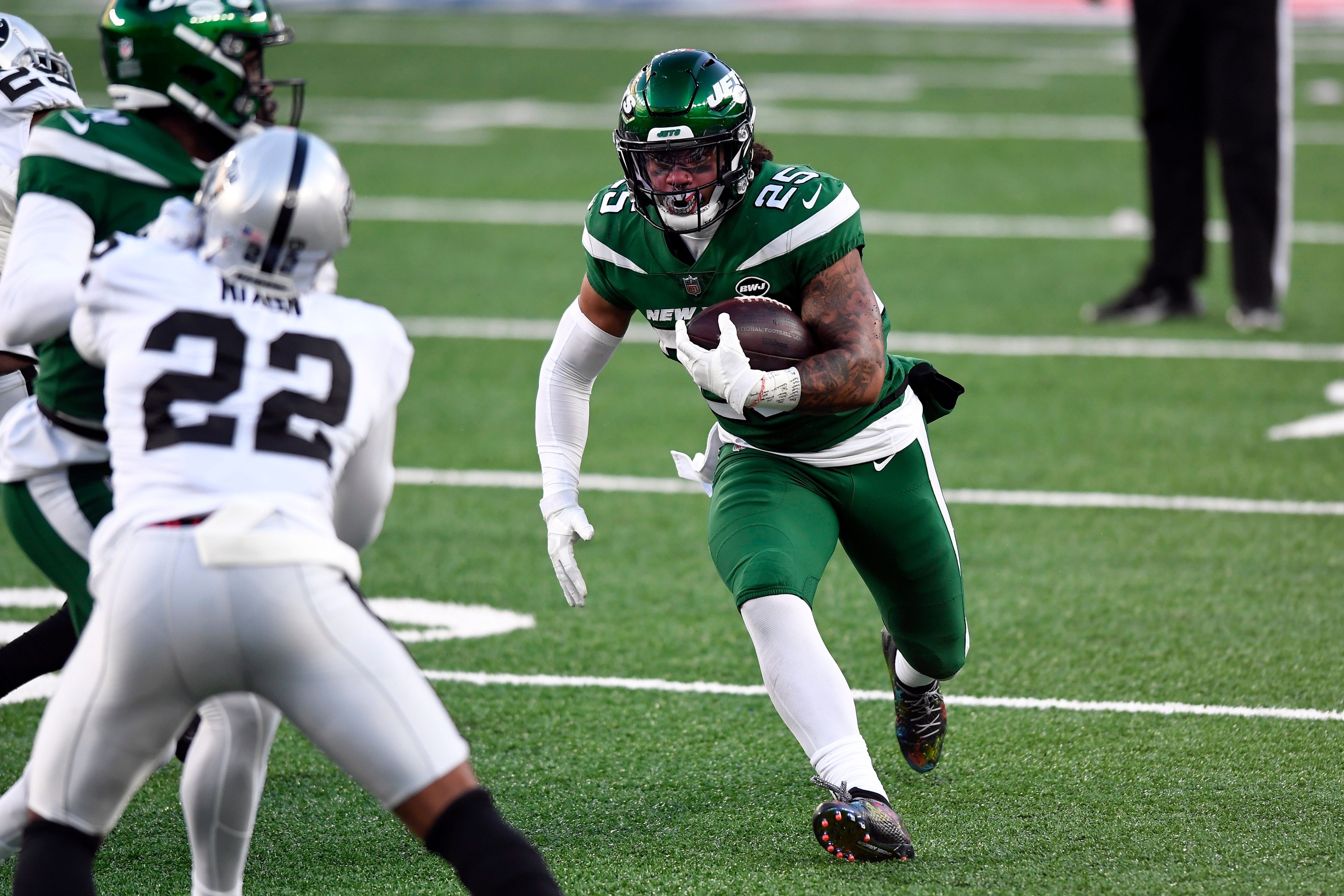 The former sixth-rounder doesn't look the part of a scatback, however, at 5-foot-10 and 220 pounds. Johnson earned PFF's ninth-best rushing grade (74.4) in Week 13, averaging 4.7 yards per carry and breaking two tackles along the way. He caught two passes for another 13 yards. Add it all up and he's the RB7 heading into Monday Night Football.
Obviously, the Jets are a mess and some of their decisions can only be chalked up to direct influence by the illuminati. But Gore could very well be out for Week 14, and Johnson operated well ahead of Josh Adams (39 snaps vs. 19) this week — though Adams did break off 74 yards on his eight carries.
We'll need to see the Jets show some life on offense against the Seattle Seahawks before Johnson is more than a Hail Mary fantasy play. And having the Rams' defense on deck in Week 15 is no bueno. Still, with Perine on IR and no one else to catch passes out of the backfield, a volume-based RB3 role is within the realm of possibility for the former Maryland Terrapin.
FAAB Recommendation: 6-10%
For the second week in a row, Ito Smith led the Falcons' beleaguered rushing attack. In Week 12, the third-year back surprisingly handled a bigger workload than Brian Hill. This week, Smith simply made more out of his eight carries than starter Todd Gurley did (36 yards to 16). Hill's five carries for 18 yards rounded out Atlanta's 21 totes for 72 total rushing yards.
The New Orleans Saints boast PFF's top-graded run defense (82.1), so the per-carry averages on the day can't be scrutinized too harshly — Smith (4.5), Hill (3.6) and Gurley (2.0) did what they could while trailing for the vast majority of the day. Matt Ryan threw the ball 39 times despite completing only 19 passes. If at first you don't succeed on throws to Julio Jones and Calvin Ridley (11 combined catches on 20 targets), well, keep trying.
Smith is the only RB among this trio who is under contract for 2021. At just 26 years old, it's safe to wonder how much former superstar Gurley has in the tank — he currently ranks outside the top 100 in PFF rushing grade (58.3).
It's a longshot that Smith will help us in the fantasy playoffs, but the 25-year-old did run 31 routes over the past two weeks. With the Chargers, Buccaneers and Chiefs up next, the Falcons could be spending a lot more time in comeback mode.
FAAB Recommendation: 3-4%
David Montgomery missed Week 10 with a concussion but has handled 28 carries over the past two weeks for 175 yards and two scores, with another 79 yards through the air.
Patterson broke into the box score this past week with 10 carries for 59 yards and a touchdown of his own. This, of course, came against the Detroit Lions' league-worst defense in fantasy points allowed to running backs.
Patterson is simply an intriguing handcuff in a solid offense that will toss a few throws its RB's way. With Montgomery fully prepared to do damage in Week 14 against a Houston Texans defense that ranks second-to-last in fantasy points to RBs, Patterson is an end-of-bench stash *just in case* the Bears need someone's services for either Minnesota (17th in fantasy points allowed to RBs) or Jacksonville (5th).
FAAB Recommendation: 1-2%
WIDE RECEIVERS
It's borderline unoriginal at this point to keep discussing Denzel Mims as a waiver add, yet the well-hyped second-rounder is still rostered in only 11% of Yahoo leagues.
Mims finally caught a pass in the end zone in Week 13, though it was only for a two-point conversion. He's up to eight red-zone targets — four in the end zone — without a TD catch on the year.
Even without a score, Mims' volume and downfield targets have come in at No. 41 in expected fantasy points among wide receivers since he debuted in Week 7 — and that's with a bye mixed in. Mims has underperformed his the expected output by 13 fantasy points thanks to the lack of scores, which is also the main reason he hasn't been widely scooped up so far.
The Jets are 0-12, sure, and Sam Darnold barely rocked a 50% completion rate in Week 13. But this offense has managed to support a top-30 WR in three of its past four games. It's not the highest of praise, but the healthy trio of Mims, Jamison Crowder and Breshad Perriman has made life much easier — the Jets have scored 27 or 28 points in three of four games after averaging less than 12 over their first nine games.
Mims has caught 17 of his 22 targets during this four-game stretch with an 18.50 aDOT — fourth-highest from Weeks 9-13. Teammate Perriman is actually third over this stretch (18.77). Taking shots this deep could pay off as soon as Week 14 when the Jets visit the Seahawks, who allow the most fantasy points to opposing wide receivers.
There are so many reasons why quarterback is the most important position in all of sports — just look at how easy it is for a third-year player like Keke Coutee to step into a lucrative role and rack up fantasy points thanks largely to the brilliance of the Texans' star signal-caller, Deshaun Watson. Coutee nearly doubled his season snap total on Sunday, running 42 routes en route to an 8-141-0 line — good for WR6 heading into Monday Night Football.
Nine targets is plenty of work (18th in expected fantasy points in Week 13), and Coutee made the most of the volume with eight catches. He actually outperformed his expected fantasy points without scoring a TD thanks to four explosive plays (15-plus yards), including a 64-yarder.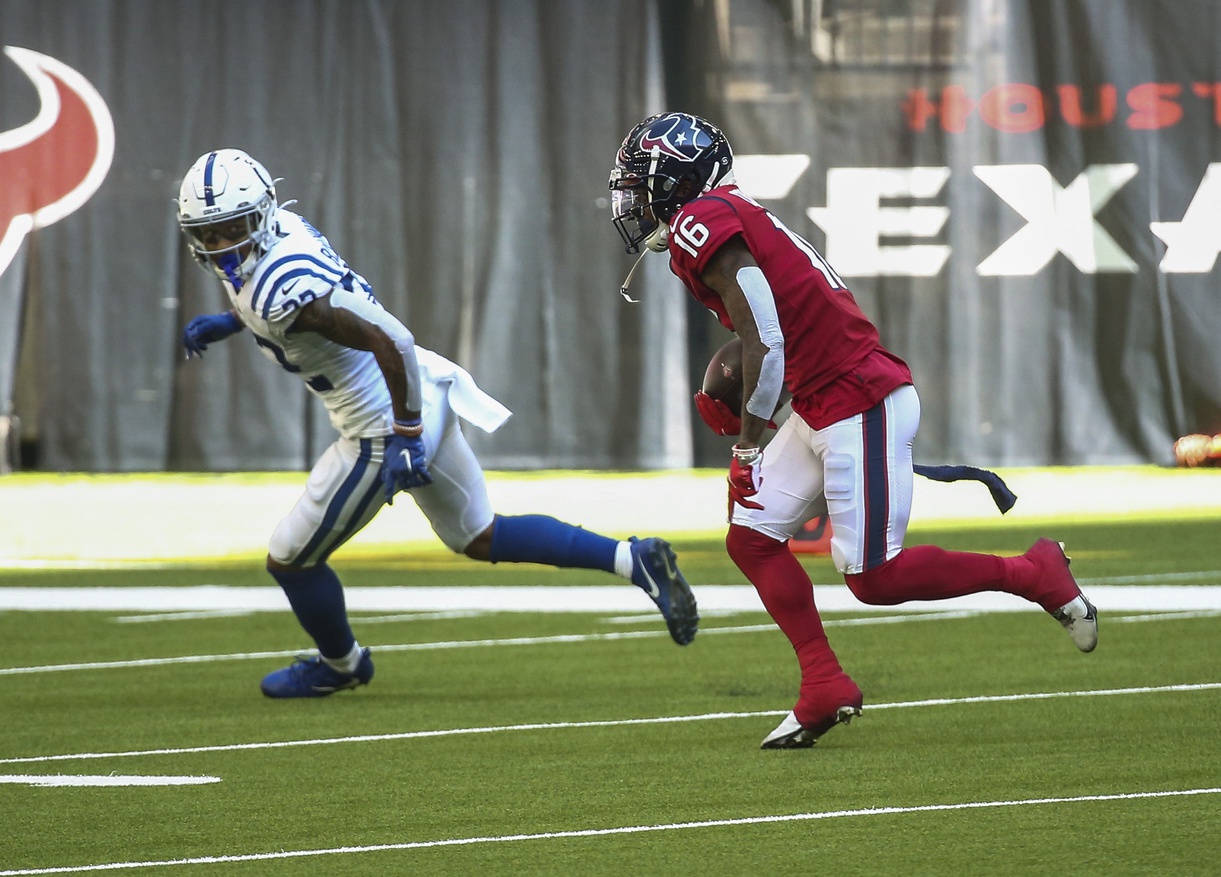 Coutee was a fourth-round selection in 2018 out of Texas Tech. He struggled with drops in limited action during his sophomore season, but he hasn't dropped a pass thus far in 2020. Watson has a 121.9 passer rating when targeting the 5-foot-11, 180-pound speedster.
This, again, is more about the situation than Coutee's long-term potential. Teammate Chad Hansen, a Jets fourth-rounder in 2017, saw his first NFL action in four years and managed to bring down five catches for 101 yards of his own.
In full-point PPR leagues, anyone pushing double-digit targets from Watson needs to be on the fantasy radar. The young star QB was an efficient 26 of 38 for 341 yards against the Colts. He failed to throw a touchdown pass for the first time this season but did manage to rush for his third on the year.
FAAB Recommendation: 6-8%
Baker Mayfield & Co. had themselves a day in Nashville, taking down the Tennessee Titans 41-35 in a game that could have AFC playoff seeding implications. More importantly for us, Mayfield tossed four first-half touchdown passes, one of which went to fifth-year man Rashard Higgins.
The back of Higgins' football card shows some interesting trends. He's played a lot of NFL football in five years for someone who has barely registered on the fantasy radar. He scored four touchdowns on 53 targets in 2018 and now has 10 scores on 101 career receptions.
Higgins has largely operated outside this season with Odell Beckham out since late October. The volume has fluctuated, but the targets have been relatively consistent for a downfield threat currently operating with a 15.1 aDOT. As such, he's second to Jarvis Landry on the team in explosive pass plays (Landry 18, Higgins 12).
The former Colorado State Ram turned eight targets into six catches for 95 yards and a score in Week 13, coming in as the WR8 pending MNF. The target total was a season-high, but Higgins matched the six catches back in Week 7 for 110 yards. He has scored in two other contests, meaning he's been a usable fantasy asset in four of nine games — and Beckham was active for four of them.
Mayfield has been unreliable outside of two weeks against the Bengals and Titans (9 TD passes), throwing zero or one touchdown in five of 10 and only two TDs in each of the other five. That sounds nitpicky, but the Browns boast PFF's fourth-best rushing grade on the season and the top-ranked run-blocking grade (81.8). Baker doesn't need to go as nuts as he did on Sunday for this team to make the playoffs.
Still, Higgins is one of the main dudes here, and the 26-year-old has earned PFF's 26th-best receiving grade on the season (78.1). He's caught four of eight contested targets, and Mayfield has a 122.5 passer rating when throwing his way.
For those looking ahead to the fantasy semis or finals, the Browns visit the New York Giants and New York Jets in Weeks 15 and 16, respectively — two non-scary places to fire up a boom-or-bust WR in a pinch.
FAAB Recommendation: 4-6%
Wide Receiver Quick-Hitters:
T.Y. Hilton (45%) was dropped across fantasy land over the past month or so, but he's responded with touchdowns in back-to-back games and checks in as the WR6 over that time span. … Jaguars rookie Collin Johnson (0%) was productive for a second straight week, hauling in four of six targets for 66 yards and a two-point conversion. That's WR14 status for him over two weeks, as well. D.J. Chark was a non-factor (two catches on seven targets for 42 yards), so maybe there's space for the 6-foot-6 Johnson within the Crowded Jags receiver room. … Lions rookie Quintez Cephus (0%) checked in among fantasy's top 25 WRs in Week 13 with a 2-63-1 line. The fifth-rounder has been more involved over the past month, and the team just released fellow outside receiver Marvin Hall.
TIGHT END
The passing of the tight end torch in Chicago has been underway for quite some time (it's like the Olympics — someone has to run it over to the next town). The second-round rookie out of Notre Dame entered the weekly TE top five for the first time after hauling in five catches on seven targets for 37 yards and a touchdown against the Lions.
Kmet has out-snapped veteran Jimmy Graham every game since Week 9. He has seen four and seven targets over the past two weeks — the only times he's had more than two — but during that time Kmet has run 56 routes compared to Graham's 34.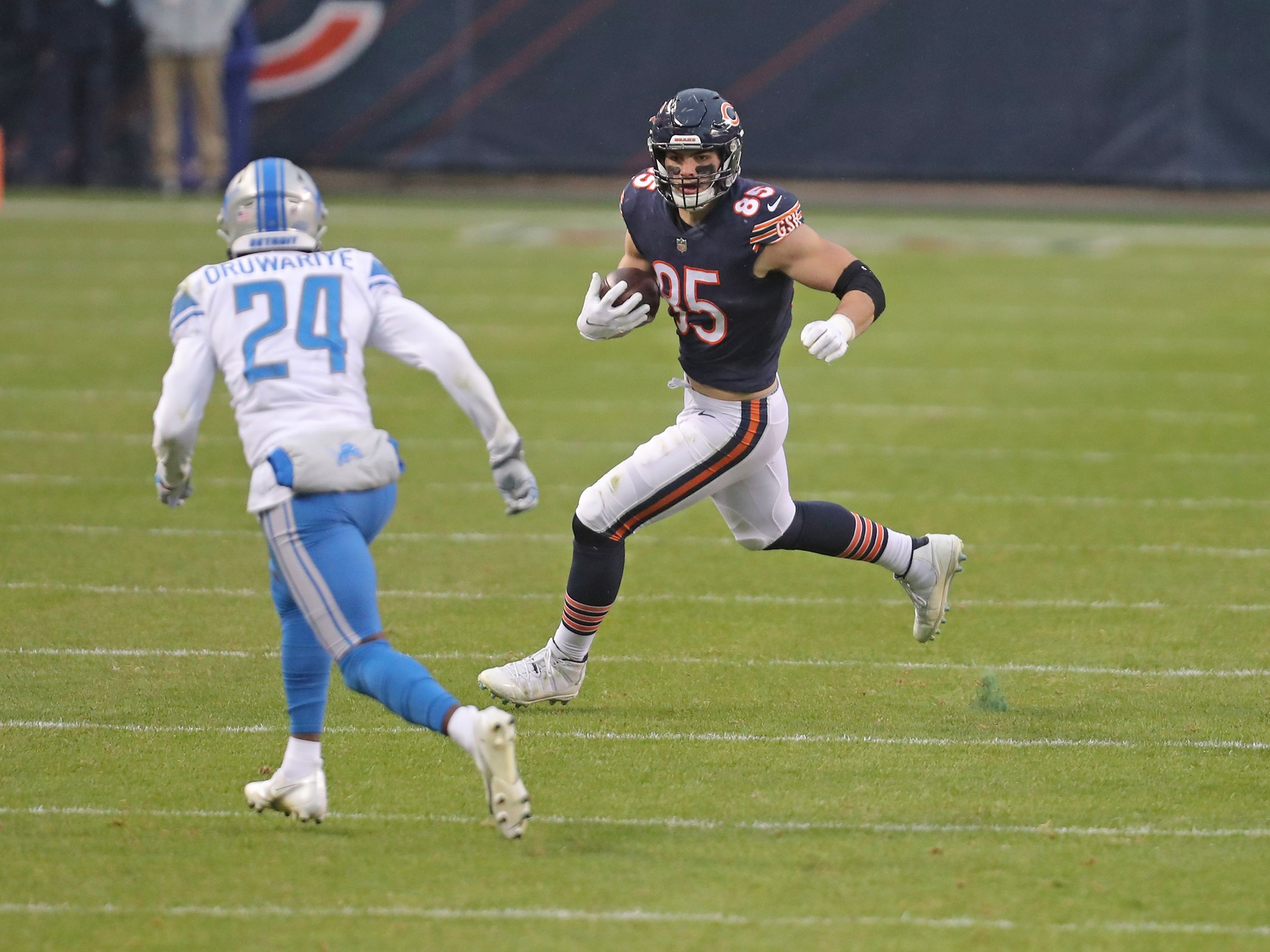 This dude is 21 years old and was the first TE off the board in the 2020 NFL Draft. He looks the part so far with a pair of red-zone touchdowns, three contested catches on five opportunities and only one drop. The Bears have hit their tight ends for touchdowns in six of 12 games (one time it happened twice!). The five TDs Graham has accumulated will be Kmet's in due time.
The price has certainly gone up in dynasty leagues over the past two weeks. With Houston, Minnesota and Jacksonville on the docket through the fantasy finals — and considering the state of the tight end position these days — Kmet is a decent grab now.
FAAB Recommendation: 3-5%