Week 12 is in the books, so we look to the waiver wire for reinforcements ahead of the final week (!) of the fantasy football regular season.
The first player at each position will be a more widely available player to consider in standard 12-team leagues, with deep-league targets to follow. FAAB ranges will cover the following general guidelines:
0-1% FAAB: Can't hurt to roster if you have an open bench spot
2-10% FAAB: Immediate standalone value unlikely, but upside underrated
11-20% FAAB: Situation is great, and the player is trending up
21-35% FAAB: Player will be started in majority of leagues
36-50%+ FAAB: Serious change in workload that could lead to immediate high-end fantasy value
Roster rates are from Yahoo public leagues. We have two bye weeks to work around this week: the Tampa Bay Buccaneers and Carolina Panthers.
Quarterback
Philip Rivers has been a popular waiver wire name recently and has come through as the QB7 in fantasy points per game over the past three weeks. He has tossed six TDs against two interceptions in high-scoring affairs against the Titans (twice) and Packers during that stretch, which followed another useful three-game stretch (two three-touchdown days against the Bengals and Lions; reasonable clunker against the Ravens).
Rivers hasn't suddenly morphed into the ghost of Peyton Manning or anything — his 7.5 aDOT on the season ranks 27th in the league. But he has leaned heavily on pass-catching back Nyheim Hines in recent weeks, hitting him with three passing TDs over the past five games. Hines has 10 red-zone touches over that time — three through the air and seven carries — and has punched in a rushing score. He's very involved in the offense now.
There's clearly a long history of Rivers utilizing dual-threat RBs to their fullest capacity — H/T Austin Ekeler/Melvin Gordon/Ladainian Tomlinson(!). The team leaned more heavily on the running game early in the season, but Rivers has dropped back to pass 40 or more times in five of his past six games. Rookie receiver Michael Pittman is emerging as another after-the-catch threat in this offense after dealing with injuries early on.
We're not firing up Rivers with visions of four- and five-TD performances, but the 39-year-old has quietly been the QB12 over the past seven weeks. The Colts have the benefit of visiting the Houston Texans in Week 13 and 15 — the second-best matchup for fantasy quarterbacks, according to PFF's strength of schedule tool.
FAAB Recommendation: 4-5%
Running backs
It's been a frustrating season for those who made early-round investments in the Rams' hyped rookie RB. Akers missed a couple of games early due to a rib injury and wasn't able to take over either the early-down or passing-down duties in the L.A. backfield. He has certainly flashed talent in limited opportunities, which mostly just added pain along the way for anyone who pivoted to Darrell Henderson and/or Malcolm Brown.
Needless to say, Sean McVay isn't making it easy on fantasy managers after being one of the more reliable arbiters of RB talent in recent years. Still, the dream of hoisting trophies with the help of Akers was revived in Week 12 when the rookie took over the Rams' backfield in the second half against San Francisco.
Akers handled nine of 10 second-half RB carries for 83 yards and a touchdown, breaking off a 61-yard scamper along the way. He stayed in for the goal-line work after the long run and even ran as many passing routes as Brown in the second half. Henderson finished the day with 10 carries for just 19 yards. Brown lost a fumble in the game and only finished with three carries.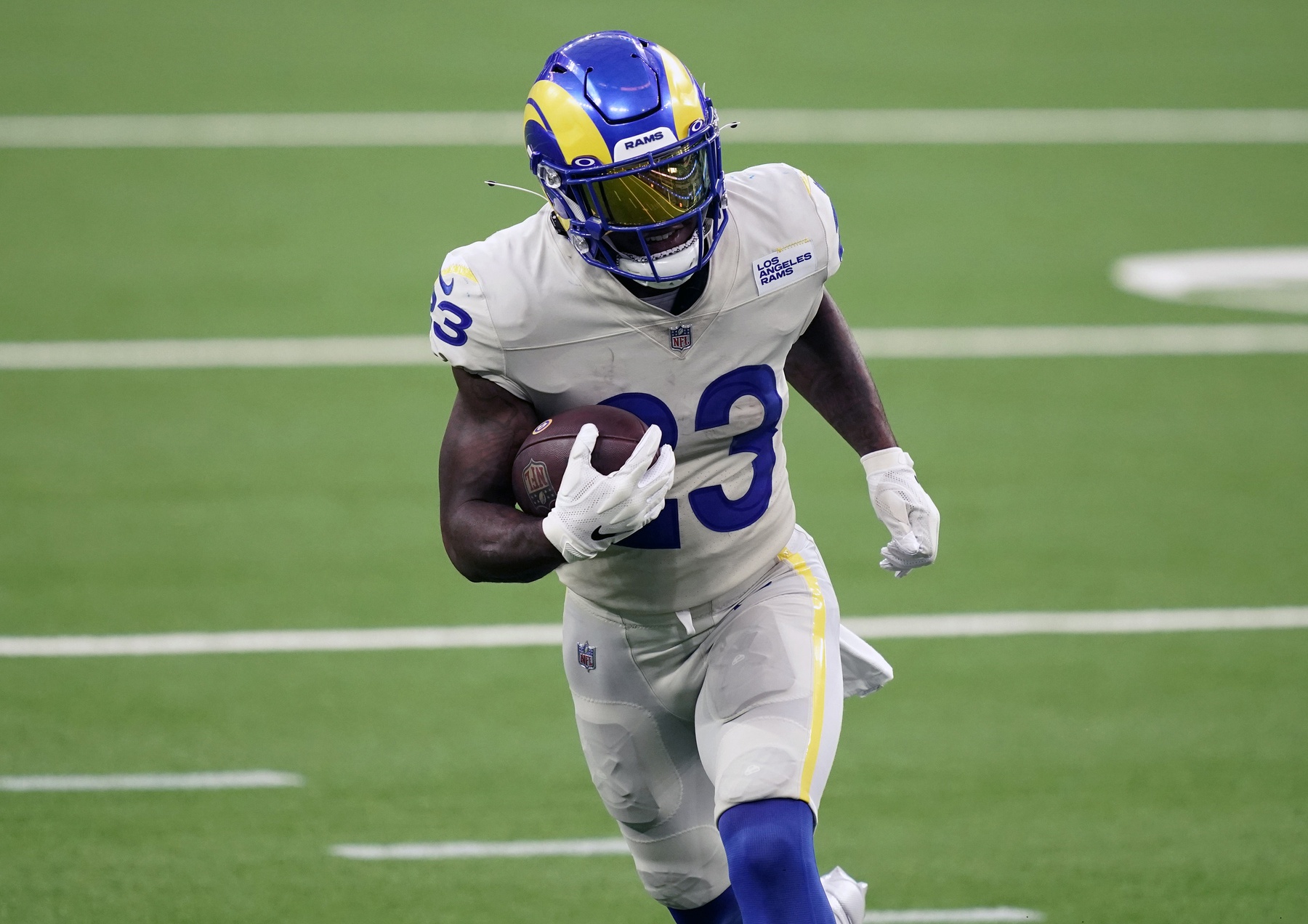 A Todd Gurley-esque workload is still a pipe dream, and there is precious little time to observe usage rates with the fantasy playoffs around the corner. Henderson boasts PFF's fourth-highest rushing grade (83.5) on the season and is a third-round pick himself. The Rams are in the playoff hunt and aren't likely to scrap the roles they appear to know and love.
Still, McVay does want he wants. Akers has shown that he's fully capable of handling the lead back duties if given the opportunity. This might not be a one-man job, but Week 12 was Akers' best claim to more work so far. He's worth an add for the shot to monitor one final week before the fantasy playoffs begin.
FAAB Recommendation: 15-20%
After a healthy inactive in Week 11, Washington was heavily involved in the Dolphins' run game against the Jets, out-snapping Matt Breida 34-23 and handling 13 carries for 49 yards. Breida had eight totes for 36 and ran one more route than the former K.C. Chief, 13-12.
Washington's six red-zone carries in Week 13 tied for second-most on the week. The overall workload was good for the week's 13th-best expected fantasy points mark (14.9), though Washington underperformed by almost 7 points because he was unable to find the end zone.
Myles Gaskin is nearing a return, so Washington's shelf life could be short as the lead early-down runner here. But Gaskin was eligible to come off IR this past week, so the knee injury could also require a little more time off.
With Cincinnati Bengals on tap, Washington is certainly worth a flier ahead of late-week injury reports. Cincinnati is rolling with Brandon Allen — the former sixth-round pick managed just 158 passing yards on 33 attempts and tallied three turnover-worthy plays against the Giants. This offense can't hang with Miami — the Dolphins are early 11-point favorites at home.
FAAB Recommendation: 3-5%
There's not a lot to glean from the Broncos' Week 12 foray into the land of lost quarterbacks, but Phillip Lindsay's knee injury opens the door for Freeman to step into the RB1b role here.
Freeman has fallen off the grid a bit since Lindsay — an undrafted fellow rookie in 2018 — passed him on the depth chart. The addition of Melvin Gordon has left little opportunity for the third-rounder out of Oregon so far in 2020. He played well on Sunday, turning eight carries into 50 yards and forcing three missed tackles.
Gordon is clearly the biggest fantasy beneficiary if Lindsay misses time, which PFF injury expert Mario Pilato expects. But this has been a two-man job for three years now, and Freeman is more than capable of handling more work. The 24-year-old played in every game last season, catching 43 passes on 50 targets.
FAAB Recommendation: 3-5%
The Atlanta Falcons' unexpected thrashing of the Las Vegas Raiders on Sunday posed larger questions than how to react to Josh Jacobs' ankle injury. Such as: If we can't start our Raiders against a defense allowing the most fantasy points to tight ends and the second-most to quarterbacks and wide receivers, then do we really have any Raiders at all?
Jon Gruden's squad inexplicably put up 6 points against the Falcons thanks in part to five turnovers, so let us focus on the things we can control: bidding on Devontae Booker. We'll want to monitor Jacobs' status the next couple of days — PFF injury expert Mario Pilato believes it's a high-ankle sprain, which would mean a return-to-play timeline of anywhere from no time missed to three-plus weeks.
There was too little usage in too strange of a game to evaluate Booker based on Sunday in Atlanta. But two weeks ago the Raiders were whooping on the Broncos so badly that we caught a glimpse of what the rushing offense might look like with Booker in the lead role. He and Jacobs combined for 39 carries in the win, and the final stat lines looked like this:
Las Vegas Raiders Week 11 rushing
| | | | | | |
| --- | --- | --- | --- | --- | --- |
| | Carries | Yards/carry | Missed tackles forced | YAC per attempt | TDs |
| Josh Jacobs | 23 | 5.0 | 3 | 3.0 | 2 |
| Devontae Booker | 16 | 5.1 | 3 | 2.9 | 2 |
We conclude with the same message we had back then: Booker has clearly established himself as the more-than-capable backup in a run-heavy offense. #Handcuffszn is upon us — Jacobs owners and those who enjoy starting other dudes' handcuffs against them in the playoffs, take note.
FAAB Recommendation: 8-12% (depending on injury news)
Wide Receivers
Mims was featured in this space last week after averaging over five targets per game through his first four NFL appearances. The volume only appears to be going up, as the rookie out of Baylor saw nine targets for the second straight week. He only caught four and had his first drop of the season, but three of his catches went for 15-plus yards, bringing his yearly tally of explosive pass plays to 12 out of 17 total receptions.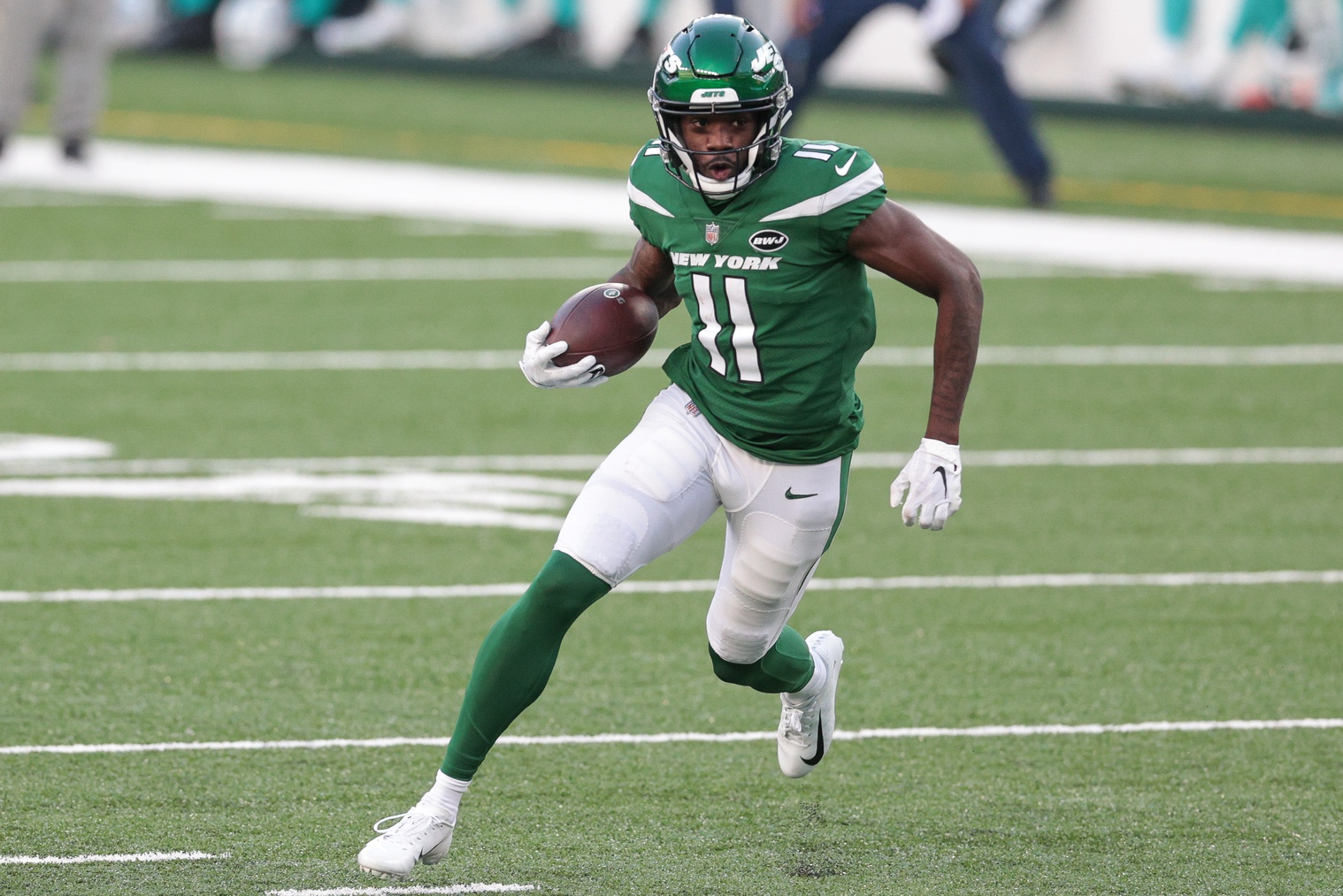 Mims' 18.8 aDOT ranks 10th in the league, and his 16.7 yards per reception average is 17th. He still hasn't brought down any of his eight red-zone targets (including four in the end zone). But working so deep down the field — and seeing so many high-value targets — will lead to fantasy points eventually. Mims' 14.1 expected fantasy points ranked 22nd in Week 12, though he finished as the WR33.
A 6-foot-3, 215-pound rookie working deep down the field on a bad team is going to be less than efficient, as evidenced by Mims' 17 catches on 35 targets on the season. But 10 of those targets have been contested, and he hauled in two of those.
Bottom line: High-value usage is increasing here. When Mims finally does find paydirt — he had two red-zone targets this week with one in the end zone — he'll put up the type of spike week that forces fantasy managers to run to the wire. It's not like the Jets are going to be killing a clock any time soon — we've got a second-round WR with 25 targets over the past three weeks rostered at only 7% on Yahoo. Time to make a claim.
FAAB Recommendation: 7-10%
The Bills' big-play rookie WR has been noted in your humble FAAB Report in two of the past three weeks, and his playing time surged this past week with John Brown hitting the IR — he played the same number of snaps (60) and ran just as many routes (31) as Stefon Diggs. He only saw three targets, but each went for a big play, including a 20-yard touchdown reception from Cole Beasley. Davis' two other catches went for 15 and 44 yards.
The 6-foot-3, 212-pound rookie has been an end zone magnet on limited volume — he's up to four touchdowns on the season, and he's only seen four or more targets in four games. The only thing holding him back from fantasy relevance has been volume, and now Brown and his 13% target share are gone for at least two more games.
Even without Brown's full workload, Davis will have an opportunity to find a spike week or two down the stretch. Next week against a 49ers coverage unit that owns PFF's fourth-ranked coverage grade (75.8) might not be the most likely opportunity, but the team's pass rush has dropped to 21st (66.0) while dealing with injuries.
The train left the station for dynasty managers keeping tabs on Davis, but there's still time for some redraft profit this season.
FAAB Recommendation: 4-6%
Yet another rookie who stepped into a bigger role in Week 12, the Jaguars' fifth-rounder out of Texas saw his highest number of snaps (67), routes run (34), targets (9), receptions (4) and yards (96). Johnson scored a 46-yard touchdown and got an end-zone target as well. The performance was good for WR11 on the week.
Johnson had run more than 10 routes only three times coming into the week, so he clearly benefitted from the absences of both D.J. Chark and Chris Conley. But he was thrust into full-time duty — he played the third-most snaps (52) among the remaining WRs, Keelan Cole (61) and Lavishka Shenault (59), and led the team in targets and receiving yards.
This is a pretty crowded wide receiver room, so we'll need to make sure others are out of the way before utilizing the 6-foot-6, 220-pound rookie. But the initial signs are encouraging.
FAAB Recommendation: 0-1%
Tight Ends
The Colts are utilizing three tight ends these days, but Trey Burton has separated himself as the pass-catcher of the group. The 29-year-old has seen 14 targets over the past three games, including seven inside the 20. The red-zone target total is second to only Travis Kelce over that time period — Burton hauled in two for scores, coming in as the TE8.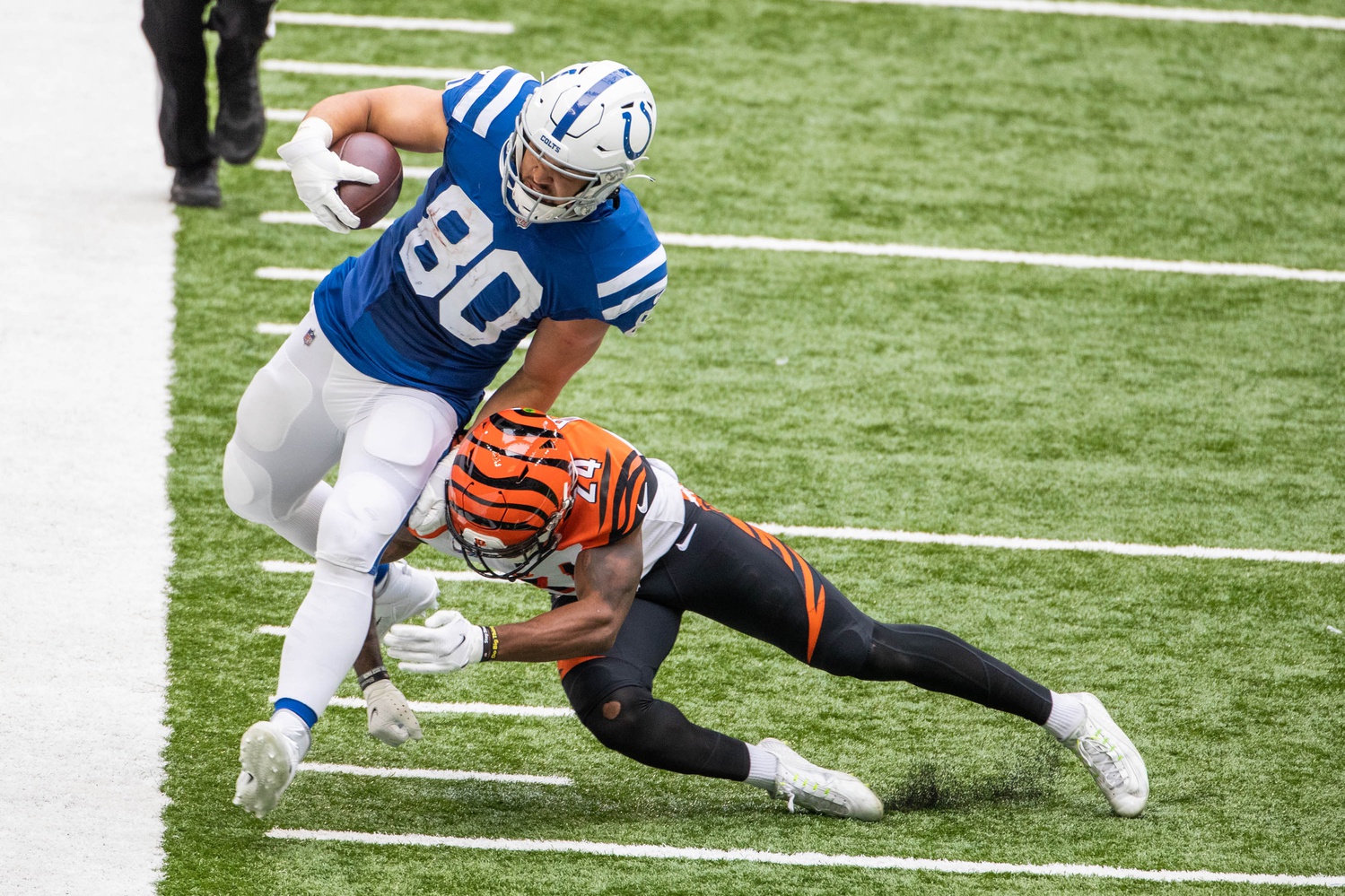 This is not a high-volume gig, and clearly there are other capable red-zone options both within the Colts' TE group and its RBs. Philip Rivers' 2.40 average time (fifth-fastest) to throw and 7.8 aDOT (11th shortest) lend themselves to utilizing short-area passes to RBs, TEs and WRs alike. Burton has even rushed for a touchdown this season.
The fantasy tight end position has been a hellscape. It's time to add Burton to the list of TD-dependent options who actually have a chance of scoring on any given week.
FAAB Recommendation: 3-4%