Week 10 is in the books, so we look to the waiver wire for reinforcements ahead of the final three weeks of the fantasy football regular season.
The first player at each position will be a more widely available player to consider in standard 12-team leagues, with deep-league targets to follow. FAAB ranges will cover the following general guidelines:
0-1% FAAB: Can't hurt to roster if you have an open bench spot
2-10% FAAB: Immediate standalone value unlikely, but upside underrated
11-20% FAAB: Situation is great, and the player is trending up
21-35% FAAB: Player will be started in majority of leagues
36-50%+ FAAB: Serious change in workload that could lead to immediate high-end fantasy value
Roster rates are from Yahoo public leagues. Week 11 byes: Buffalo Bills, Chicago Bears, New York Giants and San Francisco 49ers.
QUARTERBACK 
With a handful of injuries at QB this week, fantasy managers might be looking further down the list for replacement quarterbacks in Week 11. Philip Rivers offers a decent floor in a home tilt against the high-powered Green Bay Packers. Aaron Rodgers & Co. are averaging 30.8 points per game, the league's third-best mark.
Even against a solid Indianapolis defense, the Packers are likely to force the Colts to keep up, and Rivers has quietly been playing well for the past month. Over the past four weeks, Rivers has averaged more than 300 passing yards per game with seven touchdowns against two interceptions (seven big-time throws vs. three turnover-worthy plays). A Week 6 drubbing of the Cincinnati Bengals buoyed the averages — he went for 404 yards through the air with three TDs against them (PFF passing grade: 84.4; third on the week) — though he struggled, as many do, against Baltimore in Week 9 (PFF passing grade: 52.9; 30th).
This game opened with a 49 over/under at DraftKings, one of the higher totals of the Week 11 slate. The Packers have been solid against quarterbacks in fantasy — as have the No. 1-ranked Colts vs. fantasy QBs — but they haven't exactly dominated opposing signal-callers: They've only held one (Matt Ryan) without a passing TD this season.
The emergence of rookie Michael Pittman and Rivers' intense affinity for tossing scores to scatback Nyheim Hines are positive recent developments for the 38-year-old's fantasy prospects. Packers' lockdown corner Jaire Alexander missed Week 10 recovering from a concussion — his status is worth monitoring for those considering firing up Rivers in Week 11. Also worth noting: The Colts have the friendliest matchup for quarterbacks in Weeks 13 and 15, according to PFF's strength of schedule metric, going up against their divisional rivals from Houston.
FAAB Recommendation:  2-3%
RUNNING BACKS
The Miami Dolphins have already dropped one fantasy-relevant running back on us out of nowhere this season, though Myles Gaskin's tenure as a borderline RB1 was short-lived. The 2019 seventh-round pick hit the IR with a knee injury last week, opening the door for a new early-down back.
Former undrafted free agent Salvon Ahmed filled the role admirably on Sunday, racking up 85 yards on 21 carries with a 1-yard rushing score. He had the Dolphins' only RB target and ran 15 routes on the day compared to six for Patrick Laird and two for DeAndre Washington. He also played eight third-down snaps compared to Laird's six.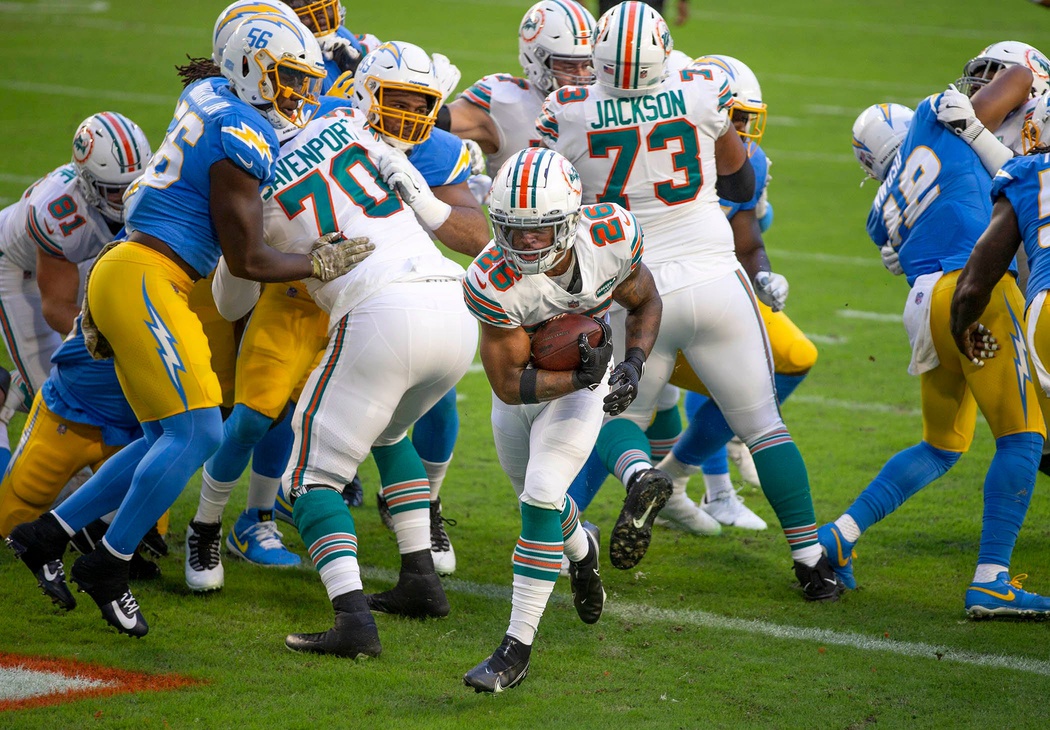 Ahmed completely dominated the running back snaps in only his second career game, seeing a 75.9% snap share and handling 21-of-26 rushing attempts. His seven red-zone carries tied for the most in Week 10.
With Washington only two weeks into his Miami tenure after being traded over from the Chiefs, it's a little early to definitively say that this is Ahmed's backfield. But, as we saw with Gaskin early in 2020, it's worth making an investment in the rookie's initial workload. Gaskin was the RB7 from Weeks 5-9 with a bye week thrown in — this is when he started seeing goal-line work. Ahmed's Week 10 stat line was good for RB10.
With the fantasy playoffs approaching, this could be one of the final chances to nab a potential three-down back on a team pushing for the real-life playoffs.
FAAB Recommendation: 20-30%
Fantasy managers have wasted quite a bit of FAAB capital on the Los Angeles Chargers' running back group this season, having been burned by rookie Joshua Kelley and Justin Jackson before third-year man Kalen Ballage joined the squad. With Austin Ekeler slated to return eventually, Ballage is going to be a short-term play, but his usage requires immediate attention.
The former fourth-rounder out of Arizona State completely overtook Kelly this week, out-snapping him 46-17 while handling 18 carries and six targets compared to seven and zero for the rookie. Kelley saw more time last week, though Ballage might not have been part of the initial plan with Jackson bowing out after only three snaps.
At 6-foot-2 and 237, Ballage wouldn't appear to need Kelley's help near the goal line. Kelley's lone red-zone carry this week came from the 5 and ended at the 1 — and Ballage handled the goal-line attempt that followed (Justin Herbert ended up punching in the touchdown). Ballage totaled seven red-zone carries on the day.
This is all on top of significant passing-game work. Ballage ran 21 routes, hauling in 5-of-6 targets for 34 yards. This looks a lot like Jackson's early role in place of Ekeler. Whatever the case, all bets are off Kelley as a functional fantasy asset. Ballage came in at RB11 in Week 10 and looks to be the hot hand in Los Angeles until Ekeler's return.
FAAB Recommendation: 10-20%
Carlos Hyde put in a limited practice on Monday, which means the Alex Collins show might be short-lived. For those interested in yet another moving part of this backfield, the fifth-year back handled a team-high 11 carries for 43 yards with a touchdown on Sunday and led the Seahawks in routes run among running backs.
Collins out-snapped DeeJay Dallas 32-22, though Dallas was once again involved in the passing game — he ran 17 routes himself but saw only three targets. Travis Homer exited this one after only seven snaps, opening up more passing work for both backs.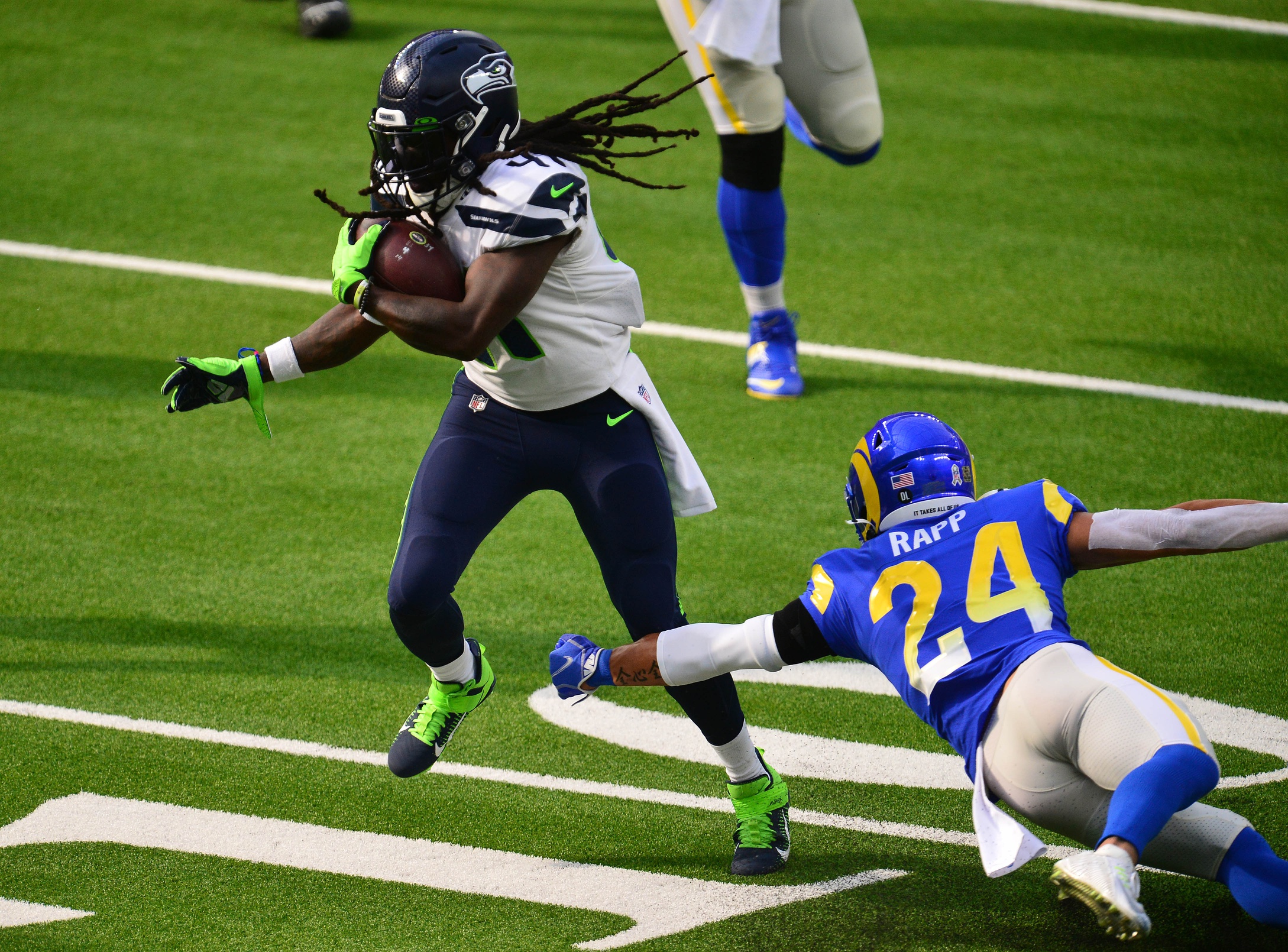 This isn't a particularly exciting situation to get involved in, but the Seahawks' offense is too potent to ignore. Neither Dallas nor Homer has been able to fully take over for Chris Carson thus far. Hyde is clearly capable of handling the early-down and goal-line work and should take that on as soon as he's ready. Former first-rounder Rashaad Penny is making his way back from injury and could also enter the mix down the stretch.
Collins would be a temporary solution if he even gets another shot at the starting gig. Bid cautiously.
FAAB Recommendation: 1-3%
RB Quick Hitters:
Oakland Raiders RB Devontae Booker (3%)
The Raiders thoroughly demolished the Denver Broncos this week, riding Josh Jacobs and Devontae Booker for a total of 39 carries and 197 yards on the ground. Booker didn't give the visiting team much of a break from RB1 Jacobs, either:
| | | | | | |
| --- | --- | --- | --- | --- | --- |
| | Carries | Yards/carry | Missed tackles forced | YAC per attempt | TDs |
| Josh Jacobs | 23 | 5.0 | 3 | 3.0 | 2 |
| Devontae Booker | 16 | 5.1 | 3 | 2.9 | 2 |
Booker has clearly established himself as the more-than-capable backup in a run-heavy offense. #Handcuffszn is upon us — Jacobs owners and those who enjoy starting other dudes' handcuffs against them in the playoffs, take note.
FAAB Recommendation: 1-2%
New England Patriots RB Rex Burkhead (24%)
Damien Harris appears to have solidified his role as the early-down back in New England, for what that's worth (10-15 carries per game; front-row seat to see Cam Newton score TDs).
Rex Burkhead's two receiving touchdowns this week bring him to six scores on the season — tied for 20th among running backs. In Week 10, he out-snapped James White 20-10 and out-targeted the longtime NE pass-catcher 5-2.
Burkhead isn't startable unless Harris and/or White are out of the picture, but the veteran is more involved than box-score watchers might realize. Harris only has one more red-zone carry than Burkhead (5 to 4) over the past four weeks. Each has a single carry inside the 5, and Burkhead scored on his. The problem for both of them? Over that same period, Newton has tallied 10 red-zone carries, including seven inside the 5 for four rushing touchdowns — plus a 2-point conversion.
Something needs to change here for us to feel good about starting Burkhead, but he has proven capable of spike weeks within a quality rushing offense that is happy to toss him a few targets per game.
FAAB Recommendation: 1-2%
WIDE RECEIVERS
Highly drafted rookie wide receivers can break out at any time in today's pass-happy NFL. Michael Pittman — the No. 34 overall pick in 2020 — released his best tape to date on Thursday night in Week 10, leading Colts wide receivers in routes run (38), targets (8), receptions (7), yards (101) and yards per reception (14.4). He caught his only contested target, forced a missed tackle and notched two explosive pass plays. Oh, and he broke off a 21-yard rush.
Pittman missed all of October with a leg injury that required surgery. Indianapolis coaches, ownership and various Peyton Manning-endorsed local businesses have been singing the rookie's praise seemingly since draft day. At 6-foot-4 and 220 pounds, Pittman has the size and route-running ability to do serious damage in the short and intermediate range. PFF's 2020 draft guide compared him to Alshon Jeffery.
With fellow young talent Parris Campbell out for the year and T.Y. Hilton looking like a shadow of his past WR1 self, things are aligning perfectly for Pittman. He has 15 targets over the past two weeks, including four red-zone looks. It's easy to imagine Pittman and Nyheim Hines continuing to garner their fair share of attention from Philip Rivers in a relatively risk-averse offense opposite one of the league's better defenses.
Pittman should be one of the most widely added players in NFFC Online Championship leagues this week. With two matchups against the friendly Houston Texans still left on the schedule — including one in the fantasy playoffs — it's worth seeing where this goes over the next week or two.
FAAB Recommendation: 5-10%
PFF's Andrew Erickson shouted out Reynolds last week as a player to keep an eye on based on his team-leading 10 deep targets and 33% share of the Rams' end-zone targets on the season. The fourth-year receiver didn't find the end zone against the Seahawks, but he continued his ascent among the WR group.
Reynolds led the team in routes run (37), targets (10), receptions (8) and receiving yards (94). He caught all three of his contested targets on the day, forced a missed tackle and notched two explosive pass plays (17 and 21 yards). His usage noticeably jumped starting in Week 6, and his target totals over the past three games have been 8, 8, 10. He's currently the WR37 over the past four weeks with his bye mixed in (WR16, WR46, bye, WR17).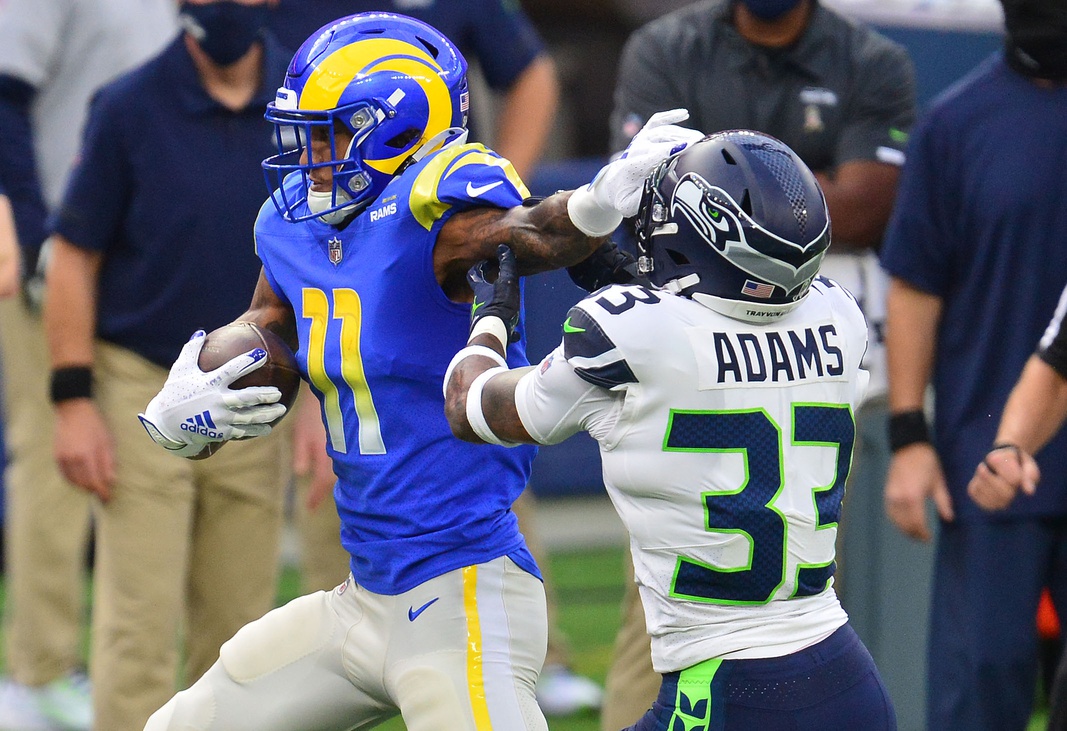 The Rams aren't the most explosive passing offense and have two other pass-catchers who can lead the receiving group in any given week. As noted by Erickson, Reynolds is now a legitimate member of this club himself — and the downfield usage and deep targets could lead to spike weeks down the stretch.
FAAB Recommendation: 3-5%
The Miami Dolphins have had a lot of moving parts this season. Most teams don't swap in a rookie quarterback while pushing for a playoff spot. In addition to turnover at the game's most important position, we've seen running backs and wide receivers come and go.
Preston Williams' Week 9 injury was the latest shakeup for this offense, and the speedy Jakeem Grant has taken advantage. The 5-foot-7, 169-pounder played a season-high 56 snaps against the Chargers, emerging as one of the Dolphins' clear-cut top three receiving threats. Grant (5), Davante Parker (7) and Mike Gesicki (5) drew 17 of Tua Tagovailoa's 26 targets; no other WR saw more than two. Grant led the team with four catches and 43 receiving yards and caught a 3-yard touchdown.
There might not be a high ceiling here for the 28-year-old with just 75 career receptions. We all know how Parker blew up down the stretch last season once Williams was out of the picture — he's likely to be the one to see all the work he can handle for the foreseeable future. Still, this is an offense quite limited as far as personnel these days — they are banged up at running back and wide receiver alike. Tagovailoa is likely to funnel targets to the familiar; right now, that's only three pass-catchers and his undrafted FA RB Salvon Ahmed.
The schedule is less than daunting for this up-and-coming offense over the final three weeks of the fantasy season: @Denver, @New York Jets, vs. Cincinnati. It's a situation worth monitoring, especially in full-point PPR.
FAAB Recommendation: 1-2%
WR Quick Hitters:
Buffalo Bills WR Gabriel Davis (1%)
John Brown checked out of Buffalo's dramatic, last-second loss to the Arizona Cardinals with a fourth-quarter ankle injury. The Bills have the week off, but if Brown misses time it will open the door for rookie Gabriel Davis. We touched on the former UCF Knight last week — he is playing a healthy amount of snaps and is seeing his fair share of high-value targets. There's upside here that we might not see until next season, but Davis saw a season-high 10 targets in Week 5 with Brown inactive. He ran 15 of his 26 routes in the fourth quarter.
FAAB Recommendation: 1-2%
Denver Broncos WR KJ Hamler (4%)
Another player on last week's list, KJ Hamler (4%) continued his positive trajectory with 10 targets on a day when fellow WR Tim Patrick was ejected for fighting. Hamler only brought down four catches for 50 yards amid Drew Lock's 47 pass attempts (only 23 completions). This offense is kind of a mess, but the talented second-rounder's role is growing.
FAAB Recommendation: 2-3%
Cincinnati Bengals WR Auden Tate (1%)
Thirty-two-year-old A.J. Green didn't catch a pass in Week 10 on five targets, while 23-year-old Auden Tate saw four targets on just 11 routes run. The athletic third-year man out of Florida State caught the two that weren't contested for 24 yards. The emergence of Tee Higgins and presence of Tyler Boyd is going to make it tough for Tate to make an impact for fantasy this season, but the Bengals will want to see more of the young 6-foot-5 receiver with Green likely out the door this offseason.
FAAB Recommendation: 0-1%
Tight End
You know the tight end position is a mess when a 4-66-0 line is good for TE6 on the week. But here we are.
Thomas is the only show in Washington — he was on the field for 87 out of 88 snaps in the team's last-second loss to Detroit. Alex Smith threw the ball 55(!) times in this one, and only 28 went to wide receivers. Thomas' six targets tied for third on the day behind J.D. McKissic (15) and Terry McLaurin (10).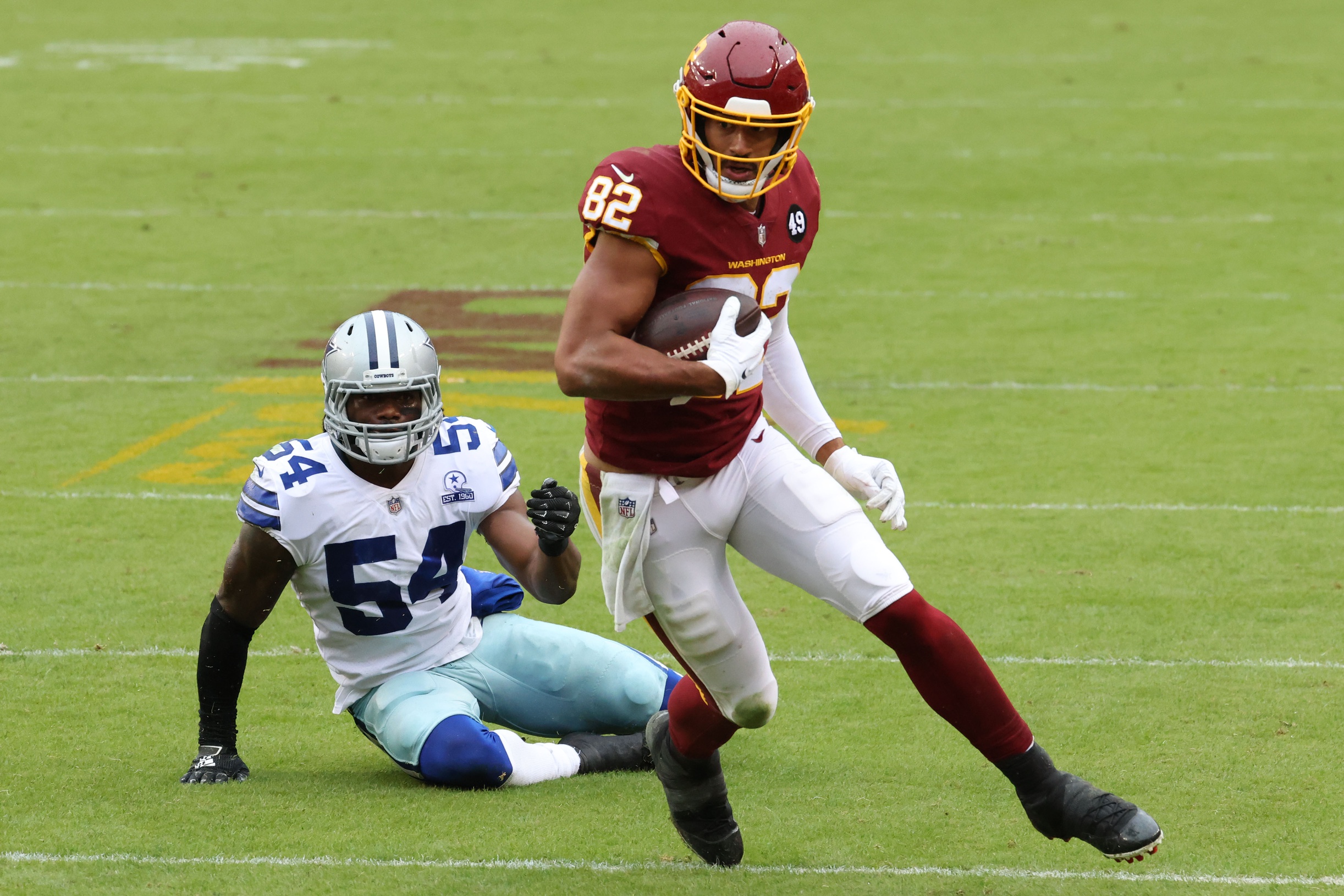 This is an offense that doesn't always make much sense. See: former wide receiver Antonio Gibson taking a back seat in the passing game to McKissic. But, in some ways, Smith's proclivity for checking down (5.2 aDOT) is good for both the running backs and Thomas. The 6-foot-6, 250-pound tight end has certainly seen his fair share of work in the red zone — with two more looks this week, he ranks ninth at the position with 12 on the season.
With 12 targets over the past two weeks and two TDs in his last four games, Thomas is squarely among the crowded group of usable but meh tight ends. Smith taking over the starting role could still be a good thing, but we'll want to see some end-zone targets sooner than later.
FAAB Recommendation: 2-3%