Chiefs WR Kadarius Toney has a tantalizing Week 11 matchup and should have plenty of volume due to the team's injuries at wide receiver.
Vikings QB Kirk Cousins could have a tough time staying too clean this Sunday against Micah Parsons and company.
Bears RB David Montgomery should have a three-down role to complement his potential smash spot against the Falcons.
Estimated reading time: 25 minutes
---

---
The NFL is a matchup-driven league. Offensive coordinators are always looking to scheme their playmakers into one-on-one situations against a defender, while defensive coordinators will attempt to do anything in their power to upset the timing and rhythm of the opposing QB.
Despite the obvious impact that defenses have on opposing offenses, fantasy players and fans alike are often left with one-way metrics to describe offenses and defenses that they are then forced to compare against each other in an attempt to identify mismatches.
The goal here is to provide easy-to-decipher charts and notes to define each week's key matchups and advantages on both sides of the ball in:
Explosive Plays

Pace

Pressure

Yards Before Contact

Pass yards per dropback

EPA
The following charts display matchup-specific information meant to highlight the largest mismatches in these ever-important facets of football to ultimately gain actionable betting and fantasy takeaways. And, of course, to have fun.
---
Explosive Plays
Big plays make the football world go round. Matchups between explosive offenses and leaky defenses are exactly what we're looking for when compiling game stacks in DFS, or when betting an over.
Explosive Pass Rate

: The sum of an offense's rate of 20-plus yard completions per pass attempt and the opposing defense's rate of 20-plus yard completions allowed per pass attempt. A higher percentage is better for offenses (blue is good, red is bad).

Explosive Run Rate

: The sum of an offense's rate of 15-plus yard gains per rush attempt and the opposing defense's rate of 15-plus yard runs allowed per rush attempt. A higher percentage is better for offenses (blue is good, red is bad).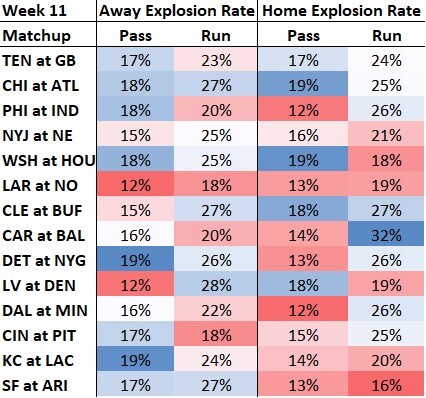 These offenses breed explosive plays: Lions (11%), Patriots (10.5%), 49ers (10.2%), Dolphins (10.2%),Texans (10.1%) and Eagles (10%) offenses are averaging an explosive pass play on at least 10% of their dropbacks.
Never fear the Sun God is here: It's tough to overly blame Jared Goff for throwing just five touchdowns over the past five weeks after starting the season with 11 in his first four games due to the myriad of injuries that have impacted his pass-catchers. The T.J. Hockenson trade also didn't help matters.
And yet, there is one constant in Detroit: Amon-Ra St. Brown puts up big numbers pretty much anytime he's healthy enough to suit up. Overall, the Sun God has finished with fewer than six receptions in just one of his last 12 non-injured games:
Week 13, 2021:

10 receptions-86 yards-1 TD (12 targets, PPR WR6)

Week 14, 2021:

8-73-0 (12, WR26)

Week 15, 2021:

8-90-1 (11, WR6)

Week 16, 2021:

9-91-1 (11, WR6)

Week 17, 2021:

8-111-1 (11, WR2)

Week 18, 2021:

8-109-1 (10, WR9)

Week 1, 2022:

8-64-1 (12, WR12)

Week 2, 2022:

9-116-2 (12, WR4)

Week 3, 2022:

6-73-0 (9, WR37)

Week 8, 2022:

7-69-0 (10, WR23)

Week 9, 2022:

4-55-0 (9, WR31)

Week 10, 2022:

10-119-0 (11, WR8)
The ceiling of this passing game simply isn't all that high with each of D.J. Chark (ankle, IR), Jameson Williams (knee, PUP) and Josh Reynolds (back) all sorts of banged up; just realize kings stay kings, and St. Brown's production has been awfully royal for the better part of the last 12 months.
Good offense beats good defense in today's NFL: Offenses set up to thrive in their quest to create some explosive pass plays: Lions, Chiefs, Texans and Falcons.
Time to unleash Kadarius Toney on your fantasy enemies?: If JuJu Smith-Schuster (concussion) joins Mecole Hardman (abdomen, IR) on the sideline: Yes. All the second-year talent has done in his first two games with the Chiefs is turn his first eight touches into 102 yards and a touchdown. Sure, the score was the result of a busted coverage, but the 2021 first-round pick has also already flashed some tantalizing YAC and contested-catch skills.
Toney truly seems to move at a different frequency than other players on the field.
Goodnesspic.twitter.com/4unlbXGMWn

— Ian Hartitz (@Ihartitz) November 16, 2022
The Chiefs have eased Toney into the offense, but Patrick Mahomes himself has indicated that Toney will continue to get more and more run. They might not have a choice if JuJu and Hardman are ruled out; I'll be bumping Toney up to low-end WR2 territory should this occur, while he'll be more of an upside WR3 if still at risk of consistently working outside of primary three-WR sets.
The sad, sad Kyle Pitts experience: Overall, only Chris Olave (475) and Diontae Johnson (445) have more unrealized air yards than Pitts (422) this season, meaning they have missed out on more downfield opportunities than any other pass-catchers in the NFL.
That's the most frustrating part here: Pitts' usage has actually been fine enough despite operating in the NFL's most run-heavy offense. The TE7 in expected PPR points per game this season, Pitts stands out more for leading the position with 34.2 fantasy points below expectation on the season.
Obviously, fantasy managers didn't draft Pitts in the third round to get the TE7 in expected PPR points; just realize that would standing would be amazing compared to his real status as the TE21 in PPR points per game. As sad as it is, Pitts continues to boast the talent profile and just enough of a workload to warrant top-eight treatment, especially with bye weeks and so many top options at the position dealing with injuries.
Offense is easier when the defense sucks: The only four defenses allowing an explosive pass play on at least 9.5% of their opponent's dropbacks: Texans (11.3%), Falcons (10.4%), Browns (10%) and Steelers (9.7%).