Welcome to the Week 6 edition of the 2019 fantasy football trade value chart. Many of our leagues' regular seasons are now almost halfway done, so we may have an increased urgency to make moves and improve our teams.
With this heightened level of urgency, many owners may be more willing to tolerate riskier trades. Perhaps you need to trade your big-name but underperforming player to capture a proven unknown (looking at you, Odell Beckham Jr. and D.J. Chark Jr.). Or your team is looking great and in the clear but a timely buy-low transaction of someone like OBJ or DeAndre Hopkins may be the move that secures your playoff berth and furthers your championship-winning odds.
Week 5 was wild and magnificent. Depending on your league settings, you may have seen five different players, across three separate positions, surpass the 40-point imaginary line of awesomeness. Will Fuller finally rebounded … in a big way. Aaron Jones exploded for four touchdowns and nearly 200 yards from scrimmage, despite what had been a relatively frustrating timeshare. Deshaun Watson continued his superb fantasy production. Michael Thomas keeps producing despite losing his Hall of Fame QB. And Christian McCaffrey did standard-these-days Christian McCaffrey things. Nonetheless, there are some other players and observations from week 5 that may impact your league going forward: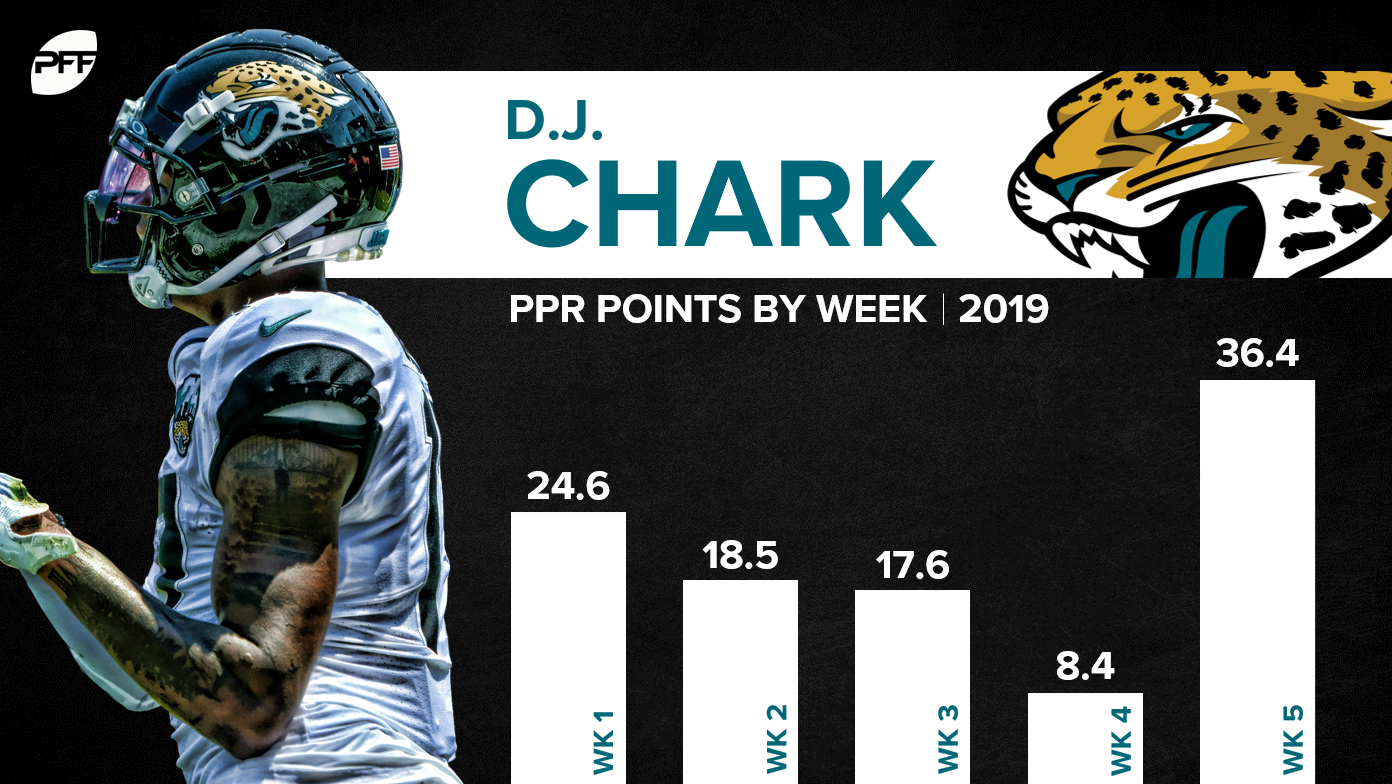 Chark had the best game yet of his breakout campaign, torching Carolina's impressive defense for eight catches on 11 targets for 164 yards and two touchdowns. The buy-low opportunity due to lack of name value may have passed.
Josh Jacobs played extremely well in a tough matchup against the Chicago star-filled defense. Many owners feared the Bears' normally shutdown defense, but maybe this springs Jacobs into star status following Oakland's Week 6 bye.
George Kittle finally had his first great fantasy game — despite PFF consistently grading Kittle as its top TE this year — producing 20.8 PPR points on eight targets (and one 18-yard rush). He's too good and already had his bye so he's arguably the best trade target, if you can still buy somewhat low, in a scarce and depressing fantasy position.
Check out the full chart below. Remember, these values simply provide you with a foundation for prospective trades as of week 5 and looking forward throughout the rest of the season. Tailoring these values to your league's distinct settings or your opponents' tendencies can drastically impact your transactions.
The trade value chart uses our rest-of-season projections to assign values to every relevant player. The players are displayed in order of their trade values.