The window to get in on this high-upside safety is closing quickly:

Kyle Hamilton

could potentially see a big snap increase in Year 2, making him one of the more attractive IDP pieces to target this offseason.

The Cincinnati Bengals are set to have a big hole(s) in their secondary:

With

Jessie Bates

and

Vonn Bell

pending free agents, opportunity awaits for this 2022 first-round pick.

Thank you for your service: After being among the league leaders in total tackles in 2022, we should probably cash out on the Houston Texans'

Jonathan Owens

while we still can.
Estimated reading time: 10 minutes
---
With dynasty fantasy football season in full swing, there are sure to be plenty of trades and market values to take advantage of at this point in the offseason. Acquiring players before their values increase too much in addition to moving on from those who still have some value left is what this series is all about. Check out the defensive line options as well.
Continuing with the defensive backs — mostly safeties — here are nine players who should be targeted or avoided in dynasty leagues. There will be an emphasis on production versus expected to better frame exactly how each player performed relative to their peers this past season. Be sure to check out the IDP dynasty rankings to get a clearer picture of where each player stands relative to their peers.

---
Target
When trying to find a dynasty safety with a high fantasy upside, there may not be a better target than Hamilton. Coming off a rookie season where he excelled in a part-time role. Hamilton boasts the frame and athletic ability to be an asset from anywhere on the defense, which should continue to translate into fantasy production.
Hamilton spent most of his time in the slot and held his own, ranking among the top safeties at his position in coverage grade (76.8). He also had his opportunities to rush the passer, which resulted in two sacks on 32 attempts. Hamilton's 6-foot-4 221-pound frame should also allow him to get significant work in the box and rack up tackles as a dime linebacker while not getting pushed around. With rumors of 2022 starter Chuck Clark being a potential cut or trade candidate this offseason, the time to get in on Hamilton is now, as his 2023 full-time role will soon become obvious to the masses. 
Hamilton's 2022 Production vs. Expected profile: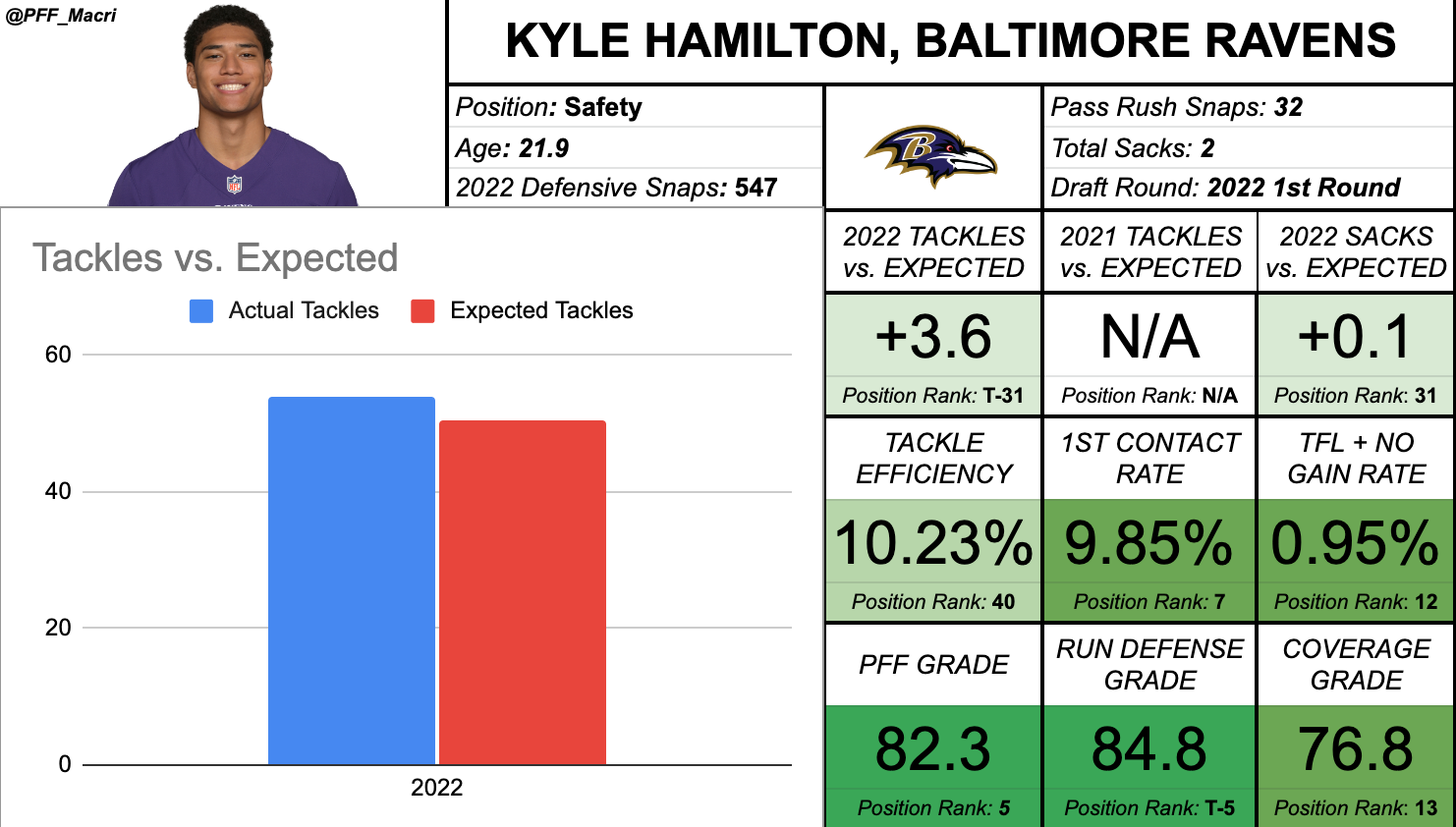 ---
Spending significant draft capital or paying up in a trade for any Patriots IDP will always be a risky play as long as Bill Belichick is the head coach, as he implements a very rotation-heavy and situation-specific deployment for his defensive players. Dugger, however, is worth the risk because his deployment allows for him to play significant snaps from an IDP-friendly alignment, which meant 56% of his defensive snaps in the box this past season. 
The Lenoir-Rhyne product is one of the rare safeties in the league whose primary role asks him to line up near the line of scrimmage for the large majority of his defensive snaps. For his NFL career, he has only spent 10% of those snaps from a deep safety alignment, which is ideal for IDP, as it keeps him in the action and helps lead to better production. Even as he rotates out in specific packages, averaging just 75.5% of defensive snaps over the past two seasons, he still sits well inside the top 20 players at his position in total tackles despite being the only player without a true full-time role on that list. Dugger has seen his snaps increase since his rookie year and considering his strong play on the field, he could continue to rise in that category which would further increase his IDP value.
Dugger's 2022 Production vs. Expected profile: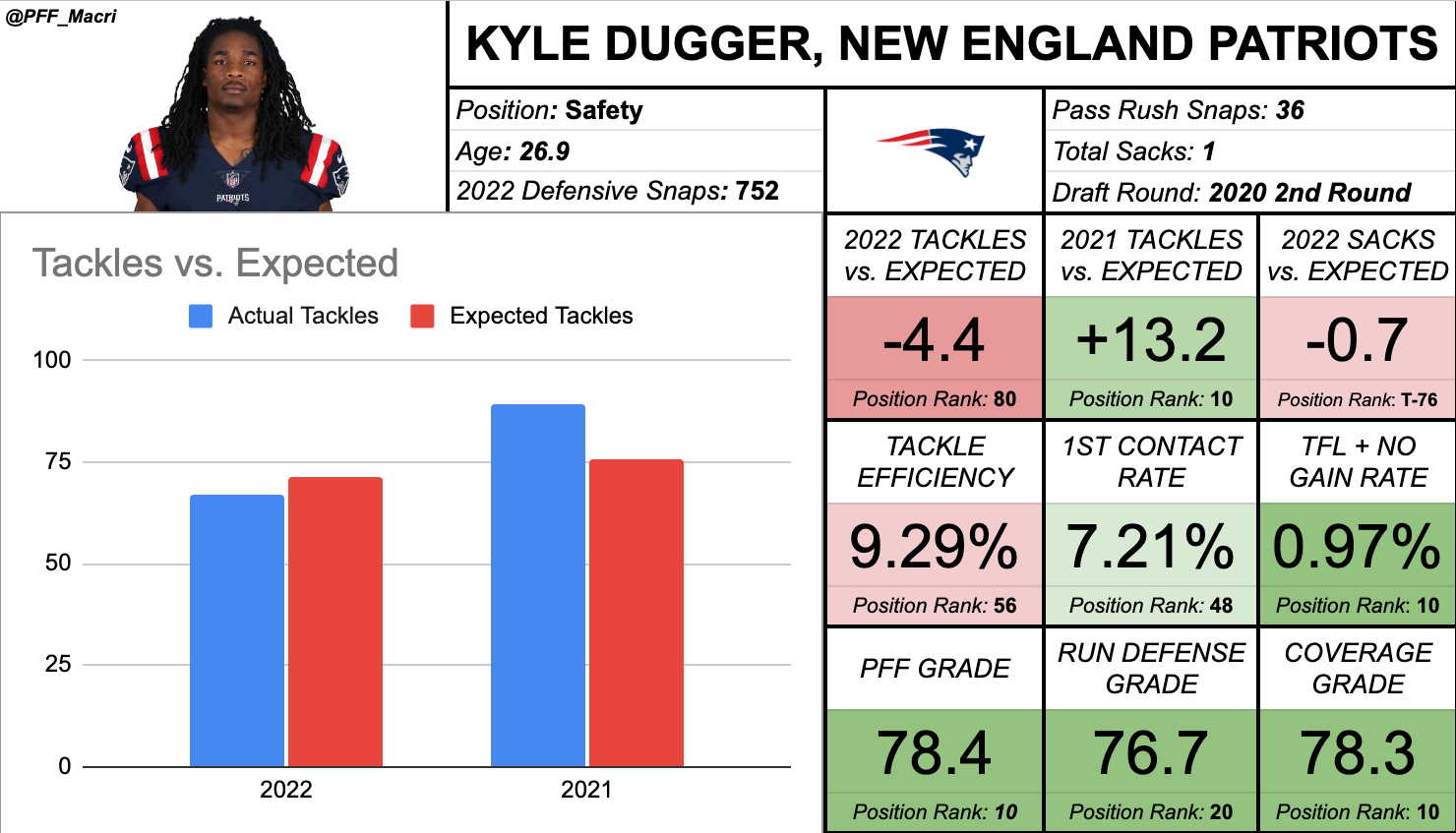 ---
Some player to target this offseason won't require in-depth analysis as to why they are great options for IDP rosters in 2023. Sometimes, the easiest answer is just their potential opportunity. With Hill, his opportunity should be significant, as both of the Bengals' starting safeties from the past few seasons — Jessie Bates and Vonn Bell — are pending free agents with the assumption that at least one of them won't be back in 2023. This leaves a big hole in the defense, which the team was certainly cognizant of last offseason, hence spending a first-round pick on Hill in the 2022 NFL Draft.
Depending on which Bengals' safety departs in free agency, assuming it's not both, Hill has two very different roles potentially available to him. Bates' deep safety role is less attractive for IDP purposes while Bell's more box-heavy role should be the one that prospective Hill managers are rooting for after Bell spent nearly 40% of his snaps in the box this past season. Both roles are full-time positions that resulted in over 1,000 defensive snaps in 2022 so whichever role Hill lands should yield plenty of opportunities to be a relevant IDP next season, and one that can be had for relatively cheap at the moment. 
Hill's 2022 Production vs. Expected profile: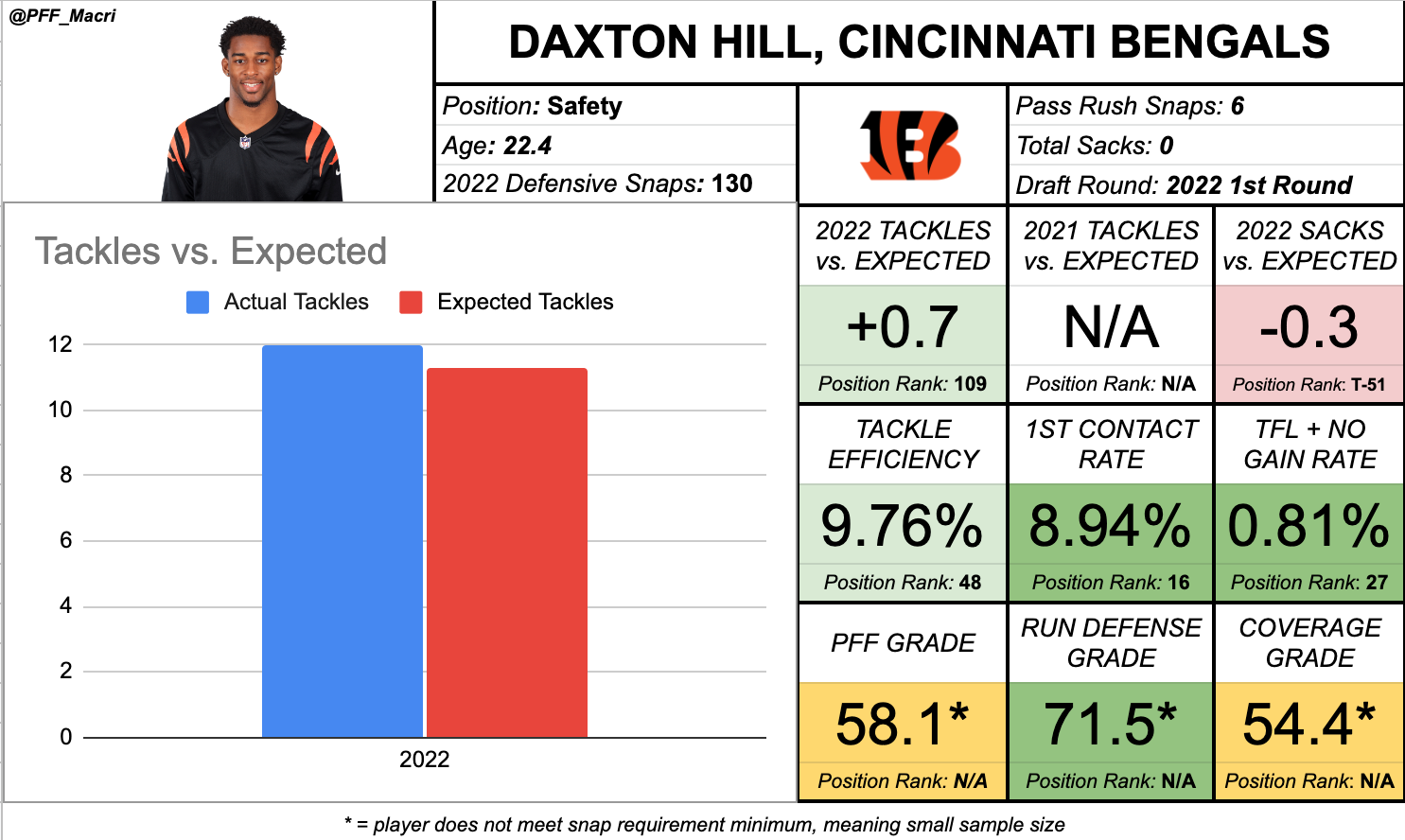 ---
Chinn entered the 2022 season as one of the more expensive safeties to acquire in IDP leagues but after missing six games and not returning to lineups until near the end of the fantasy regular season, Chinn's price tag hasn't been lower over the past two offseasons. Injury aside, Chinn has been one of the more productive tacklers at the position since he entered the league and should have a decent shot to continue that trend in 2023, even under a new defensive coordinator. 
With Phil Snow out and Ejiro Evero coming in, Chinn should still have a chance to play up near the line of scrimmage for the majority of his defensive snaps. Evero's Denver Broncos relied mostly on Cover-3 as their primary defensive coverage, similar to Snow's Panthers, creating a scheme that allows just one single-high safety and a chance for Chinn to rotate down more often. Assuming that Evero deploys a similar scheme, expect Chinn to continue his box-heavy duties and be productive as a tackler. The hope for Year 4 is that he can get back to adding some of the more unstable "big plays" that we saw in his rookie season.
Chinn's 2022 Production vs. Expected profile: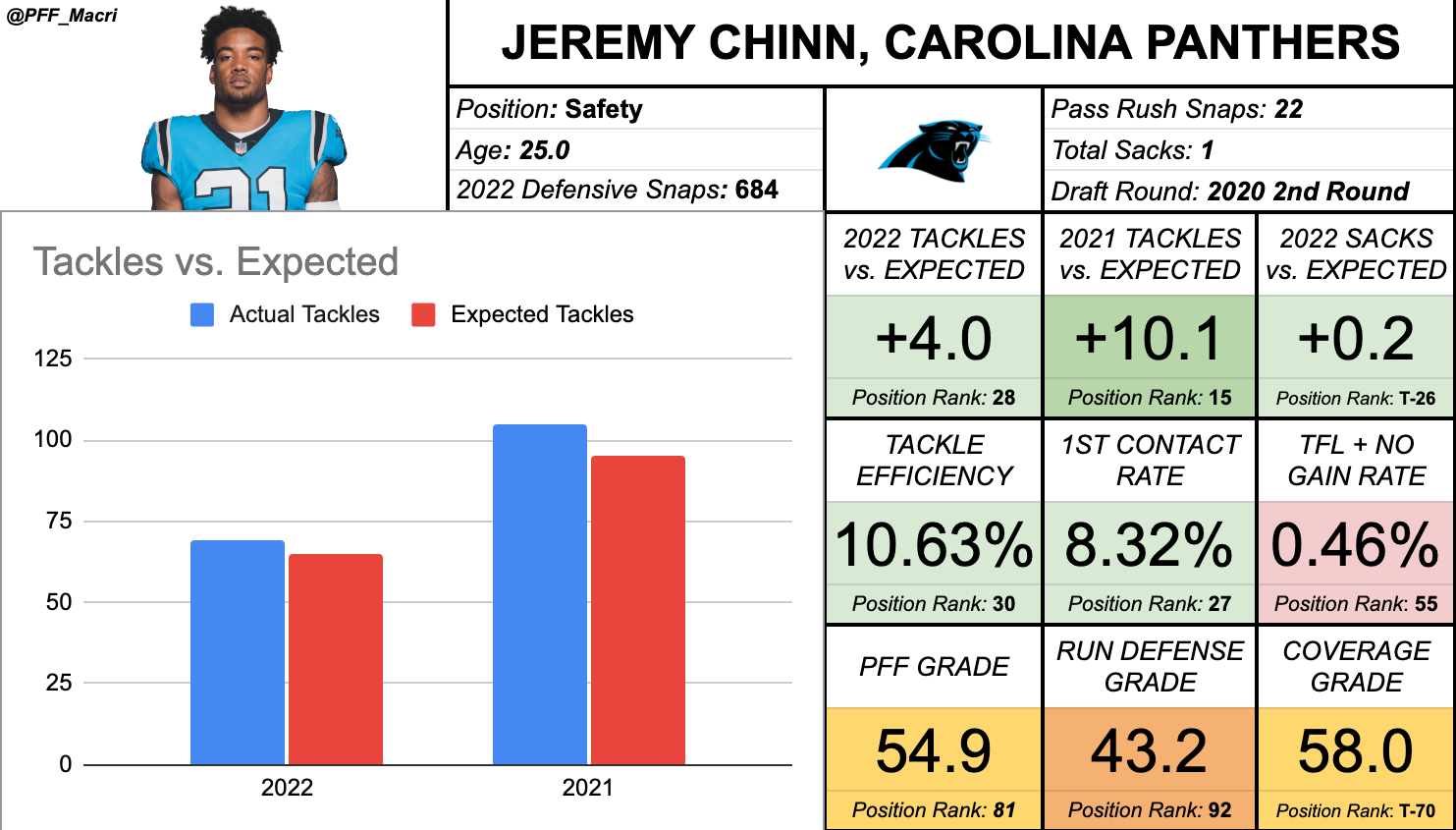 ---
AVOID
Owens posted well over 100 total tackles in 2022, ranking among the top five players at his position, but that may be an outlier season, especially as a pending free agent. Owens failed to crack a 50.0 PFF grade in the three most important defensive categories for defensive backs this past season, often getting exposed on the back end, allowing a 124.8 passer rating when targeted (eighth-highest among qualifying safeties). Owens is unlikely to be viewed as a quality starter on the open market and landing on a team that puts him in that position is a high uncertainty at this point, which should be a key for dynasty managers to be aware of in order to avoid getting stuck with him as his value continues to fall.
Owens' production mostly coming from a deep safety alignment could also point to regression, even if he does get a starting job again in 2023 after spending 59% of his defensive snaps from a deep alignment. Repeating that production under a new defensive system — whether it's with the Texans, who have a new coaching staff, or on another team — should be considered an unlikely outcome, making now the best time to take advantage of any trade value that he accrued from his productive 2022 season.
Owens' 2022 Production vs. Expected profile: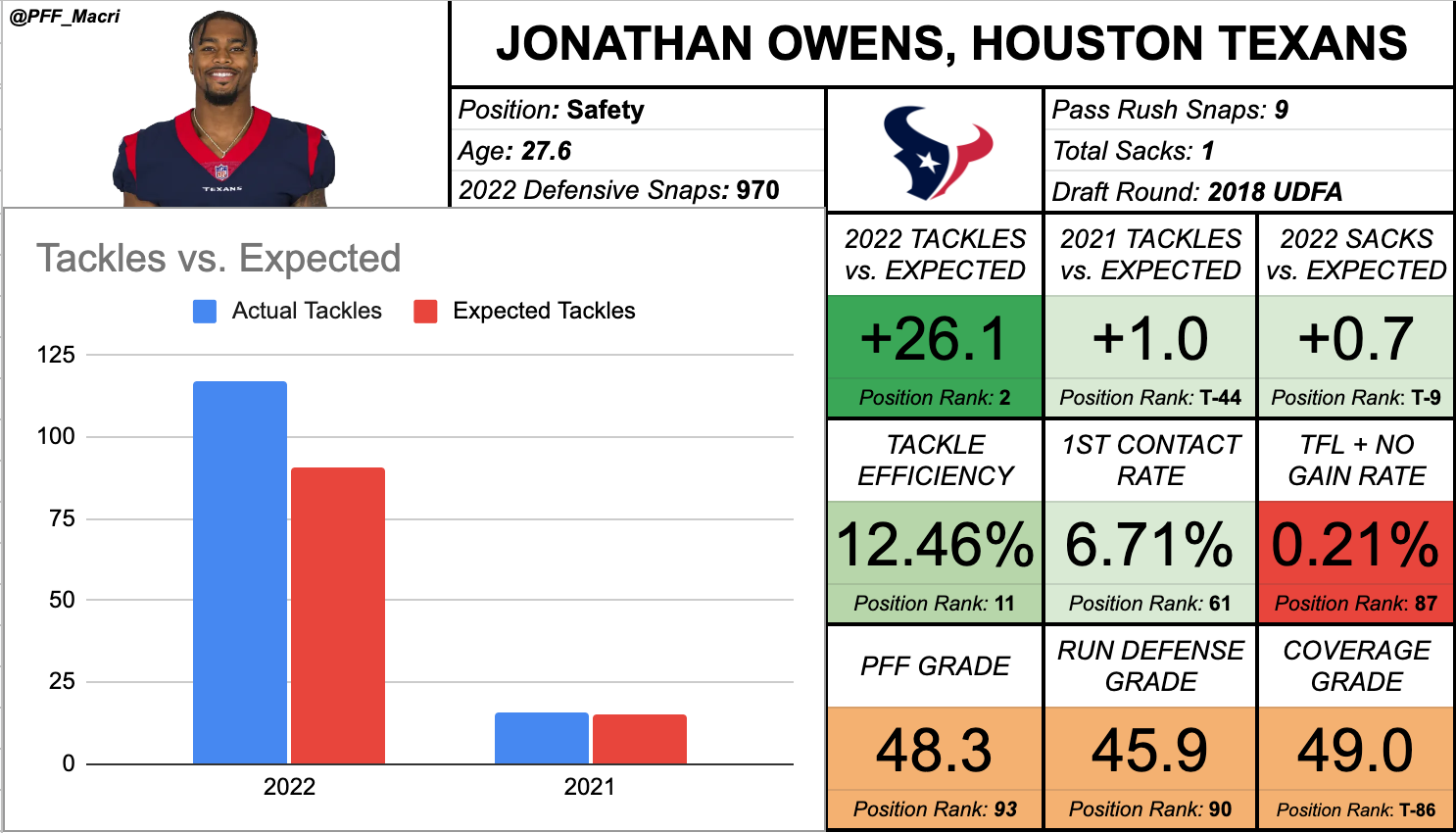 ---
Jackson had a resurgent year in 2022, posting the second-highest tackle total (80) of his career in four fewer games. Similarly to Owens (mentioned above), Jackson did so with a high percentage of snaps from a deep safety alignment (68%) and is a lead regression candidate because his role is not expected to change drastically in 2023. While he did miss five games, Jackson did enough in the 12 games that he was on the field to boost his perception as a top-end IDP sho carries enough name value to profit off of this offseason.
Jackson's 2022 Production vs. Expected profile: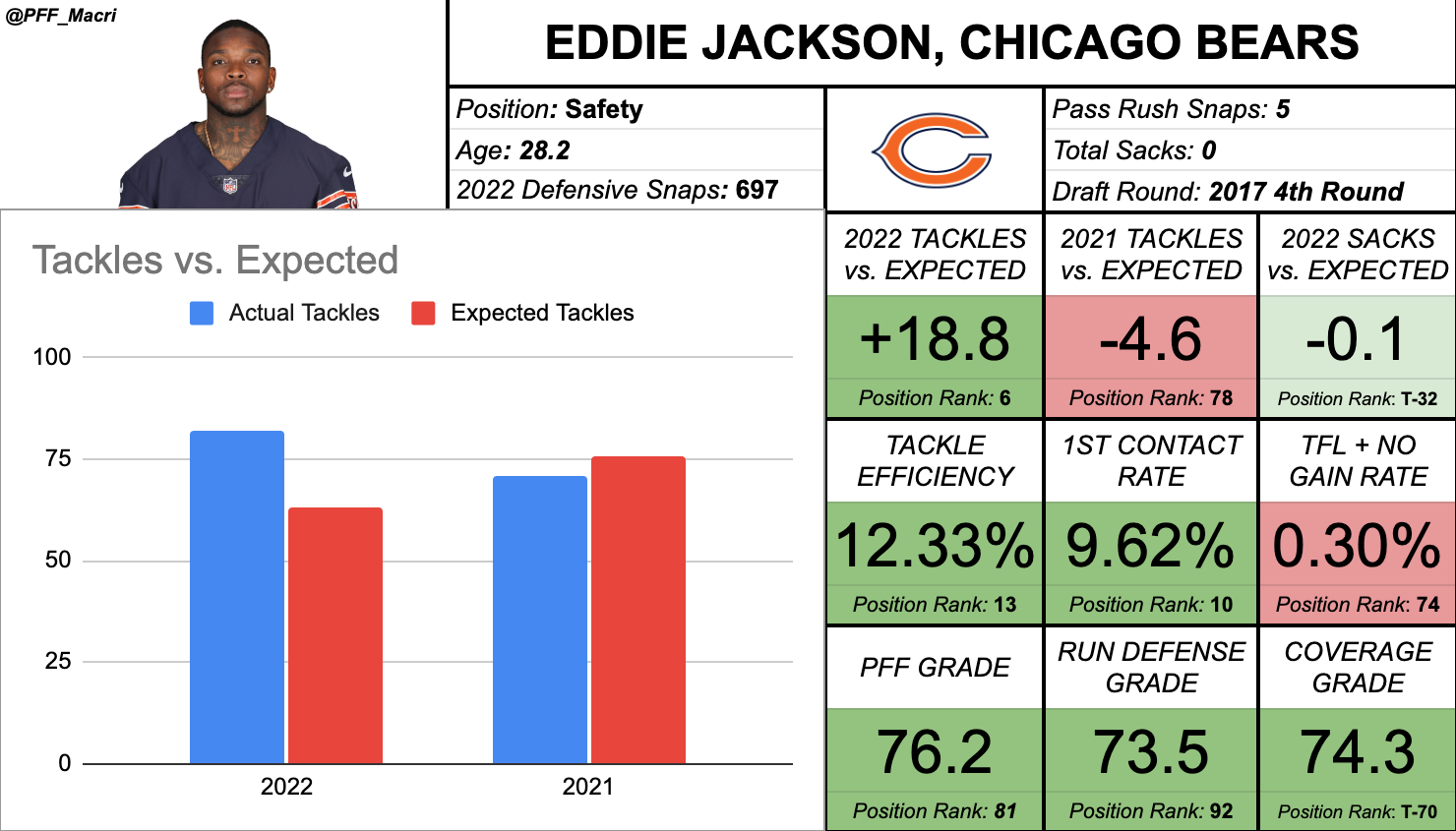 ---
With Bell heading into free agency, his landing spot is entirely up in the air, which is never a great feeling for IDP managers. Bell has spent a significant amount of his defensive snaps (43%) in the box during his time with the Bengals, which has been his greatest asset from an IDP perspective, as it's allowed him to post decent tackle numbers over the years. This past year ended as one of his most inefficient seasons, landing about 20 tackles below expected on over 1,000 defensive snaps and by far his lowest since joining the Bengals in 2020.
Heading into free agency, there are no guarantees that Bell will see as profitable an IDP role that he's had in Cincinnati over the past three seasons, which is more reason for concern for IDP managers. There aren't many box-specific roles in the NFL, which leaves his ideal landing spots few and far between. Fantasy managers should move on from Bell, as he couldn't capitalize in an IDP-friendly role with there being little hope that he'll be able to do so in a less-beneficial role somewhere else.
Bell's 2022 Production vs. Expected profile:
---
Garnder-Johnson tied for the league lead in interceptions (six) in 2022, which was more than he had in his NFL career heading into this season. He also posted the highest tackle total (67) of his career while playing a more typical safety role than in the past when he was utilized as more of a nickel corner in the New Orleans Saints defense. It's unclear whether or not the Eagles are going to bring back Gardner-Johnson in 2023, as he's slated to hit the open market, but capitalizing on a player whose greatest asset from the year prior is one of the more unstable stats year to year (interceptions) is rarely a bad move. 
Garnder-Johnson's 2022 Production vs. Expected profile: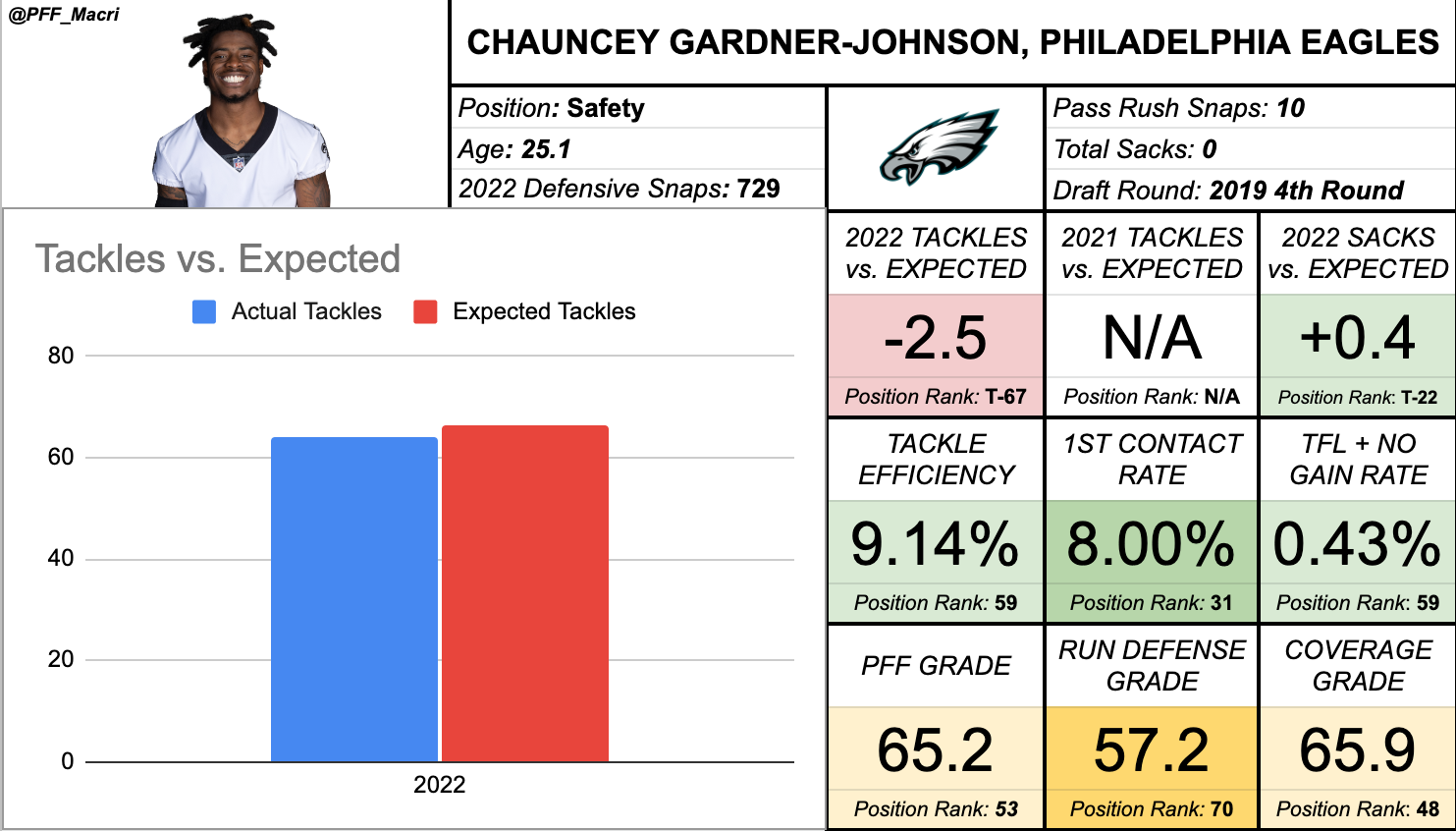 ---
Always avoid or try to capitalize on the previous season's top fantasy cornerback. It's as simple as that when it comes to profiting in IDP. Whether it's Trevon Diggs, Kenny Moore or Marlon Humphrey in the past, all have proven that corner is by far the most volatile position in IDP, so betting on any corner to replicate their production year-to-year is unwise. There is no denying that Sneed was excellent in 2022 and will be worth a starting spot again in 2023, but coming close to his output of over 100 tackles, three interceptions, three forced fumbles and 3.5 sacks is where IDP managers should start to have second thoughts.
Sneed's 2022 role was mostly spent in the slot, which allowed him to stay closer to the action, playing in the box and supporting the run while getting those pass rush attempts that led to 3.5 sacks. That slot role lasted all the way up until Week 16 when the team moved him to outside corner. The team moved rookie corner Trent McDuffie into Sneed's slot role, which could point to the direction they Chiefs are hoping to take this defense in 2023, creating more cause for concern in regard to Sneed's potential to produce at the same elite level.
Sneed's 2022 Production vs. Expected profile: