Jaelan Phillips becomes priority No. 1:

There might not be a better defensive lineman to target at cost right now than

Phillips after an elite year of stable underlying metrics didn't quite translate to fantasy production.

A breakout year and potentially still undervalued:

Dexter Lawrence

not only broke out but was arguably the best player at his position in 2022, but his fantasy cost is not reflective of that just yet.

Taking advantage of players with shortened seasons:

Rashan Gary

and

Christian Barmore

posted impressive numbers on injury-shortened years, which creates an excellent target window for prospective dynasty managers.
Estimated reading time: 10 minutes
---
With dynasty fantasy football season in full swing, there are sure to be plenty of trades to be made and market values to take advantage of at this point in the offseason. Grabbing players before their values get too high and moving on while there is still some value left is what this series is all about.
Starting with the defensive line, here are nine players whose value and play on the field should lead IDP managers to target or avoid them in dynasty leagues. There will be an emphasis on actual production against expected production to better frame exactly each player's value. Be sure to check out the IDP dynasty rankings as well to get a clearer picture of where each player stands relative to their peers.

Target
If there's one trench player to pinpoint as someone who didn't get the sack luck that they deserved in 2022, similar to Maxx Crosby in 2021, Phillips certainly stands out. Most IDP managers will look at last season's sack totals and notice that they're lower than Phillips' rookie year. Still, savvy IDP managers will understand that Phillips' actually improved a lot in his second season. 
The 2021 first-round pick finished the year with the sixth-highest overall grade at his position (87.7) and the sixth-best pass-rush grade (89.8). All of Phillips' underlying pass-rush metrics suggest he should have finished with double-digit sacks in 2022, and because he fell short of that mark, those stable metrics now indicate some positive regression going forward. Capitalizing on defensive linemen that underperformed relative to expectations, especially the ones that have strong underlying metrics, is a great way to buy low on a player before they cement themselves among the top scorers at their position in the future.
Phillips' 2022 Production vs. Expected profile: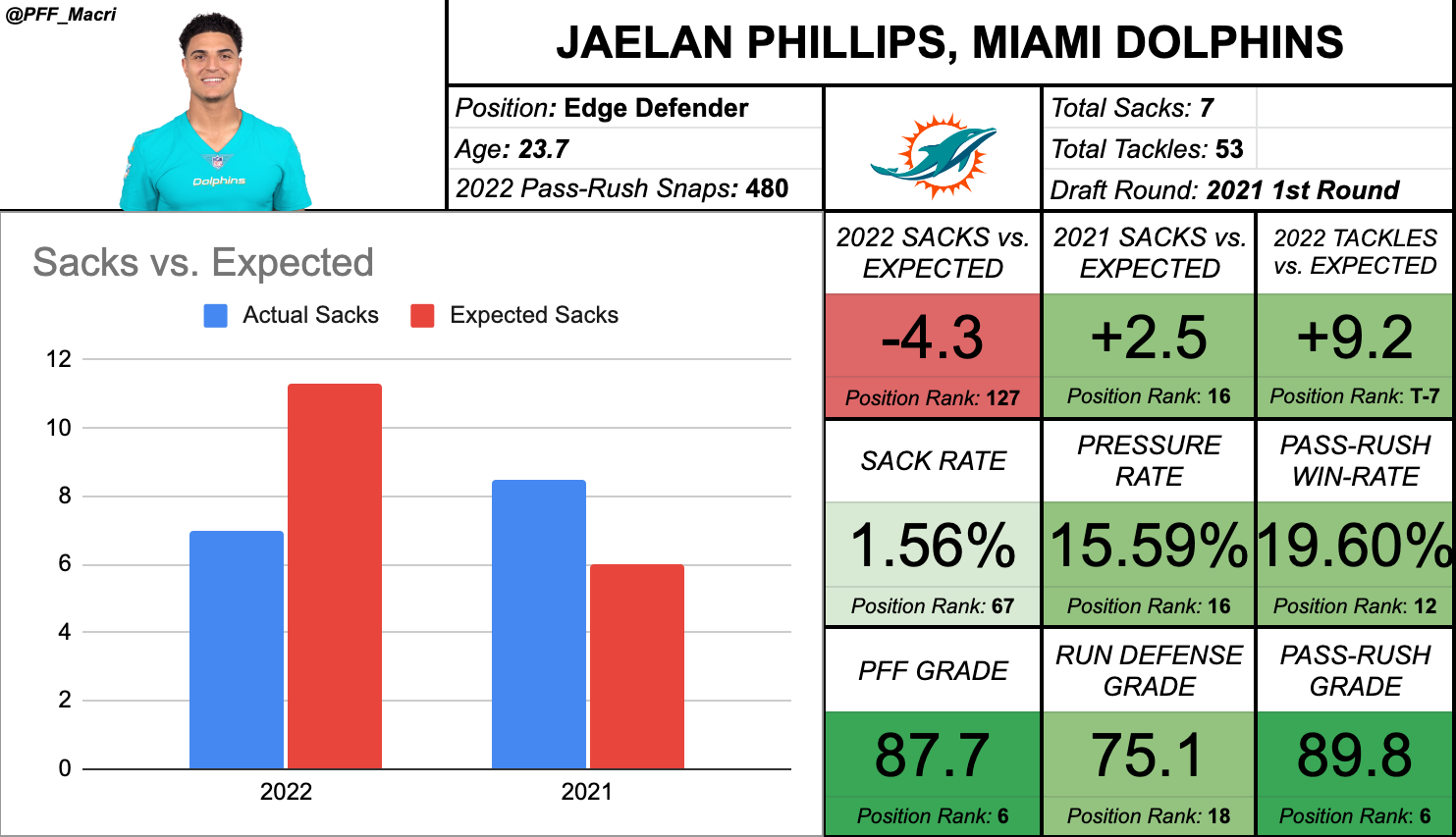 ---
In a similar vein, Allen is another former first-round pick who underperformed in the sack department relative to expectations despite improving as a pass-rusher. He is flying under the fantasy radar right now and worth more than his current market value. There are sure to be plenty of Allen managers that find his lack of double-digit sack totals since his rookie year a disappointment, especially considering his top-10 draft pick status, but Allen appears to just now be entering the prime of his career. 
He'll turn just 26 years old by the time the 2023 season rolls around and is coming off the best pressure total (68) and pass-rush grade (79.4) of his career, leaving no real reason to give up on him now. In dynasty leagues where there is an Allen manager frustrated by his production, IDP managers have an opportunity to pounce, as Allen currently ranks top 15 at his position in the PFF dynasty IDP ranks.
Allen's 2022 Production vs. Expected profile: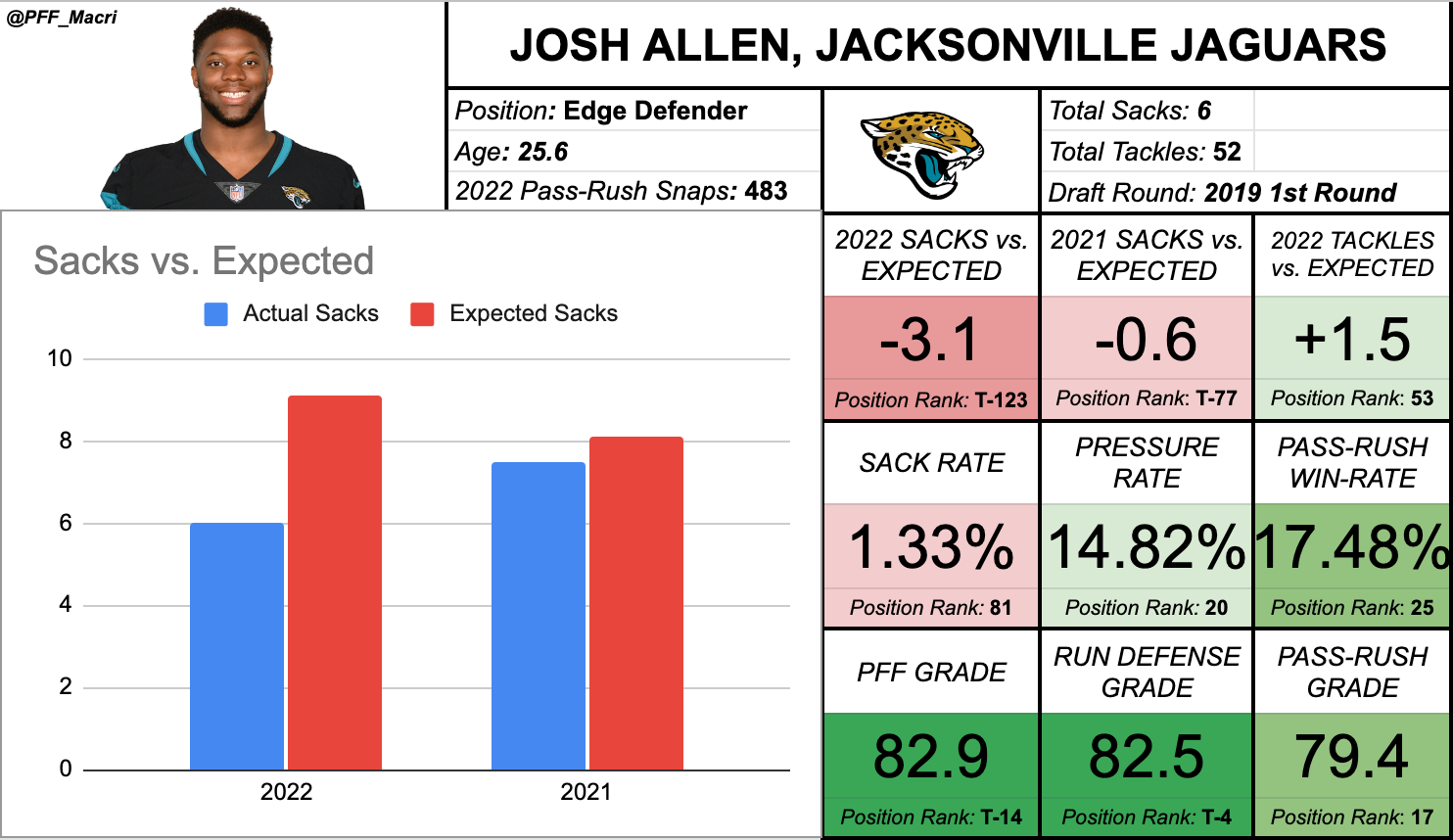 ---
Gary tore his ACL in Week 9 of this past season, but if not for that injury, there's a strong chance that he would be far too expensive to try and acquire when considering the production he posted through the first nine weeks of the year. Gary not only recorded six sacks, but his pass-rush metrics were among the very best at the position, including a 19.9% pressure rate on over 200 pass-rush snaps, which ranked third among edge defenders. His pass-rush grade (83.0) and pass-rush win rate (20.94%) were both top-12 marks among edge defenders, which was on par with his breakout season in 2021. 
Even if there is news that Gary might not be ready for the start of the 2023 season, he is one of the most exciting edge talents to target in dynasty leagues considering his elite athleticism, which is now starting to translate into elite pass-rush metrics. There isn't a better combination of tools to target along the defensive line than what Gary has put on the field over the past season and a half.
Gary's 2022 Production vs. Expected profile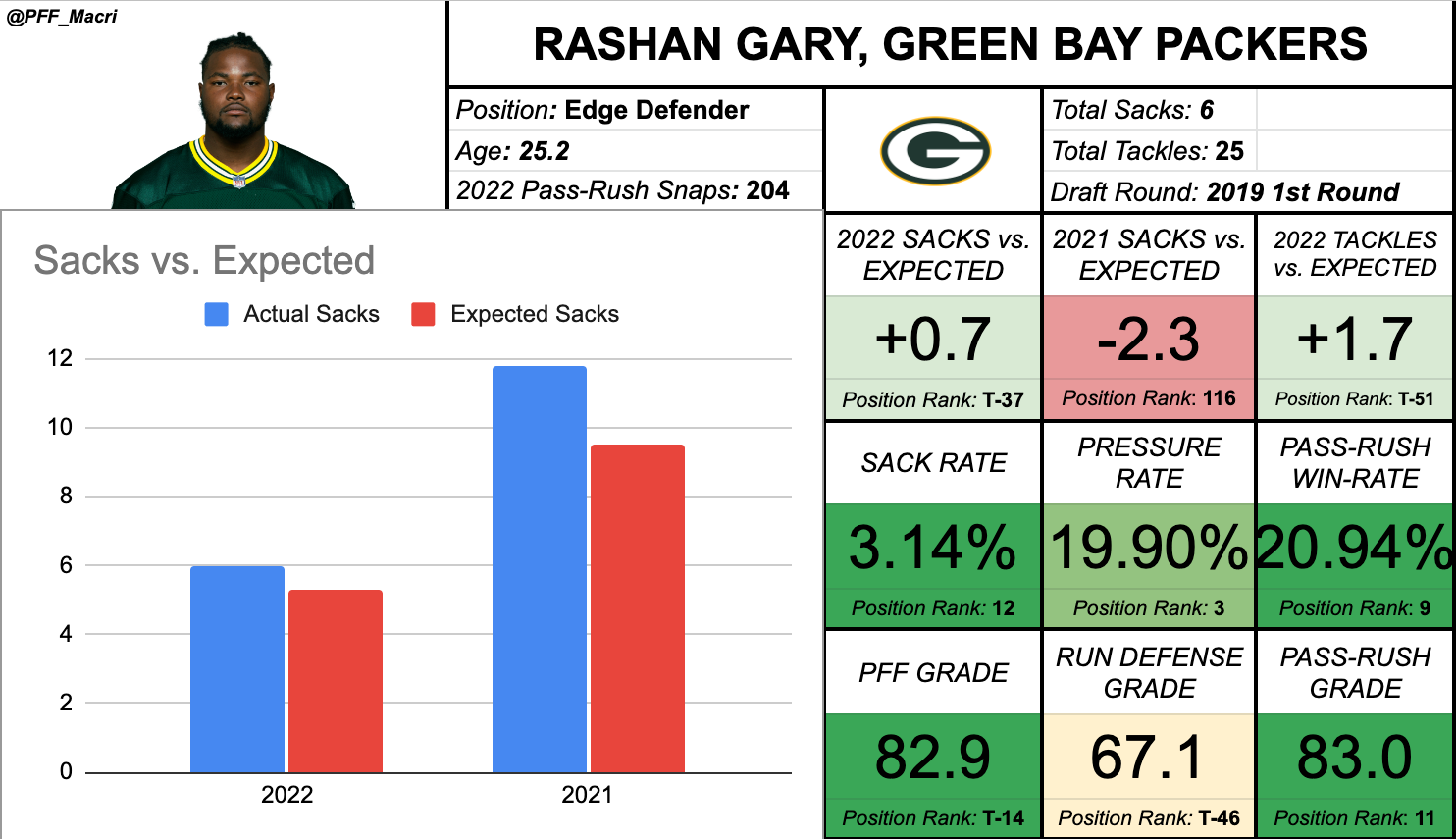 ---
Lawrence's 2022 production doesn't quite quantify just how dominant he was this past year. Not only has the former Clemson product established himself as one of the best run defenders at his position, but he also developed into one of the best pass-rushers from the defensive interior, making for one of the rarest skill sets in IDP. 
Lawrence ranked first in both run defense grade (81.9) and pass-rush grade (92.4) at his position in 2022, both of which can be counted on as stable metrics to translate into consistent fantasy production for the future. While Lawrence doesn't hold Aaron Donald or Chris Jones' name value, his talent is certainly reaching those levels while priced significantly lower in IDP leagues. Going after Lawrence in DT-required leagues should be a top priority for any IDP manager in need of elite talent at a less-than-elite price. 
Lawrence's 2022 Production vs. Expected profile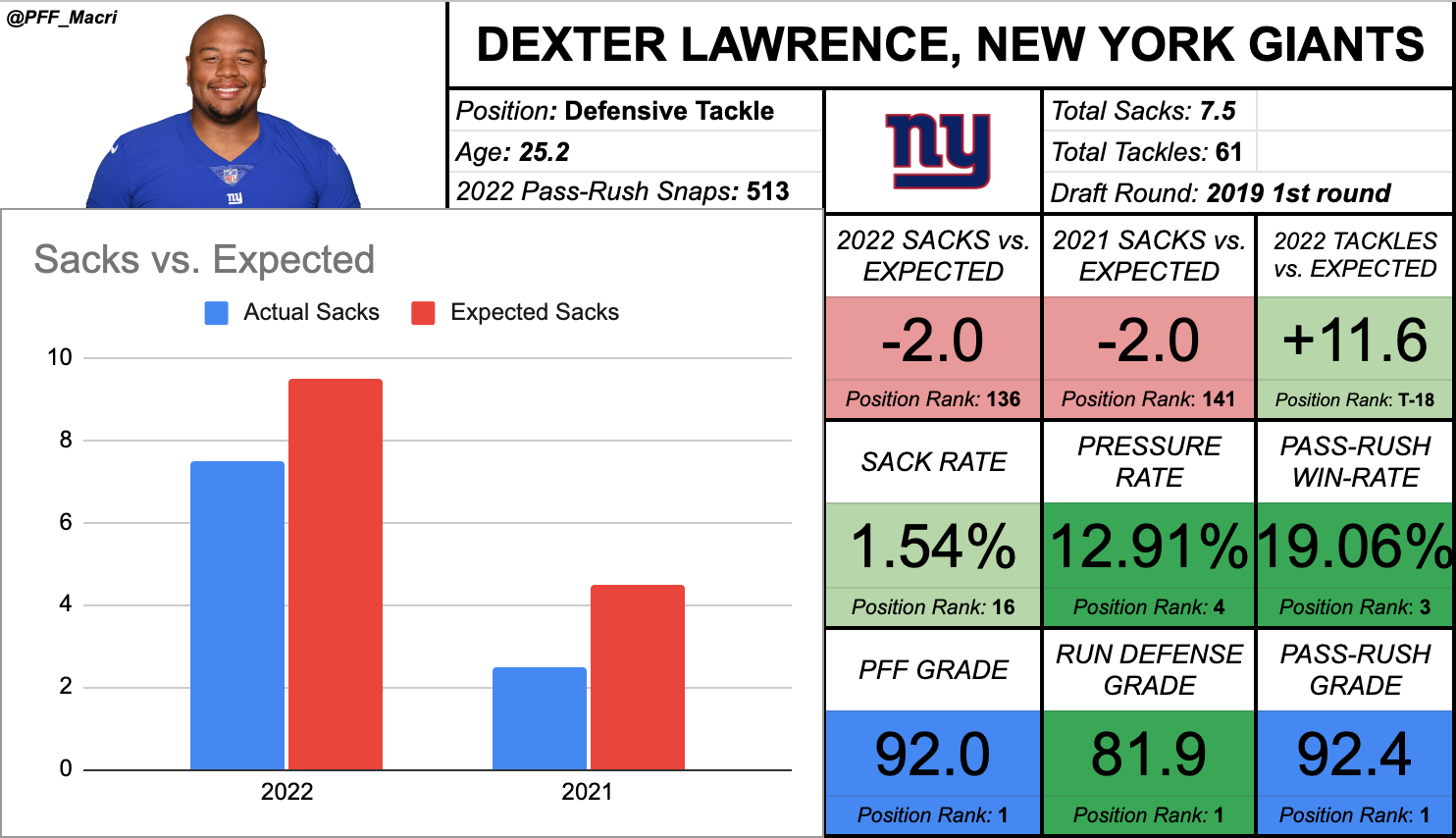 ---
Trying to get ahead of the curve when it comes to finding top-tier pass-rush talent from the defensive tackle position is no easy task, and trying to acquire Quinnen Williams or Jeffery Simmons, who have already broken out, is going to be a costly venture. Instead, diving into the underlying numbers and identifying a player whose pass-rush metrics don't quite equal their production (yet) is a more efficient way of trying to get in on a player before they break out. 
Barmore certainly fits that bill after a strong rookie season where he posted a 75.5 pass-rush grade (14th). He followed that up by improving his pass-rush grade to 80.4 (eighth) this past season, doing so while missing seven games due to injury. Those missed games kept Barmore's production numbers in check and created an excellent window for prospective buyers to swoop in and take a shot on a potential breakout defensive tackle at a lower cost. 
Barmore's 2022 Production vs. Expected profile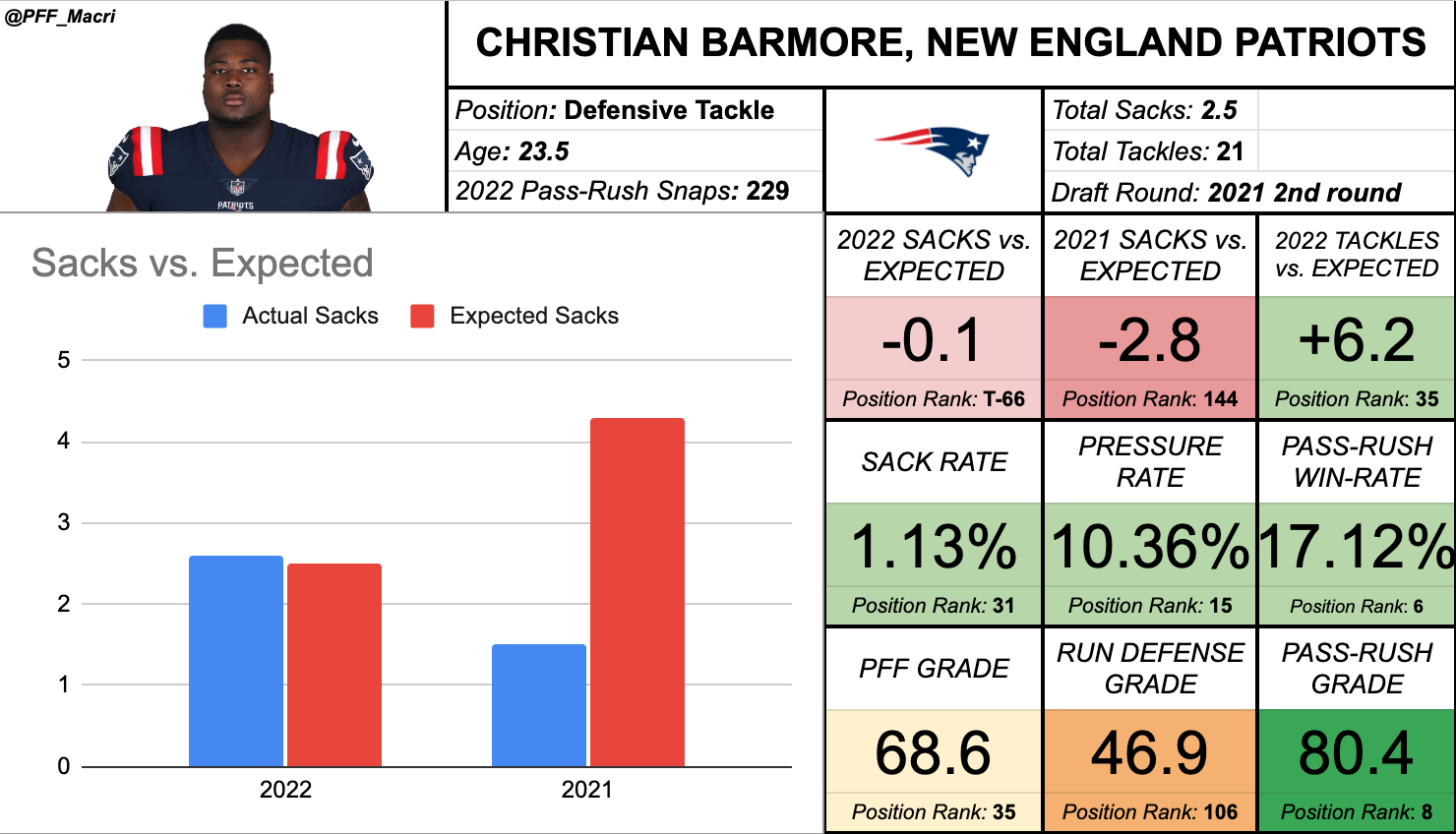 ---
Avoid
There are reasons to be both excited and pessimistic about Payne's career year in 2022, but for dynasty managers that want to cash out at peak value, now is the time to do so. Payne is coming off his first double-digit sack season, which is the first time he's exceeded five total sacks in a year during his five-year career.
While Payne should still be considered a good — even top-10 — dynasty asset at his position, fantasy managers must remember not to value a previous season's sack totals too highly, especially when it appears as an outlier compared to the rest of his career. Payne posted the highest total sacks over expected (+6.3) for his position when paired with a 72.0 pass-rush grade (24th) could point to regression closer to his career norm in the coming season.
Keeping in mind how rare it is for defensive tackles to post double-digit sacks, Chris Jones — who led the position this year with 15.5 — has now only hit double digits twice in his seven-year career, and that's while also boasting some of the best pass-rush metrics at the position in each of those seasons.
Payne's 2022 Production vs. Expected profile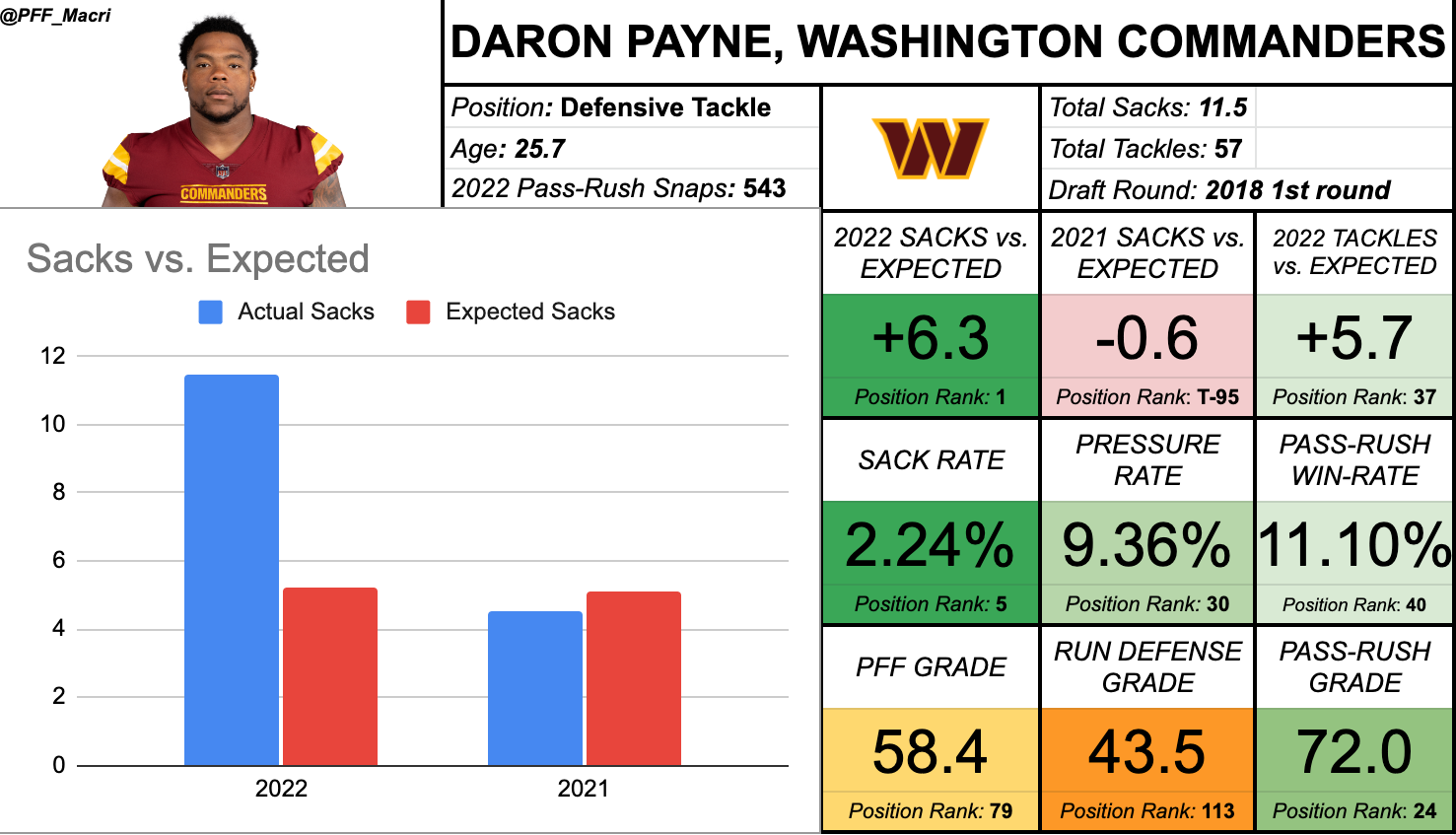 ---
Gaines managed to be a fine waiver/fill-in option at a very thin position during the regular season for those that needed a trustworthy defensive tackle replacement, but anyone hoping to squeeze out more value than that would be better served to move on from the 2019 fourth-round pick. Gaines is scheduled to be a free agent this offseason, and going to a new team could significantly hamper the playing time that's been the crux of his IDP value over the past two seasons. Gaines has averaged 755 defensive snaps over the past two years and has been able to fall into production as a result of that playing time — no more so than this past season, as he turned in the lowest overall PFF grade (59.1) of his career.
Gaines' below-average play even resulted in his snaps being cut significantly in the final weeks of the season, as he went from averaging nearly 48 defensive snaps per game through his first 14 games to just 16 defensive snaps per game after that. With little to be excited about going forward, avoiding Gaines in drafts or moving him based on his 2021-2022 production could be the best route for dynasty managers.
Gaines' 2022 Production vs. Expected profile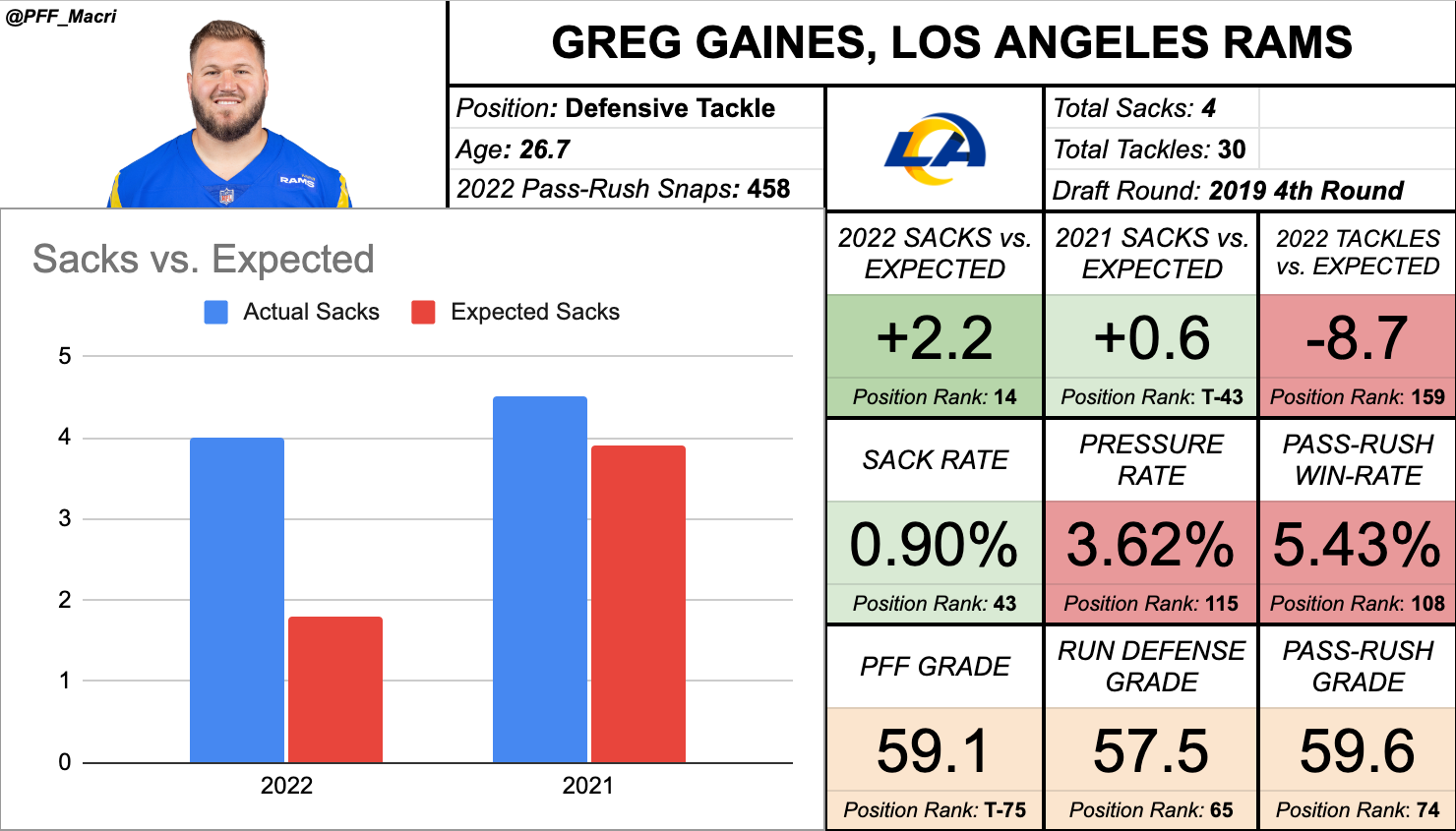 ---
Ngakoue has made a name for himself in IDP thanks to his pass-rush prowess and ability to post strong sack numbers every year. Even with a very low production floor caused by low tackle numbers over the years, Ngakoue has made up for it by never posting fewer than eight sacks in a season since entering the league in 2016. Unfortunately, the signs of a decline are beginning to surface, as his pass-rush grades have been on a steady decline since 2019, most recently posting a career-low 56.9 pass-rush grade this past season despite landing 9.5 sacks. 
Complicating matters further, Ngakoue is scheduled to once again hit the open market this offseason, potentially joining his sixth NFL team and fifth in as many years. There's only so much value IDP managers can get from a pass-rush specialist on a weekly basis thanks to inconsistent production, and when the decline starts to show, it's time to get out while there's still a chance to get a valuable return. 
Ngakoue's 2022 Production vs. Expected profile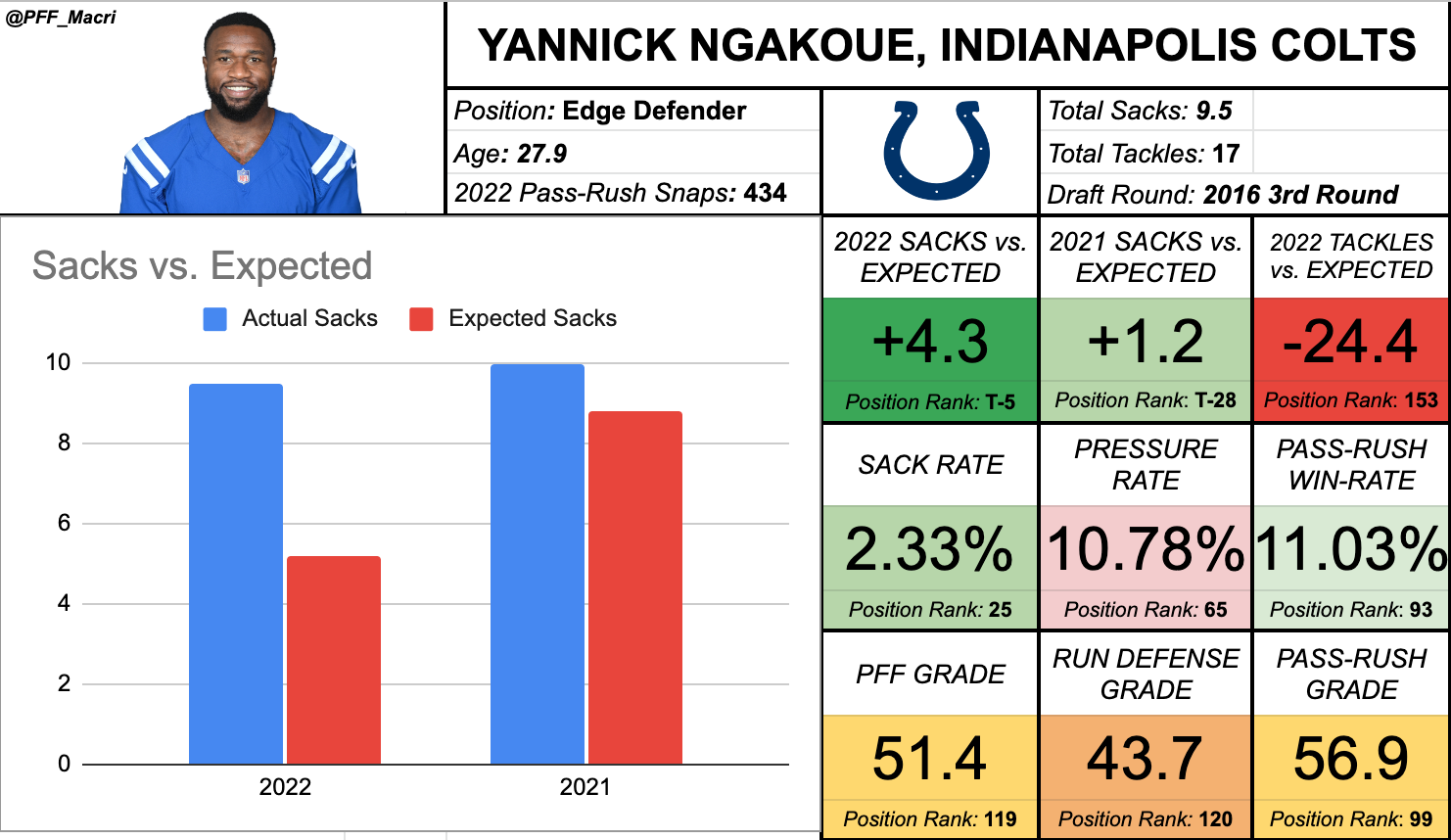 ---
Arguably one of the biggest overachievers on the year, Taylor managed 9.5 sacks from just 287 pass-rush snaps, which put him a little over five sacks above expected. His 3.53% sack rate ranks inside the top-eight players at his position, but he's also the only player in that range who registered a below-average pressure rate (10.04%) and win rate (11.52%) on the year.
Taylor has yet to exceed a 50% defensive snap share in his NFL career and should continue to be part of Seattle's defensive line rotation next season. Paying attention to the key underlying metrics and lower snap totals will help IDP managers identify more regression candidates than anything else and with Taylor's multiple red flags, he qualifies as someone to move while his 9.5 sacks create a market to benefit from. 
Taylor's 2022 Production vs. Expected profile