• Key regression candidates: High sack totals in one year doesn't necessarily mean more of the same in the future for players like Matthew Judon and Daron Payne.
• Betting on a bounce-back: Under-delivering in the sack column for players like Jaelan Phillips and Josh Allen could mean better results are still to come.
• Sometimes, doing as expected can still lead to elite results: Micah Parsons and Danielle Hunter are prime examples of delivering on expectations.
Estimated reading time: 6 minutes
---
Once the fantasy football season is over, die-hard fantasy players spend a reasonable amount of time without much to do. For those fantasy managers looking to improve their game, one of the best early offseason activities is to evaluate the past season's performances to get a better understanding of which players performed well, let us down and are primed for either regression or a leap forward in the season ahead.
This model will look at every IDP at each position and compare that production to the average production of their peers. When it comes to sack production, this model takes into account stable pass-rush metrics, such as pressure rate, win rate and PFF pass-rush grade, in order to identify an expected sack rate based on how many pass-rush snaps each player played. This should help fantasy managers gain a better understanding of which pass rushers could be in danger of regression the following season and which ones should bounce back.
Production vs. expected for other IDP positions:
DB | LB

---
EDGE DEFENDERS
The over-performers (EDGE):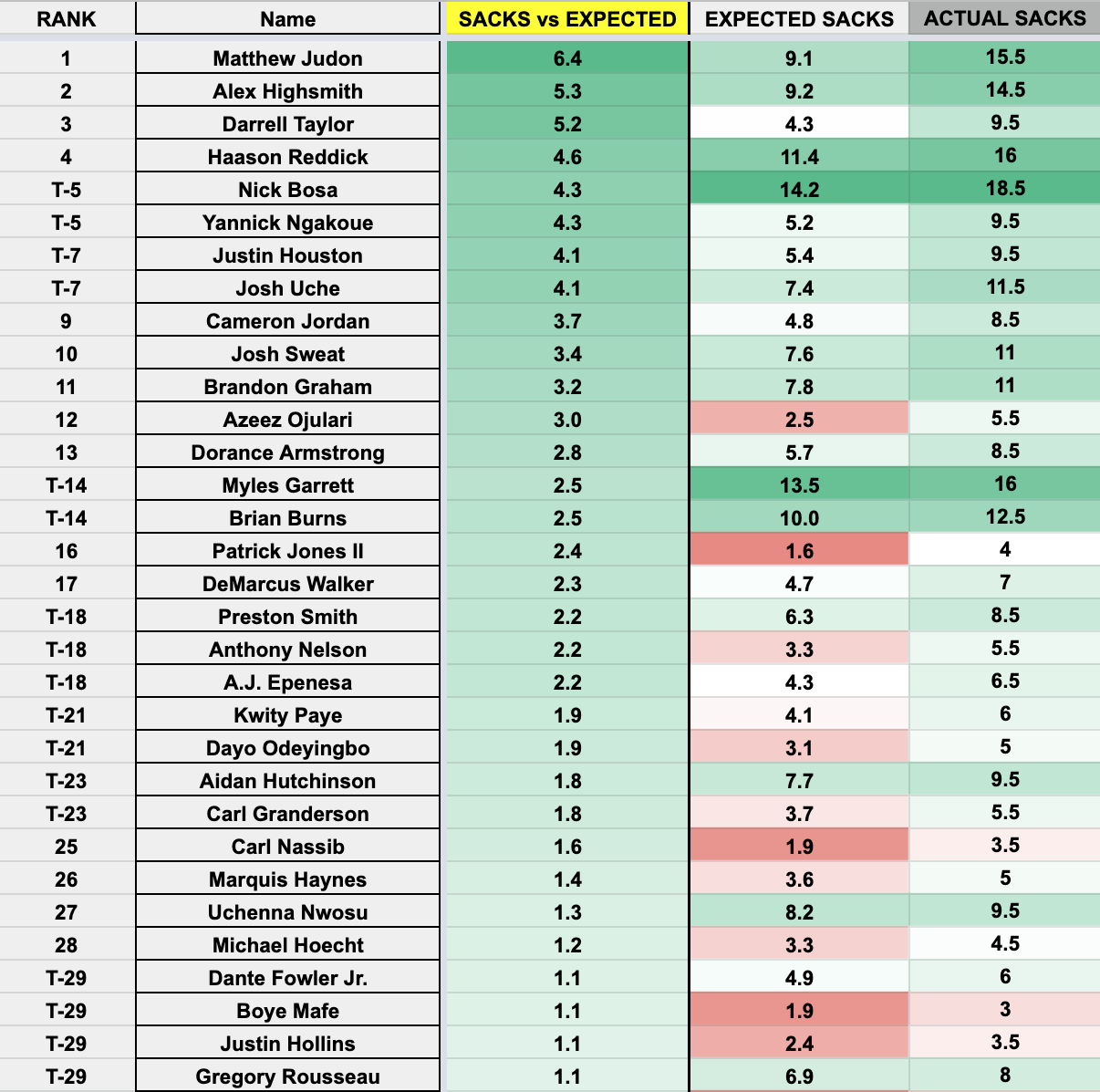 There are two ways to look at the top performers here: One is that these are great pass rushers and great finishers, and that's why the league's sack leaders are among the top names. The second is that many of the names that greatly exceed their expected sack totals are primed for regression in 2023. 
The first three names on the list, Matthew Judon, Alex Highsmith and Darrell Taylor, are all prime examples of the latter, as their pass-rush grades were all in the low 70s, while their win rates and pressure rates were either average or below average for the position. Looking at those key underlying metrics — which tend to be more stable year to year — and assuming they don't significantly improve is the best way to identify regression candidates when it comes to sacks.
Haason Reddick (4th) would have been considered a regression candidate after last season, when he finished third in sacks versus expected (+4.6) with a below-average pressure rate, win rate and pass-rush grade, but the biggest key for him this season was improving those crucial pass-rush metrics, helping him notch a new career high in sacks (16). Reddick now joins the conversation of top edge rushers with Nick Bosa (T-5th) and Myles Garrett (T-14th), who also performed above expected.
---
Sacks at an expected rate (EDGE):