As one of the final steps to your fantasy football prep, today we're unveiling tiered IDP rankings for the 2019 season. General numbered rankings can often be seen as a strict guideline to follow with little to no room for movement, so the idea behind these tiered ranks is to provide some flexibility when we're drafting, and to allow your preference to come into play and personalize your team, while still having a clear picture of which players are top end talents and which fit more as replacements.
(Check out the defensive line tiers below. Linebacker tiers and defensive back tiers are also available as well.)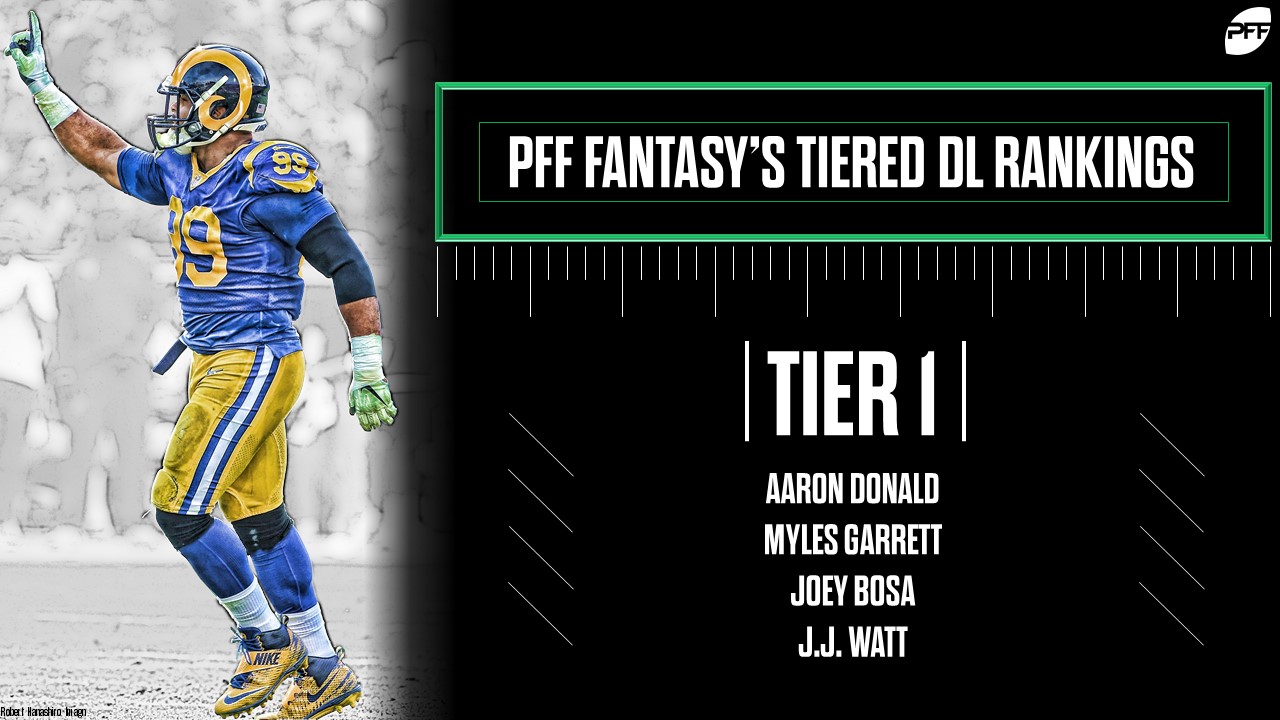 Defensive line
The defensive line is made up of two positions; defensive ends and defensive tackles. Both can be pivotal when it comes to winning your matchups every week. A couple of solid starters, or even just one really good starter along the DL, can give you the edge over your opponent with a productive week of chasing down the quarterback. Tackles, TFLs, sacks and QB hits can add up quickly in IDP leagues, so it's important to know who is going to be the player(s) to take you over the top in 2019.
While most DL production comes from our DEs, there are still some important players from the interior of the DL that can prove useful. It's important to know that plenty of leagues are DT-required, meaning DTs will be separate from the DEs, in which case it is still important to pay attention to the tiers below to understand how they compare. Included at the end will be a small bonus tier for those deeper leagues that require bigger rosters to allow for separate positions along the DL.
Tier 1
Aaron Donald, DE/DT, LAR
Myles Garrett, DE, CLE
Joey Bosa, DE, LAC
J.J. Watt, DE, HOU
When we talk about getting after the QB and sack production, there probably aren't four better players in the league that can do it like these guys. These four will be your biggest and most consistent point-getters every week as long as they are healthy, which — including Bosa — it looks like everyone is heading into 2019. Last year combined, the four of them totaled 54 sacks in 55 games, which is exactly what we're looking for in our top-tier D-linemen, at around a sack per game (only Bosa missed time; he played just seven games and had six sacks).
Tier 2
Cameron Jordan, DE, NO
Demarcus Lawrence, DE, DAL
Danielle Hunter, DE, MIN
Frank Clark, DE, KC
DeForest Buckner, DT, SF
Fletcher Cox, DT, PHI
Chris Jones, DT, KC
Tier 2 is where we see some of the most consistent DL players from inside and outside the defensive line. Jordan has been elite in previous seasons, and is still among the league's best pass-rushers, but may start to slow down just slightly as enters his 30s. Lawrence, Hunter, and Clark are all still young enough and have showed significant promise in their past seasons that we can feel comfortable relying upon them every single week to compete for a spot among the top-scoring DEs in any league.
Buckner, Cox, and Jones are dominant from the inside of the line, and because of this they are among the few DTs who can go head to head with the top DEs week after week. These three not only fill the stat sheet with tackles, but their elite pass-rush skills allow them to get after the QB and convert sacks on a regular basis, which turns them from your ordinary DTs to complete game-changers.
Tier 3
Damon Harrison, DT, DET
Kenny Clark, DT, GB
Daron Payne, DT, WAS
Trey Flowers, DE, DET
Calais Campbell, DE, JAX
Everson Griffen, DE, MIN
Nick Bosa, DE, SF
Jadeveon Clowney, DE, HOU
Clelin Ferrell, DE, OAK
Dee Ford, DE, SF
Carlos Dunlap, DE, CIN
The third tier of defensive linemen has a little bit of everything — from rookies to vets to guys in new systems to guys who finally have a DE designation so they can maybe live up to their fantasy potential (Clowney). Sprinkle in a few skilled DTs and you have a solid mix of DLs who can be reliable producers every week.
There are a few question marks for some of these players — I'm thinking about age when it comes to the likes of Campbell, Griffen, and Dunlap — that may lead to us seeing more regression from them. Also, consistency is going to be important for players on new teams like Flowers and Ford; can they continue to put up the numbers they did last season on different teams? Nick Bosa can and should be in a higher tier after this season is done but health concerns have been a problem for him so we'll want to see if he can stay on the field as a rookie before moving him any higher. Harrison has been a DT staple for years now, consistently at or near the top of DT and overall DL scoring, and he does it, not by getting after the QB, but by stopping the run like no one else can and putting up tremendous tackle numbers. Clark and Payne broke out last year, looking like total studs with bright futures ahead.
Tier 4
Jonathan Allen, DE, WAS
Brian Burns, DE, CAR
Yannick Ngakoue, DE, JAX
Jerry Hughes, DE, BUF
Cameron Heyward, DE, PIT
Marcus Davenport, DE, NO
Carl Lawson, DE, CIN
Akiem Hicks, DE/DT, CHI
Olivier Vernon, DE, CLE
Derek Barnett, DE, PHI
Michael Bennett, DE, NE
Larry Ogunjobi, DT, CLE
Grady Jarrett, DT, ATL
Geno Atkins, DT, CIN
Ed Oliver, DT, BUF
Tier 4 is where we start mixing in raw potential and old reliable players for a nice balance of guys to choose from. In this group we have some pass-rushing specialist like Hughes and Ngakoue, who receive more situational snaps in order to keep them fresh to take down the QB. Atkins, Hicks, Heyward, Bennett, and Vernon have been productive for a long time but as they near the end of their primes/careers, we may want to fade them just a bit for some younger upside players. Rookies Oliver and Burns are in great positions to produce right out the gate. Jarrett and Allen will look to build on their already-solid young careers. We top off the group with some "upside" guys like Lawson, Davenport, and Barnett, who may finally have a chance to prove their worths in 2019.
Tier 5
Jarran Reed, DT, SEA
Quinnen Williams, DT, NYJ
Ndamukong Suh, DT, TB
Shaq Lawson, DE, BUF
Ezekiel Ansah, DE, SEA
Jabaal Sheard, DE, IND
Gerald McCoy, DE, CAR
Jurell Casey, DE, TEN
Denico Autry, DT, IND
Linval Joseph, DT, MIN
Jerry Tillery, DT, LAC
Rashan Gary, DE, GB
Vita Vea, DT, TB
Kawann Short, DT, CAR
Brandon Graham, DE, PHI
Leonard Williams, DE, NYJ
Melvin Ingram, DE, LAC
Stephon Tuitt, DE, PIT
Justin Houston, DE, IND
L.J. Collier, DE, SEA
Tier 5 adds in some more "upside" rookies like Gary, Quinnen, Tillery, and Collier, who have both talent and a chance to contribute right away this season. There are also some older veterans who can still be fantasy-relevant and worth taking a look at despite getting up there in age and bouncing around the league a little bit. The rest of the group has either shown some flashes of taking that next step or have been consistent enough that I'd consider keeping them close by in case a need arises to fill in for one of your stars. Reed likely would have been higher but is expected to serve a six-game suspension to start 2019, so he'll be more of a stash for the first part of the year after a breakout 2018.
Bonus Tier
Maurice Hurst, DT, OAK
Christian Wilkins, DT, MIA
A'Shawn Robinson, DT, DET
Javon Hargrave, DT, PIT
Sheldon Rankins, DT, NO
Sam Hubbard, DE, CIN
Robert Quinn, DE, DAL
Takkarist McKinley, DE, ATL
Matt Ioannidis, DE, WAS
Josh Allen, DE, JAX
Just a few more players from each DL position to help round out those deeper DT-required rosters, who I think have a chance to either outperform expectations or do well enough that they can be great depth.
The important thing to remember for all DLs is that these guys need to be on the field for the vast majority of snaps in order to get the production we need to win our weeks. There are plenty of pass-rushing specialists out there that only come onto the field on third downs, or run-stuffing DTs that don't get a chance to go after the QB, so we know that ceilings won't be as high for these guys as they are for those that are out there on all three downs and filling the stat sheet in a number of different ways.