As one of the final steps to your fantasy football prep, today we're unveiling tiered IDP rankings for the 2019 season. General numbered rankings can often be seen as a strict guideline to follow with little to no room for movement, so the idea behind these tiered ranks is to provide some flexibility when we're drafting, and to allow your preference to come into play and personalize your team, while still having a clear picture of which players are top end talents and which fit more as replacements.
(Check out the defensive back tiers below. Linebacker tiers and defensive line tiers are also available as well.)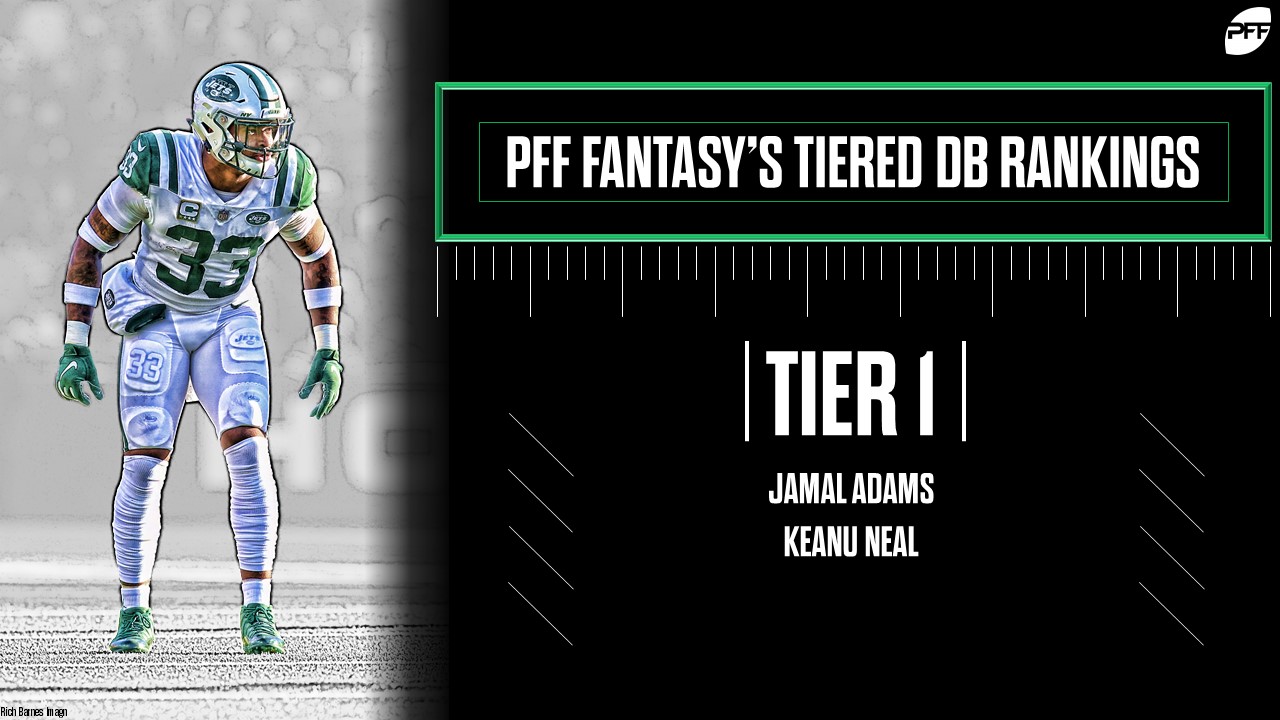 Defensive backs
The DB position in fantasy is one I've found fantasy GMs either love or hate, and it largely depends on what you know about the position and then landing the players that are destined for fantasy glory. Most of the time these players will be strong safeties who spend the majority of their time in the box, almost like an extra LB, but every once in a while we get the deep free safeties joining the top of the ranks, due to either being enough of a ball-hawk that they can come up with interceptions, or just having a nose for the ball enough to get in on those precious tackles.
As we dive into these tiers we will try and sort out who is deserving of the top spots and what players are best to wait on. That, plus another bonus tier filled with potential tackle-producing corners for leagues where CBs are required.
Tier 1
Jamal Adams, SS, NJY
Keanu Neal, SS, ATL
At the very top of the list of DBs are two guys who have a wide-ranging skill set and play all over the field doing a number of different things. They've been used to rush the passer, drop into coverage and most of the time come up into the box to vacuum up plenty of tackles on their way to big games seemingly every week. Neal is coming off a season-ending injury that occurred in Week 1 of last season but should be fully recovered and back to his old stat sheet-filling self. Adams meanwhile, is one of the best all-around players at the positions in the league today, which shows up in fantasy scoring.
Tier 2
Harrison Smith, SS, MIN
John Johnson, SS, LAR
Landon Collins, SS, WAS
Johnathan Abram, SS, OAK
Shawn Williams, SS, CIN
Earl Thomas, FS, BAL
Rookie Abram is among some very good company here as all five of his fellow Tier 2 safeties have been putting up some top-end numbers for at least two years, and in the case of Collins, Thomas, and Smith, much more than that. Abram is expected to come in as the starting SS for the Raiders, who have question marks at LB which could lead to much more action for Abram to get in on. Some may see it as a bit of a stretch to have Abram up among these top safeties already, but if there is one thing that last couple years have taught us, is that there is always room for rookie safeties to come in and make an impact in the fantasy world. Abram is no exception to this, as everything is seemingly lined up perfectly for him to produce the numbers we want. Thomas, the lone FS on this tier, has as much a nose for the ball as anyone in the league and is another one of those players that we see come up with stats in many different ways.
Tier 3
Tyrann Mathieu, SS, KC
D.J. Swearinger, SS, ARZ
Reshad Jones, SS, MIA
Malcolm Jenkins, SS, PHI
Ha Ha Clinton-Dix, CHI
Terrell Edmunds, SS, PIT
Kevin Byard, FS, TEN
Budda Baker, FS, ARZ
Jessie Bates, FS, CIN
Jordan Poyer, SS, BUF
As was mentioned previously, the strong safeties are the clear rulers of IDP value when it comes to defensive backs, but that doesn't mean that there isn't room for a select few free safeties to contribute on your fantasy rosters. Byard was among the league's top-scoring safeties in 2017 because of his interception totals, so after there was an expected regression last year he was still able to finish in the top-20 at the position, we feel a little more comfortable with him settling in right here in Tier 3 with similar players like Bates, who as a rookie was in on 73 solos and 36 assists from the FS position. Baker and Swearinger will be trading tackles in Arizona, and Jones in Miami, Jenkins in Philly and Poyer in Buffalo have been major producers in those spots for years now so expect more of the same.
Tier 4
Jabrill Peppers, SS, NYG
Ronnie Harrison, SS, JAX
Eric Weddle, FS, LAR
Justin Reid, FS, HOU
Kenny Vaccaro, SS, TEN
Eric Reid, SS, CAR
Morgan Burnett, SS, CLE
Eddie Jackson, FS, CHI
Damarious Randall, FS, CLE
Tier 4 brings us a few old faces in new places as Peppers joins the Giants looking to fill that Landon Collins-sized hole in the Big Apple. We also see Weddle join the Rams in LA, where he hopes to turn 12 years of solid fantasy production into a 13th in Los Angeles. And Burnett, after a short stint in Pittsburgh, now joins the division rival Browns looking to bounce back to his former self after a rough 2018. Ronnie Harrison looks like he will be a full-time starter at SS for the Jags this season — a position that has been great for fantasy before (see: 2013-2016 Johnathan Cyprien), Harrison enters in a fantasy-friendly situation this season, and without a whole lot of LB help in Jacksonville, he could be in for a breakout year.
Tier 5
Ricardo Allen, FS, ATL
Anthony Harris, FS, MIN
Quandre Diggs, SS, DET
Patrick Chung, SS, NE
Jaquiski Tartt, SS, SF
Minkah Fitzpatrick, FS,CB, MIA
Bradley McDougald, SS, SEA
Antoine Bethea, FS, NYG
Devin McCourty, FS, NE
The final tier of safeties is still a pretty productive group, with everyone but Bethea playing on the same team as they were the previous season, it wouldn't be completely out of the realm of possibilities that we see these guys pick up right where they left off in 2018. Harris is the lone player here taking over a newfound starting spot on his team, playing behind Andrew Sendejo for many years but now getting a chance to step into a starting role and fill the void as a clean-up tackler alongside Harrison Smith. Fitzpatrick makes this tier with Miami likely playing a lot of defensive snaps this season and with his role seemingly changing between safety and corner, he should get opportunities to move all around the field picking up stats as he goes. Lastly, Bethea had probably the best fantasy year of his career last season at 34 years old and now moves to the Giants, who need all the help they can get in the secondary. Bethea may be in for another golden year.
Bonus tier: Tackle-producing corners
Malcolm Butler, TEN
Kenny Moore, IND
Steven Nelson, PIT
Janoris Jenkins, NYG
Eli Apple, NO
Prince Amukamara, CHI
Kareem Jackson, DEN
Kendall Fuller, KC
Donte Jackson, CAR
Darius Slay, DET
The corner position for defense is a lot like the kicker position for offense when it comes to fantasy in that we can be pleasantly surprised by their high point totals or roll our eyes at the goose eggs they leave us. There are a number of things to look at when choosing a corner, starting first and foremost with who will be on the field the most; players like Nelson and Jenkins both played over 1,000 snaps last season and likely will again (even with Nelson on a new team), these guys have proven that they can stay on the field, which has led to great fantasy production from them. The other thing to look at is who is targeted the most, and although this can change year to year there are guys out there who tend to get the bulk of passes thrown their way — such as older players like Jackson and Amukamara seeming to get targeted more. Others like Apple playing opposite a top corner like Marshon Lattimore will draw action his way too. Also look out for teams like Fuller's Chiefs who can get into shootouts, which mean lots of passing and lots of opportunity for production. There has also been a trend of rookie corners getting attacked, which was the case for Jackson last season and because of that, he delivered fantasy-wise.
DB points are often seen as a bonus in fantasy, but by landing yourself a star or two at the position you will be happy that you did your research.