As one of the final steps to your fantasy football prep, today we're unveiling tiered IDP rankings for the 2019 season. General numbered rankings can often be seen as a strict guideline to follow with little to no room for movement, so the idea behind these tiered ranks is to provide some flexibility when we're drafting, and to allow your preference to come into play and personalize your team, while still having a clear picture of which players are top end talents and which fit more as replacements.
(Check out the linebackers tiers below. Defensive back tiers and defensive line tiers are also available as well.)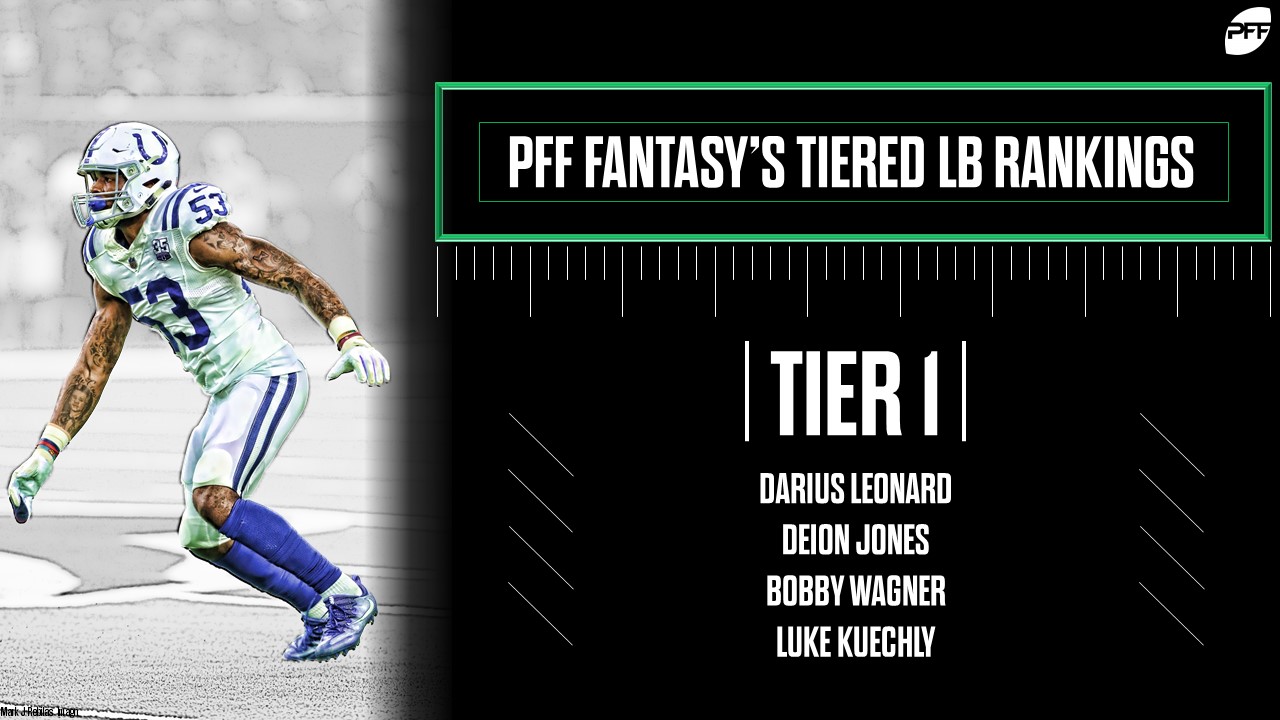 Linebackers
The first position we will be looking at is everyone's favorite position when it comes to IDP. These guys are our tackle machines and put up the most production as a whole in most IDP leagues.
Tier 1
Darius Leonard, IND
Deion Jones, ATL
Bobby Wagner, SEA
Luke Kuechly, CAR
These are the guys who, week in and week out, will put up big numbers when it comes to tackles but also fill the stat sheet in many other ways (PBUs, sacks, forced fumbles, etc.). It's no surprise that these four players are some of the best players at their position in the NFL, and that translates to the fantasy side of things as well. You'd be hard-pressed to pass on any one of these guys as your LB1 come draft time.
Tier 2
Tremaine Edmunds, BUF
Blake Martinez, GB
Roquan Smith, CHI
C.J. Mosley, NYJ
Cory Littleton, LAR
Lavonte David, TB
Leighton Vander Esch, DAL
Jaylon Smith, DAL
In the second tier, we have players who have the ability to put up elite numbers every week, and almost always do. What separates Tier 1 and 2 here is a very small margin that has more to do with the slightest difference in skill level from tier 1. Some are just still so new to the league — like Smith, Vander Esch, and Edmonds — that I'm not ready to crown them just yet, but they are already on the brink of being consistently elite.
Tier 3
Demario Davis, NO
Kwon Alexander, SF
Jordan Hicks, ARZ
Joe Schobert, CLE
Alec Ogletree, NYG
Eric Kendricks, MIN
Kiko Alonso, MIA
Myles Jack, JAX
Devin Bush, PIT
Devin White, TB
Our third tier consists of players who have put up decent numbers in the past on different teams, guys like Alexander and Hicks, who now have to prove they can be productive in a new system. We also have guys who teeter between an LB1 and LB2 from week to week, like Schobert, Ogletree, Kendricks, Alonso, and Jack. Rounding out Tier 3 are the two top LB prospects from this season's rookie draft — the two Devins are expected to put up LB1 numbers based off their landing spots, draft position and college production but until we see them on an NFL field we'll temper our expectations slightly.
Tier 4
Avery Williamson, NYJ
Jarrad Davis, DET
Anthony Hitchens, KC
Jayon Brown, TEN
Khalil Mack, CHI
T.J. Watt, PIT
Von Miller, DEN
Zach Cunningham, HOU
Fred Warner, SF
K.J. Wright, SEA
Shaun Dion Hamilton, WAS
Preston Brown, CIN
Nigel Bradham, PHI
The next two tiers are loaded with guys who will be very comparable every week and by season's end will likely still be very close to each other. We know Mack, Watt, and Miller are elite pass-rushers but their OLB designations will hinder their point totals. Also included in Tier 4 are guys who play inside LB but just haven't been as productive compared to others at their positions; players like Cunningham, Davis and Hitchens fit this bill. Others like Wright, Warner, Bradham, Williamson, and Jayon Brown have a bit more competition for tackles on their teams so production is usually harder to come by.
Tier 5
Rashaan Evans, TEN
Chandler Jones, ARZ
Todd Davis, DEN
Nick Vigil, CIN
Haason Reddick, ARZ
Raekwon McMillan, MIA
Bernardrick McKinney, HOU
Christian Kirksey, CLE
Kyle Van Noy, NE
Josey Jewell, DEN
Brandon Marshall, OAK
Shaq Thompson, CAR
Danny Trevathan, CHI
Patrick Onwuasor, BAL
Zach Brown, PHI
Finally, Tier 5 covers a number of LBs who can go either way, really — almost every one of these players (outside of Jones) is dependant on how their teams plan to utilize them and how many snaps they end up playing. LBs like Evans, Reddick, McMillan and Jewell could breakout this year if given the chance. Others like Thompson, Onwuasor, Van Noy and McKinney are in spots now where the responsibility to produce is there, it's just a matter of execution. Lastly, the likes of Brown, Marshall, and Davis are guys that have been around and either have been productive or been given production opportunities in the past, who now have a chance to do it again in new systems.
The LB position is the deepest of all the IDP positions so understanding the who's who of LBs is an important key to dominating your league. Also, maybe more so than any other IDP position, we have an opportunity to take players who have a more volatile floor/ceiling, but can still be pretty valuable, to help round out our rosters or use as trade leverage.