Today can be described in one word: pain. Starting Los Angeles Rams running back Cam Akers is expected to miss the entire 2021 season after tearing his Achilles. Akers was my RB11 in fantasy football land before the injury, ahead of every rising second-year back.
Editor's Note: PFF's 2021 Fantasy Football Draft Guide and 2021 Fantasy Football Cheat Sheets are LIVE! 
The news has sent shockwaves throughout the fantasy industry. Everyone realizes Darrell Henderson is now ticketed for a big role, but whether it will resemble the sort of three-down usage that made Todd Gurley II a superstar remains to be seen.
What follows are three takeaways on what Akers' injury means for the fantasy stock of the Rams' backfield.
Henderson immediately becomes a low-end RB2 at worst
Some in the industry seem to already be anointing Henderson to a higher plane than Akers. While possible, I'm not as convinced that Henderson has the passing-game chops to never leave the field. I wrote the following about this backfield last week in my league-wide handcuff breakdown:
"It's certainly possible the Rams utilize a two-back committee of sorts between Akers and Henderson. Still, Akers' late-season usage makes him the favorite to see the sort of every-down role that made Gurley a fantasy superstar during the 2017-2018 seasons. Despite carrying third-round draft capital, Henderson has handled 50% of the offense's snaps in just two of his 28 career games. I'm still a fan of Henderson at his value because it seems likely that he would get the chance to work on all three downs in the event Akers is injured; the only reason he's not in the previous tier is that we haven't seen Sean McVay afford him this sort of role just yet."
Akers didn't play more than 33% of the offense's snaps in a game until Week 13 last season. During that span, Henderson functioned as the PPR RB29, while Malcolm Brown (now on the Miami Dolphins) was the RB35. Combining their fantasy points would have produced the RB4, which is the ceiling at hand. Still, realize that we never saw McVay hand over this backfield to Henderson in the same manner in which he did for Akers.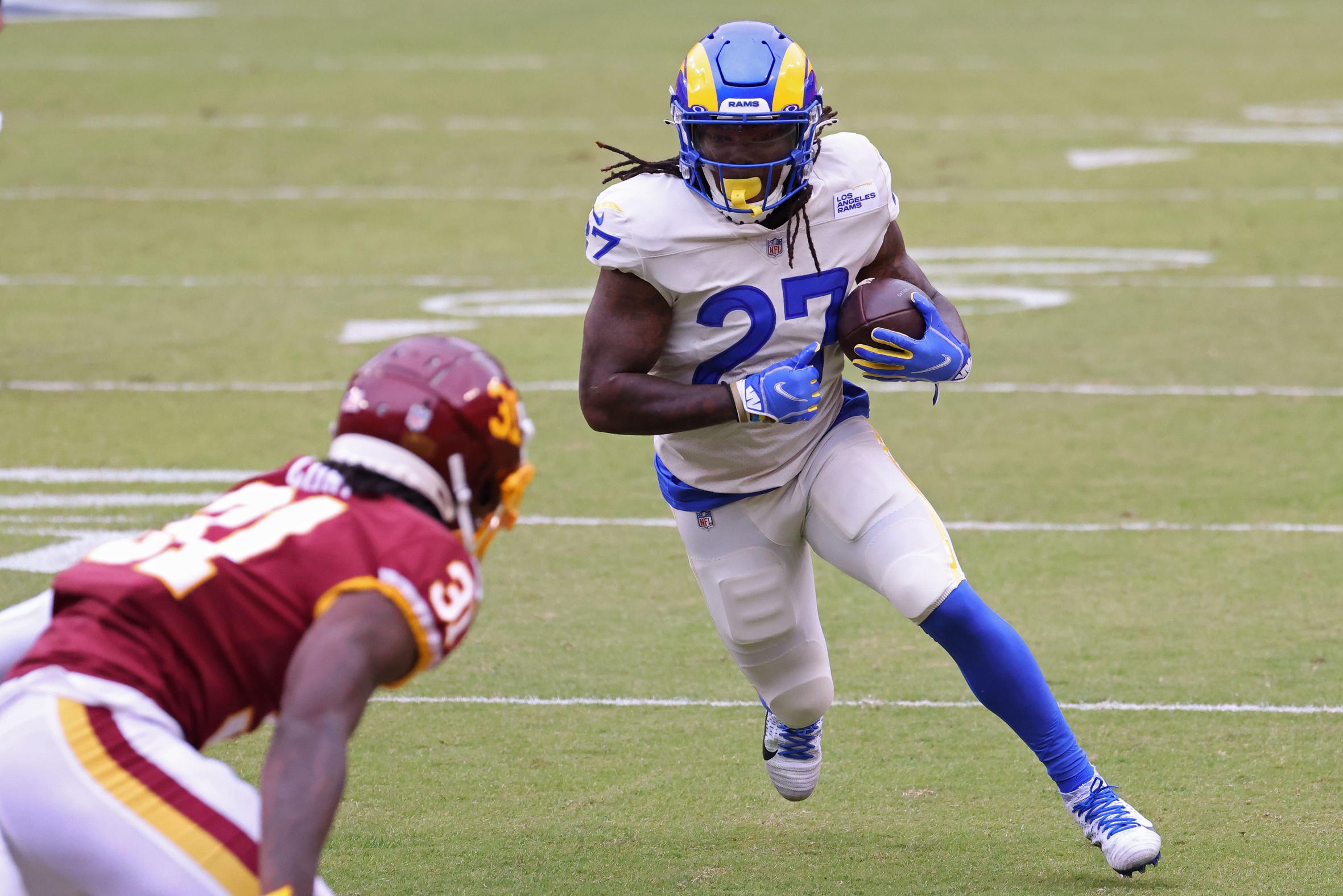 Don't get it twisted: Henderson is PFF's reigning 15th-highest-graded rusher and racked up a robust 20 runs of 10-plus yards last season. He produced RB11, RB11 and RB6 finishes by Week 5 last season — legit RB1 upside. Still, it's at least somewhat concerning that he wasn't able to parlay this production into a more featured role when Brown and Akers were his only competition.
I'm told that Darrell Henderson is "the guy" in LA after Rams running back Cam Akers suffered a season-ending torn Achilles while training yesterday.

— Doug Kyed (@DougKyed) July 20, 2021
At the moment, I've slotted in Henderson as my RB20. This is ahead of J.K. Dobbins, Javonte Williams, Miles Sanders and Kareem Hunt, among others, thanks to the likelihood that Henderson functions as the fairly undisputed lead ball carrier in this offense all season. However, I'd still take players like Chris Carson, D'Andre Swift, Travis Etienne and David Montgomery ahead of Henderson due to their potential to lead their respective backfields in both carries and targets.
The problem is that as much as we want to simply project Henderson's 2021 season already based on who is on the roster, roster moves are on the horizon.
This depth chart is exceptionally weak
It's never easy to find a full official listing of every team's roster prior to the preseason. With that said, the Rams currently employ the following four running backs behind Henderson.
Their combined NFL offensive snaps: zero. Sheesh.
It'd be hard to rank Henderson outside of fantasy's top-eight backs if the Rams simply decline to sign another running back. This, of course, seems exceptionally unlikely, particularly considering the group of veterans at McVay and company's disposal.
We're likely going to hear an old name announced to the Rams soon
There probably isn't an available running back who is a real threat to Henderon's starting job. I say probably only because old man C.J. Anderson truly gave Gurley a run for his money in the later parts of 2018.
Either way, the following free agents could theoretically make their way to Los Angeles in the coming weeks:
There's also more scatback types like T.J. Yeldon, Dion Lewis and Chris Thompson available. In fantasy football land, targets are worth a helluva lot more than carries in full point-per-reception (PPR) formats; make sure Henderson is projected to lead this backfield in targets before going all the way in on him as an RB1 in 2021.