One common fallout of any auction is the winner's curse, where (in the shortest possible terms) the price it takes to win an auction for an item often the item was overpaid for to begin with. In fantasy football, that can be easier to avoid at times, because our auctions come with a very limited salary cap and as such overpays can be balanced by bargains.
In real football, the winner's curse can be harder to avoid, and it's one of the biggest things to watch out for during this week of free agency. But in that sense, there is fallout for fantasy as well — a player who changes teams inevitably gets hyped, which leads to getting overhyped, which leads to getting overdrafted, which leads to a disappointing season.
For example, remember the buzz sounding Terrelle Pryor two seasons ago after he left Cleveland for Washington. Early talk after the signing was that he'd be a decent mid-round value. By the time draft season came around in earnest, he had skyrocketed up to like the third round in ADP, at which point there was no value to be had. He would have disappointed at any ADP, but once he had risen that high, a disappointment was almost guaranteed.
With that in mind, let's look at some of the "winner's curse" victims of a year ago and some who avoided it.
Quarterbacks
Three notable quarterbacks switched teams from 2017 to 2018, in the notable shuffle of Alex Smith going from Kansas City to Washington, Kirk Cousins going from Washington to Minnesota, and Case Keenum going from Minnesota to Denver. All three saw their fantasy ADPs rise from 2017 to 2018, and all three saw their 2018 results fall short of both their 2017 results and their 2018 ADPs.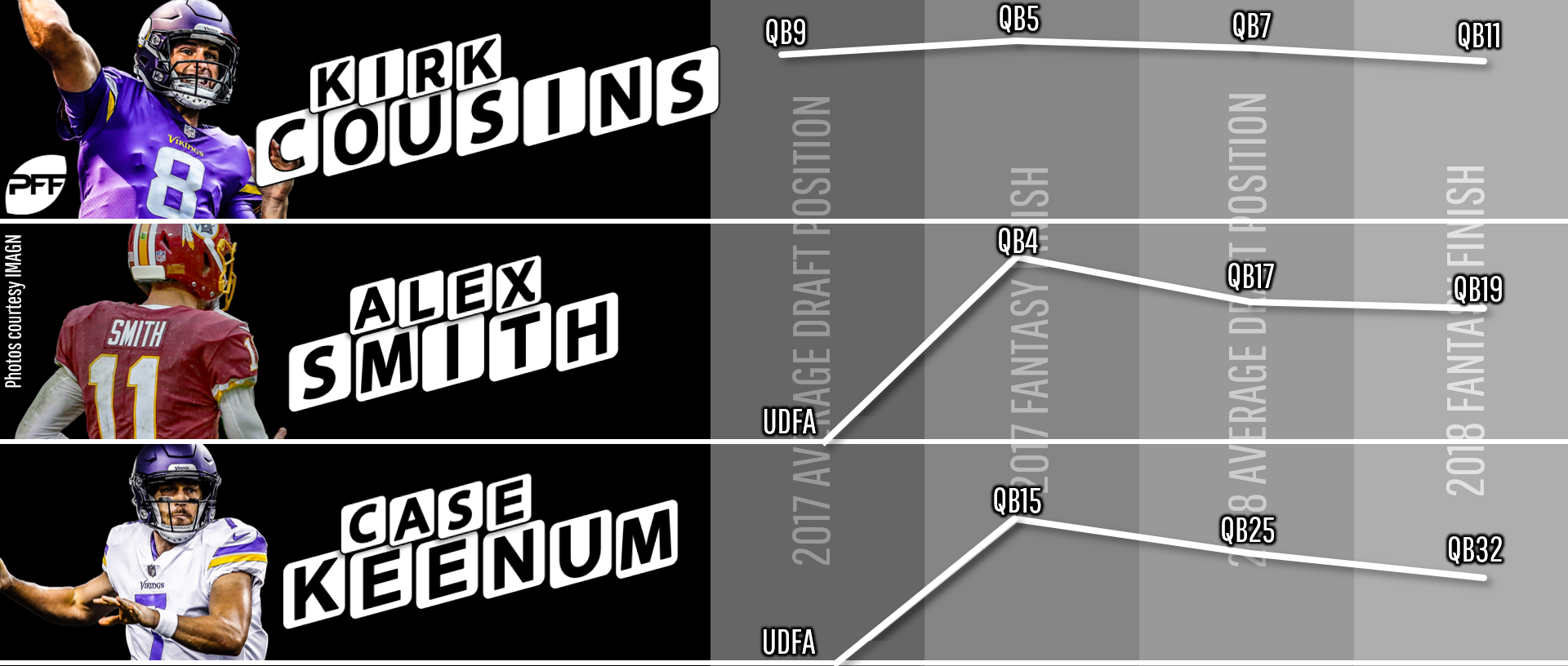 That's a solid three-for-three on the winner's curse. Smith and Keenum were coming off of career years in 2017, parlayed those seasons into team changes and nice contracts, then regressed. Cousins, meanwhile, was close to the same quarterback he's always been, but considering the rise in offense around the league, his final standing slipped.
Winner's curse tally: 3/3
Running back
Four running backs we care about changed teams last offseason. (If you want to include near-the-end Frank Gore, it's five, but he didn't exactly go to a situation where he was very drafable.) Here's how that went: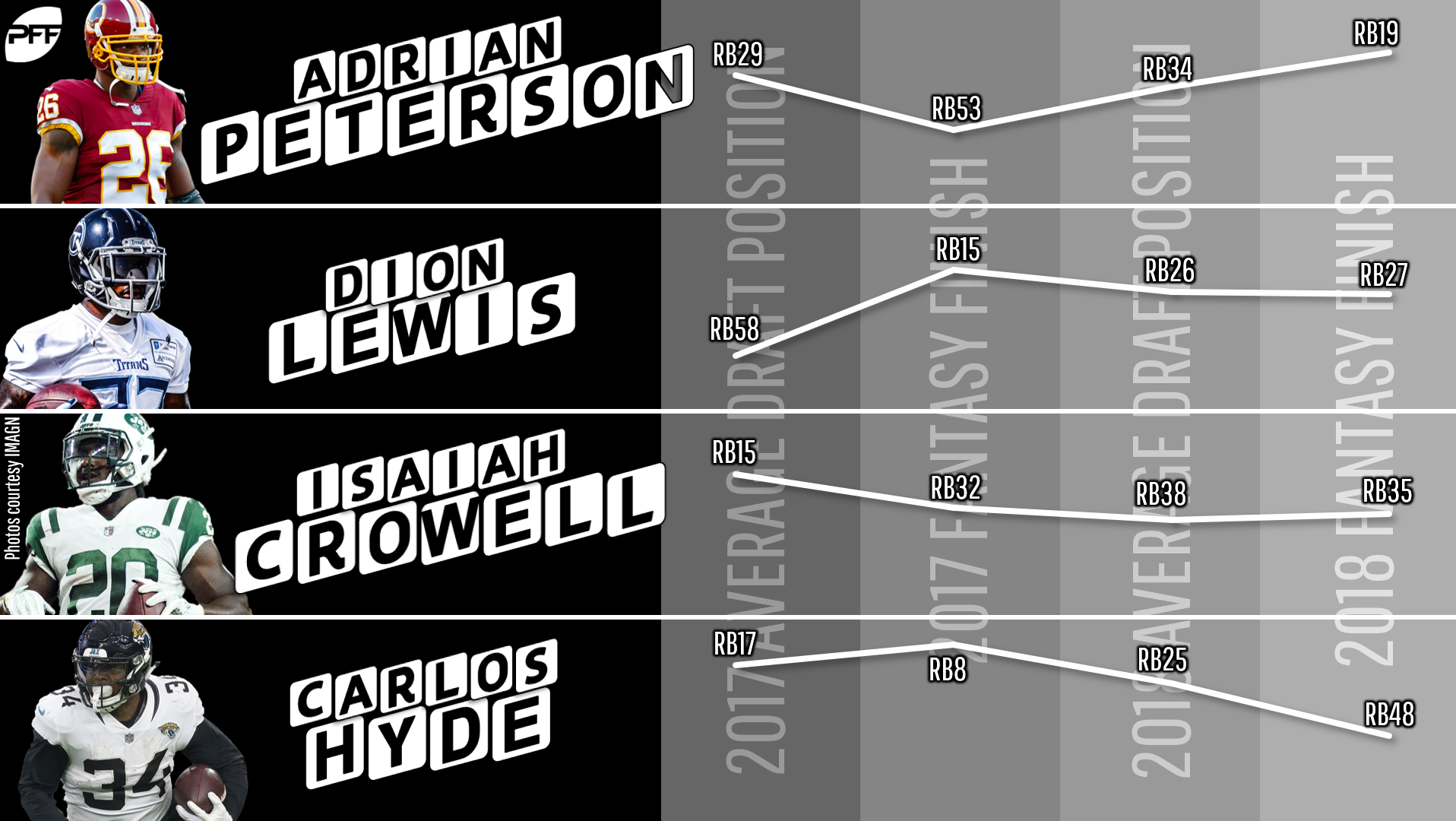 Adrian Peterson was an unqualified success, one that almost nobody saw coming, and one that, while I'm definitely including, barely counts as a free agency signing, as he didn't land with Washington until Aug. 20, after Derrius Guice got injured. Of the other four, Dion Lewis and Carlos Hyde were definite letdowns, while Isaiah Crowell went from "meh" to "meh."
Winner's curse tally: 2/3, with Crowell being a push
Wide receiver
There were plenty of notable receivers who changed team last offseason, from top options to bounceback candidates. How did it fare?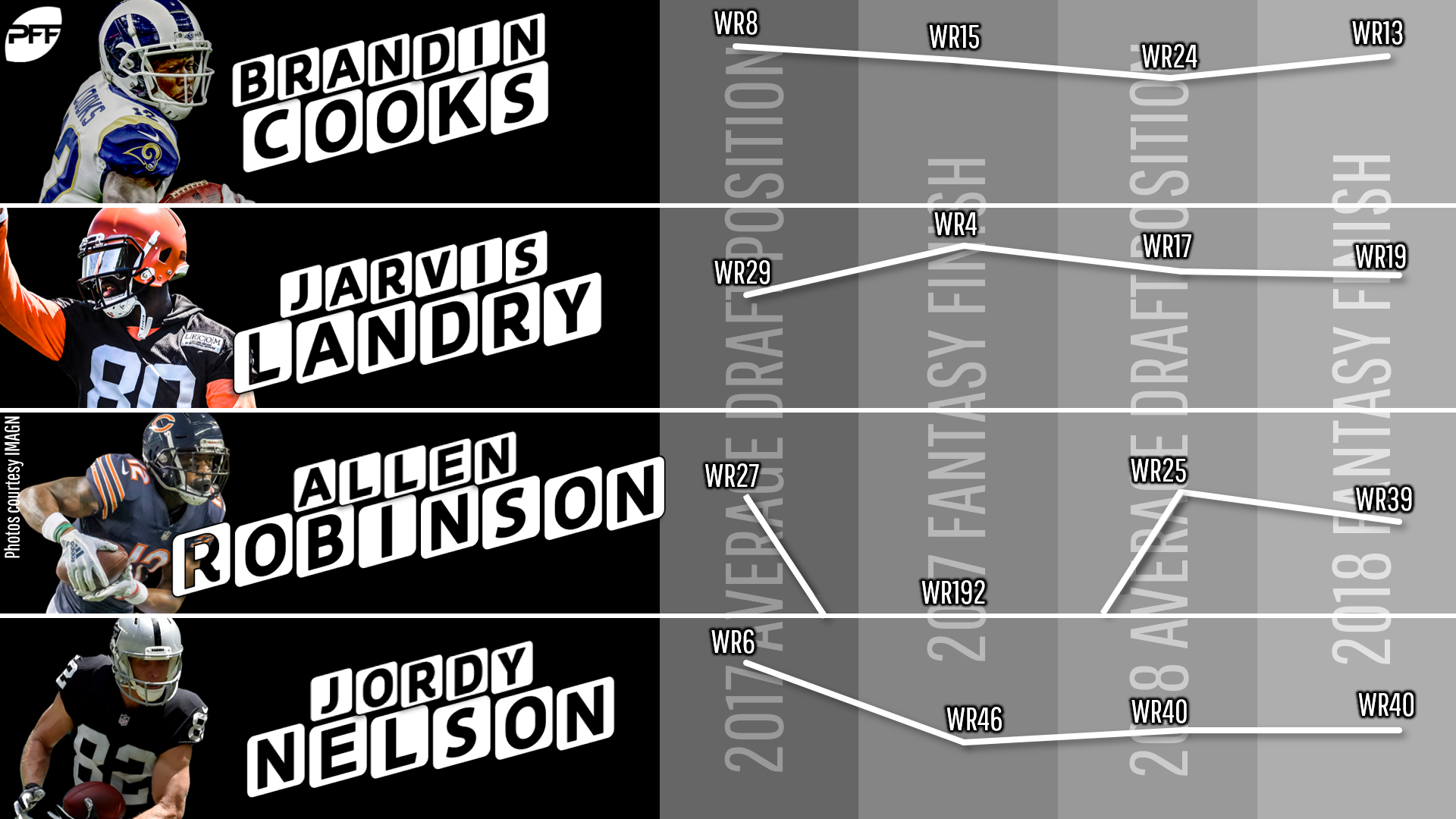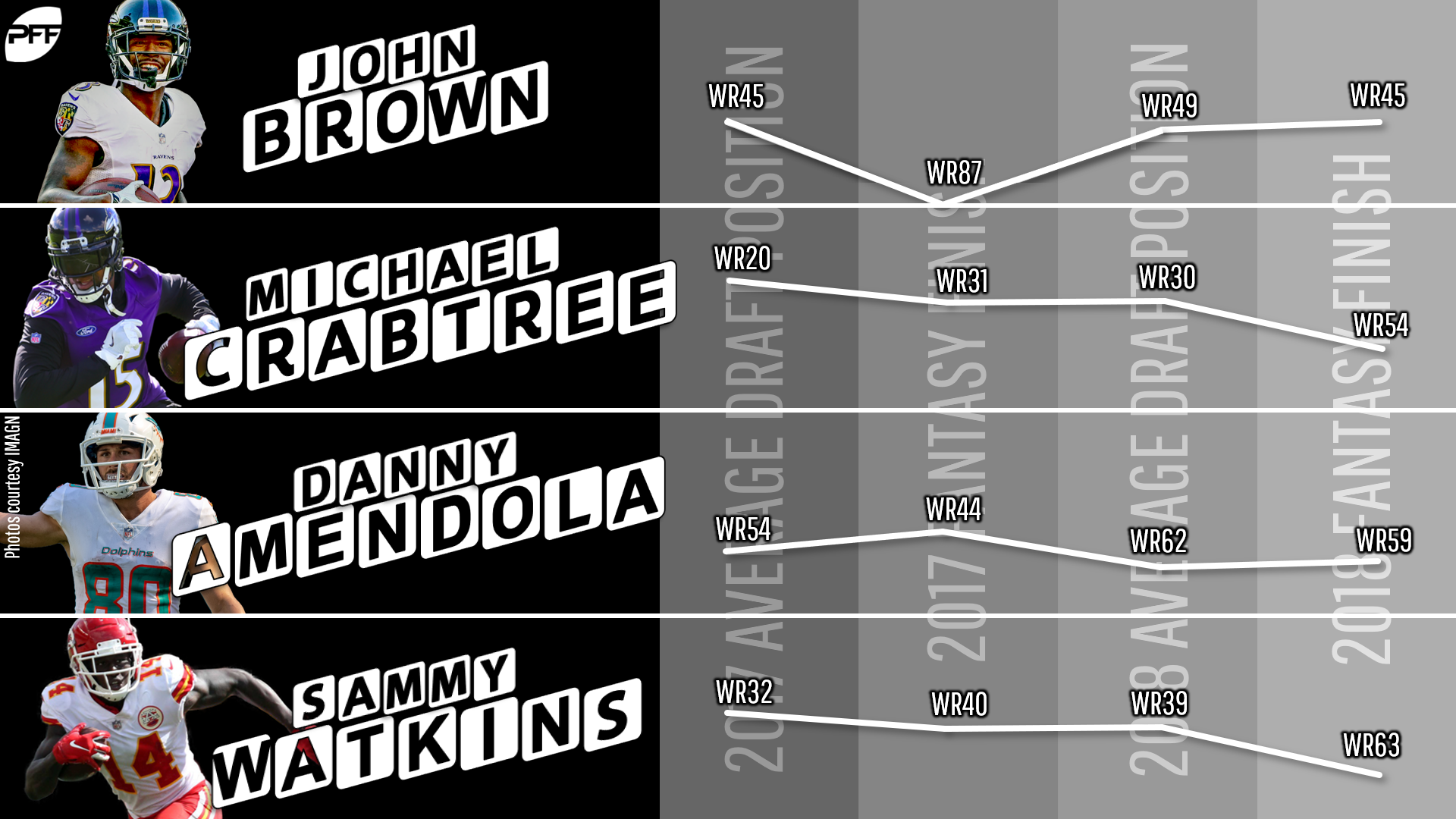 Brandin Cooks' fantasy stock wasn't as high as some other team-changers because he was joining an offense that already had Robert Woods and Cooper Kupp, and Sammy Watkins hadn't been special with the team in 2017, but he paid off like gangbusters. Jarvis Landry, Jordy Nelson, and John Brown more or less met expectations, which means no curse for them. The rest of the list? It ain't great.
Winner's curse tally: 4/8
Tight end
You could include Austin Seferian-Jenkins in this list if you want, but he doesn't do a lot to counter my overall point, and I don't think anyone was drafting him as a starter anyway. That leaves three: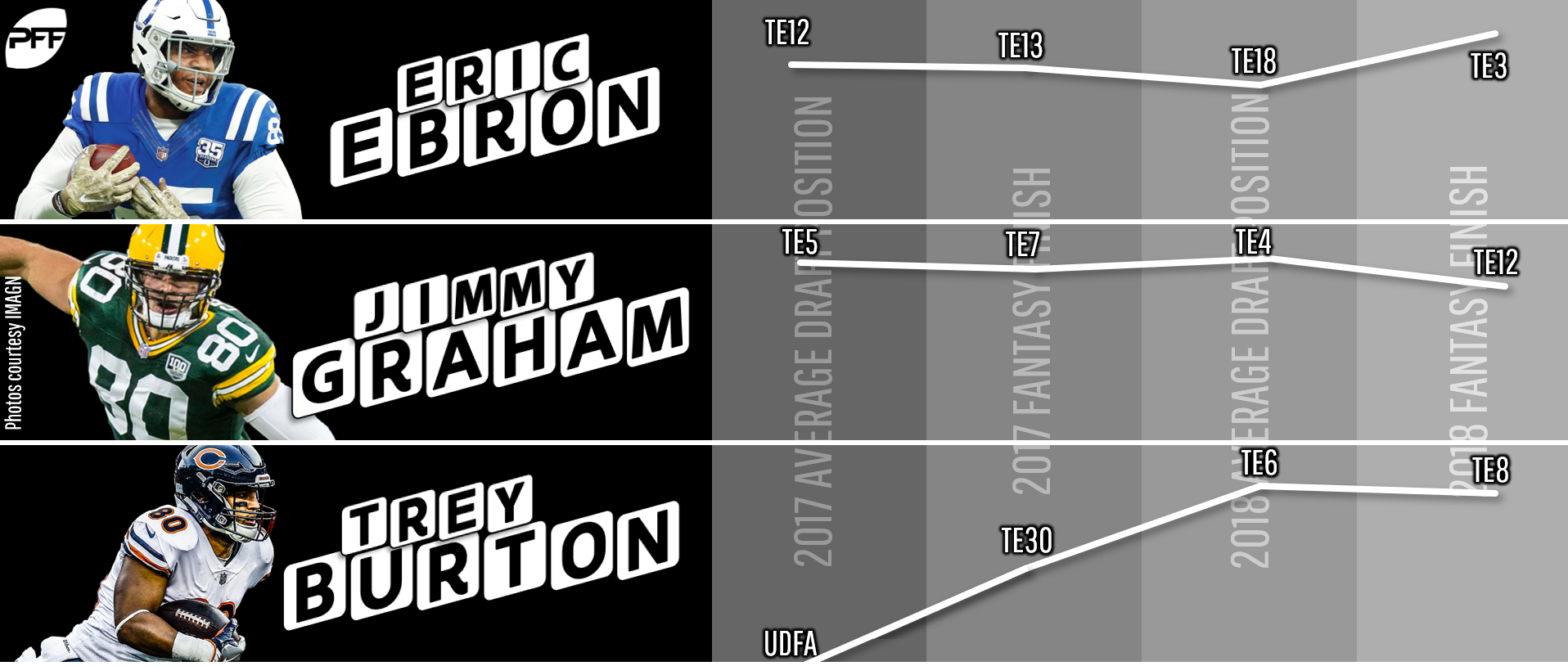 Eric Ebron was an unqualified success. Nobody is arguing that. And Jimmy Graham was the opposite. Trey Burton? He was one of the most popular breakout candidates in 2018 after joining Chicago, and while his final standing was fine, he finished eighth mostly because the tight end position was miserable, and I don't think people who owned him were very happy with it.
Winner's curse tally: 2/3
Total winner's curse tally: 11/17
In my admittedly unscientific look at the team-changers from a year ago, it's a pretty easy argument that roughly two-thirds of the notable names ended up disappointing. That in no way means not to invest in this year's names, but it does illustrate that sometimes more than mere statistical analysis goes into draft tendencies, and at the least you should be aware of potential biases entering this year's drafts.
Antonio Brown, Odell Beckham Jr., and Le'Veon Bell will carry high draft stocks into this year's draft season and would have whether they were still with their original teams or not. Any "bust" those guys may or may not do likely won't be a result of offseason hype. But be careful around the next tier of guys on new teams, like (so far) Jamison Crowder, Adam Humphries, Nick Foles, and DeSean Jackson. They might be really good! But they also might sucker you in.