Week 4 of preseason DFS is tough for fantasy football players, but also really easy — if that makes any sense.
You don't want to play any name-brand guys — starters aren't going to see any work at all. But for whatever reason, you're going to be seeing a lot of lineups with those sorts of players (scoring zero points). So, it's easy for that reason.
Here's why it's hard. Preseason DFS is nothing like regular season DFS. Stats matter less. Matchups don't matter at all. Projecting playing time matters more than anything else. You have to do a lot of research, scouring depth charts, tracking injuries, and catching up on news from beat writers out of camp. If you put in the time and stay active before lock, the money should follow. Luckily, I'm here to help.
Here are some of the players who immediately stood out to me.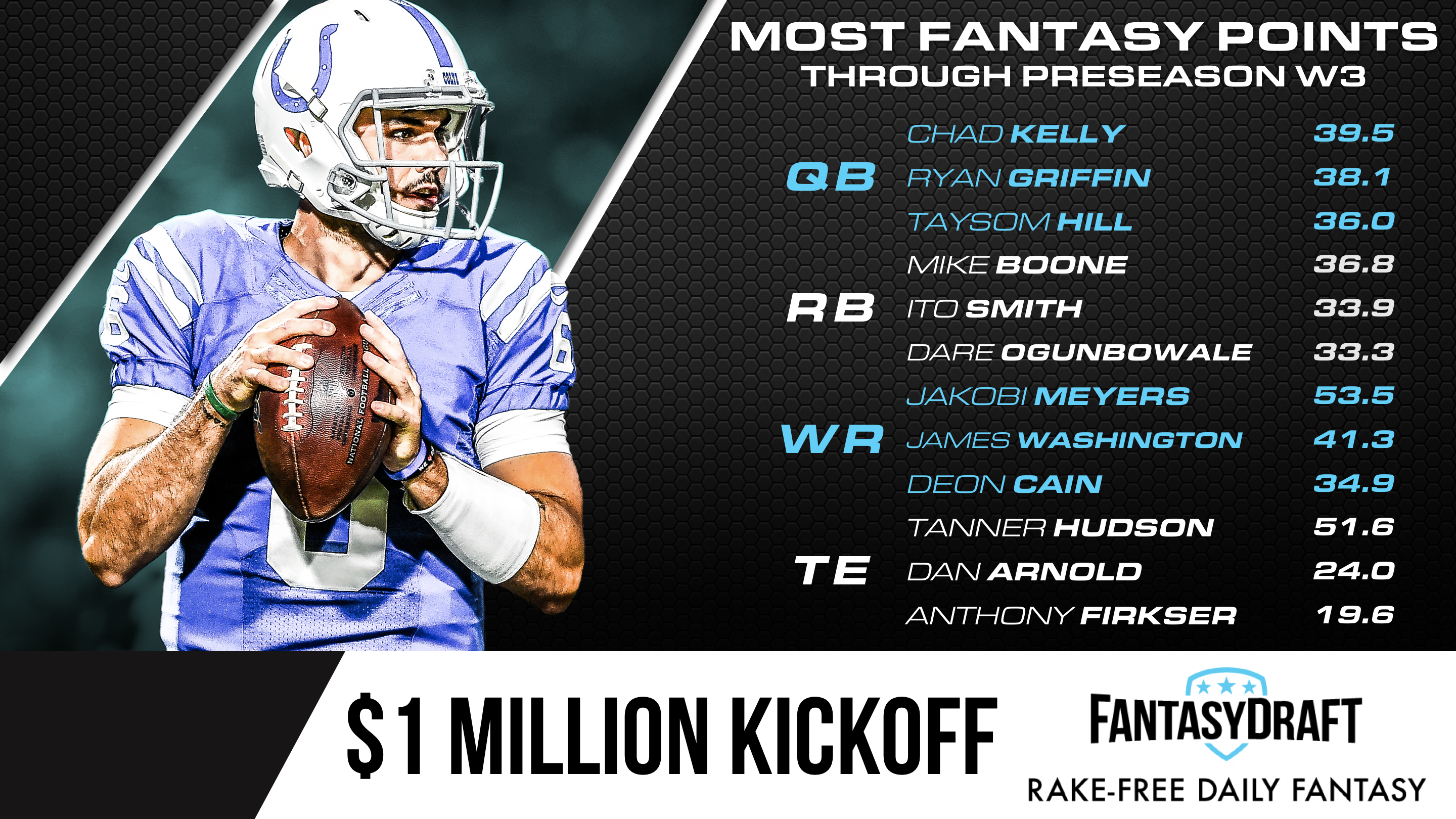 Quarterback
In each of the last five seasons, Bill Belichick's third-string quarterback has played on 100% of the team's snaps in Week 4. I suspect that's what we'll see from Stidham this week. Stidham has been terrific this preseason, ranking third in passing yards (506) and sixth in passer rating (104.6). With good efficiency and the best guaranteed usage on the slate, he's the top quarterback play of the week.
Hill is New Orleans' third-string quarterback, so he should get considerable run this week. He's also been awesome this preseason, with good Konami Code upside, totaling 113 rushing yards, 343 passing yards, and three touchdowns across seven quarters of play. He's our fourth-highest-graded quarterback of 60 qualifiers and is averaging 20.6 fantasy points per game per four quarters. If stacking, consider third-string tight end and deep dynasty favorite Dan Arnold. He's been Hill's favorite target this preseason, drawing six targets and totaling 57 receiving yards.
Like Hill, Mullens is better than your average third-string quarterback. He ranks as our ninth-highest-graded quarterback this preseason (of 60 qualifying). He should play for the vast majority of the game. The obvious stacking candidate is Richie James Jr., ranking as our highest-graded wide receiver this season (of 78 qualifiers). Mullens has targeted him on a whopping nine of his 31 (29%) attempts this preseason.
Again, like with Hill, I'm enamored with Stick's Konami Code potential. He averaged 9.5 rushing fantasy points per game across his last three seasons at North Dakota State. Through five quarters this preseason, he totals 65 rushing yards and two rushing touchdowns, averaging 23.5 total fantasy points per four-quarters.
Running back
Williams was a pre-draft favorite of mine, but went undrafted and is now on his third team. His long-term prospects are rocky, but he should be in store for a massive Week 4 workload. It makes no difference whether Detroit signed him (on Wednesday) as a body to eat snaps in a meaningless preseason game, or to audition as a potential future Theo Riddick replacement, he'll be on the field a ton, and with massive PPR upside.
Hyde is reportedly on the roster bubble in Kansas City, and is expected to "play a lot." He's probably not good enough to make the Chiefs' roster, but he is probably better than your average third-string running back.
On just 41 snaps this preseason, Wilson totals 22 touches, 86 yards, and three touchdowns. He's fighting to make the roster and should get plenty of work this week.
Last season, RB Ralph Webb totaled 42 snaps for the Patriots in Week 4. If there's a candidate to play a similarly high number of snaps this week it'd be Brossette, as all of Sony Michel, James White, Damien Harris, Brandon Bolden, and Rex Burkhead are unlikely to get any serious work. On 107 snaps this preseason, Brossette totals 46 touches, 156 total yards, and two touchdowns.
Wide receiver
The wide receiver position is simultaneously the most important and toughest to peg down this week. Keep a watchful eye on news before lock.
Of 116 qualifying wide receivers this preseason, Washington ranks first in yards per route run (4.83), first in yards per target (16.9), and second in PFF grade. He might not see a massive workload this week, but he should get some playing time (about a half) with college teammate Mason Rudolph. Washington caught a 41-yard touchdown pass from Rudolph last week and has been his favorite target all preseason.
Last week, Arcega-Whiteside and Josh McCown both played on at least 70% of the team's snaps. If they see similar usage this week, Arcega-Whiteside could have another slate-busting game. Last week McCown targeted Arcega-Whiteside on a team-high eight of his 24 attempts (33%). Whiteside caught seven of those targets for 86 yards and a touchdown.
Even after his nine-target, 13.9-fantasy-point day last week, Smith is still fighting for a roster spot. He should see a lot of playing time this week and good usage whenever he's on the field. He ranks top-10 in air yards per quarter (41.1) and targets per quarter (2.7) this preseason.
Smith is a decent sleeper pick this week. He's seen nine targets and 260 air yards across five quarters. Though he's caught just one pass, he ranks second among all players in air yards per quarter (52.0). He has good upside and will go overlooked, though he should be on the field a lot this week.
Tight end
When looking at tight ends this week, Hudson is the obvious must-play. He leads all receivers in receiving yards (116 more than the next-closest tight end) and touchdowns (two), while also adding 17 catches on 22 targets. He's now a much safer bet to make the roster, but he's still low enough on the depth chart that he should again play on the majority of the team's snaps.
Dan Arnold, New Orleans Saints
As mentioned earlier, Arnold is another top play. He's shown good rapport with Hill and ranks second among all tight ends in receiving yards this preseason, catching seven of 11 targets for 110 yards and a score.