It's Week 2 of the NFL preseason. For all of you DFS junkies out there, now is your time to make some serious cash. Preseason DFS is tough, but also really easy – if that makes any sense.
You don't want too many name-brand guys. Players like Todd Gurley, Julio Jones, JuJu Smith-Schuster aren't likely to see any work, but for whatever reason, you're going to be seeing a lot of lineups with those sorts of players (scoring zero points). So, it's easy for that reason.
Here's why it's hard. Preseason DFS is nothing like regular season DFS. Stats matter less. Matchups don't really matter at all. Projecting playing time matters more than anything else. You have to do a lot of research, scouring depth charts, tracking injuries, and catching up on news from beat writers out of camp. If you put in the time, the money should follow. Luckily, I'm here to help (but not do all of the work, like I'd typically do during the regular season).
Here's some of the players (on the Thursday slate of games) who stand out to me.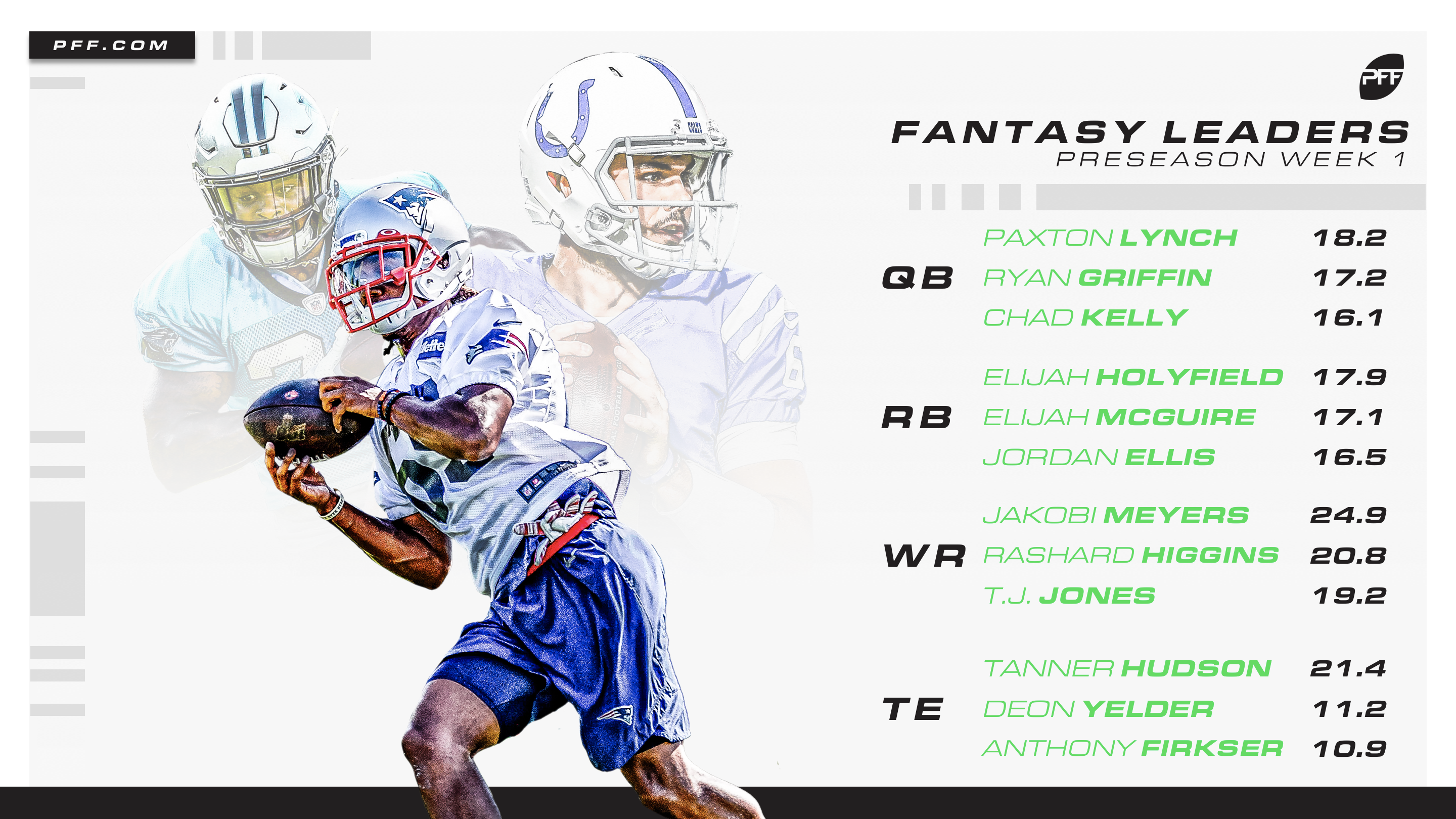 Notes: All stats-based rankings are among all slate-eligible players.
Quarterbacks
Earlier this week, Packers head coach Matt LaFleur said to expect "a quarter or so" from Aaron Rodgers and the starting offense. Would it shock anyone if Rodgers outscored all of the second-string and third-string quarterbacks playing two or more quarters this week? Rodgers is in play this week, despite the lesser volume, and so are many of his first-string skill-position players.
For similar reasons, Lamar Jackson is in play this week. He should play a full quarter. If stacking with anyone, I like Miles Boykin (10 of his 33 snaps came with Jackson last week) and Mark Andrews (Jackson's most productive receiver last year). He's still less attractive that Rodgers this week – most of Jackson's fantasy upside comes on the ground and we should expect Baltimore to be more conservative with Jackson in the preseason.
Nate Sudfeld had 177 yards and a score on 18 pass attempts last week. He's out this week, and Carson Wentz might not play at all this preseason. Expect a near-even split between Cody Kessler and Clayton Thorson. Both are in play though you should favor Kessler as the more competent passer.
Last week, Mike Glennon attempted 26 passes (most) and totaled 207 yards (most). He out-snapped Nathan Peterman 38 to 35, and both quarterbacks should see a similar split this week. I hope I don't need to tell you Glennon is the superior option to Peterman.
Running backs
Last week, Dexter Williams played on 28 snaps (third-most), while drawing 15 carries (for 61 yards) and one target (for 18 yards). Reportedly, Williams' roster spot might be in jeopardy as he's especially struggled with drops. Look for the team to test him with even more targets this week.
Justice Hill played on 25 snaps last week (sixth-most), while drawing 10 carries (for 33 yards) and two targets (for 16 yards). He's probably the most talented running back we can confidently expect to play on at least 20 snaps this week.
Last week, Elijah McGuire played on 27 snaps (fifth-most), while receiving six carries and posting a 6-38-1 line through the air (on seven targets). He played behind Ty Montgomery last week and is likely battling for the RB3 job. Expect a lot of work again on Thursday with Le'Veon Bell out, and especially a high number of targets. He's a top play.
Like McGuire, Jordan Ellis is highly intriguing due to his pass game usage. Last week he played on 31 snaps (second-most), drawing just four carries but also six targets (second-most), which he turned into six catches for 49 yards and a score.
Last week, James Butler played on 45 snaps (most by 14), ran 29 routes (most by four), saw 12 carries (second-most), and drew five targets (third-most). He wasn't very productive and didn't look very good, but that sort of volume is highly enticing.
It seems there's a legitimate competition for RB2 duties between Ito Smith, Brian Hill, and Qadree Ollison. Last week, Ollison led in snaps, 28 to Hill's 17 to Smith's 11. Ollison and Hill both saw nine carries and one target, while Smith saw four and zero. All three scored, but Ollison was the most efficient. Smith has struggled, as he had all camp. Ollison and Hill are Atlanta's top plays this week.
Wide receivers
Miles Boykin led all receivers in targets (10, by three) and air yards (111) in Week 1. He caught five passes for 56 yards. This comes following reports that Boykins is "having a fantastic start to camp."
Last week, Jake Kumerow ran just 11 routes, catching both of his targets for 11 yards. He's been impressing reporters and most notably Aaron Rodgers all camp, and should see an increased workload this week. In Week 3 of preseason last year, Kumerow totaled 20.4 fantasy points on just three targets.
JJ Arcega-Whiteside ran 20 routes and saw four targets last week. He was a top pick in the 2019 NFL Draft and a favorite of mine in the pre-draft process. He has elite touchdown upside and should see a larger role this week.
Undrafted rookie Greg Dortch, a camp standout and another personal favorite of mine, ran 28 routes last week and drew six targets. Those numbers rank second-best and fifth-best among receivers. He was effective too, catching four of those targets for 20 yards and a score.
Christian Blake came away with just 19 yards last week, but did run 28 routes (second-most) while drawing six targets (fifth-most).
Damiere Byrd ran 24 routes last week (ninth-most), catching three of four targets for 17 yards. He's been a camp standout, showing especially good rapport with Kyler Murray. He played on 10 of Murray's 11 snaps last week.
Darvin Kidsy ranked second among all wide receivers in targets (seven) and air yards (109) last week, and was productive, totaling 86 yards on five catches. Look for Jay Gruden to try and get an even better look at the speedy young wide receiver this week.
Auden Tate is another camp standout still fighting to make the roster. He caught all three of his targets for 42 yards (on 15 routes) last week and should see more playing time this week.
Tight end
Rookie Drew Sample ran 22 routes last week (most among tight ends). He's currently listed behind C.J. Uzomah and Tyler Eifert on the depth chart and should get plenty of run again this week.
Ricky Seals-Jones worked behind Maxx Williams last week, drawing just two snaps in the first quarter (to Williams' 10). Charles Clay is listed as the starting tight end but just came off the PUP and probably won't play. So, it seems Seals-Jones might be competing with Caleb Wilson for a roster spot. Roll with the former wide receiver in Seals-Jones who ran 18 routes last week (second-most among tight ends).
Dallas Goedert is expected to miss the rest of the preseason, which opens up playing time for Joshua Perkins, who ran 17 routes last week.