On Saturday, I took a look at some of the offenses that exceeded or fell short of point expectations in 2018 based on the yardage they compiled in search of fantasy football impact. Today I'm doing the same research, but on 2018 defenses.
Are teams bend-but-don't-break, allowing plenty of yards but stifling scoring? Do they allow a lot of short fields, enabling points but keeping yardage artificially low? Or were some teams just lucky or unlucky? That's the sort of thing I'm searching for.
The approach: Chart every teams points and yards allowed over the last five years, figure out how many points each yard is worth (or how many yards it takes per point), and figure out which teams last year were furthest from what you'd expect.
It's not the end of the conversation, because the reason a team might be off of what you'd expect can be any one of several things. Rather, it's the start of the conversation.
Exceeded expectations
(5,746 yards allowed, 376.9 expected points allowed, 325 actual points allowed, -51.9 better than expected)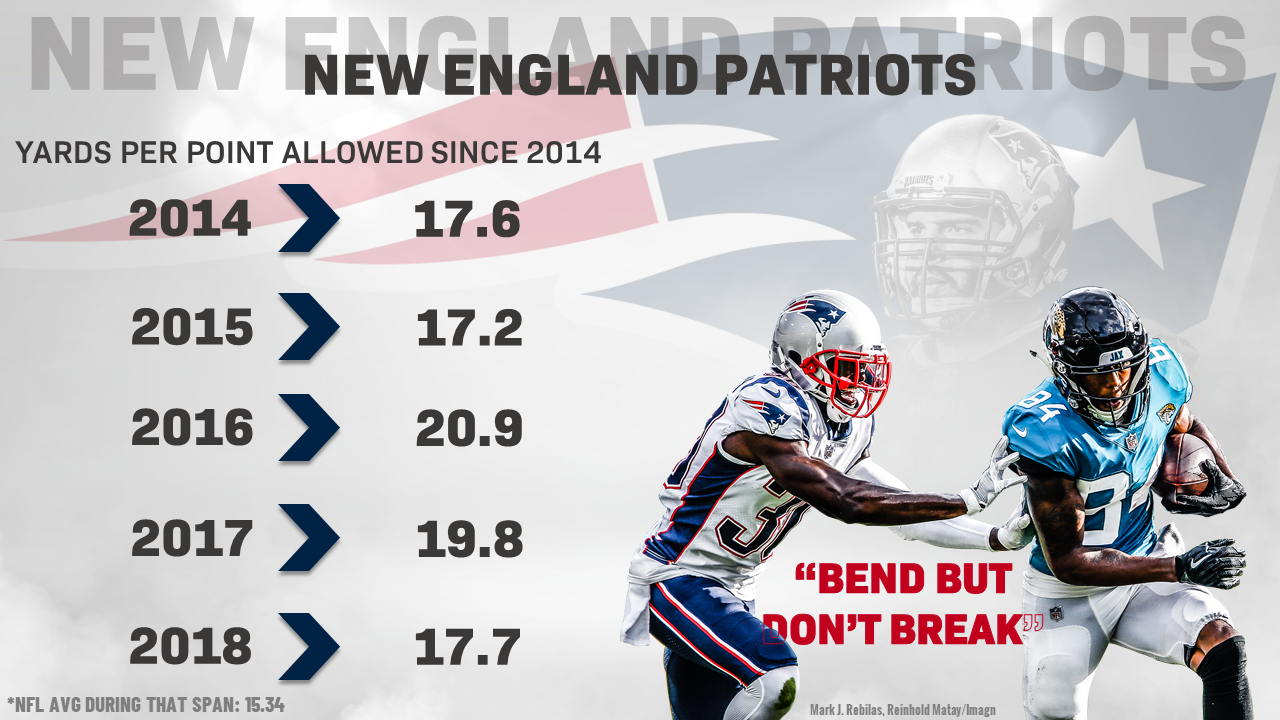 The Patriots have been the ultimate bend-but-don't-break defense over the last few years. Their 2017 team beat expectations by 89.6 points (best in the last five years), while the 2016 team was at 85.8 (third-best). They were 14th of 160 in 2018, 20th in 2014, 25th in 2015. A run like that can be treated as a skill rather than a fluke, so in 2019 you'd be wise to expect the Patriots to continue to let their opponents put up plenty of yards but struggle to score touchdowns. For fantasy, the teams that face New England twice a year — Buffalo, Miami, and the Jets — get dinged just a little because of the regular matchup.
(5,334 yards allowed, 344.5 expected points allowed, 303 actual points allowed, -41.5 better than expected)
Were the Titans actually good last year as a playoff near-miss, or were they a bad team masquerading as good? This tidbit suggests the latter. The Titans were fine on defense overall, allowing the eighth-fewest yards in the league. But their scoring defense was even better, as only the Bears and Ravens allowed fewer points. In an AFC South that is suddenly one of the league's elite divisions, the Titans need to be better overall in 2019 or their luck might run out.
Fell short of expectations
(4,706 yards allowed, 295.2 expected points allowed, 374 actual points allowed, 78.8 worse than expected)
Remember the example I gave at the top? A team might give up more points than you'd expect because of a poor offense giving the defense awful field position? This feels pretty evident here, as the Bills gave up the second-fewest yards in the league but were bottom-half in points allowed. The Bills had the highest starting average field position in the league, just past the 31-yard line, and that meant that teams had less distance to cover to get their points. A better offense in 2019 — the Bills almost have to be able to do that — should help mitigate that, making the Bills DST a more appealing fantasy unit.
(5,546 yards allowed, 361.2 expected points allowed, 435 actual points allowed, 73.8 worse than expected)
Whereas the Bills were a good defense made to look worse here, the 49ers were a bad defense that just looked bad no matter how you sliced it, including allowing the fifth-most points in the league. The defense also had average starting field position working against it, with a worse average field position on defense than any team but those Bills. Jimmy Garoppolo's return should help that, as should a backfield headlined by new signee Tevin Coleman and back-from-injury Jerick McKinnon. That could leave 49ers opponents — especially division foes Seattle, Arizona, and the Rams — having a slightly tougher road against San Francisco, even before considering some of the moves the team made on defense.