The Fantasy Playbook is an excellent resource if you want to compete for fantasy titles this year with minimal effort on your part. In it, Director of PFF Fantasy Jeff Ratcliffe has written profiles for every important fantasy option on both offense and defense, has put them into tiers to organize your draft preparation, and has provided the critical data you need like red-zone looks and yards per route run to quickly identify regression and breakout candidates.
Of course, if you're on Pro Football Focus, then you're probably like me. If anything, I over-prepare for the draft, and so I love the Playbook as a research tool that empowers me to uncover trends that no one else has realized. And I think I've found one such tendency with my first attempt with the new Playbook: shadow coverage means different things to different types of receivers.
The news that Darrelle Revis was retiring led me down this research path. At his best, Revis was unmatched as a shutdown corner. From 2008 to 2011, he held his covered receivers to a 44 percent catch rate, 5.4 yards per target, and just 8 touchdowns on 337 total targets, the bulk of which went to his opponents' best receivers.
The trend of shadow coverage is alive and well in today's NFL. The Playbook details the 136 instances of shadow coverage from 2017 and even provides you the fantasy results from those matchups to help you decide which corners to sit your top receivers against in 2018. A few of those corners could stake a claim to islands like Revis had, but many more of them allowed a handful of productive fantasy days to their shadowed receivers. There wasn't a pattern that governed the success of those matchups that jumped out to me, but I was able to connect the dots to another set of unique data from the Playbook, receiver average depth of target.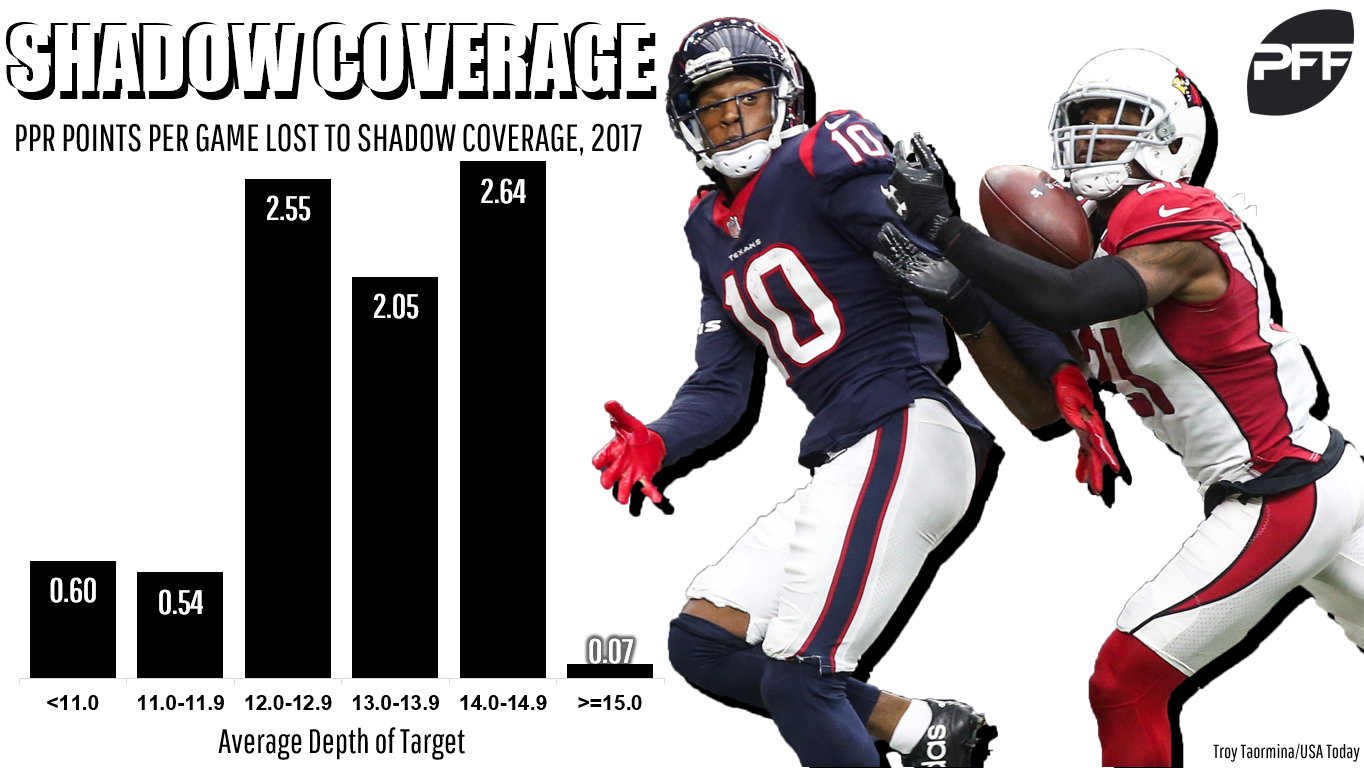 Across the board, receivers suffer when they draw shadow coverage. Teams can clearly evaluate which of their corners and in which of their matchups shadow coverage will be an effective strategy. However, notice how the fantasy impact of shadow coverage ratchets way up when those shadowed receivers tend to work the middle depths of the field. Receivers with average depths of target between 12 and 15 yards lose at least two fantasy points from their typical totals when they are shadowed. In contrast, receivers with aDOTs below 12 yards and above 15 yards lose just half a fantasy point on average or even less.
Receivers run routes that cut in every direction. Often they run by picks and visual screens. To be an effective shadow, cornerbacks need the instincts, intelligence, and athleticism to handle all the tricks receivers throw at them. Amazingly, a handful of corners have all of those traits, but no amount of film study will allow a corner to close on a slot receiver on a quick slant or stay in step with a deep threat with track speed on a go route. Those receivers are often too specialized to demand shadow coverage, but that isn't universally the case. In fact, several of the most productive fantasy receivers — the kinds of receivers you would naturally think of as No. 1 guys — show extreme tendencies in the average depth of their targets. The Playbook makes it easy to find those exceptions and use them to your advantage as you build your teams and weekly lineups.
My own research has shown that the best cornerbacks have shorter peaks than the best receivers, and so if you want to stay current on the shadow coverage situations to avoid in fantasy, I recommend either a PFF Edge or Elite subscription. Those subscriptions will give you access to all the data you need to make the best DFS decisions as well as articles on the full spectrum of fantasy topics from me and the other great writers at PFF Fantasy. For more information, check out Scott Barrett's breakdown.