Even during the five-week period of what is, technically, the NFL offseason, there is no shortage of activity these days. From franchise tags to scouting combines, contract negotiations to club options and qualifying offers, it's not so easy staying on top of the continuous wave of transactions in a 24-hour news cycle.
But here we are, just a few weeks away from rookies reporting to training camp. While there are plenty of position battles to sort out in the coming months, we've also now had a chance to come up for air and fine-tune our draft boards.
Assessing the landscape around the league now that free agency and the draft have come and gone, below are the offseason transactions that have been most helpful for fantasy purposes.
Allen Robinson takes top billing in Chicago
Robinson is entering his fifth pro season and is now two years removed from his only campaign as a WR1 in fantasy. Accounting for the disappointment that was 2016 and then the lost year that was 2017 due to an ACL injury, our fantasy projection tool has Robinson at a 73/1,102/8 slash line on 124 targets, which would put him in mid-WR2 territory. To put that into context, he drew 142 and 144 targets in his two healthy seasons in Jacksonville while averaging 8.0 yards per target.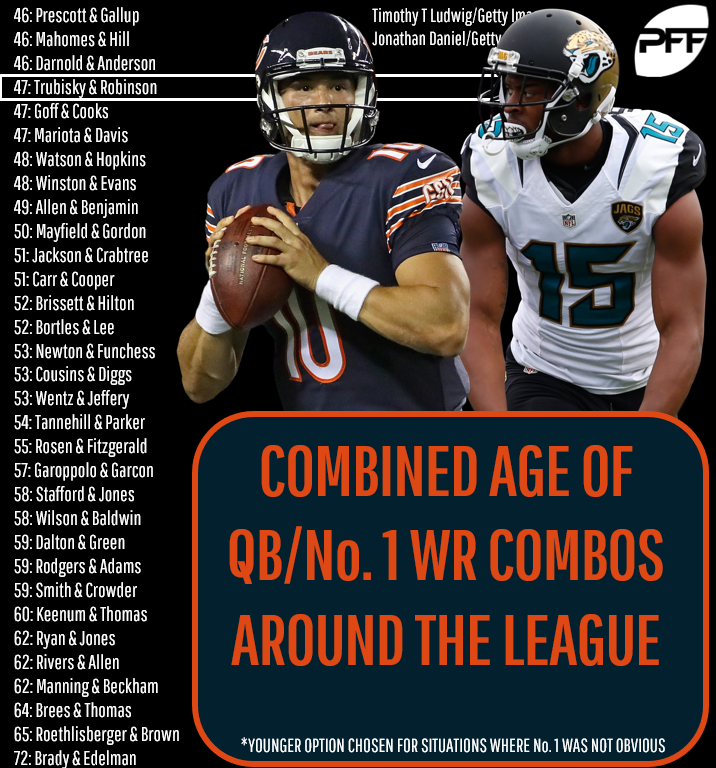 If 2016 was Robinson's floor (WR27) and 2015 was his ceiling (WR6), his current ADP as the WR16 is effectively splitting the difference. And while there are myriad concerns, from his health to his dropoff in production across the board, it's the ceiling that is so intriguing. Taking over as the No. 1 option for a budding Mitchell Trubisky and still just 24 years old himself, Robinson has already proven capable of leading the league in both touchdown catches (14) and deep receiving yards (672).
Case Keenum upgrades Denver's passing game
Despite coming off an 85.4 overall PFF grade, there are legit questions about Keenum's long-term outlook in Denver. For one, he had never posted better than a 74.5 grade during his career and never previously started more than nine games in a season. However, there is ample reason to believe Keenum has the tools to carry his success over to Denver despite going to an offensive line that last year ranked 30th in pass-blocking efficiency.
Keenum was top-five in both adjusted completion percentage (76.5) and adjusted completion rate against pressure (69.2) in 2017. His penchant for getting the ball out to his hot read was evidenced by the fact that only 10.7 percent of his pressured snaps turned into sacks, the second-best mark in the league. Keenum also had the fourth-lowest percentage of turnover-worthy plays in the league in 2017. He accomplished all of this despite facing the third-highest pressure rate last season (39.3 percent of dropbacks).
In other words, he's already been tossed into the fire and come out just fine.
Kirk Cousins a perfect fit in Minnesota
In three seasons since taking over as the Redskins' starter, Cousins has two top-five fantasy finishes and another in the top-10. To this point in his career, he's put up numbers matched only by Dan Marino and Kurt Warner in terms of passing average and QB rating. And yet, he's not quite a household name, at least according to his current ADP as the QB8, just ahead of Jimmy Garoppolo and his seven career starts.
Annually one of the game's most accurate deep-ball passers, Cousins managed just 825 yards on balls targeted 20-plus yards downfield in 2017 (down from a league-high 1,359 in 2016). His adjusted completion rate also dipped nearly 10 points. Then again, his supporting cast last season was nothing like the one he'll have in Minnesota. Along with trusty TE Kyle Rudolph and electric RB Dalvin Cook, the Vikings boast two of PFF's top-10 graded WRs in Stefon Diggs and Adam Thielen, both of whom also finished in the top-10 in contested catch rate.
In terms of fit and landing spot, there was no more perfect marriage of playmakers with a QB willing, and able, to push the ball downfield.
Jerick McKinnon gets his chance to shine in San Francisco
Following a tough few years, it's been fun traversing with fellow members of the Jerick "SPARQ-GOAT" McKinnon Support Club after painfully watching his talents waste away in Minnesota. Through his first two pro seasons, McKinnon averaged 4.9 yards on 165 carries, caught 51-of-66 targets, and generally appeared slated for a sizeable chunk of Adrian Peterson's former workload. For one reason or another, the Vikings' coaching staff never quite saw things that way, as McKinnon's snap share topped out at 51.7 percent in 2016.
Somewhat quietly, McKinnon did rank 16th out of 53 qualifiers in elusive rating last season. In fact, 70 percent of his seemingly pedestrian 3.8 YPC average came after contact behind Minnesota's 28th-best run-blocking grade. San Francisco finished sixth in that department last season under Kyle Shanahan, with the 49ers shelling out a decent chunk of change for McKinnon to slot into the Devonta Freeman role.
Health concerns aside, Watkins' inclusion on this list ultimately hinges on Patrick Mahomes living up to his seemingly ever-growing billing. Beyond the development of Kansas City's second-year signal-caller, the biggest obstacle to Watkins' fantasy stock is a still-to-be-determined target distribution in a suddenly stacked offense. Certainly, our 2018 projection for Watkins as the WR36 is not particularly encouraging. The fantasy public perception is about as lukewarm, given his current ADP as the WR32 in PPR. But are we being overly bearish on the former No. 4 overall pick?
Our Dan Schneier previously made the case for Watkins as a post-hype sleeper and optimal best-ball target. Considering Mahomes' big right arm and playmaking ability, Watkins' 2015 season is actually a reasonable baseline that, if he were to hit, would provide a huge return on investment. Tyrod Taylor had the second-best QB rating on deep throws that year, with Watkins ranking second in deep receiving yards. While Watkins' efficiency took a step back this past season playing with Jared Goff, his 122.0 WR rating when targeted was fifth-best in the league. And as we've seen with Watkins, he doesn't need 100 targets to crack 1,000 yards or finish among the league leaders in TDs.
Rookie RBs with a path to success
More so than any year in the post-Bishop Sankey era, there are quite a few incoming running backs primed for a potentially sizeable rookie-year impact. Along with Saquon Barkley (RB6), Rashaad Penny (RB17), Derrius Guice (RB21), Royce Freeman (RB24), Ronald Jones (RB29), and Sony Michel (RB30) all fall inside our top-30 projections – and that list doesn't even include second-round picks Nick Chubb and Kerryon Johnson from April's draft.
Not that each of those rookies will be handed anything in terms of workload, but it's tough to ignore the league-wide shift in how running backs are valued today when seven are plucked off the board in the first two rounds. If anything, it's brought some closure to several backfields that were largely a source of frustration for fantasy owners in 2017.