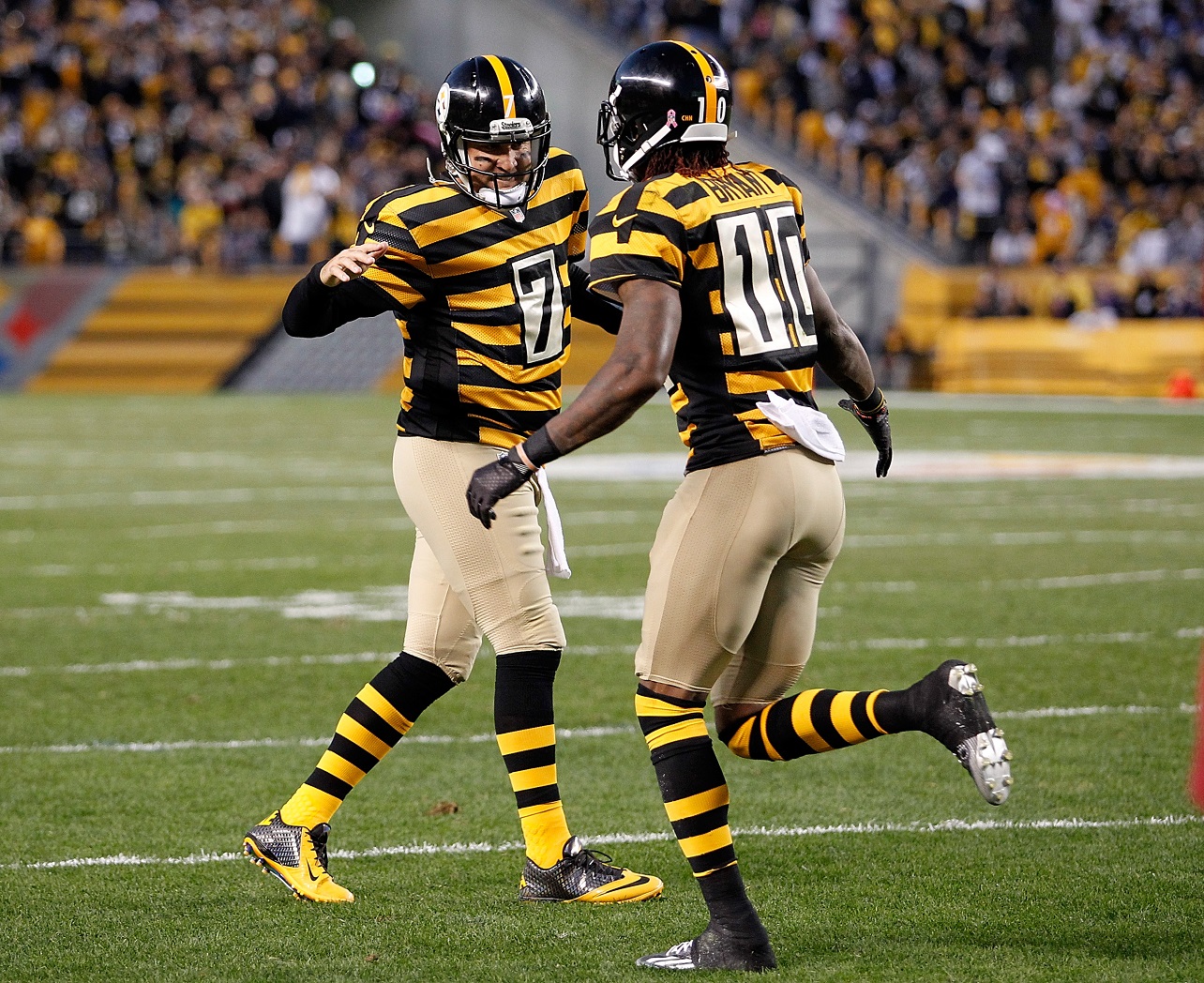 PITTSBURGH, PA - OCTOBER 26: Martavis Bryant #10 celebrates his second touchdown of the game with Ben Roethlisberger #7 of the Pittsburgh Steelers during the third quarter against the Indianapolis Colts at Heinz Field on October 26, 2014 in Pittsburgh, Pennsylvania. (Photo by Justin K. Aller/Getty Images)
With one of the league's most explosive offenses, the Steelers are chock full of fantasy talent. Todd Haley returns for his sixth season at offensive coordinator. A disciple of Bill Parcells, Haley runs an Erhardt-Perkins system. The result last season was a balanced offense that ran a combination of power- and zone-blocking schemes.
Team Offensive Stats

PIT
Rank
Lg Avg
Snaps/Gm
64.4
20
65.3
Pace (Sec/Sn)
25.41
28
24.28
Run %
39.7%
15
39.8%
Pass %
60.3%
17
60.2%
% Leading
48.1%
5
36.0%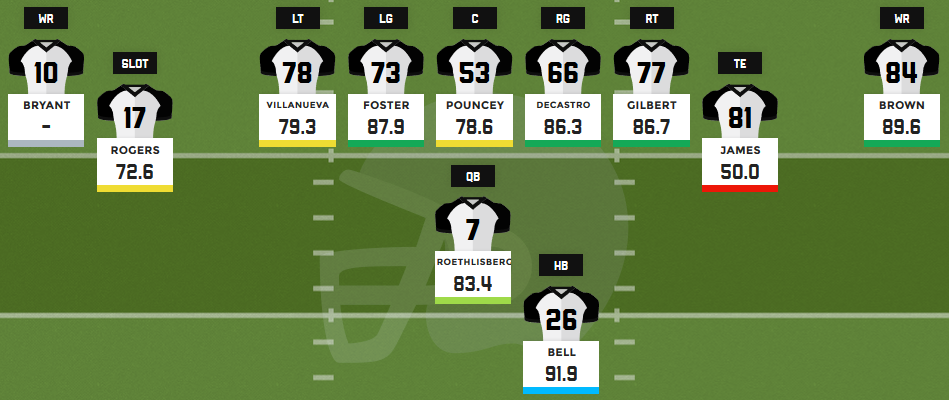 Quarterback
It was the tale of two seasons for Ben Roethlisberger last year. In six home games, he performed like a solid QB1 with an average fantasy finish of 6.5. Roethlisberger was almost a completely different player on the road, posting an average finish of 19.4. His splits were nearly as significant in 2015 with an average finish 9.2 at home and 19.2 on the road That extreme swing in home and away performance has made Roethlisberger one of the most volatile fantasy options at the position over the last few seasons. Fantasy drafters should certainly keep these stats in mind. Roethisberger offers a very high ceiling, but he may be best used as part of a fantasy quarterback committee and reserved for when the Steelers play at home.
Vacated Touches
2016 Touches
% Vacated
Carries
389
25.7%
Targets
572
12.1%
Total
961
17.6%
Running back
There are very few true bell-cow backs in today's NFL, by Le'Veon Bell most assuredly is one of them. Though he missed the first three games of last season due to suspension, and sat out a meaningless Week 17, Bell still managed to finish third among running backs in fantasy scoring, averaging a league-high 28 touches per game. And with Bell, it isn't just volume. He has also averaged over 3.00 yards after contact per attempt in each of the last two years. Perhaps the one reason why those with the No. 1 overall pick this year would lean toward David Johnson is touchdown productivity. Bell has never topped double-digit rushing touchdowns, and his nine total scores last season was 11 fewer than Johnson. At this point, we're splitting hairs, though. Bell is going to be either the first or second pick in nearly every redraft league this year, and he's well worth it.

Fantasy players should also keep an eye on the rest of the Steelers backfield, as DeAngelo Williams showed that Bell's backup can have strong fantasy value if injury strikes Bell. Right now, back duties will likely go to either James Conner or Fitzgerald Toussaint. The more appealing player here is Conner, who had a pretty remarkable path to the NFL and wound up going on Day 2 of April's draft. He's worth a look late in drafts, especially if the Bell owner is inclined to handcuff.
Rushing Stats

PIT
Rank
Lg Avg
YPC
4.31
14
4.18
YCo/Att
2.87
2
2.43
YBCo/Att
1.43
26
1.76
Inside Zone
23.0%
20
26.0%
Outside Zone
13.9%
29
27.7%
Power
22.7%
8
9.5%
Man
13.9%
7
15.0%
Wide receivers
Antonio Brown is really good, and he has arguably the highest floor and ceiling combination of any wideout in the league. Brown has topped 100 catches in each of the last four seasons with double-digit touchdowns in each of the three years. This productivity has translated into consistent fantasy production, the likes of which we rarely see in the NFL. He's been a top-five fantasy option in each of the last four years, and last season he pulled off the rare back-to-back-to-back three-peat as the No. 1 fantasy wide receiver (in PPR). Brown remains in the prime of his career, and he should be the top wideout selected in this year's fantasy drafts.
There's no denying that Martavis Bryant is one of the league's most electric wide receivers when he's on the field. But of course, the caveat to the previous sentence has been the problem. He missed the entire 2016 season due to suspension, and also served a four-game ban to open the 2015 season. However, he managed to score the 13th-most fantasy points among wide receivers from Week 6 on following his 2015 suspension. Bryant appears to be on track to be fully reinstated for the start of the season and offers plenty of fantasy upside. However, given his off-field volatility, fantasy drafters would be wide to not overvalue Bryant. He's still a borderline WR2.
Eli Rogers and JuJu Smith-Schuster will duke it out for No. 3 duties behind Brown and Bryant. While Brown and Bell will eat up a sizeable chunk of the targets, the Steelers' third receiver will have slightly more appeal now that Ladarius Green is no longer on the roster. Those in deep PPR formats will want to give Rogers a look, though Smith-Schuster's name should certainly be in the fantasy rolodex in case he managed to pass up Rogers on the depth chart.
Wide Receiver Sets

%
Rank
Lg Avg
Throw%
Rk
Lg Avg
2-Wide
18.3%
26
24.5%
55.0%
5
45.0%
3-Wide
58.8%
10
55.5%
70.8%
6
66.1%
4-Wide
0.7%
21
2.9%
100.0%
1
81.6%
Tight end
Following the offseason release of Ladarius Green, the Steelers are now left with Jesse James and Xavier Grimble as the primary pass-catching tight ends. Neither is likely to make much of a fantasy impact this year, but if you have to choose one, it's James. The third-year man did manage three weeks as a TE1 last season, but finished the year 28th at the position in fantasy scoring. His overall low ceiling has him on the outside of the TE2s.
Personnel Groupings

%
Rank
Lg Avg
Throw%
Rk
Lg Avg
11
58.3%
9
53.5%
71.0%
6
33.5%
12
14.3%
20
15.6%
58.5%
11
50.2%
21
3.5%
22
6.9%
44.4%
14
62.5%
(Keep up with all of PFF Fantasy's draft strategy and advice here!)