Free agency and the 2022 NFL Draft have come and gone. Now, it's time to fully embrace the 2022 offseason by breaking down each team's fantasy football aspirations before fantasy draft season truly gets underway in August.
What follows is a fantasy-focused breakdown of the Los Angeles Chargers, focusing on key questions like:
Will

Justin Herbert

ascend to overall fantasy QB1 heights?

Does

Austin Ekeler

deserve to be a top-three overall pick in fantasy drafts of all shapes and sizes?

Can both

Keenan Allen

and

Mike Williams

post legit fantasy WR1 production?
Every fantasy-relevant player from the Chargers will be covered in the following paragraphs. Make sure to check out the PFF Team Preview Landing Page through early July for more all-encompassing fantasy football coverage.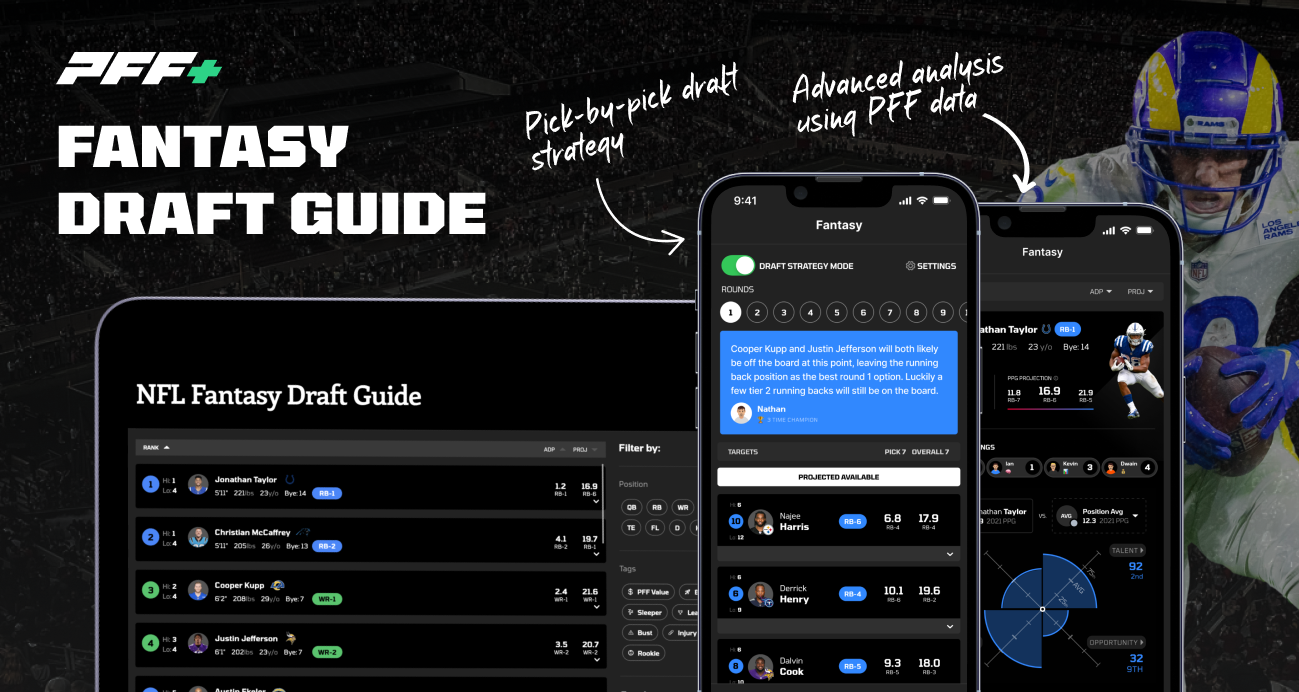 Notable offseason moves
From the front office, to the coaching staff, to the roster: Every 2022 NFL team will be different than its 2021 version.
In the Chargers' case: The coaching staff is largely running it back. Head coach Brandon Staley, offensive coordinator Joe Lombardi and defensive coordinator Renaldo Hill are all back for their second season with the Chargers.
This is mostly good news. Staley made waves throughout the season due to his aggressive decision-making on fourth down, and Lombardi moved the offense at the league's sixth-fastest pace in neutral situations. Throw in the league's reigning fourth-most pass-happy offense in non-garbage time situations, and the Chargers again look like the sort of offense capable of enabling all sorts of fantasy-friendly assets.
The one concern is what Lombardi means for Justin Herbert's development. As PFF's Seth Galina noted last season: The Chargers' unwillingness to let Herbert attack downfield quite literally cost them some wins. Credit to Lombardi for helping steer Drew Brees through some late-career noodle arm issues, but there's no reason why Herbert should be grouped with the following quarterbacks in terms of deep-ball rate (20-plus yards):
Alas, beggars can't be choosers: Expect Herbert to put up all kinds of production through the air regardless of whether or not his average target depth increases to an acceptable level for someone with a howitzer for a right arm.
Additionally, the Chargers have made plenty of changes to their roster. The following quarterbacks, running backs, wide receivers and tight ends have either joined or left Los Angeles in some way, shape or form this offseason:
RB Justin Jackson:

Remains an unrestricted free agent. The 26-year-old talent posted 206-1,040-4 rushing and 65-508-0 receiving lines in four seasons with the Chargers while working as

Austin Ekeler

's direct backup in recent years.
WR Andre Roberts: Signed with the Panthers. Roberts mostly just returned kicks during his 10 games with the Chargers; his only three touches were via rush attempts.
WR DeAndre Carter:

Signed a one-year, $1.1 million contract with the Chargers to presumably replace Roberts as the team's primary returner. Carter does have a bit better track record of receiving production, as evidenced by his 24-296-3 receiving line with Washington in 2021.
TE Jared Cook:

Remains an unrestricted free agent. Cook posted a 48-564-4 receiving line in 16 games with the Chargers in 2021, but he put forward below-average marks in PFF receiving grade (62.0, No. 34) and yards per route run (1.18, No. 31). It'd make sense if the 35-year-old veteran isn't used as anything more than a complementary option wherever he lands next.
TE Stephen Anderson: Signed with the Cardinals. Anderson's 16-165-1 receiving line in 2021 doesn't exactly move the needle, but he did play at least 20% of the offense's snaps in 14 of 17 regular-season games. Anderson's absence opens up the potential for a more condensed tight end rotation in 2022.
TE Gerald Everett:

Signed a two-year, $12 million contract with the Chargers. The deal includes $8 million guaranteed, which is far more than what Cook ($4.5 million) was guaranteed this time last offseason. Everett posted top-eight fantasy production after

Russell Wilson

returned to action in 2021 but ultimately hasn't ever reached 50 receptions, 500 receiving yards or five touchdowns in a season.
The Chargers also selected Texas A&M RB Isaiah Spiller in the fourth round. Spiller profiles as the potential lead early-down complement to Austin Ekeler, although he'll have to beat out guys like Joshua Kelley and Larry Rountree first. While it's fair to be intrigued about Spiller's profile, getting overly invested in Day 3 picks usually isn't good process. The fantasy track record of players not selected inside of the draft's top-three rounds isn't pretty.
The Chargers also added FB Zander Horvath in the seventh round; don't expect him to mix in as more than a sub-package player if anything.
First thing's first: Herbert put together arguably 2021's single-best mixtape in terms of big-time throws.
Justin Herbert pic.twitter.com/n0zxSSEC5O

— Ian Hartitz (@Ihartitz) June 13, 2022
Not a fan of watching actual football? More of a spreadsheet person? Herbert checks all of those boxes, too:
PFF passing grade: 86.4 (No. 9 among 44 quarterbacks with 300-plus dropbacks 2020-21)
QB rating: 97.9 (No. 12)
Big-time throw rate: 4.3% (No. 23)
Turnover-worthy play rate: 2% (No. 2)
Yards per attempt: 7.4 (No. 20)
Adjusted completion rate: 76.5% (No. 19)
Herbert quite literally has scored more touchdowns (77) in the first two seasons of his career than any other player in NFL history. Pretty, pretty, pretty good.
If anything, Herbert has been too careful with the football, as evidenced by the discrepancy in his big-time throw rate and turnover-worthy play rate. Sadly, Herbert's 7.8-yard average target depth ranks 31st over the past two seasons, behind guys like Teddy Bridgewater and in the same ballpark as regularly mocked check-down artists like Tua Tagovailoa and Jimmy Garoppolo.
It'd sure be a lot cooler if the Chargers let Herbert cook more frequently downfield. His average of 15.3 yards per attempt ranks fifth among 43 qualified quarterbacks when throwing at least 20 yards downfield, while his 95.2 PFF passing grade ranks sixth.
Either way: Herbert has already been a fantasy darling. Just look at the NFL's top-five quarterbacks with the highest QB1 finish rate over the past two seasons:
Herbert "falls" to sixth when accounting for top-five finishes. Overall, Herbert's career average of 22.3 fantasy points per game trails only Mahomes among all quarterbacks to ever suit up in the NFL. Madness. The QB8 and most recently QB5 in expected fantasy points per game, Herbert combines truly elite talent and ability with the sort of fantasy-friendly workload that warrants an early- to mid-round pick.
Ultimately, Herbert comes in as my QB3 behind only Josh Allen and Kyler Murray. The only reason Herbert isn't higher is that Allen and Murray boast rushing floors in a different tier, although Herbert (55-234-5, 63-302-3) has been far from a zero on the ground during his first two seasons. I'd take Herbert ahead of Mahomes, Lamar Jackson and Jalen Hurts due to his superior chance of putting up truly ridiculous numbers through the air.
Still just 24 years of age: There's a chance the world hasn't even seen the best of Herbert just yet. That's a scary thought.
Ekeler has worked as one of the more fantasy-friendly backs in the NFL over the past three seasons thanks in large part to his juicy receiving role.
2019: 19.3 PPR points per game (RB6)
2020: 16.5 (RB12)
2021: 21.5 (RB3)
The RB10 and most recently RB6 in expected PPR points per game, Ekeler has truly handled one of the league's more fantasy-friendly workloads in recent years.
The big question is whether or not fantasy faithful should expect more of the same from the Chargers' 27-year-old featured back in 2022. Ekeler's 20 touchdowns in 276 touches were nearly as many as he scored in 613 touches (25) during the first four seasons of his career.
Historically, running backs haven't fallen off a cliff after such a productive season. Seventeen running backs have scored at least 20 touchdowns in a single season since 2000, and they averaged 14.6 touchdowns the following season. Sixty percent of applicable running backs followed up their monster season with another double-digit touchdown campaign.
The primary concern for Ekeler entering 2021 was the potential lack of touches around the goal line. Well, Ekeler's 12 carries inside the 5-yard line wound up being the sixth-highest mark among all running backs, and he converted seven of those opportunities into scores.
Ekeler might not be a candidate to flirt with 300 carries, but he's still the projected rush attempt leader inside of the NFL's reigning fifth-ranked scoring offense. This alone would be enough to flirt with RB1 status; just realize it's Ekeler's ever-ridiculous receiving workload that vaults him inside the position's top-five fantasy backs. Consider: Ekeler would have been the overall RB24 in 2021 without a single rush attempt.
My overall RB5, Ekeler falls behind only Jonathan Taylor, Christian McCaffrey, Derrick Henry, and Najee Harris. While Ekeler's superior offensive environment makes it tempting to move him up even higher, the above group all have better chances of flirting with 400 combined carries and targets; Ekeler's ceiling is much closer to 300. The only wide receivers I'd potentially take ahead of Ekeler: Cooper Kupp, Justin Jefferson and Ja'Marr Chase. There shouldn't be a scenario in regular re-draft leagues where Ekeler is falling past pick 1.08.
And then there's Spiller, who presently projects as Ekeler's primary backup. While a committee system behind Ekeler is certainly possible, Spiller does have the sort of theoretical three-down ability to warrant later-round fantasy exposure. PFF wrote the following about Spiller in our 2022 NFL Draft Guide:
"Where he wins: Versatility. Spiller wins by being able to execute any role asked of him. Whether it's taking 30 carries in a game, seeing a half-dozen targets, or being assignment sound in pass protection, Spiller won't look out of place.
What's his role: Gap-scheme RB. Spiller has the size and pedigree to handle an every-down role. He's a better fit for a gap scheme where his overly patient running style isn't likely to be a detriment.
Where he can improve: Decisiveness. Spiller has to be more decisive as a runner at the next level. He can get away with stopping his feet behind the line of scrimmage to find the perfect hole in college, but that won't fly in the league."
Last season, Jackson handled a robust 73% of the offense's snaps and posted fantasy-friendly 11-64-2 rushing and 8-98-0 receiving lines in his lone game as the offense's featured back. This sort of role is on the table for Spiller should Ekeler miss time. The problem is expecting too much more than pure handcuff value: Jackson, Rountree and Kelley combined for just 137 carries and 33 targets last season, and it's probably wishful thinking to assume the Chargers' fourth-round rookie will immediately soak up all of that.
Spiller comes in as my RB47 alongside fellow rookies like Rachaad White and Tyler Allgeier. I give Spiller the slight nod thanks to his superior potential to provide something close to flex value without an injury to his offense's starting running back, but either way none of these backs are anything more than later-round darts on rosters that spent most of their early-round picks on wide receivers.
Last season, Allen (77.5) and Williams (77.6) put forward nearly identical PFF receiving grades while finishing within eight yards of each other. Williams (9) led the touchdown battle over Allen (6) and posted better efficiency marks thanks in large part to a far higher average target depth (9.1 vs. 12.0). Ultimately, Allen (23.4% targets per route) was featured far ahead of Williams (21%) throughout the season, finishing with more than twice as many games with 10-plus targets (9) as Williams (4).
This target discrepancy at hand makes it tough to put together a logical argument for Williams over Allen in full-PPR scoring that doesn't include the latter receiver simply falling off a cliff. While Allen's yards per route run rate has dipped in each of the past two seasons, he's also posted his two lowest average target depths of the last five years during this stretch. All in all, Allen has out-targeted Williams 288 to 203 over the past two seasons despite Williams actually playing in one additional game.
History tells us that high-end wide receiver performance tends to drop off once a player turns 30. Of course, Allen is still in the middle of a four-year, $80 million contract that makes him one of just 11 wide receivers making at least $20 million on an annual basis… just like Williams after he signed a three-year, $60 million extension in the offseason.
Similar to Mike Evans and Adam Thielen: It's fair to be at least somewhat concerned about Allen's upside moving forward. Also similar to Evans and Thielen, Allen boasts the sort of continuity inside of an elite offensive environment to warrant the risk over younger receivers being forced to adjust to a brand new quarterback and/or scheme.
Herbert is a consensus top-five fantasy quarterback. The following bullets denote the average PPR finish from every top-five fantasy quarterback's WR1, WR2 and WR3 over the past 10 years:
WR1: 13 average, 8.5 median
WR2: 40.8 average, 42 median
WR3: 72.1 average, 73.5 median
Of course, plenty of top-five quarterbacks get their production from their legs more than anything. I removed all top-five quarterbacks with 80-plus rush attempts (5+ per game in a 16-game season), taking guys like Lamar Jackson, Cam Newton, Kyler Murray, Robert Griffin III and early career Russell Wilson out of the equation, among others:
WR1: 9.7 average, 7 median
WR2: 34.4 average, 29 median
WR3: 71.1 average, 74 median
So far not so good at confidently predicting both Chargers receivers to go the f*ck off in 2022. Even removing offenses that featured Travis Kelce, Rob Gronkowski and Zach Ertz doesn't do much to move the needle of the WR2.
Of course, Herbert, Allen and Williams do already find themselves in selective company as one of just 14 pairings to finish a season as top-12 PPR wide receivers since 2012. The following quarterbacks produced these high-scoring tandems:
Allen (30) will be two years older than Williams (28 in October) for most of the season. Both receivers have missed three total games over the past three seasons due to various ailments.
It makes sense to suggest that the most efficient years of Allen's career are behind him, but that's true for plenty of players in the NFL. "Not For Long," as they say.
And yet, Allen, like Williams, remains a top-two pass-game option inside of anyone's idea of an absolutely lethal passing attack. There's continuity everywhere in this offense; the biggest burden to both could be less negative game script caused by a likely beastly defense.
Ultimately, I'm drinking the Herbert-induced Kool-Aid and squeezing both Allen (WR11) and Williams (WR12) into the position's top-12 receivers. Allen has the lead in full-PPR settings, but trusting the youth and big-play ability of Williams in half-point or standard leagues makes sense. Consider: The average WR1 in an offense featuring a quarterback with 80 rush attempts in a season (5 per game) has finished as just the PPR WR27 since 2010; there's a chance that the likes of Deebo Samuel (my WR9) and A.J. Brown (WR13) are overcome by their offense's run-first nature and unable to fully capitalize on their likely status as No. 1 pass-game options.
Both Palmer (33-353-3) and Guyton (31-448-3) largely rotated as the offense's third wide receiver in 2021. However, the former receiver impressed with 5-43-1, 5-66-1 and 4-45-1 receiving lines in his only three games with a snap rate of at least 60%; Palmer is one of the better "handcuff" wide receivers out there thanks to the likelihood that he'd work as Herbert's No. 2 pass-game option. I'm happy to send a few late-round best-ball darts in the direction of Palmer thanks to his worst-case scenario of popping off a few times as a part-time member inside of an elite passing game and best-case scenario of filling in nicely for either Allen or Williams.
Everett joins Hayden Hurst, Irv Smith and Tyler Higbee as my favorite candidates to emerge as the 2022 version of Dawson Knox: an underpriced starter in a great passing game who emerges as a legit fantasy asset thanks to a high touchdown rate on limited targets.
A full-time role isn't certain: Donald Parham figures to continue to steal away plenty of routes and targets, while McKitty could take the departed Stephen Anderson's mini-TE3 role. Still, Everett's two-year, $12 million deal includes $8 million in fully guaranteed money; that's nearly twice as much as Jared Cook's one-year, $4.5 million deal that led to him seeing 83 targets in 2021.
Herbert (understandably) figures to flow the passing game through Keenan Allen, Mike Williams and Austin Ekeler, but an MVP-level season out of Herbert could help his starting tight end flirt with double-digit touchdowns even without the luxury of a massive target share. It's not like Everett hasn't shown off some solid underlying efficiency numbers since entering the league in 2017:
PFF receiving grade:

71.8 (No. 21 among 60 tight ends with 100-plus targets since 2017)

Yards per route run:

1.4 (tied for No. 23)

Targets per route run:

18.8% (No. 18)
Everett has forced more tackles than everyone other than Travis Kelce and George Kittle during this stretch. The man has largely been a very solid tight end throughout his career, save for horrendous Week 13 in 2021, but we won't talk about that any further.
Drifting through the late-round tight end waters is always risky business, but Everett comes in as my TE17 ahead of guys like Mike Gesicki, Albert Okwuegbunam and Cole Kmet. The former and latter competition will be forced to deal with likely far inferior quarterback play, while the middle option has some steep competition on his hands in the form of third-round TE Greg Dulchich. I'd still prioritize fellow late-round options like Irv Smith, Tyler Higbee, Robert Tonyan and David Njoku ahead of Everett, but he's an ideal third tight end in best-ball land and someone who could be on the re-draft waiver wire in a hurry if his Week 1 route participation exceeds expectations.
I like the idea of XFL HOF Parham as much as the next spring league diehard; just realize he's played more than 60% of the offense's snaps exactly once in 27 career games. The Chargers clearly don't consider him an every-down option at the position; don't be surprised if Everett steals an even larger chunk of snaps away than Cook did.