When Joe Lombardi settled into his new role as an offensive assistant for the New Orleans Saints in 2007, quarterback Drew Brees was fresh off orchestrating one of the most stunning turnarounds in NFL history. The 2006 Saints — with Brees coming off a bad shoulder injury — went from 3-13 in 2005 to 10-6 with an NFC South title and an NFC Championship game appearance. Brees was already untouchable in the state of Louisiana and would go on to have one of the great quarterback careers in NFL history.
Click here for more PFF tools:
Rankings & Projections | WR/CB Matchup Chart | NFL & NCAA Betting Dashboards | NFL Player Props tool | NFL & NCAA Power Rankings
---
Justin Herbert is not Drew Brees. The former Purdue Boilermaker, in hindsight one of college football's best passers of his era, fell to the top of the second round of the 2001 NFL Draft because of his size and a good but not great arm. Herbert, an Oregon product, went in reverse. A quarterback plagued by decision-making and accuracy problems in college was picked at No. 6 overall in the 2020 NFL Draft. Herbert possessed the size and arm talent that made NFL general managers salivate at the idea that their team could fix his quarterbacking issues.
It happened. Herbert won Offensive Rookie of the Year in 2020 with the Los Angeles Chargers, yet the coaching staff that helped garner that success was let go at the end of the season. The Chargers hired Brandon Staley as head coach, and he then brought in Joe Lombardi to run the offense. Lombardi was fresh off his second stint with the Saints from 2016 to 2020. He would see Brees and the Saints' offense reinvent themselves as the veteran signal-caller approached — and eclipsed — 40 years old.
Brees' average depth of target dropped, but his production got better up until an injury-plagued final season in 2020.
as Brees' average depth of target has gone down, somehow his passing grade has gone up. late career drew has been inhuman (in the complete opposite way that mahomes has). pic.twitter.com/WJk92yQ8Cf

— Seth Galina (@pff_seth) May 27, 2020
This is what Herbert was unknowingly getting himself into. Herbert, the quarterback with the golden gun, was going to run the low average depth of target offense employed by the Saints.
Before we get into the troubles that have plagued the Chargers after their hot start to the 2021 season — they've lost three of their past four games after a 4-1 start — we must look at Lombardi's other time spent with a golden-armed quarterback. In 2014, Lombardi was hired by the Detroit Lions to run their offense with Matthew Stafford at the helm. 
Stafford spent 12 years with the Lions and saw his average depth of target fall precipitously during the two Lombardi years. Those two campaigns rank eighth and 12th in Stafford's career by average depth of target in a season. 
Stafford Career Average Depth of Target
| | | |
| --- | --- | --- |
| Era | Average Depth of Target | Passing Grade |
| 2009-2013 | 9.0 | 77.0 |
| 2014-2015 (Lombardi) | 7.8 | 67.6 |
| 2015-2020 | 9.3 | 86.5 |
We've seen this before, and we are seeing it again with the Chargers. Herbert has seen his average depth of target drop from 8.1 yards to 7.9 yards. It's not a big decline, and this was also an issue for the 2020 Chargers, but Herbert's career average depth of target being as low as it is is almost senseless.
Among the 44 quarterbacks with at least 300 dropbacks over the past two seasons, Herbert ranks 31st. And that is way too close to Ben Roethlisberger for anyone's liking.
Certainly, the Chargers' personnel department can take some share of the blame, as the team lacks the true downfield, take-the-top-off-the-defense speedster as part of its receiving corps. Still, Herbert has shown he can find targets downfield that other quarterbacks can't — even this season.
To be clear, the play designs are not the issue here. The plays that come off the whiteboards from the Chargers' offices are fine. This so-called Saints offense has always put together some of the best play designs. The issue is in the macro perspective.
We can see how limited their downfield passing attack has been — at their own behest — by where Chargers receivers have run routes this season compared to Brees' last two elite seasons.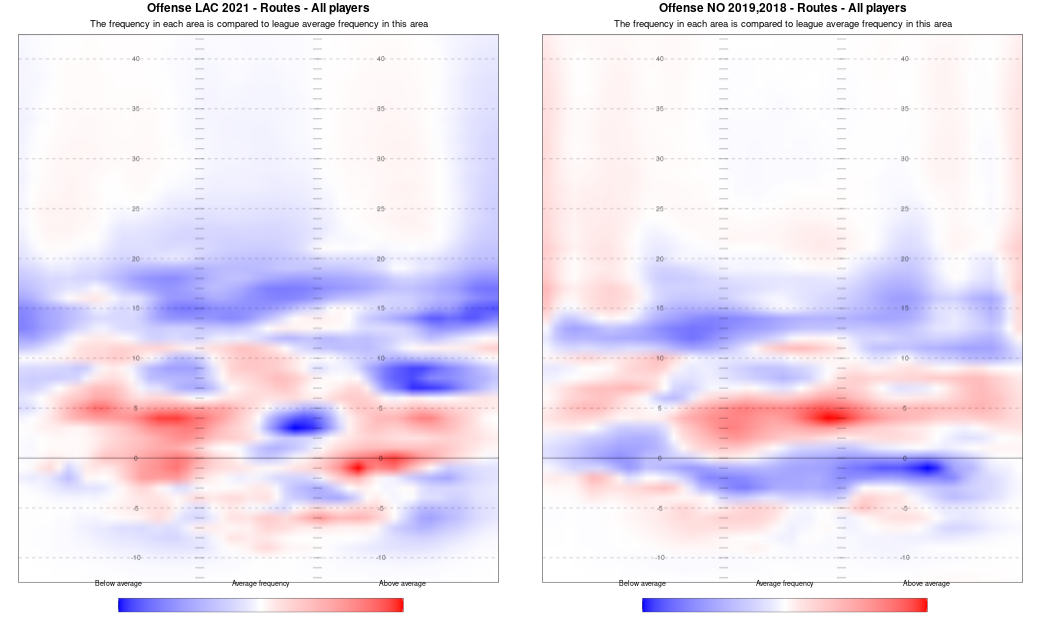 The two charts are mightily similar, but even Brees was given more shots down the field. 
The offense was flying high earlier in the season. After Los Angeles' Week 5 win against the Cleveland Browns to move to 4-1, the passing offense ranked fourth in the league in expected points added per play. Since that time, the unit slots into 19th. Herbert's average depth of target has fallen from 8.4 yards to 7.2.
The fact that he can produce in this type of offense is a testament to the type of player he has already become. His accuracy and decision-making have improved leaps and bounds compared to his college days, and he still possesses a cannon for a right arm.
There are two potential fixes, although only one is truly viable this late into the season.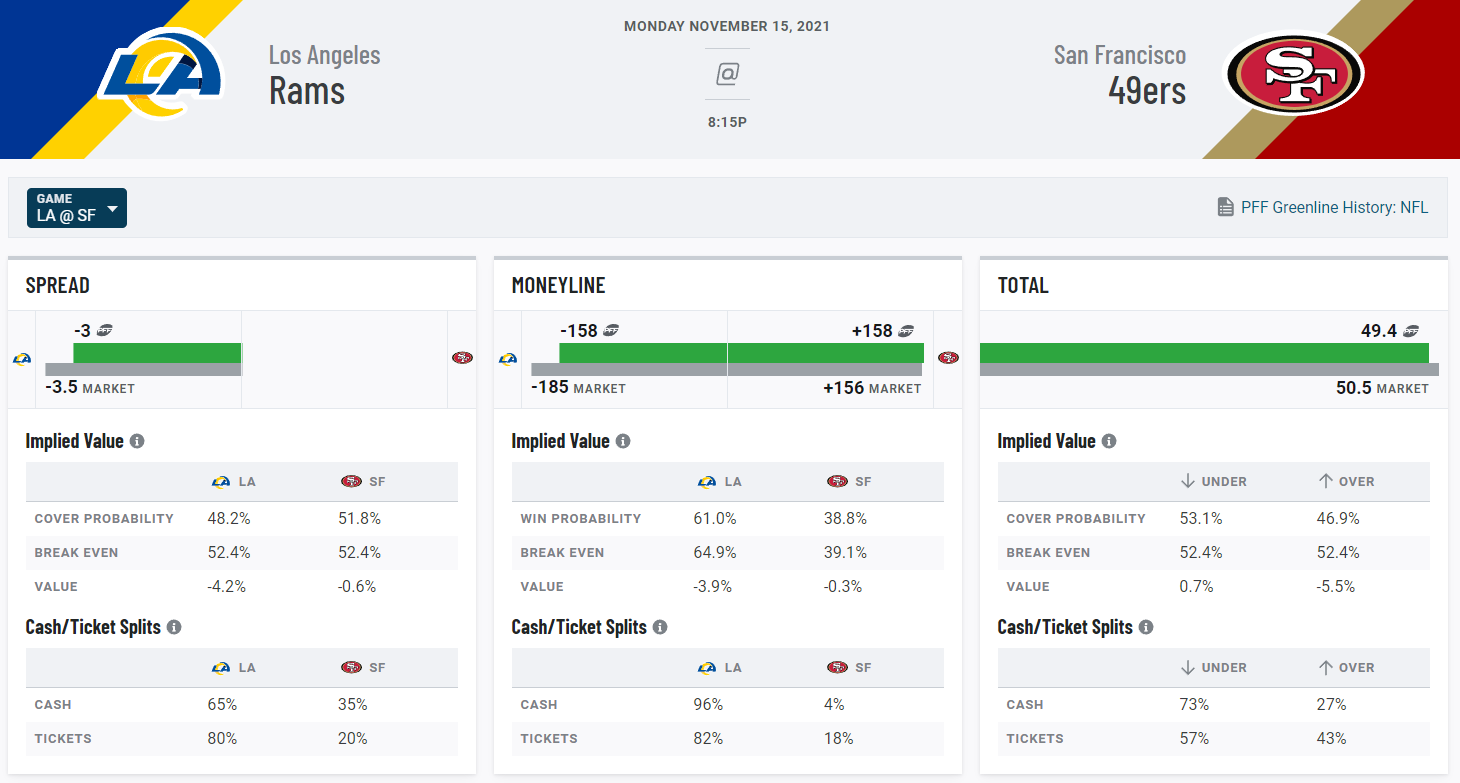 Fix No. 1
The Chargers are a condensed offense team, meaning they try to pack in their receivers or tight ends as close to the center as possible. Their average distance from outside receiver to outside receiver ranks 26th in the league. Part of this is to help their run game by playing with tight ends and fullbacks to create some diversity in their ground attack. It is similar to the Saints. Like New Orleans, Los Angeles will go under center to run the football. The offense ranks 25th in shotgun rate on first and second down. The Saints slot into 27th so far this year.
Tight formations tend to lead to space outside the "numbers," but the Chargers aren't attacking that space. Play-action concepts with deep crossing routes that come across the field to attack that space are one option, and intermediate out/corner routes (known as sail routes) to the same side of the field could also help.
Of the 28 quarterbacks with at least 25 dropbacks from under center this season, Herbert ranks 19th in rate of play-action attempts. Upping that number and calling deeper concepts could do wonders.
The Chargers see mostly one-high coverages — and within that, mostly man to man when they get under center. Those aren't great looks for crossing routes.
Their next issue is their reliance on "quick-game" passing concepts. These are your slants and flat routes designed to have the quarterback pick a side, read one defender and deliver a short throw. Nobody has run more quick-game dropbacks than Herbert, but he ranks just 21st in yards per attempt among the 30 quarterbacks with at least 25 of these dropbacks. These passes aren't going anywhere. Converting them to deeper pass plays could be a boon to this offense.
If keeping the same structure but changing the play calling is the first fix, changing the entire structure is the second fix.

Fix No. 2
With Herbert's arm and play-making living in the same stratosphere as Josh Allen and Patrick Mahomes, there is a thought that giving him the same structure as those two quarterbacks might be the answer.
In 2020, the Bills were the third-most spread team from outside receiver to outside receiver. Buffalo eschewed any type of normal NFL offense for a sort of "Air Raid" spread attack that saw it put as many receivers on the field as possible at all times and throw the football at an extremely high rate. It worked, and the Bills found themselves a game away from being in the Super Bowl.
A spread offense like this has its limits, as we can see that teams are starting to play more two-high coverages against both the Bills and Chiefs — and effectively, too. Still, a player like Herbert could thrive in this environment. The spread creates one on ones. With Keenan Allen, Jared Cook, Mike Williams, Austin Ekeler and Herbert himself, the Chargers have players to win those individual matchups.
This is probably less possible in the middle of the season, but it is a thought if the offense continues to get bogged down like it has recently.
This New Orleans Saints-Drew Brees offense is sound. That's not the problem. It has answers for every coverage and front a defense can give them, but it's not suited for a player like Herbert — just like it wasn't suited for Stafford in 2014. Herbert's ability to throw the ball a mile is almost unprecedented in this league, but the Chargers won't let him use it. A baffling series of events has led the Chargers into a logjam for the seventh and final playoff spot in the AFC, a place they never thought they would be in after a 4-1 start to the 2021 season.