Free agency and the 2022 NFL Draft have come and gone. Now, it's time to fully embrace the 2022 offseason by breaking down each team's fantasy football aspirations before fantasy draft season truly gets underway in August.
What follows is a Carolina Panthers fantasy-focused breakdown, focusing on key questions such as:
Do

Sam Darnold

or

Matt Corral

boast any sort of untapped upside worth chasing in fantasy land?

Is

Christian McCaffrey

still worth the 1.01 pick in fantasy drafts of all shapes and sizes?

Will

D.J. Moore

keep producing despite likely dealing with below-average quarterback play for another season?
Every fantasy-relevant player from the Panthers will be covered in the following paragraphs. Make sure to check out the PFF Team Preview Landing Page through early July for more all-encompassing fantasy football coverage.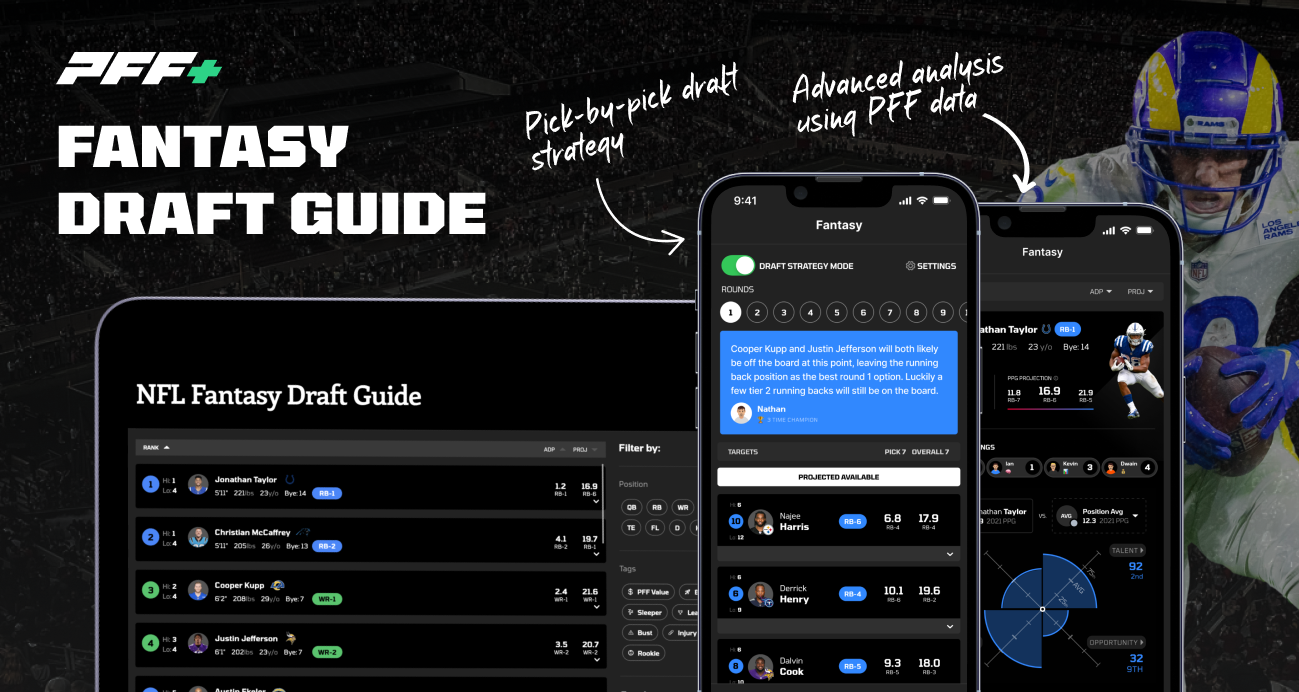 Notable offseason moves
Head coach Matt Rhule is back for another go-round, but the offensive staff has been shuffled around, as the Panthers brought in Ben McAdoo to run the unit. While McAdoo spent 2020 as the Jacksonville Jaguars quarterback coach, his most-recent experience calling plays at the professional level came as New York Giants' offensive coordinator and later head coach from 2014 to 2017. This period consisted of mostly middle-of-the-road Giants offenses in terms of pass-play rate, but their high-tempo situation neutral pace (Football Outsiders) is good news for prospective fantasy managers:
2014

: 60% pass-play rate in non-garbage time situations (No. 22); 29.65 seconds per play (No. 13)

2015

: 62.2% (No. 17); 28.5 (No. 4)

2016

: 61.6% (No. 25); 27.72 (No. 1)

2017

: 62.3% (No. 11); 29.1 (No. 3)
It'd make sense if McAdoo orchestrates a more middling offense in terms of pass-play rate and pace without the benefit of Eli Manning under center, but at least he's been willing to throw the ball around while moving with a sense of urgency in the past. There should be enough overall play volume in Carolina for multiple high-end fantasy-relevant players to emerge with a little help on the efficiency side of things.
Additionally, the Panthers have made plenty of changes to their roster. The following quarterbacks, running backs, wide receivers and tight ends have either joined or left the Panthers in some way, shape, or form this offseason:
QB Cam Newton:

Remains an unrestricted free agent. Newton's return to Carolina was one of the season's true feel-good stories, but unfortunately, he failed to win any of his five starts and was plagued by a mix of inaccuracy (54.8% completion rate) and effectiveness (5.4 YPA) as a passer.
RB D'Onta Foreman:

Signed a one-year, $2 million contract with the Panthers that includes $940,000 guaranteed. Foreman filled in admirably for

Derrick Henry

in 2021, posting 133-566-3 rushing and 9-123-0 receiving lines in nine games as the Tennessee Titans' lead back. He might just be Christian McCaffrey's new preferred handcuff.
WR Alex Erickson: Signed with the Washington Commanders. The 29-year-old veteran served as the Panthers' primary punt returner in 2021 and was only targeted four times as a receiver.
WR Rashard Higgins: Signed a one-year, $1.1 million deal with the Panthers, although just $152,500 is guaranteed. Higgins spent 2016 through 2021 serving as a complementary receiver with the Cleveland Browns, ultimately posting a 137-1,890-12 receiving line in 82 games.
WR Andre Roberts:

Signed a one-year, $1.75 million contract with the Panthers to presumably serve as their return specialist in Erickson's place.
The Panthers made a splash of sorts by selecting Ole Miss QB Matt Corral at the end of the third round. Concerns over Corral's ability to transition to a more pro-style offense seem to overshadow just how good he was at executing the game plan at Ole Miss. Corral was the most-efficient quarterback in this class by a variety of measures and also stands out as a signal-caller capable of handling pressure better than most. There's also a rushing floor here, as Corral was rather productive on the ground in 2020 (112-506-4) and 2021 (152-614-11) alike.
Things haven't been going great for Darnold in recent years. A change of scenery was supposed to bring out the sort of talent that made him the No. 3 overall pick in the 2018 NFL Draft in the first place, but he was largely horrific from Week 5 on last season.
Even then, Darnold's QB16, QB14, QB7 and QB1 finishes were largely aided by a whopping five rushing touchdowns during the first four weeks of the season. Pretty much every passing metric out there paints Darnold as one of the league's single-worst quarterbacks in 2021:
PFF passing grade:

54.4 (No. 41 among 44 quarterbacks with 100-plus dropbacks)

QB rating:

71.9 (No. 40)

Big-time throw rate:

3.5% (No. 26)

Turnover-worthy play rate:

4.3% (No. 35)

Yards per attempt:

6.2 (No. 36)

Adjusted completion rate:

73.4% (No. 28)
Every once in a while Darnold put the sort of big-time throw on tape that demonstrated why multiple organizations have signed up to make him their QB1.
Okay this was coolpic.twitter.com/kamOg1LtNo

— Ian Hartitz (@Ihartitz) June 8, 2022
The problem was that these fleeting moments were just that: fleeting. The clock had struck midnight on Darnold's fairy tale comeback well before he suffered a concussion in Week 8 or a fractured shoulder scapula in Week 9. It turns out that even an improved supporting cast of wide receivers isn't enough to turn one of the league's worst quarterbacks into anything better than below-average.
Even Darnold's rushing production was rather fluky. Just three times in 12 games did he reach even 20 rushing yards. Throw in a quarterback competition with Corral – and the possibility of a trade for a veteran – and there isn't nearly enough upside surrounding Darnold to warrant even a late-round dart in fantasy land at this moment in time.
Enter Corral, who certainly seems to have a chance to start as early as Week 1. PFF wrote the following about the Ole Miss quarterback in our 2022 NFL Draft Guide:
"Where he wins: Distributing. Corral is at his best when playing point guard — distributing the ball quickly and swiftly to all levels of the field. NFL OC's will take advantage of his timing and accuracy in the RPO and quick passing game.

What's his role: Playbook Opener. Corral has serious tools that any offensive coordinator would love to try and mold. He also needs some serious molding, though. He's a project who needs to learn behind a veteran early in his career.

Where he can improve: Touch. Corral was hardly asked to run dropback passing concepts at Ole Miss. He is exceptional on simple rhythm concepts/RPOs, but when asked to expand his vision and identify where to go with the ball, his play suffers."
Further helping matters is Corral's fantasy-friendly dual-threat ability. Look no further than Corral's 30-195-0 performance against Tennessee to see what he's capable of achieving on the ground. Overall, Corral averaged a robust 37 rushing yards per game in his career, posting a stellar 74-398-10 rushing line (5.4 YPC) on strictly designed runs in 2021.
Ultimately, Corral joins Darnold as a non-viable fantasy asset at this moment in time. Both players will have to deal with life behind PFF's reigning 31st-ranked offensive line as well as a group of pass-catchers that didn't manage to do a whole lot in 2021 (other than D.J. Moore). While both quarterbacks are mobile enough to feasibly function as better fantasy assets than real-life talents for brief stretches, neither exactly profiles as the sort of Lamar Jackson/Jalen Hurts cheat-code level rusher in terms of volume.
The Panthers are fully expected to (again) be one of the NFL's worst teams. Don't go out of your way to get exposure to the passing game from the league's reigning 29th-ranked scoring offense.
McCaffrey has, unfortunately, only played in 10 games since Rhule took over as Panthers head coach in 2020. He posted the following usage and production in the eight games in which he wasn't injured and forced out of action especially early:
Week 1, 2020: 23-97-2 rushing, 3-38-0 receiving, 97% snaps, PPR RB2
Week 2, 2020: 18-59-2 rushing, 4-29-0 receiving, 64% snaps, RB5
Week 9, 2020: 18-69-1 rushing, 10-82-1 receiving, 71% snaps, RB2
Week 1, 2021: 21-98-0 rushing, 9-89-0 receiving, 89% snaps, RB1
Week 2, 2021: 24-72-1 rushing, 5-65-0 receiving, 71% snaps, RB3
Week 9, 2021: 14-52-0 rushing, 4-54-0 receiving, 49% snaps, RB15
Week 10, 2021: 13-95-0 rushing, 10-66-0 receiving, 59% snaps, RB4
Week 11, 2021: 10-59-0 rushing, 7-60-1 receiving, 90% snaps, RB3
No running back in the history of professional football has averaged more PPR points per game than McCaffrey (22.5). His passing-game role is a true game-changer in full-PPR scoring, and he's one of the league's few remaining true workhorses. Even if the latter variable is reduced in an effort to keep CMC healthier, his potential to catch double-digit passes any given week more than makes up for a potential loss in rushing attempt share.
The million-dollar question: Will McCaffrey, who just turned 26 years old on June 7, be healthy enough to actually stay on the field in 2022. He's dealt with a number of injuries since 2020:
September 20, 2020:

Right high-ankle sprain; missed six games.

November 8, 2020:

Sprained A/C joint; missed four games.

December 9, 2020:

Strained thigh/glute; missed four games.

September 23, 2021: Strained hamstring; missed five games.
November 28, 2021: Sprained ankle; missed five games.
Dr. Edwin Porras noted that the best 2022 comparison for McCaffrey as it relates to health is Austin Ekeler when he was coming off his previous hamstring injury, as his high ankle and AC injuries are more so incidental and shouldn't follow him.
It'd make sense if the Panthers dial back CMC's usage with either Foreman or Hubbard carving out a decent early-down role. Even then, McCaffrey's potential to catch triple-digit passes puts his fantasy upside in a higher stratosphere than just about anyone else. Historically, one target is worth about 2.7 carries in terms of expected PPR points, so McCaffrey is my overall RB2 behind Jonathan Taylor, and I'm not shying away from him in the first few picks of any fantasy draft. I understand taking the big-three wide receivers (Cooper Kupp, Justin Jefferson, Ja'Marr Chase) ahead of McCaffrey, but rationalizing a full fade of the most fantasy-friendly player … ever … purely from the standpoint of "he'll get hurt again" doesn't seem wise.
If I was forced to choose, give me McCaffrey as the second overall player off of the board, as nobody else comes close to offering his best-case scenario upside.
Of course, there will, once again, be plenty of available opportunities if McCaffrey does again miss time. Perhaps Hubbard will again be the next man up, but his lackluster performance in 2021 doesn't make this a certainty. Hubbard was losing out to Abdullah in terms of snaps more weeks than not down the stretch of last season.
I side with Foreman being the back to roster behind McCaffrey. While his contract doesn't exactly indicate a massive role is on the horizon, the Panthers seemingly added Foreman to provide a "bigger and more physical complement to McCaffrey and Hubbard." Hubbard (6-feet, 208 pounds) isn't tiny, but Foreman (6-feet, 233 pounds) is in a different weight class. Foreman was the superior rusher last season in terms of yards per carry (4.4 vs. 3.6), missed tackles forced per carry (0.16 vs. 0.13), and yards after contact per carry (3 vs. 2.6).
Don't confuse this as a ringing endorsement for Foreman, but he's one of my favorite best-ball picks available in Round 16 or later at the moment. It's unlikely that either Foreman or Hubbard would receive the true CMC role in his absence, but there should be enough volume on the table for the lead back to flirt with some RB2 production. We'll be quick to adjust should Hubbard (again) emerge as the preferred handcuff, but just realize, for now, it looks like Foreman should be that guy.
Moore has gained over 1,200 total yards and scored (exactly) four touchdowns in three consecutive seasons. The 25-year-old talent has looked the part of one of the league's better wide receivers, displaying the ability to win at all levels of the field and especially with the ball in his hands.
Unfortunately, Moore's chances of putting together a bigger season were largely undone by the Panthers' consistently atrocious quarterback performance. Overall, nobody had more incomplete targets that were deemed to be the quarterback's fault than Moore (27) in 2021.
Free D.J. Moore pic.twitter.com/mva0Ily2GZ

— Ian Hartitz (@Ihartitz) January 4, 2022
This isn't a new phenomenon for Moore. He joined Jerry Jeudy as the league's two most-unlucky wide receivers in 2020 and has a quarterback track record that would make Allen Robinson and Terry McLaurin blush. Moore has caught passes from the following signal-callers since entering the league in 2018:
The list of collegiate signal-callers wasn't any better. There probably isn't a single wide receiver in the NFL who has suffered more from porous quarterback performance than Moore over the past half-decade. It's a minor miracle that Moore has managed to continue supplying top-30 fantasy goodness along the way:
2018: 9.8 PPR points per game (PPR WR54 per game)
2019: 15.4 (WR17)
2020: 14.1 (WR28)
2021: 14 (WR27)
Moore has posted rather great marks in yards per route run (1.99, No. 20), target per route run (21.9%, No. 23), and PFF receiving grade (84.7, No. 24) among 125 wide receivers with 100-plus targets since 2018. The problem is that it's awfully difficult to expect any of his quarterback issues to go away in 2022, leaving Moore as one of the game's most-fed receivers who simply underwhelm due to factors out of their control.
The Panthers already ranked a mediocre 19th in non-garbage time pass-play rate last season, and Rhule has consistently expressed his desire to run the ball dating back to the middle of 2021. It'd be tough to rank Moore outside of fantasy's top-12 receivers with even average quarterback play, but that seems like a pipe dream at the moment. For this reason, Moore comes in as my WR16 — behind Michael Pittman, Terry McLaurin and Mike Williams, who are also plenty talented and have better situations under center despite the potential for slightly fewer overall passing-game opportunities.
It's tough to be overly optimistic about the offense's complementary receivers. Anderson actually out-targeted Moore 136 to 118 in 2020 while putting up some solid WR2 production. Last season, he again cleared the triple-digit target threshold but was the clear No. 2 behind Moore (163 targets to 110).
Anderson doesn't have quite the same lengthy reel of missed opportunities as Moore, but he also certainly suffered from the Darnold experience.
Sheesh pic.twitter.com/zHIQi31ZOp

— Ian Hartitz (@Ihartitz) June 8, 2022
Both Anderson and Marshall are cheap enough to warrant dart throws at the end of best-ball drafts purely thanks to their statuses as projected starters. Still, it's awfully tough to believe that this offense is capable of enabling more than one consistently relevant pass-catcher, particularly as long as Moore and McCaffrey are healthy.
Ideally, fantasy footballers want to target talented players with fantasy-friendly workloads in good offenses. Anderson and Marshall might check the first box, but the latter two look like longshots ahead of 2022. I'm comfortable largely ignoring Panthers in fantasy land after Moore and McCaffrey are off the board.
The Panthers consistently rotated Thomas and Tremble last season, largely rendering each as non-viable fantasy assets inside of the league's 32nd-ranked offense in total targets to tight ends. This wasn't a volume issue, as no offense gave the position a lower overall target share in 2021.
2021 NFL target share by position pic.twitter.com/hYQJlEUq6V

— Ian Hartitz (@Ihartitz) May 3, 2022
Panthers tight ends ranked 31st in total targets in 2020. A takeover from Tremble seems unlikely after Thomas signed a three-year, $16.95 million extension this offseason.
Fade a two-TE committee inside of the league's most-TE adverse offense that doesn't exactly boast fantasy-friendly pass-game volume or efficiency in the first place. Fantasy football doesn't always have to be hard.