Fantasy football is a game of preparation. You can't ever guarantee yourself a win, but you can just about guarantee yourself a loss if you enter into a season blind.
With that in mind, as of this week we've unveiled the 2019 Fantasy Playbook, our draft guide for PFF subscribers. It is full of massive amounts of information, including blurbs on every fantasy-relevant player, key stats, and draft strategy, and this is just the first run of it — there will be updates several times over the next two months adding even more information drafters can use.
I took a trip through the first run of the Playbook to find some of the most interesting statistical takeaways we can use for our 2019 drafts. These aren't the top lessons to learn for the whole draft, necessarily, but they are some of the ones I found most interesting.
Subscribe to PFF and get the Fantasy Playbook!
(Today is a look at wide receiver and tight end; Wednesday I looked at quarterback and running back.)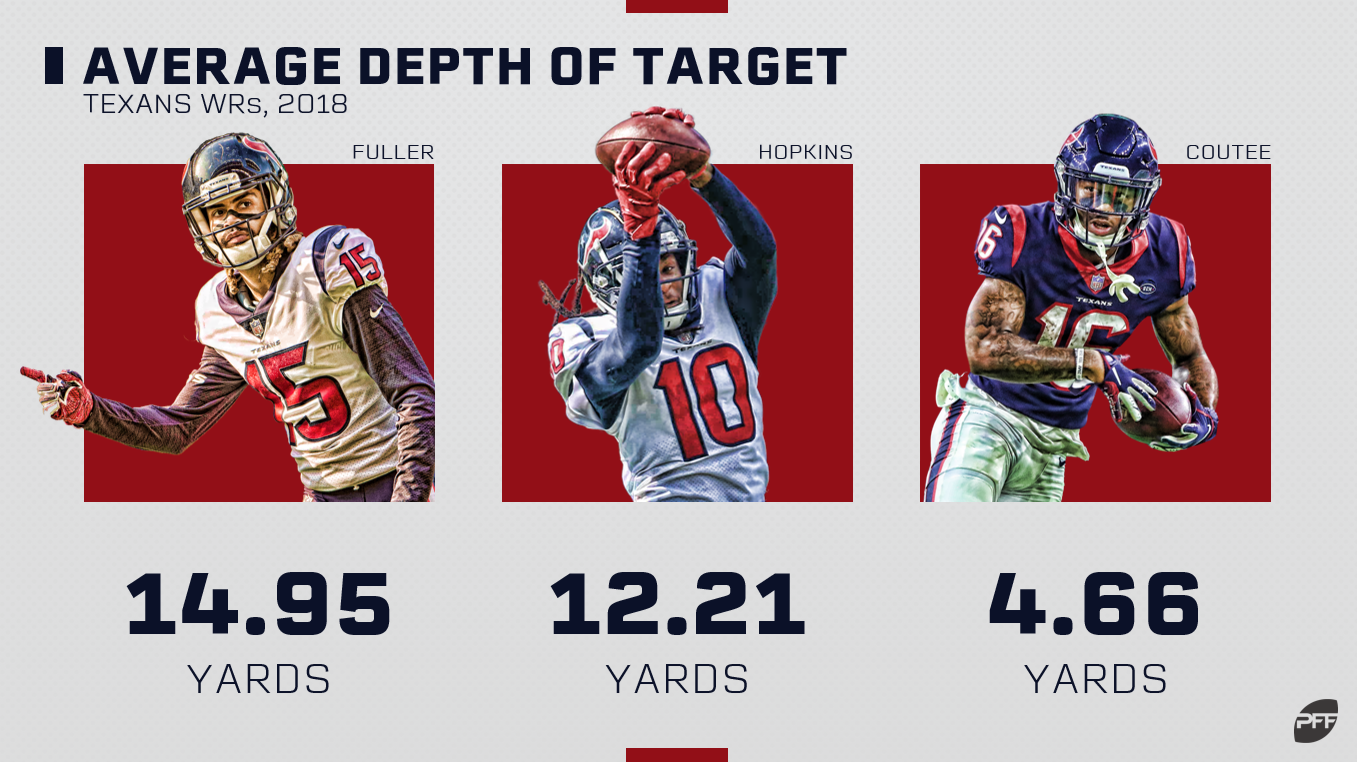 The Texans' Nos. 2 and 3 wide receivers in 2018 didn't spend much time on the field together, as the third-year Fuller and rookie Coutee both dealt with injuries and missed time. DeAndre Hopkins is obviously going to get fed, but if all three are healthy in 2019, it's worth wondering if Fuller and Coutee will steal targets from one another. Except … they do wildly different things. On 42 targets last year, Fuller carried an average depth of target of 15.0 yards, 18th-deepest among receivers with at least 30 targets. Meanwhile, on his 38 targets, Coutee's average depth of target was only 5.4 yards, second-shallowest. In other words, these two didn't occupy anything resembling the same space. Maybe one or both of them fails to pop for fantasy in 2019, but it won't be because they cannibalized one another.
Antonio Brown's new quarterback does not throw it into the end zone like his old one
Brown led the league in targets thrown into the end zone in 2018 with 23, five more than Hopkins and Eric Ebron, tied for second. That was in part because his quarterback, Ben Roethlisberger, led the league in throws targeted into the end zone with 50. Brown is now on the Raiders, where his new quarterback, Derek Carr, attempted only half as many end zone throws, a total of 25 that tied for 22nd in the league. Obviously, part of that is due to Carr plying his trade in a much inferior offense than the one Roethlisberger worked in, but he also just didn't throw it in there as much. That could be a mark against Brown in 2019.
Michael Thomas remains ridiculously efficient
Only eight receivers cracked 0.50 PPR points per route run. Hopkins was third-best, at 0.54. Julio Jones was second, at 0.57. Thomas? The Saints star receiver averaged 0.61 PPR points per route run last year, just blowing away the field. That's how Thomas has put up three top-seven seasons in his three years in the league despite the Saints being less pass-happy as time has passed. Thomas might not have a likely ceiling of the elite of the elite because of the lack of volume, but his insane efficiency will keep him near the tops.
This isn't a knock on the Packers' star receiver. He had a top-10 weekly finish eight times in 15 games (Adams sat Week 16) and averaged a finish of 11.5. He finished outside the top-18 only once all season. Nobody had a higher floor than Adams, even if some receivers might have had a (slightly) higher ceiling.
Neither did Julio Jones
Jones' reputation is that of a big-week guy, occasionally just crushing with a 250-yard, 2-touchdown (for example) game. From 2014 to 2017, Jones had eight games with 150-plus yards and a score; T.Y. Hilton had the same number, and no one else topped six — only 23 players even had more than one. But in 2018, Jones never did it. He topped 150 yards twice (169 yards in Week 1; 173 in Week 4) without scoring in either one. In fact, Jones topped 140 yards four times in 2018 without a touchdown, but did have 138 yards and a score in Week 17. His weekly ceiling remains enormous because of what we've seen over his career, and he carries a massive floor as well.
Robby Anderson is one of our streakiest players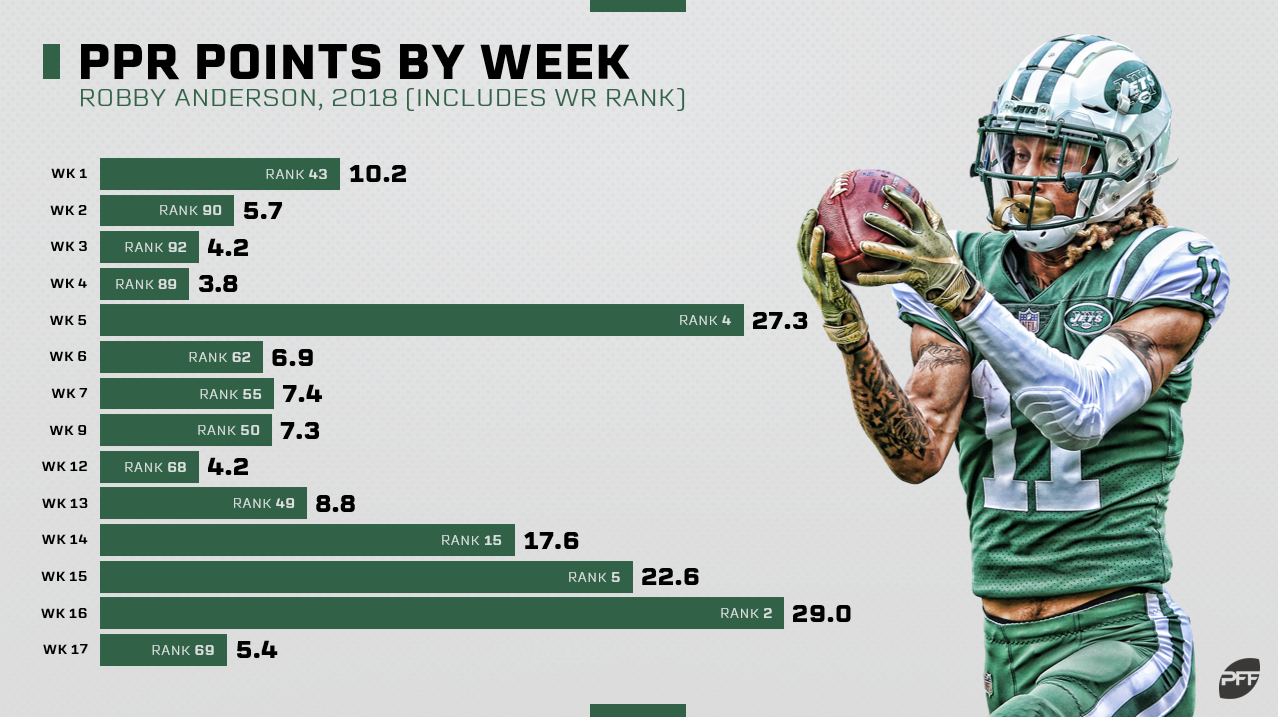 The Jets receiver had three straight weekly finishes as WR15 or better in Weeks 14-16; he only had one other finish better than 43rd all year. In 2017, he was top-20 every game he played Week 8-13, and only had two finishes better than 33rd otherwise. In 2016, his little-used rookie year, he finished top-17 in Weeks 13-15 and never topped 38th outside of that. Anderson carries big weekly upside, and as the likely No 1 receiver in the offense has big season-long upside as well, but he's very volatile.
Evan Engram only had one weekly finish outside of the top 15 after Week 3
This one is cheating more than a bit, as that span also includes five weeks Engram missed to injury. But he played eight games after Week 3 and finished, in order, 23rd, 7th, 15th, 12th, 12th, 1st, 4th, and 3rd. Engram has now finished as TE15 or better in 19 of 26 career games, including top-four nine times. He's not among the elite tight ends, but he's not far from it.
Greg Olsen has only had three top-10 weekly finishes over the last two years combined
Again, this one is cheating, as Olsen has missed significant time in each of the last two years. But still, Olsen was a top-10 tight end 10 times in 16 games in 2016 (including each of the first six weeks), but since then, has been outside the top 10 in 13 of 16 outings. The veteran is going to have his No. 1 tight end job back again in 2019, but there is suddenly a world of risk surrounding him.