Fantasy football is a game of preparation. You can't ever guarantee yourself a win, but you can just about guarantee yourself a loss if you enter into a season blind.
With that in mind, as of this week we've unveiled the 2019 Fantasy Playbook, our draft guide for PFF subscribers. It is full of massive amounts of information, including blurbs on every fantasy-relevant player, key stats, and draft strategy, and this is just the first run of it — there will be updates several times over the next two months adding even more information drafters can use.
I took a trip through the first run of the Playbook to find some of the most interesting statistical takeaways we can use for our 2019 drafts. These aren't the top lessons to learn for the whole draft, necessarily, but they are some of the ones I found most interesting.
Subscribe to PFF and get the Fantasy Playbook!
(Today is a look at quarterback and running back; Thursday I'll be back with a look at wide receiver and tight end.)
Jameis Winston really didn't want to throw the ball behind the line of scrimmage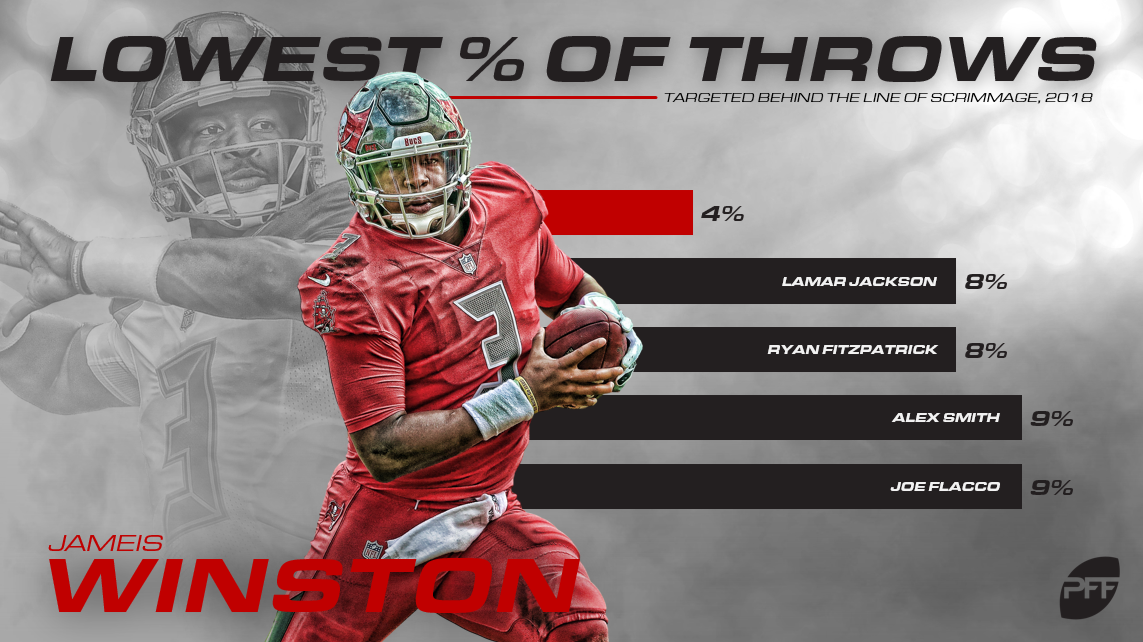 Lamar Jackson threw the ball behind the line of scrimmage on 8% of his attempts, second-lowest in the NFL. Winston was the lowest … at only 4%. Part of that was the Bucs' gameplan — Ryan Fitzpatrick was also at 8% — while part of it was the team's lack of anything resembling quality in the backfield (and yes, those two things are connected). It also goes a long way to explaining why Winston led the league in percentage of passing yards accumulated in the air (69%) for the second straight year. You weren't going to be going out of your way to draft a Tampa Bay running back anyway, but this is just another reason not to.
It was Andrew Luck, not Patrick Mahomes, with the longest streak of top-10 weekly fantasy finishes
Mahomes finished as a top-10 fantasy QB in 12 of 16 games played last year, but his longest streak of games played in that lofty position was five in Weeks 11-16. But Luck, after a slow start (he was only QB22 in Weeks 1-3), finished no worse than ninth for his next eight games, Weeks 4-12. Mahomes had a higher total fantasy score in that time, but Luck was second and topped 200 points over those eight games. That ridiculous consistency is why Luck is going in the 2-4 range among quarterbacks this year.
Lamar Jackson set the all-time record for QB rushing attempts … and we project him to top that
I suppose this isn't a surprise, given that Jackson set the record despite starting less than half the season in 2018 and enters 2019 as the unquestioned starter. Perhaps it's more notable to say that he's only expected to add two carries to his 2018 total, coming in with a projection of 150 carries for 717 yards and 6 touchdowns. If Jackson isn't going to be great shakes as a passer (he's only projected for a TD:INT ratio of 18:16, he'll need to be an all-timer as a rusher to be a surefire fantasy starter. As it stands, his rushing is the main driver of him being ranked 18th — good, but not a must-start at all.
Only three running backs had 50-plus red-zone carries: Saquon Barkley at 50, Alvin Kamara at 51 … and Todd Gurley at 64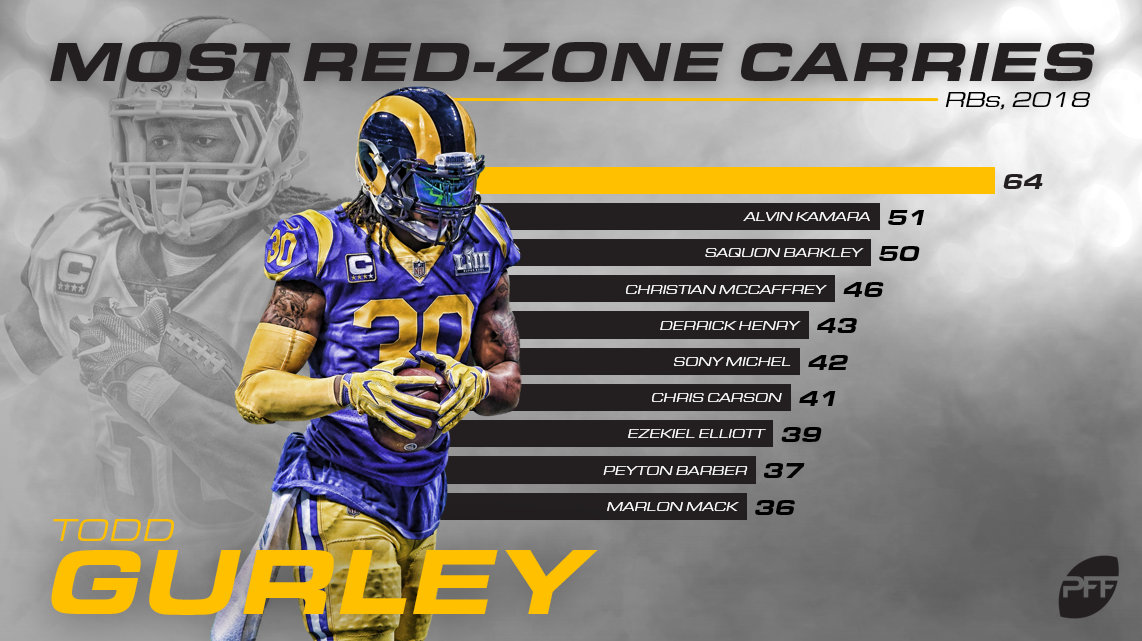 Only 12 running backs had even half as many red-zone carries as Gurley did in 2018, with nobody within 20% of him. It is numbers like that that have me thinking the pendulum has swung much too far the other way on Gurley, whose ADP has fallen from first overall or close at the start of the year to where it is now, in the middle of the second round (per Fantasy Football Calculator). And yes, Gurley's health and Darrell Henderson's presence are both concerns for Gurley's 1.01 upside, but he's simply not going to lose his red-zone workload. Maybe Henderson cuts into it a bit, but Gurley has the lead in the most important carries by so much that he will still maintain the value of a potential RB1.
David Johnson had one week as the overall RB1 in 2018 … and only one other week where he was even top-13
There has been wholly legitimate debate in fantasy circles this offseason over whether Johnson's 2018 was a "bust" or a disappointment." After all, he finished the season as the No. 9 running back and had 10 different weeks as a top-24 back. But his extraordinary lack of upside in 2018 has me coming down on the side of the bust. To be clear, no matter where you are on the decision, he wasn't a massive bust, but one of the things you're looking for out of a player drafted first or close to it is upside, the kind of team-saving weeks where you just need warm bodies around him to win that matchup, and Johnson only had that once, in Week 10. His second-best weekly finish on the year was RB9 in Week 5. A more electric Cardinals offense in 2019 should give Johnson more upside than he offered a year ago.
If you ignore the week he got injured, Aaron Jones ended his season with five straight top-15 weeks
Jones was suspended to start the year last year, and then the Packers took their time going fully to Jones over backfield mate Jamaal Williams. But Jones came out of Green Bay's Week 7 bye with 17th- and 26th-place weekly finishes among running backs, and then he got really hot. Jones finished fifth, third, 14th, 15th, and sixth over the next five weeks before he got hurt early in Week 15 and missed the rest of the season. He was the No. 4 RB over those five weeks, behind Christian McCaffrey, Ezekiel Elliott, and Saquon Barkley. If that Jones is the Jones we can expect in 2019, he has legit mid-range RB1 upside.