Each week in this space, we'll highlight the best quarterbacks to pick up and stream in fantasy football. Today, we're looking ahead at Week 9.
Week 8 did not disappoint; whether it was the return of Drew Brees, another great performance by Deshaun Watson, or one of the many shootouts that occurred, this past week featured many great performances and collectively, those performances made for one of the better quarterback weeks in recent memory.
As far as our recommended streaming options last week, Kirk Cousins played well and avoided the Washington secondary, but unfortunately for us, he also avoided the end zone all game. On the opposite end of the spectrum, Matthew Stafford finished the week in the top 10 and would have made for an excellent streaming quarterback option. Similar to Cousins, Jacoby Brissett played well for his team but also failed to find the endzone. Gardner Minshew showed up yet again, throwing for 279 yards and 3 touchdowns against the Jets. Hopefully, you didn't start Teddy Bridgewater, as I had recommended before they announced Brees' return. All in all, only two of the five recommended streaming quarterback options — not including Bridgewater — finished the week as a QB1, but all five quarterbacks did follow our expected gamescript and played well on the field, which means the game followed our expected script.
With Brees reinserting himself atop the fantasy QB charts, Patrick Mahomes coming back soon, and general good quarterback play across the league, most potential playoff teams likely have a stud quarterback. If you're on the other side of the fence or typically start bye-week options like Matt Ryan, Jared Goff, Andy Dalton, or Brees, these are the best streaming quarterback options for Week 9, based on the size of your league.
Shallow leagues (8-10 teams)
Gardner Minshew II (JAX vs HOU) — 55% owned
If you're in a smaller league, you are likely going to see most, if not all, of Stafford, Cousins, Jameis Winston, and Josh Allen scooped up if they were still available. If any of them are there, they'll be your best options. For most of us, however, Minshew is the crème de la crème of the streaming pool. In a matchup against the sixth-worst passing defense in fantasy points allowed per game, Minshew is a great streaming option in all formats, but you'll likely only find him in smaller leagues.
For being the quarterback of the only undefeated team that isn't the Patriots, Jimmy G has managed to stay out of the spotlight. He's been just the No. 23 fantasy quarterback this season, albeit in just seven games, and he has been largely fantasy irrelevant. Well, if there is a game for him to shine, this is it. Quarterbacks playing the Cardinals have put up a league-leading 24.3 points per game and against the undefeated 49ers, it's hard to see that changing in a week where Garoppolo is projected to finish as the sixth-highest-scoring quarterback.
Standard leagues (10-12 teams)
Derek Carr (OAK vs Det) — 26% owned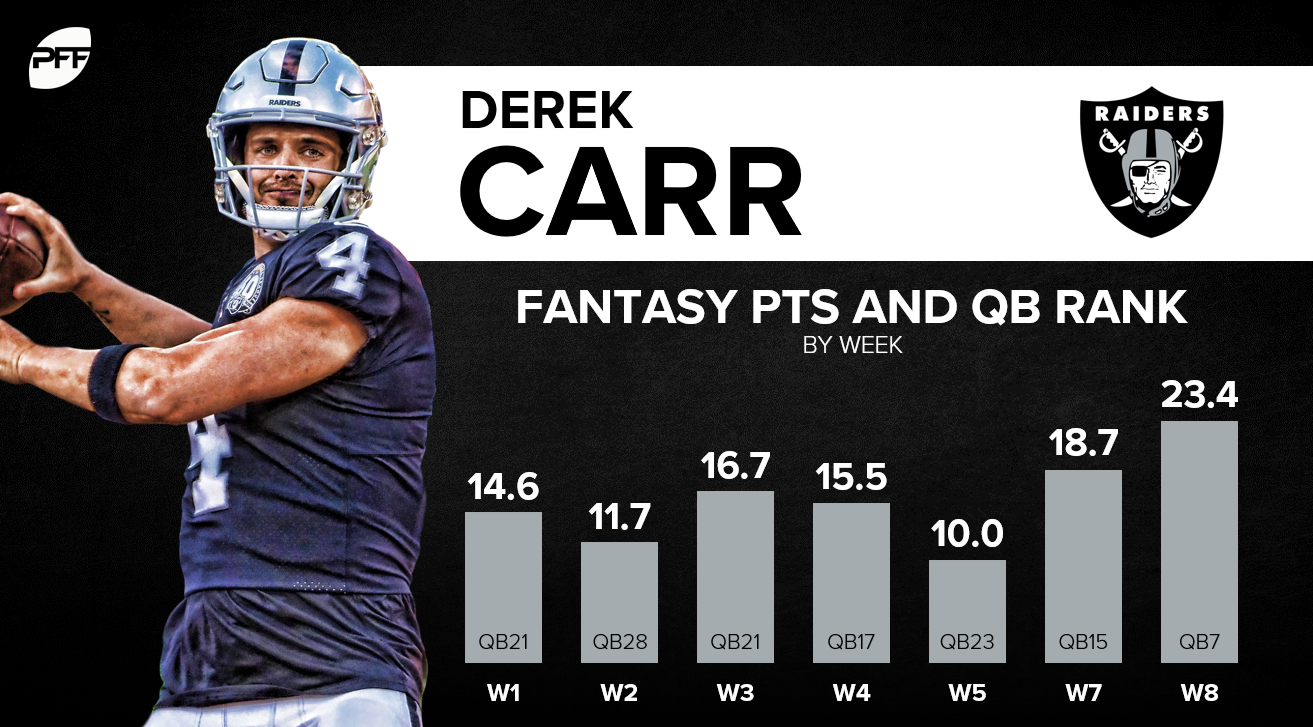 After starting the season as a frequent starter on fantasy rosters, Carr has cooled off significantly. In the other corner, the Lions are among the worst defenses in terms of fantasy points allowed, allowing 21.1 points per week on average through their first seven games. If that wasn't enough to sway you, their star cornerback, Darius Slay, is rumored to be on the trade block, so make sure to keep an eye on that situation.
Sam Darnold (NYJ @ MIA) — 23% owned
For those worried Darnold is under a curse after posting a -6.66 fantasy score in Week 7, I can't help you. For everyone else, Darnold is the winner of our weekly "Who is playing the Dolphins?" game. Although he's scored under 10 fantasy points per game played this year, in a tough fantasy week, there are few better options than Darnold in most leagues. He offers one-week value, although clever fantasy owners will pick him up this week and sell him coming off what should be a big game in Miami.
2QB and deep leagues (14+ teams)
Trubisky is a risky start every week, but his sneaky upside against a leaky Philadelphia secondary is hard to ignore. The Eagles defense looked much improved in Buffalo, but even in the dominant win, Josh Allen still managed to put up almost 20 points against them. Trubisky seems like a lock for 15 points and could crest 20 if the Eagles come out slow. He's far from the best option at quarterback this week, but in larger leagues, there are worse starters you could choose.
The best of the rest:
I usually go with six streaming choices, but this week, with four byes and various top-tier quarterbacks still fighting injury, there are not as many options to choose from. If you've exhausted all of the above options, these are the next tier I'd recommend, in no particular order.
All these guys are coming off of a decent week and are going up against defenses that have shown some vulnerability this year. None are ideal, but at the same time, it wouldn't be surprising to see any of these guys end in the QB1 realm if that's the way the dominoes were to fall.