Each week in this space, we'll highlight the best quarterbacks to pick up and stream in fantasy football. Today, we're looking ahead at Week 8.
Back in August, no one could have predicted the current quarterback landscape with just seven weeks in the book. Lamar Jackson leads the league in fantasy points from the quarterback position, while the names we are used to seeing atop the list — like Tom Brady and Aaron Rodgers — have had reasonably pedestrian fantasy seasons.
Josh Allen, who was the top streaming quarterback option in shallow leagues last week, played admirably against the hapless Dolphins, posting over 21 points for just the second time this season. Kirk Cousins, our other recommendation for smaller leagues, finished the week as the second-highest scoring QB. Daniel Jones had a rough week, but Jacoby Brissett was a phenomenal streaming option for those brave enough to trust him, posting 27.6 fantasy points in week 7. Both Michell Trubisky and Derek Carr finished within the top-16, which hopefully was helpful enough to get the win for those who streamed them in deep leagues.
Moving forward to the upcoming slate, two of the top four quarterbacks, Jackson and Dak Prescott, have the week off, which means the free agent QB market could be pretty barren. To make matters worse, Patrick Mahomes is still sidelined, and Matt Ryan is listed as questionable, making four of the top six QBs unavailable this week. Whether you have one of these guys or not, if you're in need of a streaming quarterback option for week eight, you've come to the right place.
Shallow leagues (8-10 teams)
Kirk Cousins (MIN vs WAS) — 65% owned
With nearly 8% of his passes going to the end zone, Cousins has been among the most aggressive quarterbacks so far this year. This aggressiveness will pair nicely with a soft Washington secondary that has allowed 2 passing touchdowns a game on average. In addition to an ideal matchup, the reemergence of Stefon Diggs over the past couple weeks should give fantasy owners newfound confidence in Cousins, who is available in over one-third of leagues.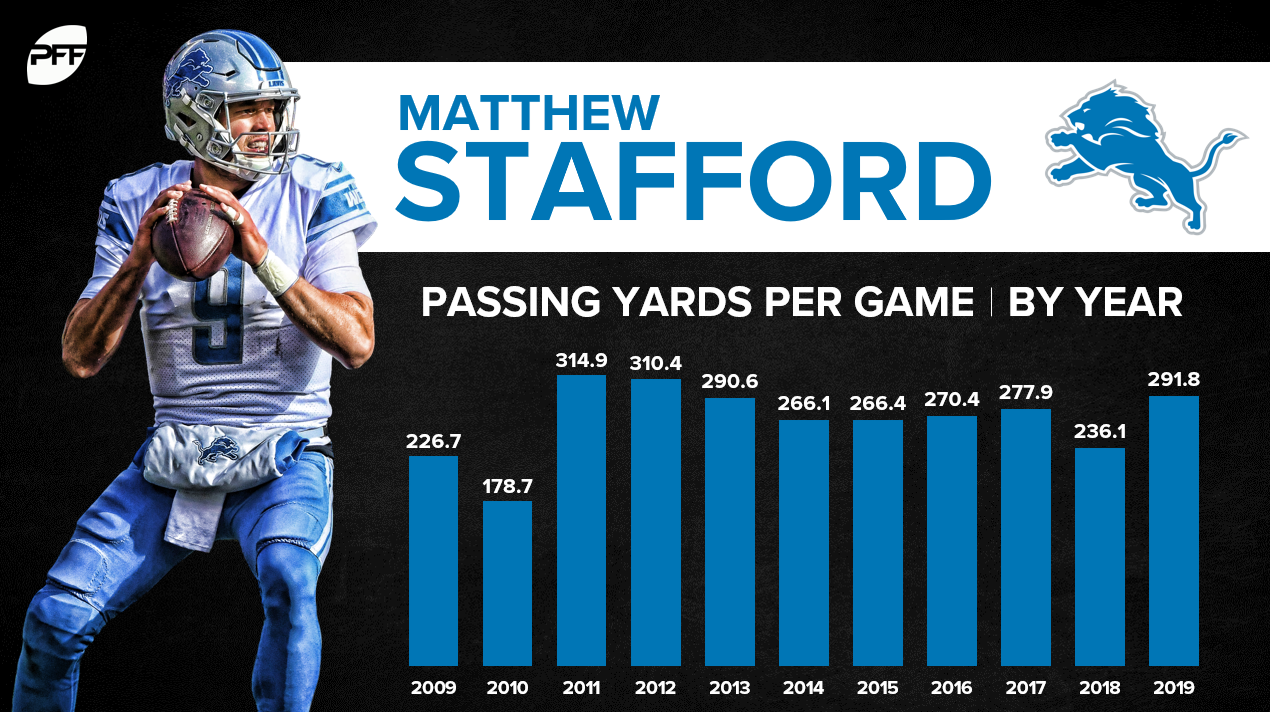 Stafford, who ranks eighth in league with 8.0 yards per attempt, will face off against a weak New York secondary that has allowed 8.92 yards per attempt, which makes him an ideal streaming option this week. With just 3 interceptions to go with 13 passing touchdowns on the year, Stafford has been a very high-floor QB option all season long, and that will continue this week.
Standard leagues (10-12 teams)
Jacoby Brissett (IND vs DEN) — 48% owned
"Andrew, who?" Brissett has become a beacon of hope for the 4-2 Colts and looks to continue finding success against a stringent Broncos defense. Although the Broncos have stood tall against the pass so far this year, Brissett should get enough work to make him one of the better streaming options this week.
Minshew and his majestic mustache are set to host the same defense that was utterly dismantled by Tom Brady and Co. Monday night. While Minshew has been relatively up and down this season, he should have no trouble scoring the 15.3 points that have been allowed by the Jets on average this season.
2QB and deep leagues (14+ teams)
This recommendation obviously is contingent on Drew Brees not returning this week, which is currently a question mark. The Cardinals have allowed the fifth-most to opposing QBs this year, which makes whoever is playing against them a delightful fantasy option. Bridgewater, who ranks fourth with an adjusted completion percentage of 80.4%, will just need to make smart passes this week to secure a victory. Bridgewater is far from a sexy play, but he should quietly finish the week as a top-14 option.
With the return of a healthy Rudolph comes the conclusion of the Duck Dynasty in Pittsburgh. Since he has been far from impressive this year, Rudolph's appearance on this list should be taken not as a tip of the cap, but instead as a vote of confidence to whoever is facing a Miami secondary that has allowed a whopping 24.2 pts to opposing quarterbacks. Although Rudolph has been cleared to play, anytime a recently concussed player is in question, always make sure to check our rankings closer to game time to make sure you're not in for any surprises.