Each week in this space, we'll highlight the best quarterbacks to pick up and stream in fantasy football. Today, we're looking ahead at Week 12.
With playoffs just around the corner, fantasy wins have never been so valuable. If a bye is forcing you to sit the reigning MVP, Patrick Mahomes, or one of Kyler Murray, Kirk Cousins, or Philip Rivers, a good Week 12 streaming quarterback option could be the difference between making the playoffs and starting the offseason early.
Before we look at the options for this week, let's take a look back at how our Week 11 streaming QB options fared. Turns out I couldn't have been more wrong about Kyle Allen last week, which is incredibly disappointing. The young signal-caller faced a different Atlanta team than we've been seeing, and they abused him. … Josh Allen, on the other hand, led all QBs last week with 33.84 fantasy points. He's been a solid fantasy quarterback for almost two years now, yet he remains available in almost 25% of leagues. … Jacoby Brissett finished the week with over 15 points, which isn't too shabby for a late-season streaming QB. In deeper leagues, our picks were split with Nick Foles put up a respectable 17.84 points while Mason Rudolph had… on second thought, let's just move on to this week's picks.
Shallow leagues (8-10 teams)
In what is shaping up to be a great matchup for the Raiders, the red-hot Carr should have a field day with the woeful New York Jets defense. Although Carr has yet to breach the 300-yard mark this season, he offers a relatively high floor considering he has fallen below 10 fantasy points in just two of 10 games this season. If Carr is available in your league, he should be one of the top streaming options this week.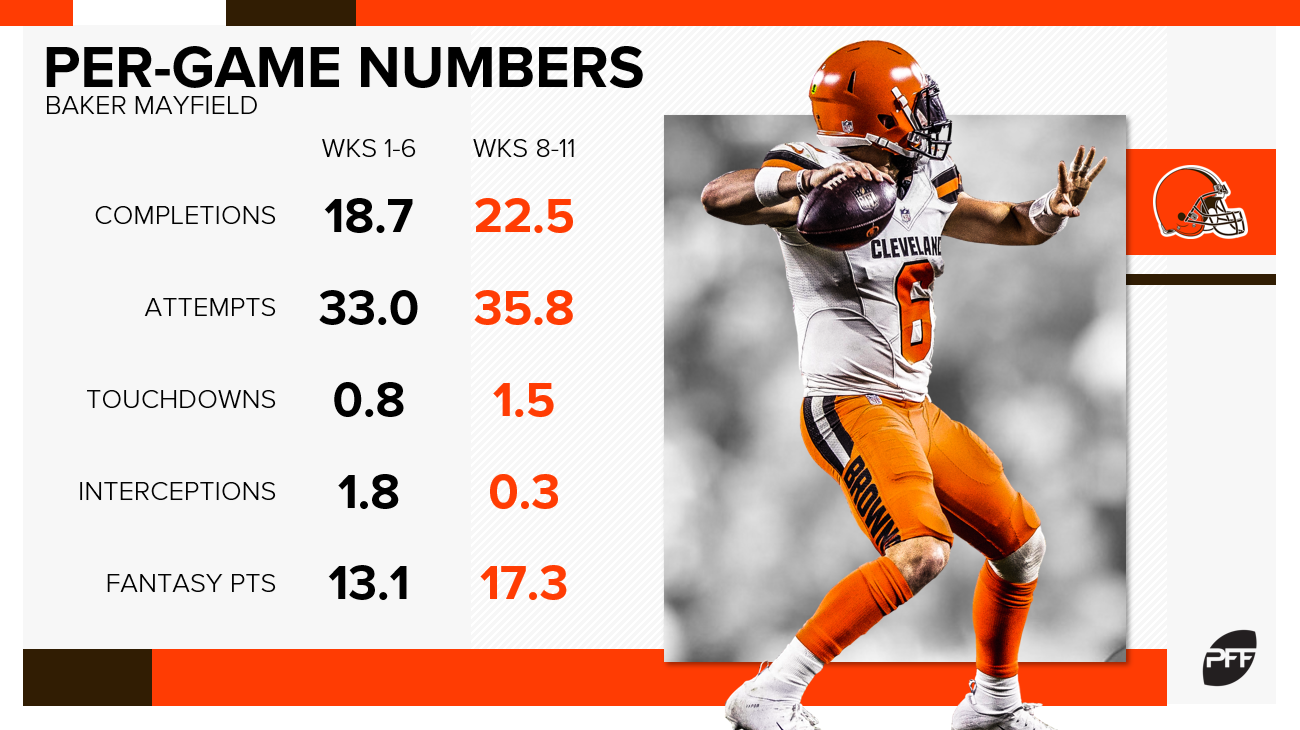 In this week's edition of "who plays the Dolphins?", Mayfield looks to win his third straight game. Since the bye in Week 7, Mayfield has thrown 6 TDs to just 1 INT and has also used his legs to score another TD on the ground. Miami, meanwhile, has given up the fifth-most fantasy points to opposing quarterbacks in 2019 and should provide the canvas for Mayfield to paint a masterpiece.
Standard leagues (10-12 teams)
As our own Jeff Ratcliffe, often preaches, touches/opportunities are often a better indicator of future success than fantasy points are. Foles, who threw for a solid but not great 17.84 points in his return, makes for a perfect example of why this is important. If you told me that I had to pick between "Quarterback A," who scored 18 points last week, and "Quarterback B," who threw 47 pass attempts last week, I'd take the latter every time. The Jags are looking to get their money's worth from Foles, so stream him while it lasts.
Jacoby Brissett, Indianapolis Colts (@ HOU) — 39% owned
When healthy, Brissett has consistently put up scores in the double digits and with a promising matchup against the soft secondary of the Texans ahead, he should have no problem continuing that trend. With the season approaching its final quarter mark, Brissett is still among the top 10 quarterbacks in terms of fantasy points per dropback with 0.51.
2QB and deep leagues (14+ teams)
Tannehill has never made for a reliable starting fantasy quarterback but in deeper leagues, in a matchup against an average Jacksonville secondary, Tannehill should be good for at least 15 fantasy points. With an average depth of target of 9.8 yards, Tannehill ranks fourth of 35 qualified QBs which allows him to be a viable streaming option although he may not get as many dropbacks as we'd usually like to see. Tannehill should end the week as a high-end QB2, which is likely the best option for those of you in deep leagues.
Although Darnold is the less desirable quarterback in this matchup, he still offers a reasonably high floor against the Raiders. While Darnold has played well at times this season, with just 4.3% of his passes targeting the end zone — which is tied for eighth-lowest in the league — his ceiling is pretty limited. He will make do as a fill-in option this week for the desperate but hopefully, you've got a better plan come playoffs.