We're back again for Week 5, identifying the best defense/special teams units to pick up and stream for fantasy football.
Once again, Thursday seemed to set the tone for the week. The high-scoring Rams topped the Vikings 38-31 Thursday night, and for the week nine teams scored at least 30 points and three reached 40. I suppose what I'm getting at is that Week 4 was not a great week for DST production (although the Packers did pitch a shutout).
We did have multiple teams (three) score defensive touchdowns, which hadn't happened since there were a staggering eight in Week 1. However, for the first time this season there were no special team touchdowns scored.
All that being said, there are quite a few interesting streaming options heading into Week 5. Keep in mind that the byes continue to trickle in with the Chicago Bears and Tampa Bay having the week off.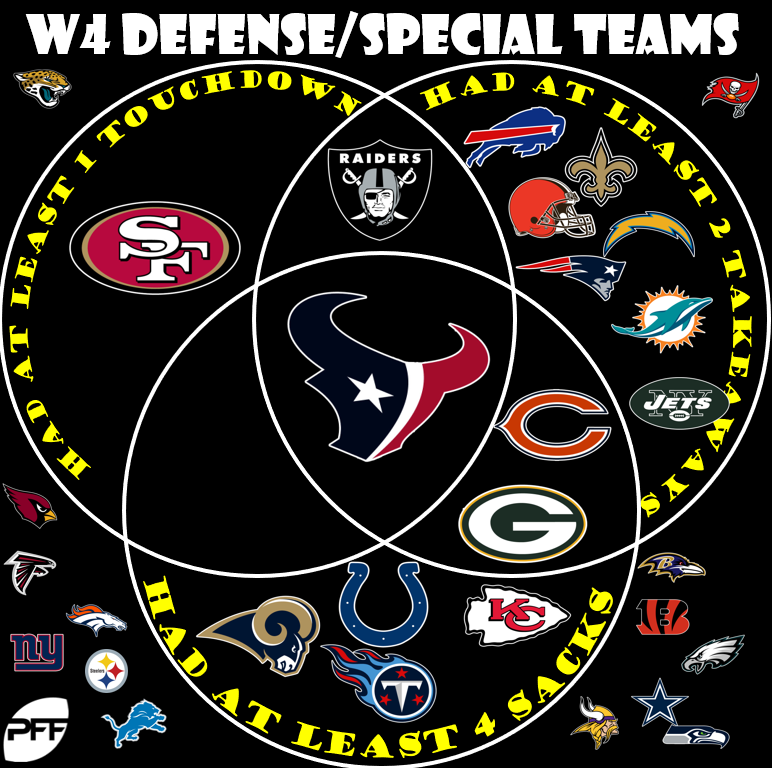 The Raiders took full advantage of lining up against rookie quarterback Baker Mayfield and his gunslinger style of play. Oakland managed to sack Mayfield twice while also forcing four turnovers, including an interception return for a touchdown. This week Oakland faces a quarterback on the opposite end of the spectrum experience-wise in Philip Rivers. However, the gunslinger moniker certainly applies to the veteran quarterback who also had an interception returned for a score in Week 4. Los Angeles has also given up two kick returns for touchdowns so the big plays are available for sure in this divisional matchup.
I'm all for streaming a DST coming off a seven-sack performance in a shutout victory. The Packers were all over rookie quarterback Josh Allen and the Bills, forcing him into three turnovers, and now have 13 sacks through four games. The Lions have protected the ball much better since the Week 1 debacle against the Jets but are beginning to allow more sacks. Last week the Cowboys got to Matthew Stafford three times. Detroit is likely to be without starting guard T.J. Lang and that could lead to big games for Mike Daniels and Kenny Clark.
Let's roll with another team coming off a seven-sack performance in Week 4. The Colts have now put up 12 sacks in the past two games, along with two interceptions and a fumble recovery. The Patriots managed to keep Tom Brady clean last week but had allowed an average of two sacks per game prior to their rout of the Dolphins. The opportunity for big plays will be there as New England has turned the ball over seven times in the first four weeks of the 2018 season. The Patriots will get Julian Edelman back from suspension this week but could be without Rob Gronkowski (ankle) on a short week with this matchup taking place Thursday night.
The Titans have quietly been putting up top-12 fantasy totals and have a very favorable matchup in Week 5. The Bills offense came crashing back to earth after their huge upset of the Vikings in Week 4. Streaming a DST against a rookie quarterback is advisable, especially one coming off a game in which he turned the ball over three times and was sacked seven times. The Bills were shut out last week against the Packers while the Titans managed four sacks and a fumble recovery in their win over the Eagles. This is a great week to … remember the Titans.
The Cowboys DST hasn't exactly been a juggernaut from a fantasy standpoint in the 2018 NFL season. This is likely the biggest boom/bust selection this week, but the matchup is just too good to pass on. Houston has had a rough time protecting the quarterback allowing seven sacks last week in their overtime win against the Colts. In fact, they have allowed 10 sacks in the past two games while also turning the ball over three times. Led by Demarcus Lawrence, Dallas has been generating pressure, with 65 total quarterback pressures. Last week against Detroit, Lawrence racked up three sacks. He is in for another huge game in the battle for Texas in Week 5.
Let's chase another rookie starting quarterback as the 49ers host Josh Rosen and the Arizona Cardinals in Week 5. Rosen was decent last week in the Cardinals' loss to Seattle, throwing for a touchdown while not turning the ball over. Arizona did allow a sack as well as a fumble recovery to Seattle and faces a tougher test this week on the road. The 49ers defense managed to score last week as Antone Exum returned a Philip Rivers interception for a touchdown. DeForest Bucker is off to a nice start with 3.5 sacks and the defensive line has accounted for a total of six. Arizona has allowed five sacks to defensive linemen and Rosen may be pressured into a turnover or two.
There's a slim chance that the Browns DST is still on the waiver wire despite the fact that this has been a top-five fantasy unit. Folks may be hesitant to buy in because, well, it's the Browns. If they are out there, then snatch them up and ride them against the Ravens this week. Cleveland racked up three more sacks last week against Oakland and now have 12 for the season while the Ravens have allowed 10 sacks in 2018. The big-play capabilities are also in play as the Browns now have forced 13 in the first month of the season. Baltimore will be flying high after their big win over Pittsburgh and this could be the perfect trap-game scenario for the Browns DST at home.
Chances are the Broncos DST is available as owners definitely weren't going to use a bottom-ranked fantasy performing unit against the high-flying Kansas Chiefs offense. Let's absolutely stream this sleeper DST against another starting rookie quarterback. The Sam Darnold-led Jets offense has been very generous to opposing DST, allowing 10 sacks, eight turnovers as well as a defensive score and safety. Ride the Broncos in Week 5. Thank me later.