As we head into Week 15 of the NFL season, it's time again to take a look at defense/special teams units worth streaming in fantasy football
It seems like just yesterday we were finishing up fantasy drafts and yet somehow Week 14 is now upon us. The fantasy playoffs. After 13 weeks of sweating lineup decisions, the stakes just got higher.
Week 13 was another mixed bag from a streaming DST perspective, with six teams scoring a defensive touchdown. We also saw a punt return for a score as well as a blocked punt. There were 17 teams that recorded at least three sacks in their games.
At this critical point in the fantasy season, it's advisable to stream DST units that are in playoff contention from an actual NFL standpoint. Teams with something on the line will be going all out for the win and maximize fantasy scoring potential.
There is still the strategy of chasing struggling or injury-riddled offenses as well. At this time of year, there are plenty of both.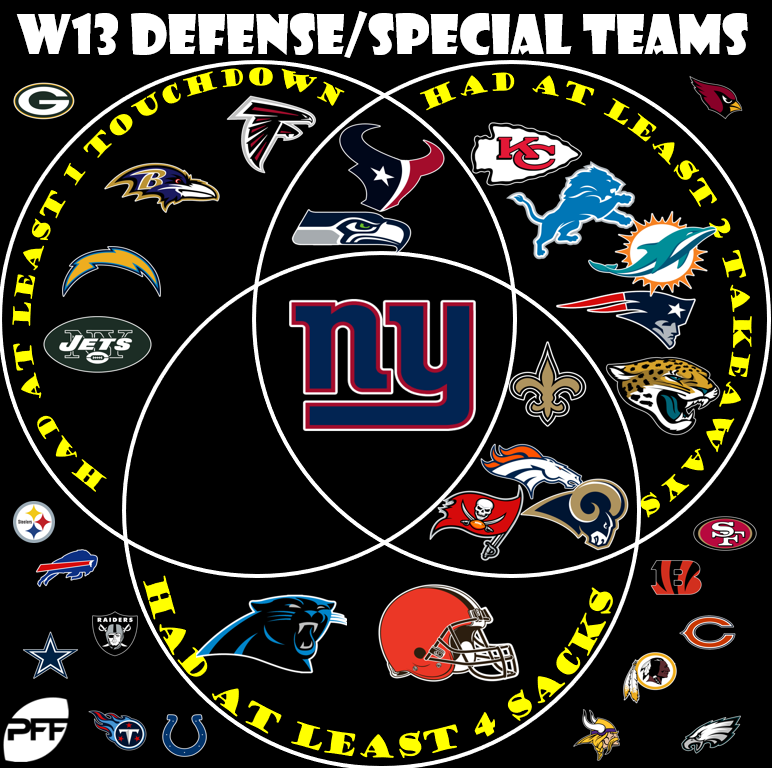 Let's take a look at the Week 14 streaming DST selections.
Let's continue to chase a banged-up Lions offense as the Cardinals come off a big road win over the Green Bay Packers that led to the firing of Mike McCarthy. The Lions are running out of healthy bodies on the offensive side of the ball and the offensive line is struggling. In Week 13, the line allowed four sacks and also committed six holding penalties. Matthew Stafford continues to turn the ball over and had two more in the loss to the Rams. Over their past five games, the Lions have allowed 23 sacks while turning the ball over nine times and giving up two defensive touchdowns. Look for a big week from both Chandler Jones and Robert Nkemdiche as Detroit struggles against edge and interior pressure.
It's not often that I've suggested streaming the the Giants DST unit but the fantasy stars have aligned for a big Week 14 performance. New York is coming off one of their best defensive efforts fantasy-wise, putting up five sacks, three turnovers and, a defensive touchdown in their Week 13 upset of the Bears. With Colt McCoy suffering a broken leg, the Redskins will be starting Mark Sanchez at quarterback in this divisional matchup. It's always advisable to start any DST unit facing Mark Sanchez. That is all.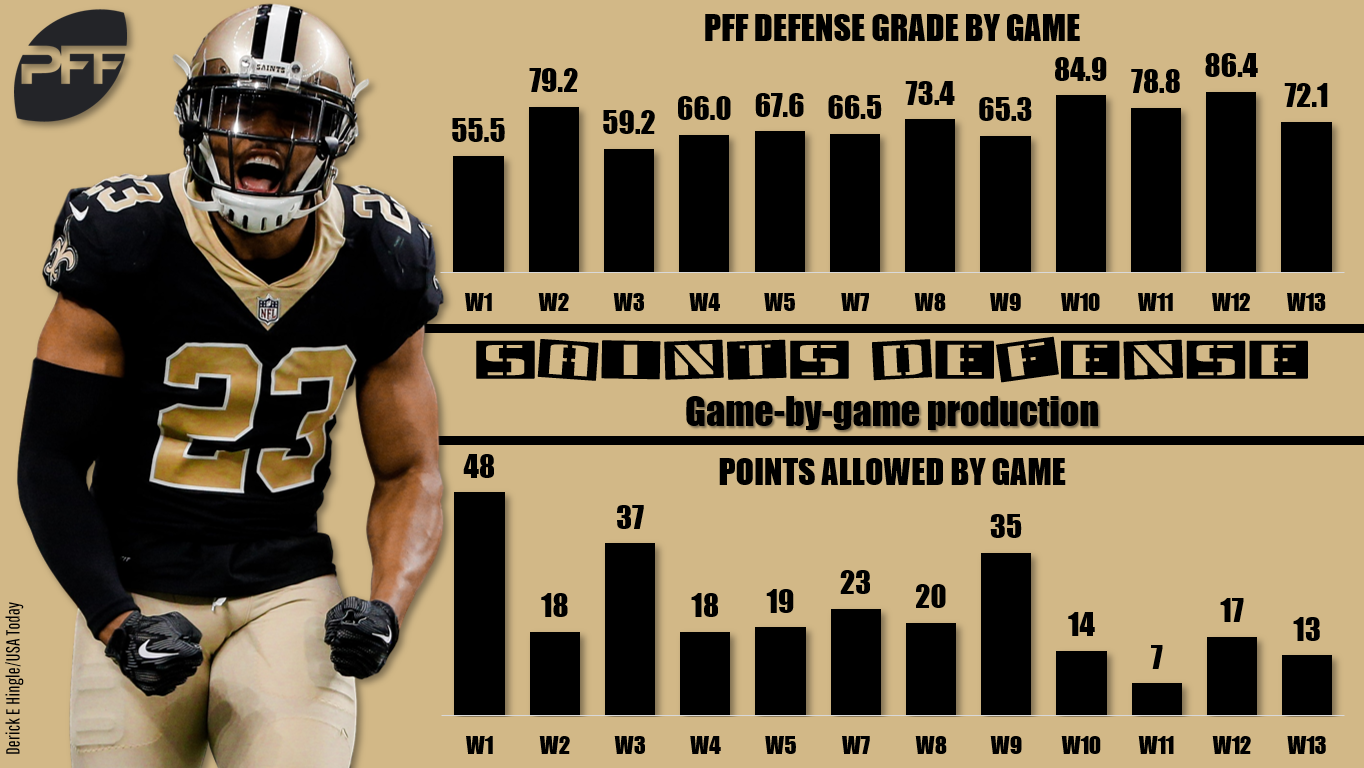 This is a much different New Orleans defense than the one Ryan Fitzpatrick ran roughshod over in Week 1. In their Week 13 loss to the Cowboys, the Saints DST still managed to post top-10 fantasy totals by sacking Dak Prescott seven times and recovering two fumbles. New Orleans has put up 13 sacks in its last two games and forced six turnovers. In fact, over the past month, the Saints have been putting up top-five fantasy totals with 20 sacks and 11 turnovers. Jamies Winston has back-to-back turnover-free outings but was sacked four times last week and the Buccaneers lost a fumble. The Saints are trying to keep pace with the Rams in the race for home field throughout the playoffs and will have a big Week 14 defensively.
The 49ers remain a weekly option to stream DST units against as they have been turning the ball over regularly. Over their past three games, the 49ers are is allowing an average of just over two turnovers per game. Pass protection has also been an issue as Nick Mullens has been sacked seven times in the last two games. Led by Von Miller, who has at least half a sack in seven consecutive games, the Broncos have put up six sacks and seven turnovers in their last two games. The 49ers were victimized for three sacks, three turnovers, and a defensive touchdown in their Week 13 loss to the Seahawks. Look for similar numbers this week from a surging Denver DST.
This is a matchup of two teams headed in opposite directions. The Chargers are coming off a big Week 13 victory in Pittsburgh while the Bengals have lost four straight games. The Jeff Driskel era is off to a shaky start as since taking over the job he has been sacked five times while throwing two touchdowns and two interceptions. The return of defensive end Joey Bosa has energized the Chargers defense and he has three sacks in the past two games. The special teams chipped in last week as Desmond King returned a punt 73 yards for a touchdown. With A.J. Green likely out look for another long day for Driskel and the Bengals offense against the edge pressure from Bosa and Melvin Ingram.
This is a get-healthy matchup for a Steelers DST unit smarting from a last-second loss at home to the Chargers. This DST has been getting fantasy production of late mainly through sack totals. In the last four games, Pittsburgh has put up 15 sacks while averaging 18.75 total quarterback pressures per game. On the flip side, the Raiders offense continues to struggle (I'm being kind) in pass protection. In their last three games, Oakland has given up 10 sacks along with four turnovers and a defensive touchdown. The Raiders have allowed three or more sacks in nine of 12 games in 2018. This will be a big week for T.J. Watt, Cameron Heyward, and the Steelers DST.
This is the ride-the-hot-hand streaming DST unit for Week 14. The Cowboys defense is coming off a dominant performance against the potent Saints offense, holding them to just 10 points and under 200 total yards. It wasn't a great fantasy performance, but Dallas did manage to sack Drew Brees twice (no easy feat) and added an interception. The Cowboys have been producing fantasy-wise mainly due to solid sack totals and intercepting opposing quarterbacks consistently of late. After failing to record an interception in the first four games of the 2018 season Dallas has at least one pick in six of the past eight games. As for sacks, the Cowboys are averaging 2.8 per game over the last five weeks.
The Texans DST put up top-10 fantasy totals in Week 13 despite failing to register a sack for the first time all season. A sloppy Browns offense committed four turnovers including three Baker Mayfield interceptions. The costliest interception was the first of linebacker Zach Cunningham's career, which he returned 38 yards for a touchdown. The Colts pass protection has seemed vulnerable of late after having not allowed a sack in Weeks 6-11. The Jaguars sacked Andrew Luck three times and added two turnovers in their Week 13 shutout victory over the Colts. In the Week 4 meeting between the teams Houston finished with a top-five fantasy DST finish. Led by J.J. Watt (two sacks and two forced fumbles), the Texans finished with four sacks, two turnovers, and a defensive touchdown.