Absent any outside context, you'd expect positional fantasy football average draft position for one year to mirror the fantasy finishes at that position from the year before. It doesn't remotely work that way, of course, but it's definitely a framework.
Players rise and fall in the rankings for any number of reasons. A change in role, a change in team, a new rookie arriving or veteran departing, health, all of these things play a huge role in consensus opinion that have nothing to do with how the previous season finished.
Today, I'm taking a look at some of the players whose 2019 ADPs have fallen the furthest below their 2018 fantasy finishes, what that means for them, and whether the hate has gone too far. Wednesday, I looked at some of the players who have risen by the most.
(All ADPs are courtesy Fantasy Football Calculator as of Aug. 19.)
Quarterback
2018 fantasy finish: QB3
2019 ADP: QB16
Everything worked Roethlisberger's way as far as fantasy went a year ago. He played all 16 games for the first time since 2014, set career highs in passing attempts, yards, and touchdowns, and even tied his career-high with three rushing scores. But with Antonio Brown gone and a re-established backfield led by James Conner, Jaylen Samuels, and Benny Snell, the drafting community appears fairly convinced Roethlisberger won't reach those heights again. And with Roethlisberger also 16th in our PFF Fantasy staff rankings, it's hard to call this spot wrong. Roethlisberger could easily be the best No. 2 fantasy quarterback in the league, but drafting him as a No. 2 isn't wrong.
2018 fantasy finish: QB10
2019 ADP: QB18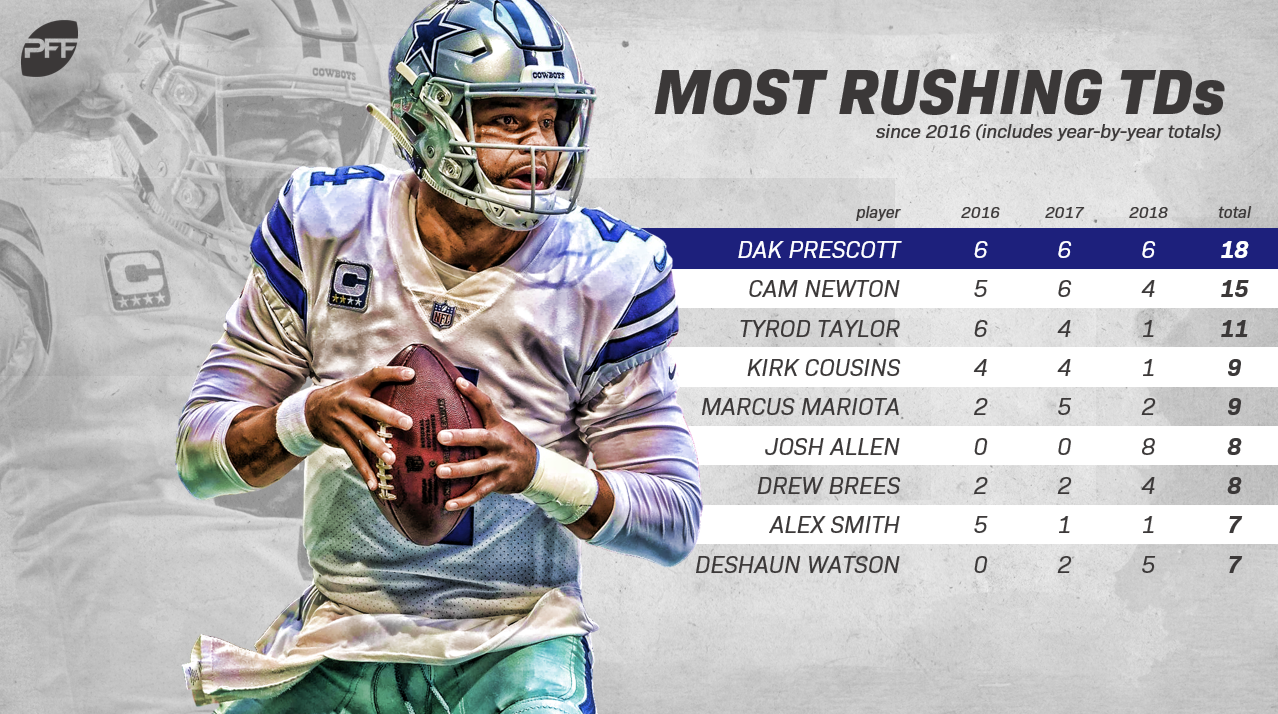 The fantasy drafting community doesn't appear to have bought in on Prescott's second half last year, when he was fantasy's QB4 after the Cowboys' Week 8 bye with Amari Cooper in the fold. That included a 14:4 TD:INT ratio and, importantly, four rushing scores. Prescott now has exactly six rushing touchdowns in each of his three years (he leads the league with 18 in that time), so as hard as it is to count on rushing touchdowns from any quarterback, he seems to have a baseline. Another season of Cooper, progression from Michael Gallup, and the possibility of an Ezekiel Elliott holdout all combine to make me believe he's fallen too far.
Running back
2018 fantasy finish: RB19
2019 ADP: RB49
Obviously, Peterson's slide is as much about the expected return from injury of Derrius Guice as it is about Peterson's own stock, but it's worth noting that Peterson is 34 now and saw his yards per carry drop steadily over the second half of last year. Even if Guice doesn't prove to be healthy, Peterson's stock is closer to this year's ADP than last year's results.
2018 fantasy finish: RB27
2019 ADP: RB56
Things that have changed about Lewis' situation from last year: Pretty much nothing. And he finished as the PPR No. 27 back despite awful touchdown luck, with only two scores on 214 touches. No, I don't understand this drop in ADP, and you shouldn't either.
2018 fantasy finish: RB12
2019 ADP: RB38
Hunt finished as a low-end RB1 last year despite playing in only 11 games because of his late-season release from the Chiefs. And he's slated to only miss eight games in 2019 to suspension. So this ADP makes sense, right? Wrong, in my opinion, and it's not just because he's going to be behind Nick Chubb. It's game theory here. With limited bench space, it's hard to picture fantasy managers being able to stash Hunt until Week 10 just to have him come back as a backup. His ADP is far too high.
Wide receiver
2018 fantasy finish: WR24
2019 ADP: WR60
As our own Scott Barrett has noted several times, Humphries passed up a shot at more money on a better team with the Patriots in free agency this offseason to sign with the Titans, and there must be some reason for that. If he's anything close to a featured No. 2 pass-catcher in the Tennessee offense, he'll blow past this ADP.
2018 fantasy finish: WR28
2019 ADP: WR60
Even setting aside his four-game suspension to start the year, Tate's 2018 left a bad taste in fantasy managers' mouths, as he was a big disappointment after a midseason trade to the Eagles. Still, he has the 11th-most PPR points among wide receivers since leaving the Seahawks after the 2013 season and was plenty productive throughout his Lions tenure. Grant Tate a mulligan for a midseason team change and bet on him to beat this ADP.
2018 fantasy finish: WR45
2019 ADP: WR59
If you think Brown's late-season struggles were because he was a lesser player, then fine, this ADP makes sense. But it coincided so exactly with Lamar Jackson taking over as the Baltimore quarterback and changing that offense so completely that I'm willing to chalk it up to that as the reason, and in that case Brown's a steal.
Tight end
2018 fantasy finish: TE8
2019 ADP: TE18
Burton was drafted as the TE6 and finished as the TE8, and he was only that high because it was a bad year for the position. So he was a disappointment. But … he was still the TE8. Dropping down to 18th? That's an overcorrection.
2018 fantasy finish: TE7
2019 ADP: TE15
Rudolph's 2018 season was artificially inflated by a huge Week 16 game that included an unrepeatable 44-yard Hail Mary touchdown. Now, the Vikings are going more run-heavy, have talked about developing a No. 3 wide receiver, and drafted another pass-catching tight end in Irv Smith Jr. Rudolph got an offseason extension, but even with that, his top fantasy days are probably behind him.
Kicker
2018 fantasy finish: K6
2019 ADP: K12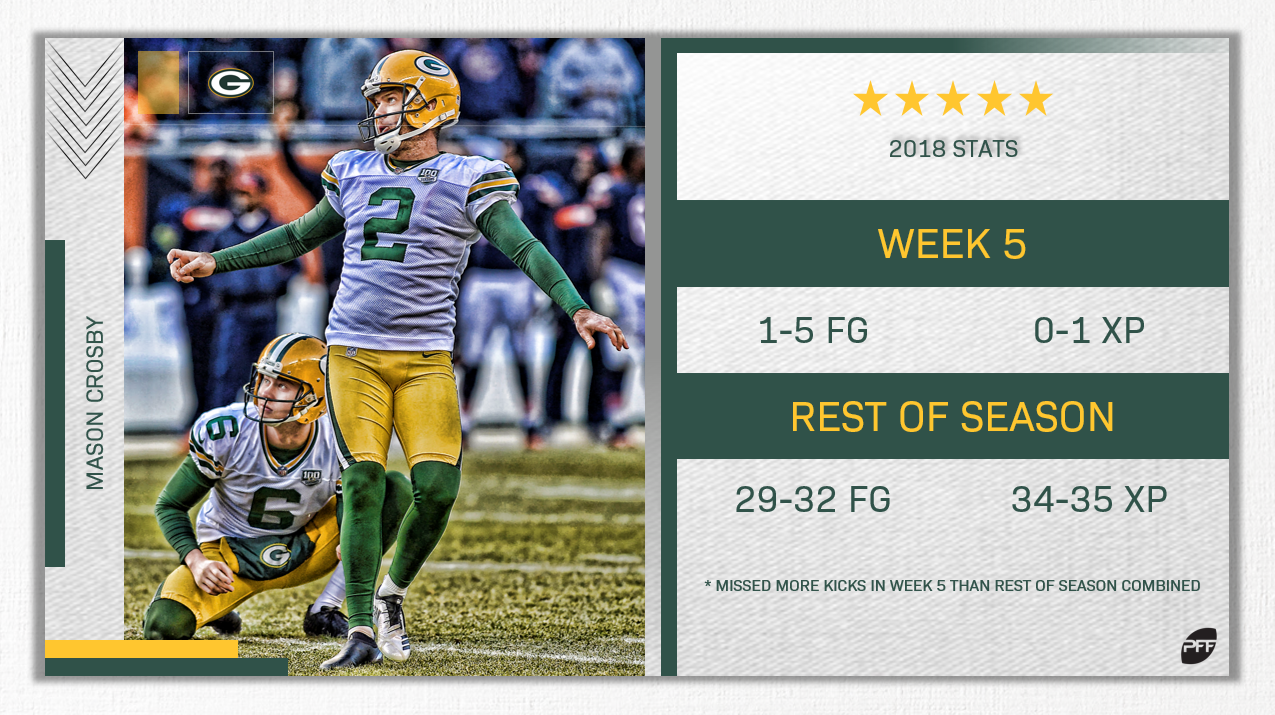 Kicker are sort of like referees, in that you only really think about them when they fail. And fail he did in Week 5 last year in a big way, famously going 1-5 on field goals and 0-1 on extra points in a game that had everyone cringing. Take that game out (and Week 17, when Crosby didn't play), and he was tied for the No. 2 kicker on the season, going 29-32 on field goals and 34-35 on extra points. In other words, he missed more kicks in Week 5 than he did in the entire rest of the year. For whatever it's worth for kickers, Crosby is better than his current ADP.
Defense/special teams
2018 fantasy finish: DST4
2019 ADP: DST11
You can get the Patriots as the No. 11 defense this year. The unit has finished at that point or better in seven of the last nine years and hasn't finished worse than 14th in at least a decade. The unit is solidly within the top-10 of our rankings. Maybe we should all start believing in this Belichick guy.