Each week in this space, we'll be taking a look back at Sunday's games to find five of the most interesting and most important stats for fantasy owners. With 13 of 14 games from NFL Week 6 in the books, here are the five stats you need to know:
1. After a big Week 6, Austin Hooper leads all tight ends in fantasy points scored (110.0). That leads the position by 19.0 fantasy points and would rank sixth among all wide receivers, ahead of Julio Jones (104.8).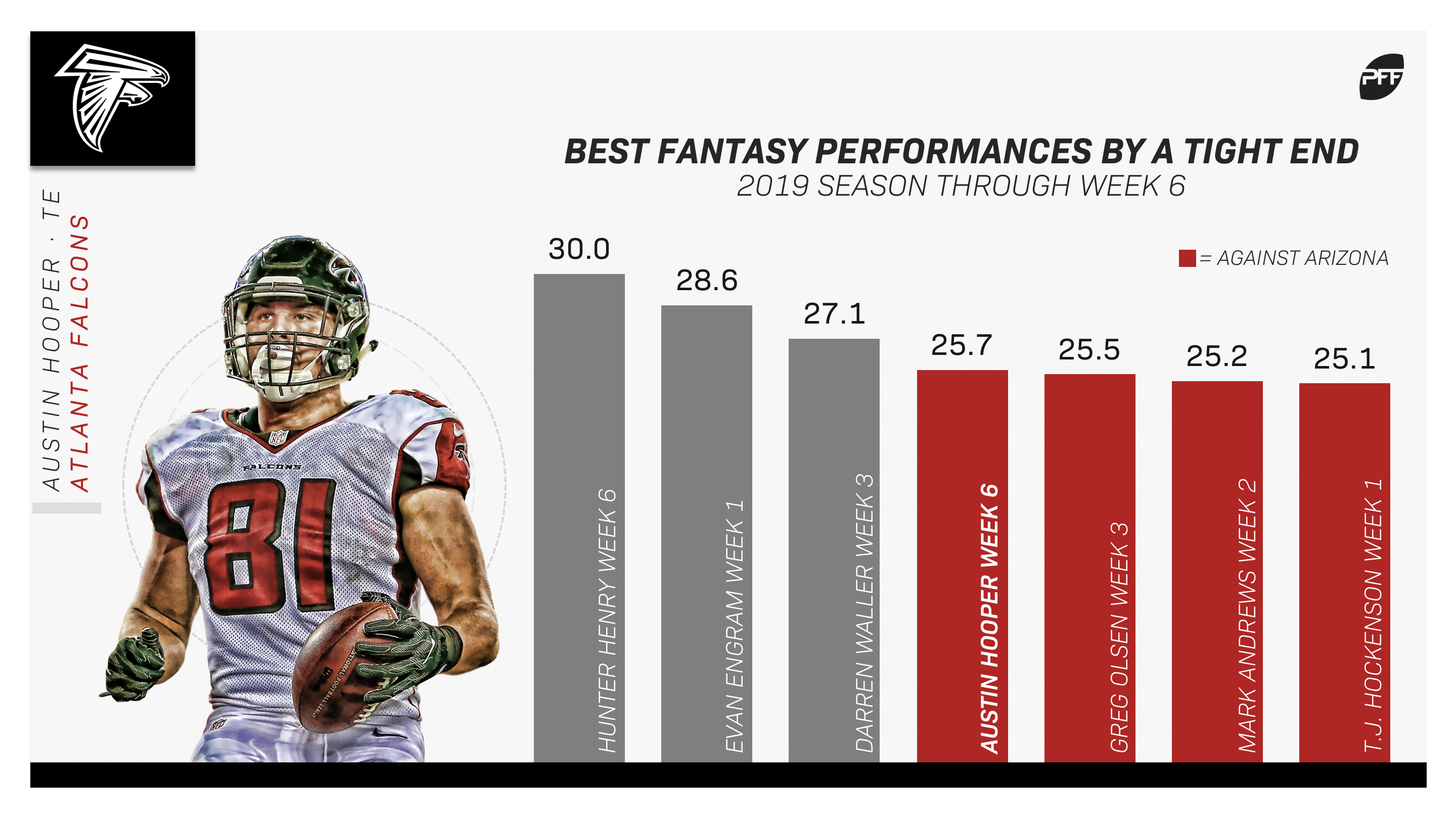 In Week 6, against Arizona, Hooper totaled 25.7 fantasy points, catching all eight of his targets for 117 yards and a score. This was the fourth-highest-scoring game from any tight end this season, and just one of seven instances of a tight end exceeding 25.0 fantasy points this year. More impressively, Arizona accounts for four of these instances. Arizona has given up a league-high 24.7 fantasy points per game to opposing tight ends this season (most by 6.6). Next week they get Evan Engram, who came into the week leading the position in fantasy points per game (16.5).
Although this soft matchup surely helped inflate Hooper's numbers, he also came into the week ranking second among tight ends in fantasy points per game. He probably won't outscore Jones by the end of the season, but he should be treated as a high-end TE1 moving forward.
2. Terry McLaurin currently ranks tied for fifth among wide receivers in fantasy points per game (18.8). Since the NFL merger (1970), only two wide receivers ever finished their rookie season averaging as many fantasy points per game — Odell Beckham Jr. (24.6) and Randy Moss (19.2).
In Week 1, McLaurin caught five passes for 125 yards and a score. In Weeks 2 and 3, McLaurin again caught at least five passes and a touchdown while exceeding 60 yards receiving. McLaurin missed Week 4 due to an injury and then, still banged up, had a worst-possible matchup against the Patriots in Week 5.
He was shadowed by Stephon Gilmore on 28 of his 34 routes, catching three of five targets for 51 yards. On paper, that looks like a disappointing day. But, with more context, is actually quite impressive. This was just the third time in 22 games Gilmore gave up more than 50 yards to a single player in coverage. In a much softer matchup in Week 6, McLaurin caught four of seven targets for 100 yards and two touchdowns.
While McLaurin might not be the next Beckham or Moss, he still very well could be a league-winner. A tough Week 7 matchup against the 49ers will be a good test.
3. In Week 6, Stefon Diggs totaled 43.5 fantasy points against the Eagles, which was more than his season-long total heading into the week (43.3 through his first five games).
This came two weeks after Adam Thielen voiced his frustrations with Minnesota's offense, saying, "At some point, you're not going to be able to run the ball for 180 yards… That's when you have to be able to throw the ball… You have to be able to hit the deep balls. You have to do that." Later that week Diggs amplified trade rumors, missed practices and meetings, and was subsequently fined $200,000 by the team.
Kirk Cousins had two squeaky wheels in Week 5, but only one got greased — Thielen scored 32.0 fantasy points on eight targets, while Diggs turned four targets into 7.4 fantasy points. In Week 6 it was Diggs' turn, though Thielen too had a productive game scoring 17.7 fantasy points on eight targets. Interestingly enough, to Thielen's point on the importance of deep balls, all three of Diggs' touchdowns (and 124 yards) came on deep passes.
The "squeaky wheel narrative" is one explanation for Diggs' big game, but the more likely culprit is, as with Hooper, Diggs had a near-perfect matchup. Heading into the week, Philadelphia had surrendered the most fantasy points per game to opposing outside wide receivers, just as they had in both 2017 and 2018. In total, Diggs and Thielen combined for 224 yards and four touchdowns in Week 6.
It made sense for Minnesota to lean heavy on Diggs and Thielen this week, especially with the true engine of the offense — Dalvin Cook — in a much tougher spot. Philadelphia came into the week giving up a league-best 2.81 yards per carry to opposing running backs. In Week 7, Philadelphia draws a similar matchup, up against the Ezekiel Elliott-led Cowboys. Look instead for big games from Amari Cooper (if healthy) and Michael Gallup who both rank top-five of 81 qualifying wide receivers in yards per route run.
4. Playing in a limited capacity in Week 6 — just 28 of the team's 55 snaps — Tyreek Hill caught five of nine targets for 80 yards and two scores.
In each of his first three seasons in the NFL, Hill ranked top-three among all wide receivers in fantasy points per snap. So, perhaps it shouldn't be too surprising Hill didn't need to receive a full workload to post a monster day.
Excluding games Hill was forced to exit due to injury, he's now averaging 22.0 PPR points per game with Patrick Mahomes as his quarterback. For perspective, 22.0 fantasy points per game would have led the position last year.
Needless to say, Hill is back, and as a high-end WR1.
5. George Kittle came into the week banged up but still managed to catch all eight of his targets for 103 yards. He now leads the whole league in yards per route run (2.94).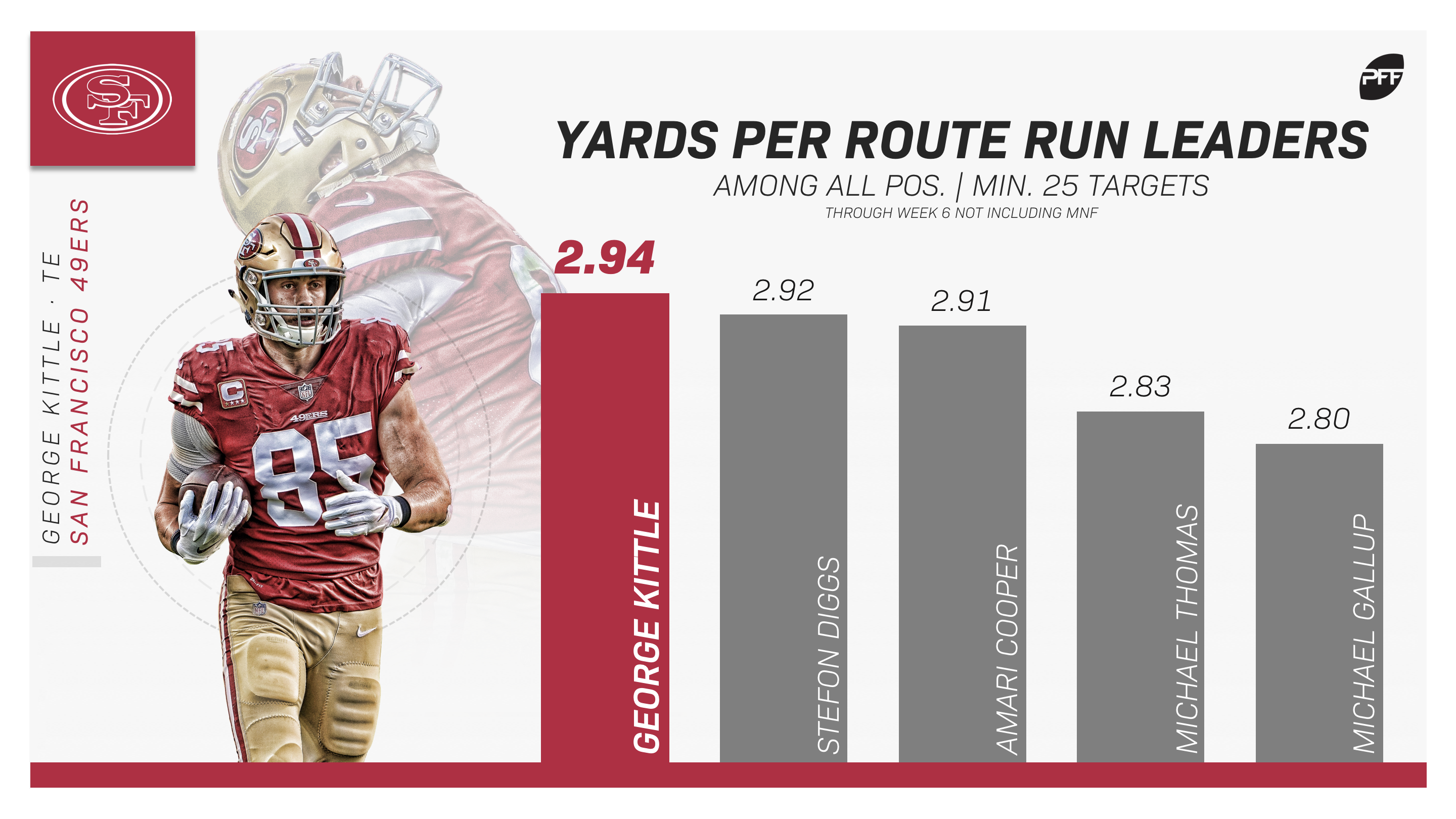 Last season, Kittle broke the PFF record for yards per route run by a tight end with 2.83. He's currently on pace to break that record, with no other tight end coming close.
Kittle is again our highest-graded tight end, but he's having a quiet fantasy season, ranking seventh in fantasy points per game (14.5). However, clearly, fantasy points don't tell the full story, and he's also gotten a little bit unlucky. In Week 1, Kittle had two touchdowns negated due to penalty. If those flags were never thrown, he'd rank tied with Hooper in fantasy points per game (18.0).
Kittle will get a bit luckier in the touchdown department as the season progresses, and though he might be more valuable in real football than fantasy, he should still be viewed as a top-three fantasy tight end.