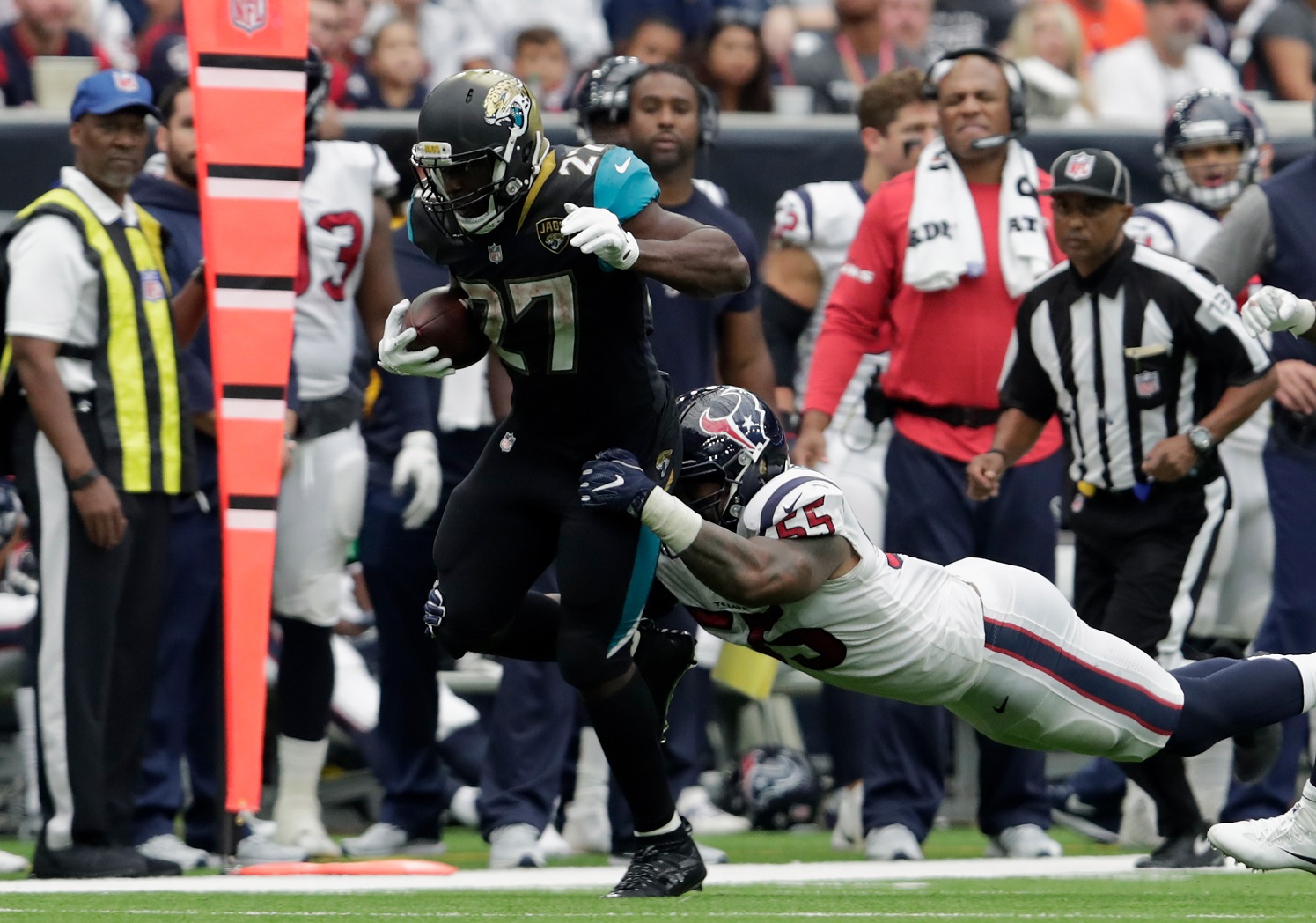 HOUSTON, TX - SEPTEMBER 10: Leonard Fournette #27 of the Jacksonville Jaguars is tackled by Benardrick McKinney #55 of the Houston Texans in the fourth quarter at NRG Stadium on September 10, 2017 in Houston, Texas. (Photo by Tim Warner/Getty Images)
Each week in this space, we'll be taking a look back at Sunday's games to find five of the most important stats for fantasy owners heading into the following week. With 13 of 14 games from Week 5 in the books, here are the five stats you need to know:
1. Outside of Mike Gillislee's two longest runs, he's averaging just 3.39 yards per carry. Outside of Leonard Fournette's two longest runs, he's averaging just 3.37 yards per carry.
Put down your pitchforks people! I'm not saying Fournette isn't good. On the contrary, he ranks 13th-best of 40 qualifying running backs in PFF elusive rating, and is our seventh-highest-graded running back overall. He's rarely set up for success, however, behind a quarterback in Blake Bortles who ranks only 25th among qualified QBs in passer rating. Heading into this week, the Jaguars were running the ball 55.3 percent of the time, which, over the course of a full season, would have been the most by any team since 2009. That puts a lot of pressure on Fournette, as it's hard to be very effective running the ball when everyone knows you're running the ball.
Though I'm impressed with how well Fournette has played from a real-life standpoint, I'm a tad more pessimistic for fantasy. Without those two plays, he would be averaging 4.5 fantasy points per game less than he is currently. While of course any player looks worse when you take away their most valuable plays, Fournette's long runs feel flukier than most. For instance, he has rushing longs of 90, 75, and 18 on 130 carries. For comparison, Kareem Hunt has longs of 69, 58, 53, 23, 23, 20, and 20 on 106 carries. Fournette is an easy RB1 in both standard and PPR leagues moving forward, but I do worry about week-to-week consistency given the one-dimensional nature of this offense, Fournette's lack of involvement in the passing game, and his low efficiency numbers outside of these two big plays.
2. Jordan Howard's 36 rushing attempts in Week 6 were the seventh-most by any running back this past decade. Despite the game going into overtime (where Chicago would come away victorious), no Chicago wide receiver recorded more than two receptions.
"Hey, somebody has to catch it!"
No, apparently not.
It appears Chicago is taking it easy on their rookie quarterback, while leaning heavy on their running backs. Since Mitch Trubisky was named the team's starter, the team has passed on only 32.7 percent of their offensive plays. When Mike Glennon was the starter, they passed on 57.5 percent of their offensive plays. This sets up for an interesting matchup next week at home against the Panthers who rank 10th-best in yards per carry allowed (3.7) and seventh-worst in opposing passer rating (100.0). Still, Howard is a strong play based on volume alone, whereas Trubisky and the receivers are not for similar reasons.
Random Bonus Stat: Despite attempting all but two of the team's pass attempts over the past two weeks, Trubisky accounts for just 61.6 percent of the team's passing fantasy points over this stretch.
3. In 2016 with the Raiders, Latavius Murray averaged 4.0 yards per carry on 195 attempts. All other Oakland running backs averaged a combined 5.6 yards per carry on 171 attempts. In 2017, Murray is averaging 2.4 yards per carry on 41 attempts. All other Minnesota running backs combine to average 4.7 yards per carry on 116 attempts. Over a two-year sample, Murray is averaging 41.0 percent lower yards per carry than his teammates.
Yes, Murray is probably droppable throughout the majority of your leagues. Following Dalvin Cook's injury, we knew Murray wouldn't be doing much damage as a receiver, but some had hoped he'd see the lion's share of the early-down and goal-line work. That has not been the case. Through two weeks, Jerick McKinnon leads in snaps (91 to 55), carries (32 to 27), targets (12 to 3), and carries inside the 10-yard line (2 to 1). Perhaps even more importantly, over the past two weeks, McKinnon ranks fourth in fantasy points and is our third-highest-graded running back. Murray, meanwhile, totals just 4.7 fantasy points and ranks 80th (of 90 qualifying) in PFF grade.
4. Over the last three weeks, Lions tight end Darren Fells has seen nine targets to Eric Ebron's 10. Over this stretch, Fells has outscored Ebron by 25.7 fantasy points.
Fells has both outproduced (35.0 to 8.2) and outsnapped Ebron (132 to 106) over the last two weeks. Ebron is running more routes than Fells (77 to 48), but Matthew Stafford just isn't looking his way as frequently as he did last year (6.5 targets per game last year to 4.2 this year). Perhaps Stafford has grown tired of Ebron's unreliable hands – he leads all tight ends in drops over the past two seasons (nine) – or other poor efficiency numbers (79.8 passer rating when targeted). At the very least, Fells does appear to be Stafford's preferred red-zone target, already catching more touchdowns in two weeks than Ebron has scored over his past two seasons. With the Lions on bye this week, Ebron is an easy drop, while Fells will be a name to monitor moving forward.
5. Chris Thompson ranks first among all pass-catchers in yards after the catch (by 100), despite ranking 72nd in receptions. Among all receivers with at least 25 targets, Thompson ranks first in yards after the catch per reception with 18.7, which is almost double the next-closest player (Todd Gurley, 9.4).
Thompson has four touchdowns to his name despite seeing just two total opportunities inside the 10-yard line. He ranks sixth among running backs in fantasy points per game, but 44th in carries per game and 15th in targets per game. This is what we in the business call "unsustainable efficiency." While Thompson does legitimately look like the best receiver on the team, and also leads the team in receiving yards (by 115) and receptions, I'm inclined to believe he's mostly just on the right side of variance. Not much has changed for Thompson in terms of usage. This season he's running the same amount of routes per game (19.2), and adding just 1.9 carries per game and 1.1 targets per game more than a season ago. Thompson is a low-end RB2 moving forward. If you can sell for higher I'd take it. If not, he's in for another strong start next week against a Philadelphia defense allowing the second-fewest rushing fantasy points per game, but 11th-most receiving fantasy points per game to opposing running backs.