Each week in this space, we'll be taking a look back at Sunday's games to find five of the most important or most interesting stats for fantasy football owners heading into the following week. With 13 of 14 games from Week 11 in the books, here are the five stats you need to know:
1. This is now the third straight week we've talked about New Orleans' dominant ground game, Adam Thielen's post-breakout breakout, DeAndre Hopkins returning value despite losing Deshaun Watson, and Demaryius Thomas being Brock Osweiler's preferred end-zone target.
Thomas has caught a touchdown pass in three straight weeks (ever since Osweiler's first start) after recording zero touchdowns in the first seven games of the season. Hopkins didn't see his typical workload, but did post a solid 4-76-1 line on eight targets, despite seeing shadow coverage from Patrick Peterson, who led all cornerbacks in fantasy points and yards allowed per route in coverage heading into the week. I was pessimistic on Hopkins immediately following Watson's injury (projecting him as a high-end WR2 the rest of the way), but it's clear he's still a high-end WR1. Thielen posted a 6-123-1 line on eight targets, and now ranks third among wide receivers in fantasy points, second in yards, and is our sixth-highest-graded wide receiver. Mark Ingram and Alvin Kamara both finished inside the top-three highest-scoring running backs of the week, marking the 10th time a Saints running back has finished top-10 over the past six weeks. Next week the Saints draw a Rams defense ranking bottom-three in fantasy points per game allowed to opposing running backs.
2. Tyrod Taylor is our eighth-highest-graded quarterback this season. For whatever reason, the Bills decided to bench Taylor for fifth-round rookie Nathan Peterman. Peterman proceeded to have the worst game (in terms of adjusted yards per attempt) of any quarterback in 40 years.
Assuming Nathan Peterman doesn't make a re-appearance, this is the fourth-worst game by a QB (min. 14 attempts) ever, and worst in 40 years. pic.twitter.com/UwXTrJGAC2

— Scott Barrett (@ScottBarrettDFB) November 19, 2017
Apparently Peterman might still start in Week 12, though our advanced metrics would obviously disagree with that decision. Among all 34 qualifying quarterbacks, Taylor ranks fourth-best in passer rating when under pressure (86.8). He ranks 10th-best in PFF grade via the pass, despite Andre Holmes, Zay Jones, Jordan Matthews, and Charles Clay all grading out below-average via the pass. In fact, of 115 qualifying wide receivers, both Jones and Matthews grade out among our 10-worst. Kelvin Benjamin has graded out poorly since being traded as well. Taylor also ranks second among quarterbacks in PFF grade via the run and third in rushing yards with 273.
3. Jay Cutler suffered a concussion in Week 11. In the first half with Cutler under center, Kenny Stills saw one target, catching it for 26 yards. In the second half, with Matt Moore under center, Stills saw a team-high seven second-half targets, catching six for 154 yards and a touchdown.
As I've written about earlier in the year, Stills needs to be played every time Moore is starting. If Moore draws the start in Week 12 against the Patriots, who came into the week ranking bottom-five in fantasy points allowed per game on deep targets, I will have heavy exposure to Stills in DFS. Over the past two seasons, Stills surpasses or at least rivals names like A.J. Green, Rob Gronkowski, and Odell Beckham Jr. in terms of fantasy efficiency when Moore is dropping back. I'm not sure anything can explain it better than the following chart:
As always, if Matt Moore is playing QB for the Dolphins, Kenny Stills is the chalk. Here's why: pic.twitter.com/qtHWEAecCo

— Scott Barrett (@ScottBarrettDFB) November 19, 2017
4. The Raiders currently rank last in the league with an opposing passer rating of 113.2. For perspective, this passer rating (if owned by a single quarterback) would tie Tony Romo's 2014 season for the sixth-best passer rating of all-time.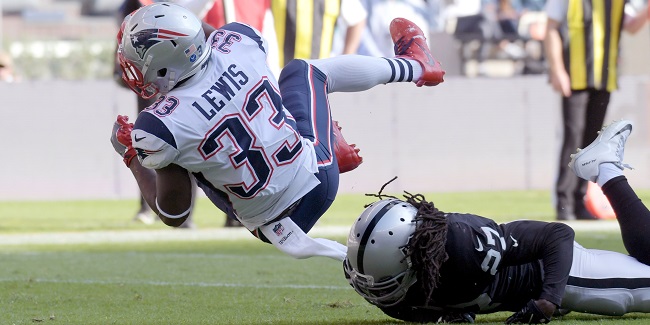 The Raiders are the first team in NFL history with zero interceptions through their first 10 games. Only the Giants have recorded fewer sacks (15) this season than the Raiders (16). Tom Brady completed 30 of 37 passes on Sunday for 339 yards, three touchdowns, and zero interceptions. Of course, that's somewhat to be expected because, well, it's Tom Brady. But in Oakland's last game, Jay Cutler completed 34 of 42 passes for 311 yards, three touchdowns, and zero interceptions against them. This is significant, considering this was Cutler's first game of his 148-game career throwing for at least 300 yards, three touchdowns, and zero interceptions. As gross as it sounds, Brock Osweiler (or Paxton Lynch if named the starter) could be stream-worthy or DFS-viable in Week 12.
5. Ben Roethlisberger was Week 11's top-scoring quarterback, recording four touchdowns and 299 yards on 45 attempts. Since 2014, Ben Roethlisberger averages 61.6 yards per game and 1.5 touchdowns per game more at home than on the road.
We went more in-depth on this during the offseason, noting, "Over the past three seasons (min. 1,000 pass attempts), Roethlisberger ranks first in home passer rating and fifth-worst in road passer rating." I'm typically wary of home/away splits. Many cited Tyreek Hill as a Week 11 breakout candidate because he's averaged 12.0 more fantasy points per game on the road than at home this season. I was skeptical given the small sample size and because he's only seen 0.5 more targets on the road this year. With Roethlisberger, we have a much larger sample to work with, and it's something I do buy into. While this was only Roethlisberger's first successful home game this season, he faced Minnesota, Jacksonville, and Cincinnati in his only other home games — all three teams ranked in the top-10 in fantasy points per game allowed to opposing quarterbacks. Roethlisberger is at home again in Week 12, this time against a Green Bay defense that currently ranks fourth-worst in team pass coverage grade. Though Le'Veon Bell may be the stronger play seeing as how Brett Hundley might not keep the Packers competitive, Roethlisberger is still a very strong start this week.