(This is our Fantasy Lookback, a review of the top fantasy football seasons at each position for each franchise over the last decade of NFL action. We'll look at some big names that are still going and some who have been gone long enough that they're in the Hall of Fame. Today: The Indianapolis Colts)
Over the last decade, the Colts have had four primary quarterbacks. The largely Curtis Painter-led 2011 team went 2-14; the largely Jacoby Brissett-led 2017 team went 4-12. Those are the only two losing records the Colts have had, not just in the last decade, but since 2001. It's been elite quarterbacks, elite running backs, near-elite tight ends … and running backs have also been there.
There's a tier of teams near the top of the NFL in the recent era that includes the Patriots and other elite teams, and maybe the Colts aren't at that level, but they're the next step down. It's not the league's best team over the last decade, but it's not far off.
Let's take a look at the best Colts fantasy seasons of the last decade.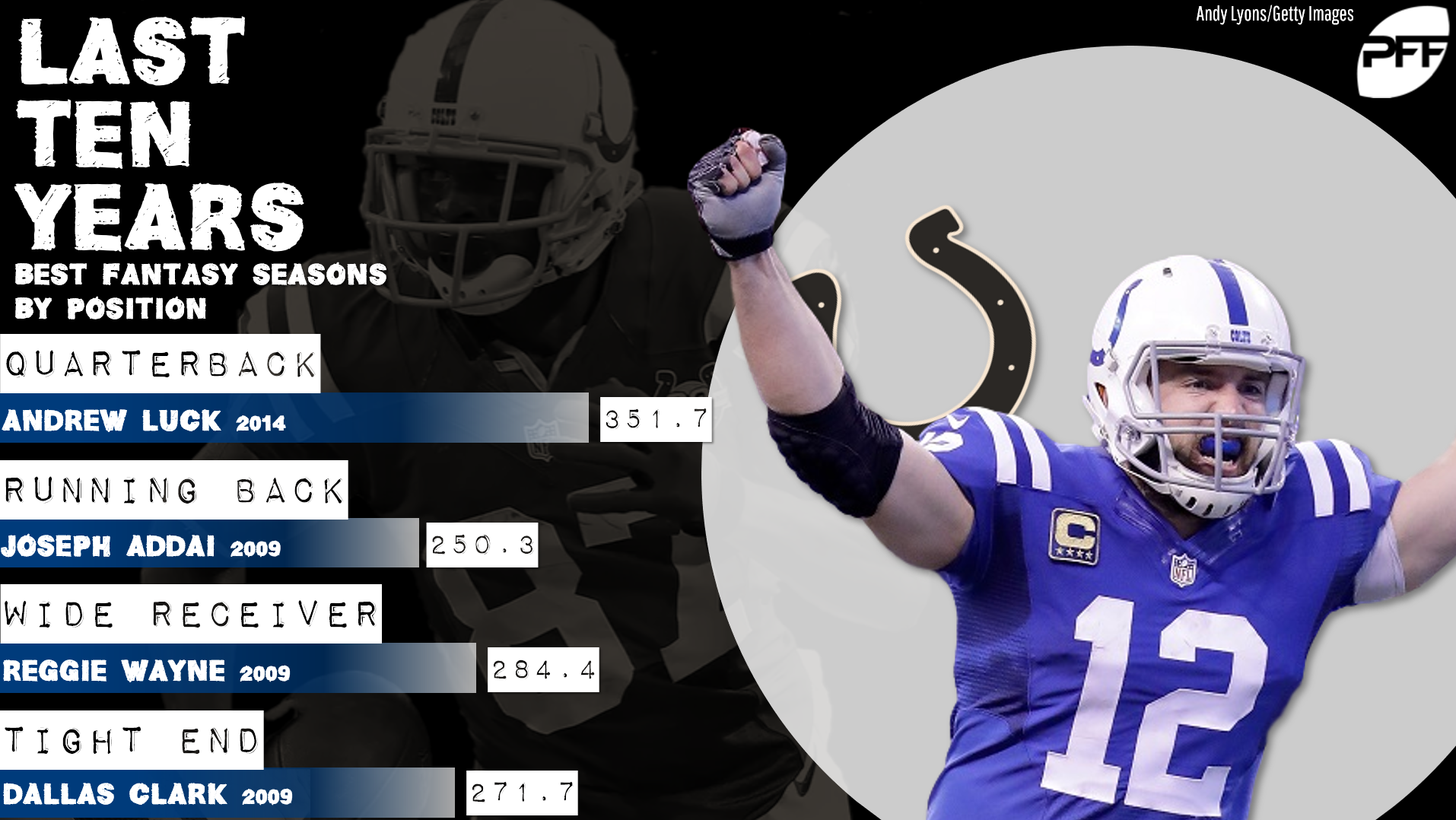 (Follow along with the whole series here.)
Quarterback
(380-616 passing, 4,762 passing yards, 40 TD, 16 INT, 263 rushing yards, 3 TD, 351.7 fantasy points, QB1)
Top of your head, you probably wouldn't guess we're heading into the ninth season since Peyton Manning last played for the Colts, but it has. But even without that, Manning only had one season throughout his Colts tenure with more fantasy points than Luck put up in 2014 or 2018, and that would have required us stretching back to 2004. With Luck proving himself healthy in 2018, and he's firmly entrenched in the top tier of fantasy quarterbacks again (or in the second tier, if you believe Patrick Mahomes has the top tier all to himself.
Running back
Joseph Addai, 2009
(219 rushes, 828 rush yards, 10 TDs, 51 receptions, 351 receiving yards, 3 TDs, 250.3 PPR points, RB8)
For all the offensive success the Colts have had over recent years, the running back position hasn't really participated. Frank Gore in 2016 is the only 1,000-yard rusher the team has had, and Addai is the only back to top 220 PPR points. Addai was a star in 2006-07 and bounced back from a rough 2008 in 2009 but did almost nothing in 2010 and 2011 and then never played again. (Last year's backfield leaders, Marlon Mack and Nyheim Hines, put up Nos. 4 and 6 on the list.)
Wide receiver
Reggie Wayne, 2009
(100 receptions, 146 targets, 1,264 yards, 10 TDs, 284.4 PPR points, WR3)
Wayne and T.Y. Hilton have combined for the top eight, nine of the top 11, and 12 of the top 13 seasons in our decade span. We make a big deal about how fortunate the Colts were to (relatively) seamlessly transition from Manning to Luck, but the Marvin Harrison-to-Reggie Wayne-to-T.Y. Hilton shifts have been just as remarkable, if not moreso. Hilton's now entering his eighth season and was excellent in 2018, but I'm already curious who they'll groom to be the next No. 1.
Tight end
Dallas Clark, 2009
(100 receptions, 129 targets, 1,106 yards, 10 TDs, 271.7 PPR points, TE1)
You know how Eric Ebron was the biggest surprise of the fantasy season and went from castoff bust in Detroit to fantasy's TE4 in Indianapolis? He was a full 50 points behind what Clark put up in 2009. That is illustrative of how good the Colts offense was in 2009, how good tight ends were in recent years, and how far the position has fallen in the last couple years. Ebron and Jack Doyle should be very good in 2019. But the position isn't what it has been in recent generations.