Welcome to the Week 14 edition of Snaps, Pace, & Stats, where we examine trends in snap totals and no-huddle usage. It is meant to be a 30,000-foot view of upcoming games, with the goal of identifying which matchups will – and which will not – be played on fertile fantasy football soil.
This week's main slate is missing elite offenses from New Orleans, Kansas City, and a pair from Los Angeles. It will also be without fantasy studs DeAndre Hopkins, Adam Thielen, and Derrick Henry Christian McCaffrey. If you haven't already, try out the Thursday-through-Monday DFS slate. There are only two weeks left before the craziness of Week 17, the NFL playoffs, and then a half-year of darkness.
A quick note: Since you don't want to keep reading "situation-neutral" any more than I want to keep typing it, unless otherwise noted, assume all instances of pass or run rates – of which there are many — refer to neutral game situations (plus or minus seven points) to give a truer sense of a team's game plan.
Up in pace
| | | | | |
| --- | --- | --- | --- | --- |
| Rank | Week 14 Snaps | 2018 Snaps/Game | Opponent Wk 14 Snaps | 2018 Opp Snaps/Gm |
| 1 | Dallas (93) | Baltimore (71.4) | Philadelphia (93) | Cleveland (71.8) |
| 2 | Kansas City (83) | New England (67.7) | Baltimore (83) | Kansas City (69.4) |
| 3 | New England (75) | Tampa Bay (67.5) | Miami (75) | Cincinnati (68.7) |
| 4 | Buffalo (71) | Indianapolis (66.8) | N.Y. Jets (71) | Arizona (67.1) |
| 5 | Denver (71) | Pittsburgh (66.2) | San Francisco (71) | N.Y. Jets (66.7) |

The NFL is banking on this matchup carrying Sunday's late-day action, as Seattle versus San Francisco is the only other game being played during that time slot. If it's anything like last year's Week 15 meeting in Pittsburgh – a 27-24 barnburner – everyone will head home happy (except Jesse James). The Patriots rank second in plays per game and their contests average the fourth-most combined snaps. They score the sixth-most points per game (28) and operate at a top-three snaps pace. New England has been more balanced than in years past, deploying only the 14th-highest pass rate (57.9%), yet they remain one of the league's premiere gameplan-specific offenses. When facing a strong run defense – and Pittsburgh grades sixth best – the Patriots won't pound their running backs into a wall for long.
The Steelers have been chucking it around more than any team in the league. Their seasonal 65.7% pass rate has only climbed during the last five weeks (71.8%). Although New England's coverage grades second best, their fifth-worst-graded pass rush won't often bother Ben Roethlisberger. The Steelers produce the fifth-most plays per game and their contests average the sixth-most combined snaps. They score the fourth-most points per game (28.2) and operate at a top-10 seconds-per-snap pace – with a 24.5% no-huddle rate at home. The Steelers have been attacked through the air at the league's second-highest rate (63.5%), so we can safely project plenty of play-volume-boosting passes on both sides, as these bye-hunting playoff contenders try to put their Week 14 debacles behind them.

The last time the Chargers faced the Chiefs it was Week 1 and they had to actually play with tempo to avoid getting blown out in the second half. Los Angeles still hasn't matched their 74 snaps from that game, and they haven't sniffed the 27.9 seconds-per-snap pace set while trailing all day. It's unfortunate that they prefer a slow pace, as even in a loss, the Chargers received usable fantasy days from Philip Rivers (424 yards, 3 TDs), Melvin Gordon (9 catches, 166 total yards, TD), Austin Ekeler (5 catches, 126 total yards, TD), Keenan Allen (8 catches, 108 yards, TD), Mike Williams (5 catches, 81 yards), and Tyrell Williams (2 catches, TD).
Can the Chiefs pull the same pace out of the Chargers, or will two solid defenses and a handful of key injuries tip this matchup in the opposite direction? Los Angeles averages the third-fewest plays per game (58.9), and their contests produce the fewest combined snaps (120). Nobody operates at a slower seconds-per-snap pace. On the other hand, Kansas City allows the second-most plays (69.4) — in large part because they score so quickly – and their games average the third-most combined snaps. The Chiefs have the sixth-highest pass rate (63.8%), and it's even higher during the last five weeks (65.5%; fifth). The Chargers are the rare offense who can keep pace in a Kansas City track meet, and the Chiefs – who play quickly when games are close — appear to be the one team who can pull Old Man Rivers out of his slow-paced shell. Los Angeles' backfield injuries may leave him no choice.

This is the sixth season for this column, and if the Cowboys have ever appeared in the "Up in Pace" section, it was probably inspired by a Tony-Romo-themed fever dream. Yet, here they are – the team that made playing ball-control cool again. (It's really not cool.) To be clear, Dallas hasn't suddenly turned into a snap-generating dynamo, and their games rank bottom-11 in average combined plays. Yet, there has been a slight shift. During the last month, Cowboys contests rank ninth in combined snaps. While the 93 plays from Sunday's overtime game have a lot to do with the jump, their 66-play average in this month's other games would rank sixth-highest on the full season. Prior to that, Dallas ranked seventh-lowest. Their play volume has been buoyed by the addition of Amari Cooper, and simply by throwing more. During the last five weeks, the Cowboys have the 13th-highest pass rate. Prior to that, they ranked seventh-lowest.
Speaking of pass rate, the Colts are back to relying heavily on Andrew Luck's shoulder after a brief midseason lull. They throw at the league's second-highest rate (65.4%), and it's inched up during the last five weeks (66.5%). Indianapolis runs the fourth-most plays per game and their contests average the fifth-most combined snaps. They operate at a top-five snaps pace and stand a strong chance of elevating that of the plodding Cowboys – or at least counteracting it. The Colts' run defense is stout, grading fourth-highest and allowing the fifth-lowest yards per carry average (3.8). If they can force a more balanced approach by Dallas – something the Cowboys have been willing to do on their own of late — it should elevate the play volume for both sides. On a main slate robbed of fantasy firepower by the schedule makers, a late-season indoor battle involving offenses with several playmakers is tough to ignore based solely on the Cowboys' snap-sucking reputation.
Low volume outlook
| | | | | |
| --- | --- | --- | --- | --- |
| Rank | Week 14 Snaps | 2018 Snaps/Game | Opponent Wk 14 Snaps | 2018 Opp Snaps/Gm |
| 32 | Cleveland (45) | Arizona (55.4) | Carolina (45) | Detroit (58.8) |
| 31 | Miami (45) | Miami (55.5) | New England (54) | Dallas (59.5) |
| 30 | Philadelphia (48) | L.A. Chargers (58.9) | Dallas (48) | Seattle (59.5) |
| 29 | N.Y. Jets (53) | Tennessee (59.3) | Buffalo (53) | Buffalo (59.9) |
| 28 | Detroit (55) | Cincinnati (59.4) | Arizona (55) | Carolina (60) |

While this appears to be a chance for the nose-diving Falcons to feast on crippled Cardinals – and an early east coast kickoff for a zombified western team is a juicy spot for Atlanta – neither team boosts play volume. It has hurt the fantasy production of ancillary Falcons weapons, and presumably would do the same to the Cardinals if they had any. Arizona is a true wasteland, where even rare specimens like David Johnson wither on a vine of inept coaching and a dried-up supporting cast. Nobody averages fewer plays (55.4), and even the Bills Mafia laughs and throws things at Arizona's league-low 13.7 points per game. Despite perpetually trailing, the Cardinals still operate at a middling seconds-per-snap pace and hand off at the sixth-highest rate (46%). During the last five weeks, they're running even more often (51%). It hasn't gone well.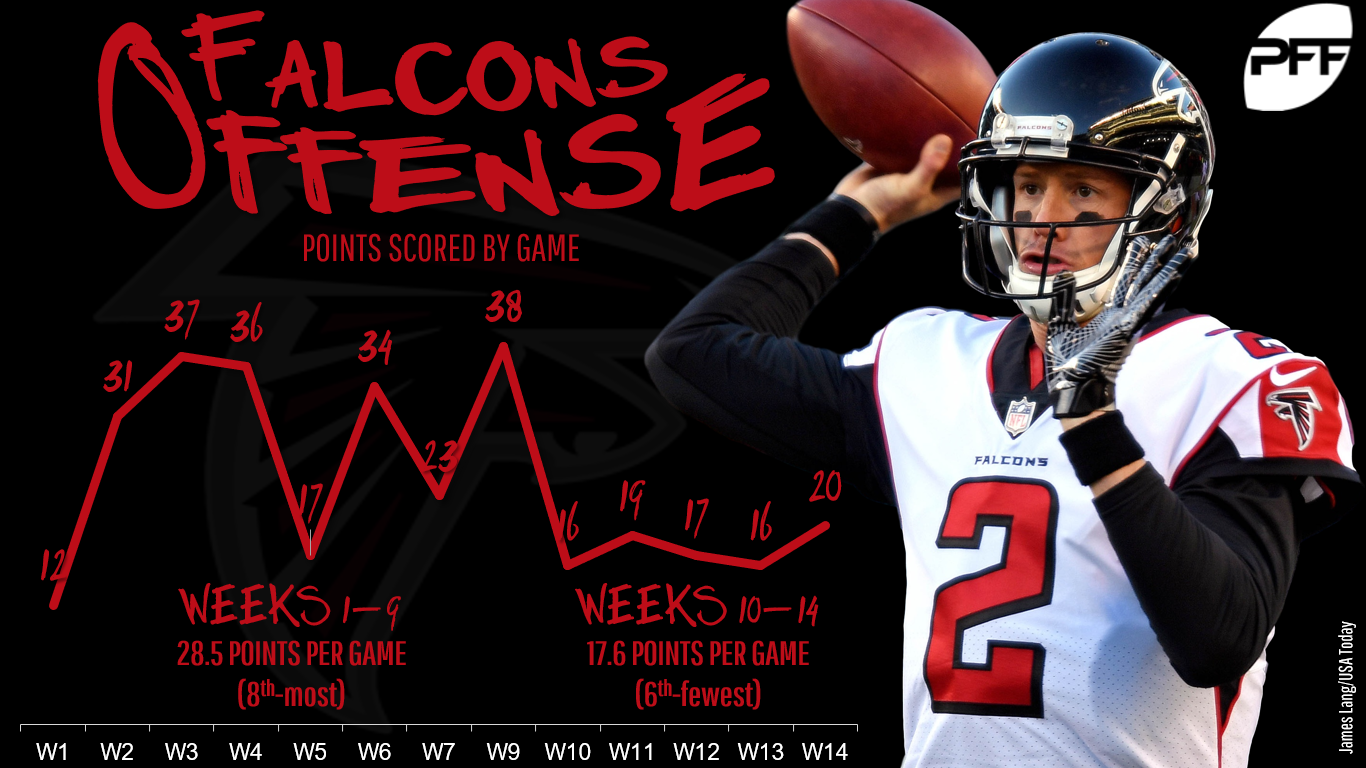 The Falcons were averaging the eighth-most points per game (28.5) through nine weeks. Since then, they rank sixth-lowest (17.6). They still throw at a decent clip – 65% during the last five weeks (sixth highest) – but it hasn't generated points or play volume. There is a solid chance they look to get their punchless ground game on track against a Cardinals run defense grading third worst and facing the third-highest opponent run rate (45.7%). If they do, it'll only grind clock more quickly and dampen snap totals. Considering Atlanta has also been attacked on the ground with the third-highest run rate during the last five weeks, we're staring at a game that should be over quickly – before observers turn to stone can extract a decent fantasy return on investment.

The recent re-rating of the Panthers and Saints for fantasy has been gradual but is becoming more widely accepted. They have similar stories – especially from a pace perspective – aside from Cam Newton's wounded wing. The Saints, who operate at a bottom-three pace, are running the ninth-fewest plays per game over the last month (58.8). Their contests average the eighth-fewest combined snaps during the time. They throw at the 18th-highest rate when games are close, but go run-heavy as soon as they take control, like a vicious game-script anaconda. The best way to avoid getting crushed is by wrapping around them first by keeping Drew Brees on the sideline. It's easier said than done against the second-highest-graded defense, but Dallas pulled it off – and the Panthers will certainly try.
Carolina operates at a bottom-10 pace and they average the eighth-fewest plays per game. During the last month, their contests are producing the third-fewest combined snaps, and they allow the fifth-fewest plays per game (57.3). While the Panthers no longer feature a powerful rushing attack, handoffs and high-percentage passes to Christian McCaffrey are paired with short throws to athletic playmakers, in a modernized extension of their running game. With Newton's completion rate at a previously unheard of (for him) 68.8%, the clock is continually grinding. Despite an injured Newton, and Brees playing outdoors, there will undoubtedly be explosive plays made on Monday night. The problem for fantasy is there won't be many plays.

The Dolphins periodically prompt opponent play volume – New England just ran 75 snaps against them for the second time this season – but they typically drain the life out of games. Their contests average a league-low 120 combined plays, with even fewer (117.3) during the last month. Miami operates at a bottom-three seconds-per-snap pace, and they're getting slower. They have gone from leading the league in no-huddle rate by a significant margin through 10 weeks, to running a single hurry-up snap over the last month. Their 46.5% run rate ranks eighth-highest and opponents hand off against them at the league's fourth-highest rate (45.3%). The clock continually grinds, leading to mostly quick and uneventful games – despite the breathtaking finish to their annual haunting of the Patriots in Miami.
The Vikings can use more excitement in their contests as well, and it cost OC John DeFilippo his job. They have a bottom-five run rate (35.8%), while only the Jaguars, Cardinals, and 49ers average fewer points during the last month. Minnesota's scoring average has dropped nearly 10 points during that time, and with consecutive sub-60 play totals, their snap volume is bottoming out. The Vikings still don't allow many points, but opponents have been handing off against them at the fourth-highest rate during the last month (48.4%). The combination of depressed scoring, a still-stingy defense, and falling play volume does not make for a fantasy-friendly atmosphere – especially with the dawdling Dolphins coming to town. The Vikings' narrow touch distribution and elevated pass rate (64.2%; fifth highest) defray play volume concerns for their pass-catching studs, but they do Dalvin Cook no favors. Perhaps a new play-caller and Miami's run funnel will be enough to pull a full workload out of him.
No-huddle notes
| | | | | |
| --- | --- | --- | --- | --- |
| Rank | Wk 14 No-Huddle % | 2018 No-Huddle % | Wk 14 Seconds/Snap | 2018 Sec/Snap |
| 1 | Atlanta (30.9) | Miami (17.1) | L.A. Rams (22.8) | Indianapolis (26.3) |
| 2 | Tennessee (22.8) | Pittsburgh (16.3) | Denver (24.8) | Baltimore (27.1) |
| 3 | Jacksonville (16.4) | L.A. Rams (15.7) | Indianapolis (25.5) | New England (27.3) |
| 4 | L.A. Rams (16.4) | Indianapolis (13.5) | Tampa Bay (26.0) | Denver (27.4) |
| 5 | Oakland (15.9) | Tennessee (12.3) | Kansas City (26.7) | Cincinnati (27.6) |
For the first time in five games, the surprisingly flaccid Falcons offense managed to inch its way to 20 points on Sunday. They managed the modest feat thanks in large part to an efficient late-game no-huddle display. While Atlanta sprinkled in tempo on handoffs throughout the game – 33 yards on six carries with none shorter than four yards – the bulk of passing from the hurry-up came during fourth-quarter garbage time. Matt Ryan was 11-of-14 for 101 yards with two touchdowns, for a blistering 136.3 passer rating from the no-huddle. He had a 73.7 rating on his other 28 throws.
Ryan has a similarly glowing 134.3 passer rating for the full season when going no-huddle and has had success in the past while the Falcons periodically danced with tempo. This year, they rank 10th with a 9.4% hurry-up rate. It jibes with recent seasons, but other than having two gamescript-induced no-huddle rates north of 25% in the last four weeks, there is no indication Atlanta's no-huddle rate is set to spike. It's worth keeping an eye on if they start pushing the pace with more consistency – but as with several offenses that would benefit from using more tempo, we shouldn't be holding our breath.
The Browns had a modest 6.8% no-huddle rate (21st) when Hue Jackson was finally extracted. Cleveland's hurry-up rate since then is 1%. They are operating at a bottom-10 seconds-per-snap pace over the last month, during which time they rank next-to-last in plays per game (52.7). It turns out Gregg Williams doesn't like the offense hurrying up and exposing his defense to more snaps, and judging by the Browns' record since Jackson became Cincinnati's problem, it's been the correct call.
This is less a "no-huddle note" than a warning about the pace of a team still topping the season-long play volume rankings. Their games still average the most combined snaps, yet during the last month, they rank 11th-lowest. The Browns are still a top-five offense in seconds-per-snap. They slid from 18th in pass rate five weeks ago (57.4%), to 23rd since then (54.7%). Now that their pace and overtime games dried up, Cleveland's fertile play-volume ground appears frozen for the season.
The Titans popped up in this space last week after scoring a couple of no-huddle touchdowns – one passing and one running – during their Week 13 comeback win against the Jets. Their hurry-up rate had been creeping up, and Week 14 brought more of the same (21.7%). Tennessee is now a top-five no-huddle offense for the season (12.3%), and it's been a good look for them – most recently when they opened up with tempo against the Jaguars on Thursday night.
Of the Titans' 13 no-huddle plays (seven passes and six runs), 11 came during the first quarter. Marcus Mariota completed three hurry-up passes apiece to Taywan Taylor and Dion Lewis for 66 yards, while Derrick Henry ran for 30 yards and a score on six no-huddle carries. Mariota was pressured on 14% of his hurry-up dropbacks, versus 24% the rest of the game. The Titans aren't exactly Chip Kelly's Eagles – to the chagrin of Mariota's fans from Oregon – but any boost in play volume and/or offensive efficiency is a welcome development.
We noted a few weeks ago that the Raiders deserve a modicum of credit for not completely mailing it in, and their increasing no-huddle usage was a minor sign that they're still trying. Fast forward several games and they look downright frisky after an upset over the Steelers. Oakland jumped from scoring the third-fewest points per game through 10 weeks (16.3), to the 13th-most since then (23.3). They're going no-huddle during that time on 15.6% of snaps (fourth-highest), versus 8.8% before that (17th). The Raiders are operating at a full second quicker snaps pace, rising from fifth-slowest to 15th-quickest.
Derek Carr has shown signs of life despite throwing to a crew so motley, they wouldn't be welcome with the weirdoes in the Black Hole. Carr is 16-of-26 for 193 yards and a touchdown from the no-huddle during the last five games. It's nothing to leave mom's basement over, but relative to where both he and his team were recently, it's at least enough to dust off the Darth Vader helmet. We aren't going to trip over ourselves to roster Raiders in fantasy based on these developments, but it should at least be enough to stop openly making fun of them and their fans.