Boosted by two straight strong performances, Oakland Raiders quarterback Derek Carr's season grade now stands at 76.4, good for 17th among quarterbacks and one spot ahead of the QB he outdueled on Sunday, Ben Roethlisberger. By PFF's analysis, his performance this season has taken an objective step forward compared to last year, where he earned a grade of just 68.9, and is moving back towards his career year of 2016 when he earned an 85.3 overall grade and placed third in the league's MVP vote.
Considering the veteran quarterback is doing it with a beat-up offensive line that includes two rookie tackles, and that his top receiving threat is a 10-year veteran tight end, this should leave head coach Jon Gruden impressed and could arguably make him consider actually keeping one of ousted GM Reggie McKenzie's former draft picks for the team's transition to Las Vegas.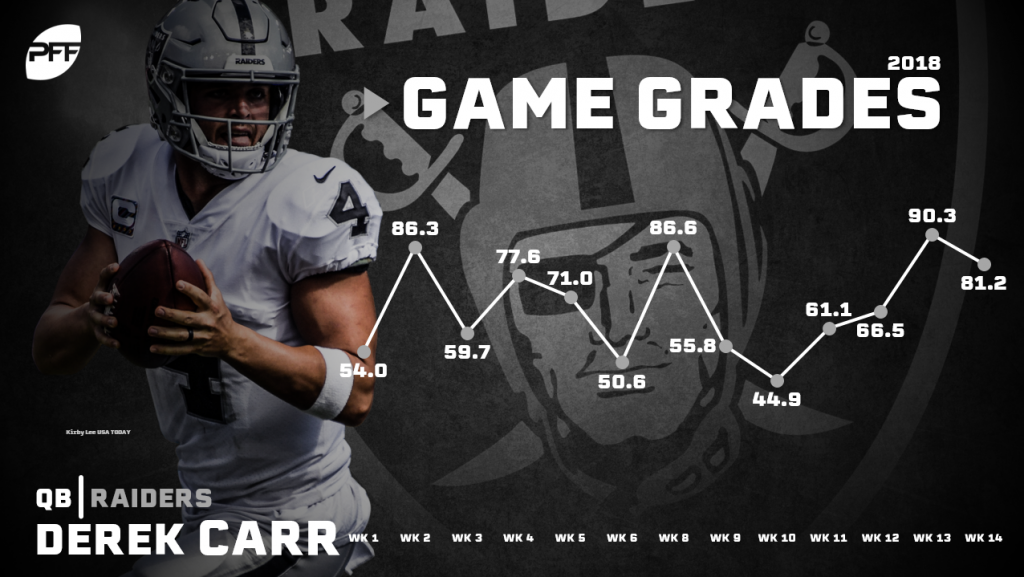 Carr's last two games combined: 54-of-72, 607 yards, five touchdowns, and no interceptions. A 90.3 overall grade in Week 13 was followed by an 81.2 overall grade in Week 14, dinged by a lost fumble in the second half against the Steelers. He has now impressively gone eight games in a row without throwing an interception and has thrown a turnover-worthy pass on just 2.69% of his pass attempts in that span, which beats notable names like Carson Wentz, Patrick Mahomes and Philip Rivers. 
That's not to say there haven't been bumps in the road in Carr's transition to Gruden's scheme, as evidenced by the team's current 3-10 record and 29th-ranked scoring offense.
Carr has seven games graded below 70.0 in 2018 with the most common criticism of him being that he is too quick to find his check-down for short gains. The fact that his average time to throw of 2.43 seconds, the fifth-quickest in the league, lends some credence to that theory as does the fact that he's logged 53 check-down passes so far this year, three more than Blake Bortles, who is the next closest quarterback.
Showing some reluctance to look down the field, his 9.9% deep passing percentage ranks 25th in the league among starting quarterbacks and his average depth of target of just 7.0 yards downfield ranks last among the same group of players. However, his 53.3% adjusted completion percentage on his deep passes (passes of 20-plus yards downfield) ranks third, which shows that the ability to effectively make deep throws is there.
Throughout his career, he has struggled to perform under pressure, which has remained this season. Among quarterbacks with at least 100 pressured dropbacks on the year, Carr's 64.9 passer rating and his 43.8 passing grade rank 21st and 23rd among quarterbacks, respectively, while he has thrown nearly as many turnover-worthy passes (7) and big-time throws (8). 
However, on his dropbacks where he was kept clean from pressure,  which we have found to be the most stable situation for evaluating and predicting quarterback performance, Carr has completed 260-of-348 attempts (74.7% – sixth-best among quarterbacks) for 2665 yards, 14 touchdowns and two interceptions – all good for a 107.3 passer rating that ranks 16th among the league's signall-callers. He has more than double the amount of big-time throws (14) than turnover-worthy passes (6) and his resulting near-elite passing grade of 87.5 is good for 14th among players at the position. 
With a capable supporting cast, adequate protection and more time to adjust to his new scheme, Carr has shown that he has the ability to perform as a starting-caliber quarterback. While most of Gruden's actions since coming to Oakland would lead one to believe that he may be ready to move on from Carr in the upcoming draft, Carr's recent string of confident play will likely have the man running the show thinking twice about unloading another foundational piece.