When you draft a player in fantasy football, there is a reasonable expectation, that his draft slot is a fair range for him — a guy drafted 10th is likely to finish anywhere between, say, seventh and 15th (just to pick some numbers).
As such, players fit into tiers. There are the surefire starters, the above-average starters, the probable starters, and the rest of the guys. If every player you draft ends up in his designated tier, you'll have at least an average fantasy season. If they fall short, your year could be a bad one.
And if they rise a tier, welcome to winning.
That's what we're looking for each year. You expect players to return the value they are drafted at, but we want to find players who will return the value of a tier above at the value of a tier below. I've (subjectively) defined the tiers below. It's a framework.
| | | | | |
| --- | --- | --- | --- | --- |
| | QB | RB | WR | TE |
| Tier 1 | 1-5 | 1-10 | 1-10 | 1-3 |
| Tier 2 | 6-10 | 11-30 | 11-30 | 4-6 |
| Tier 3 | 11-20 | 31-50 | 31-50 | 7-20 |
| Tier 4 | 21+ | 51+ | 51+ | 21+ |
Tier 1 players obviously can't make it to a higher tier. So we're looking for players below Tier 1 who could climb to the better today. Today, we're looking at tight ends. Check out the quarterbacks piece from Monday, the running backs piece from Tuesday, or the wide receivers piece from Wednesday.
(All ADP data comes from Fantasy Football Calculator.)
Tier 2 to Tier 1
(Current ADP: Howard TE4, Henry TE6)
I had to make the upper tiers at the tight end position narrow, because there is a huge caste system near the top of the tight end position this year. The top tier is — probably without any controversy at all — Travis Kelce, Zach Ertz, and George Kittle, in some order. The next tier, again likely without debate, is Howard, Henry, and Evan Engram. Forcing those into other tiers just for the sake of tier consistency with the other pieces didn't seem worth it. So the debate here is which of the second group are most likely to climb to the first, and I would argue these two have the advantage over Engram and his deteriorating quarterback. We've seen what the ceiling of a Chargers tight end is, and it's immense. Meanwhile, Howard is still part of one of the league's pass-heaviest offenses, with two primary receiving pieces from last year gone now, and has been a monster on a per-game basis in his career.
Tier 3 to Tier 2
(Current ADP: TE8)
Cook finished as fantasy's TE5 last year in a bad offense with Derek Carr as his quarterback. Now he's in an excellent offense with Drew Brees as his quarterback. It's not that simple — the 2018 Saints have more weapons to steal targets than the 2018 Raiders did, you wouldn't have to press hard to argue that last year was Cook's career year — but the pieces are there for him to finish as a top-five tight end again.
(Current ADP: TE13)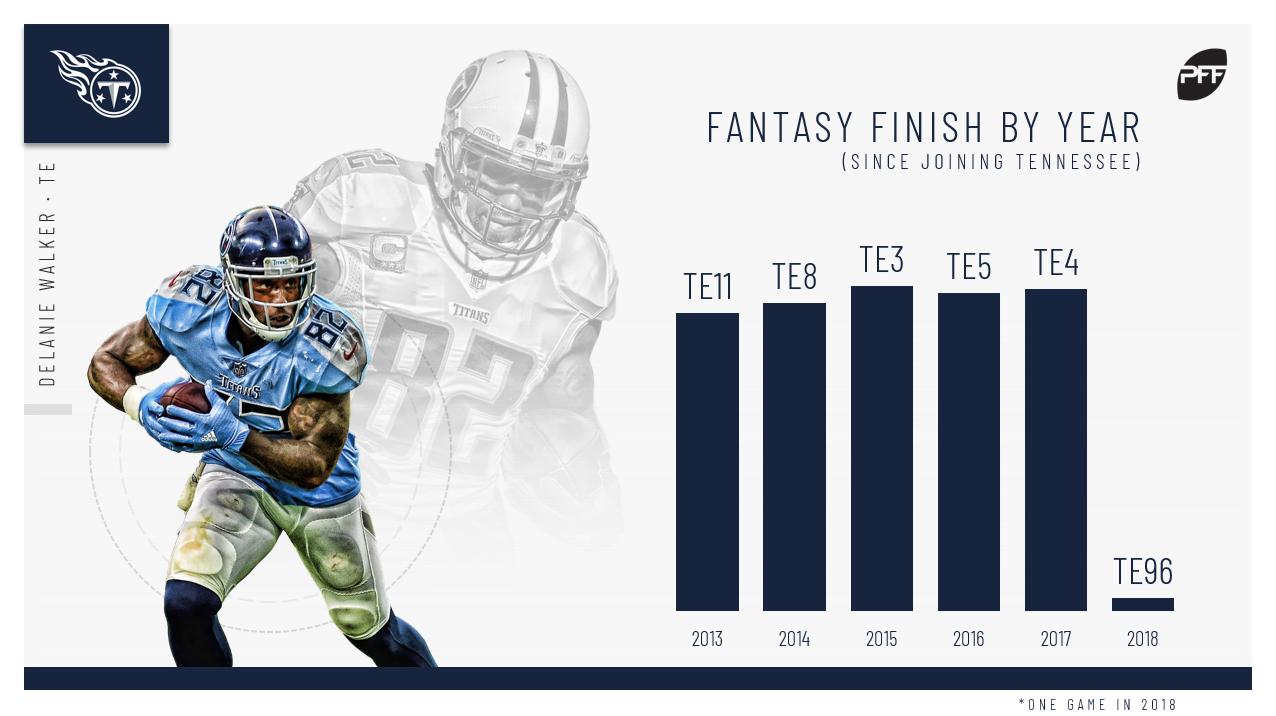 Walker played five years for the Titans before last year's wildly abbreviated season. In those five years, his average fantasy finish was TE6, including fifth or better in each of 2015-2017. Yes, he'll be 35 in Week 1, he played one game last year, and it's a run-heavy offense this year, but he's certainly a candidate to rise. All he has to do is what he's already done before.
Tier 4 to Tier 3
(Current ADP: TE21)
There isn't much argument needed about Reed. He's finished 14th or better in TE fantasy scoring in all three of his six career seasons he's played 12 or more games, including last year. If he plays, he's productive. There's obvious risk with Reed of him not playing, but him jumping a tier wouldn't be any kind of surprise.
(Current ADP: Undrafted)
Gesicki's resume includes a 202-yard, zero-score, 50.7-graded rookie year, but it also includes the No. 2 TE slot in PFF's big board ahead of the 2018 draft. The track record of rookie tight ends is famously poor. If Gesicki can make strides at all, given the Dolphins' lack of offensive weapons and the dearth of upside at tight end, he could be an interesting option who is free in drafts. (Worth noting: I wrote this a week ago, before concerns of Gesicki's training camp arose. He still has worlds of potential, but let's call this one a long shot for now.)