We're back again for Week 15 of the NFL season to identify some sleeper candidates who could find themselves more valuable in fantasy football sooner or later.
Derrick Henry shot up to the No. 3 spot in RuYards Added this season after his 238-yard, 4-touchdown waylaying of the Jaguars last Thursday night. For my own fantasy playoff team's perspective, I would have preferred him to spread out that success over more than one week. But that also shows how critical it is to consider a player's efficiency. My rushing and receiving Yards Added metrics compare a skill player's yardage totals on their plays relative to expected totals based on factors like the down and distance, distance from the end zone, quality of run-blocking, and quality of coverage. As such, they are perfect tools to identify players who could see the kind of workload breakouts that the always-efficient Henry saw last week.
I doubt any of my Week 15 sleepers will enjoy that kind of success this week and over the rest of this season, but they are still compelling names to consider in your fantasy playoffs and in dynasty and keeper formats.
Isaiah Crowell aggravated his foot injury after just two carries in Sunday's loss to the Bills, and that left McGuire as the Jets' de facto featured back. His 3.5 yards per carry on 17 carries would suggest that he wasn't fully up to the task, but RuYards Added was more impressed by the performance. Last week and in general, McGuire has been forced to run behind a poor run-blocking offensive line that has allowed him to be contacted behind the line of scrimmage on a third of his 41 carries this season. That's the eighth-highest rate among the 68 running backs with his volume of carries.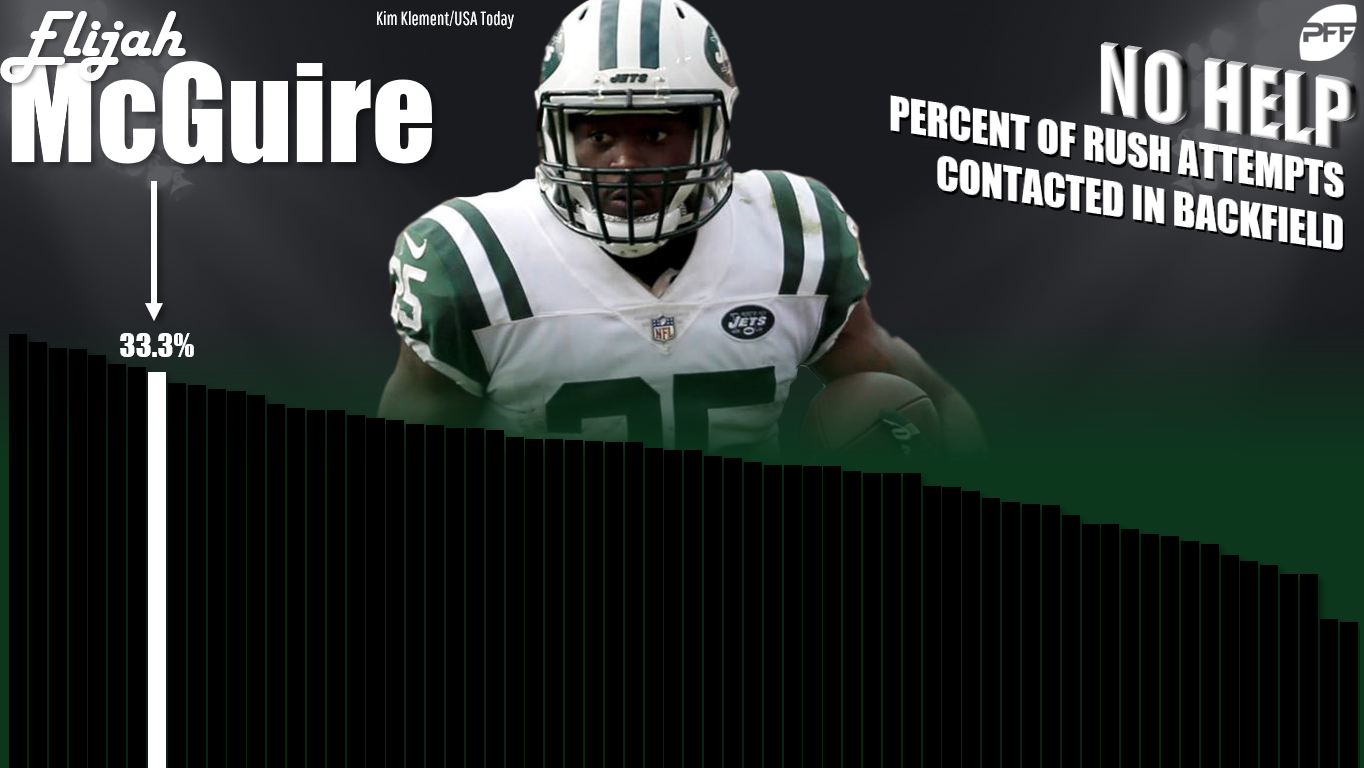 For the season, McGuire has been close to neutral with -2 RuYards Added, and that's a decent total for a player with his ability as a receiver. Since the start of his rookie season in 2017, McGuire has added 11 yards as a receiver on just 34 catchable targets. That rate of 0.33 RecYards Added per catchable target is in-line with some of the game's best three-down backs like Joe Mixon (0.34), Christian McCaffrey (0.29), and Ezekiel Elliott (0.27).
If Crowell is forced to miss some weeks at the end of this season, McGuire could become an every-down player and possible top-10 fantasy option at the position. And at 5-10 and 214 pounds, my research shows that he is big enough to survive an expanded workload in general. Alvin Kamara is basically the same size and is on pace for 299 touches this season. McGuire would need to put up some impressive performances the next few weeks to earn that sort of consideration in the future, but the chance that he could makes him an excellent player to pick up in dynasty and keeper formats. And he's a must-own in every format for the weeks that Crowell misses.
Despite some indication that he would share workload with Stevan Ridley in a committee, Samuels dominated touches for the Steelers on Sunday. Now that Le'Veon Bell is done for the year and likely for the Steelers in general, Samuels has clearly become one of the premiere handcuffs to James Conner the way Conner was to Bell last year. But based on this and his overall performance this season, I wonder if Samuels has a brighter future than as a mere handcuff.
That opinion has come out of Samuels' work not as a runner — where he's cost the team 16 yards on his 23 carries — but as a receiver. There, he has an impressive 9 Yards Added on just 14 catchable targets. Despite some really strong rookie rushing seasons, there aren't as many apparent impact receiving backs in this year's class.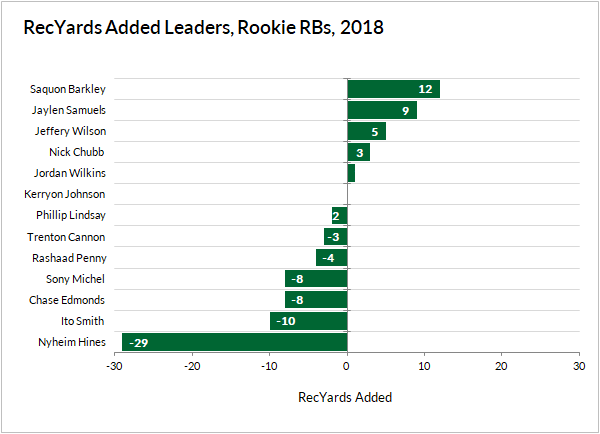 The converted tight end Samuels looks like he could be that kind of player. He's also pretty big at 6-0 and 225 pounds, and he had one of the Steelers' two attempts inside the five against the Raiders. That's the kind of profile that can turn a limited workload into better fantasy success, similar to what Rex Burkhead has done in his healthy stretches for the Patriots. With 12 RuYards and 14 RecYards Added, Conner doesn't need to look over his shoulder unless Samuels makes some marked improvement to his rushing efficiency. But I wouldn't be stunned to see them coexisting as fantasy options even when they're both healthy.
After the Bills released Kelvin Benjamin and Andre Holmes last week, Foster had the chance to make his second career start. With 7 catches for 104 yards on 8 targets, he certainly took advantage. I featured Foster in this article a month ago, but at that time, his positive Yards Added numbers were buoyed by some deeper catches in a limited sample of targets. But since then, Foster has shown that he has the potential to be more than just a deep threat. He's actually added yards on his passes thrown shorter than 10 yards, his passes thrown between 10-19 yards, and his passes thrown 20 or more yards down the field. The way he's playing, it doesn't seem far-fetched the he could emerge as the Bills' No. 1 option by the end of this season. Zay Jones has cost the team 24 yards on his 60 catchable targets, and in fact, no Bills receiver other than Foster has been a plus contributor according to Yards Added.
With Greg Olsen back on injured reserve with another foot injury, rookie tight end Thomas has returned to being a major part of the Panthers offense. In Week 14, Thomas caught 9 of his 11 targets for 77 yards, all three of which were career highs. But it isn't just the volume that has catapulted Thomas into fantasy-relevance. It's majorly improved efficiency. Thomas produced fewer yards than expected given the nature of his targets in each of his four games this season. He's completely flipped that script over the last three.
Ian Thomas' Extra Yards by Week, 2018
Week
CTgts
Extra Yards
1
2
-6.5
2
3
-8.8
3
3
-11.8
5
5
-29.5
8
1
+6.9
13
5
+0.9
14
9
+9.6
Even last Sunday's contribution of 9.6 Extra Yards is meager compared to the top weekly receivers, but at 6-3, 260 pounds, Thomas isn't a big-play threat. To have success, Thomas needs to consistently convert on his critical third-down and end-zone opportunities, and the last three games have suggested he may be able to do just that. That probably won't elevate him past back-end TE2 status of the rest of this season, especially since his wide receiver teammates D.J. Moore and Curtis Samuel have shown their own marked improvements. But Thomas suddenly looks like one of the more attractive players at the position in dynasty formats.
If Thomas is on the way up, then 29-year-old Gronkowski is definitely on the way down. He put up just his second 100-yard receiving day of the season in the Patriots' heartbreaking loss to the Dolphins and scored just his third touchdown of the season. If his year ended today, his 2018 would represent the lowest rate of yards per game since his rookie season and his lowest rate of touchdowns per game of his entire career.
Yards Added is noticing a decline in Gronkowski, too, but it sees it as a much more graceful decline than the narrative would suggest. His total of 15 Yards Added and rate of 0.28 Yards Added per catchable target are low by his own standards, but they are still comparable to some of the elite tight ends in the game, most notably Travis Kelce (15, 0.28).
Rob Gronkowski's Yards Added by Season
Season
Yards Added
Yards Added / CTgt
2013
+21
+0.41
2014
+50
+0.52
2015
+52
+0.55
2016
+37
+1.13
2017
+45
+0.53
2018
+15
+0.28
Their ages aren't perfectly in sync, but Gronkowski is faring better than his contemporary elite tight ends Antonio Gates — who hasn't had a positive Yards Added season since 2015 — and Jimmy Graham — who hasn't had one since 2016. From my perspective, the biggest issue with Gronkowski's fantasy season is a lack of touchdowns, and I would project that to bounceback and long-term be the last skill of his to decline. That means that Gronkowski could become a sudden fantasy value in 2019 drafts if he starts sliding into the back-half of the top-10 at the position. That makes it a nice time to trade for Gronkowski in dynasty and keeper formats.